Inside Our Home: Bella's Bedroom
Posted on
A sneak peek at my daughter's white and pink girly bedroom decor
When we moved into this house last year, Bella's new bedroom had dark blue walls and carpet with dark blackout curtains. The door was a plain white heavy board with a football handle. The light fitting was a chrome spiral with plastic blue cones, that I really can't describe. It was the first room we decorated taking a good 3-4 coats of white paint to cover the blue.
We have actually painted the whole house white. I think it is fresh, modern and easy to maintain. We just keep a giant tub of white paint for touch ups whenever they are needed. The white walls create a sense of cleanliness and space. Colours and textiles look absolutely amazing against a white background, literally popping out at you seeming much more vibrant.
At first this room was our spare room and Bella had the smallest of the three bedrooms. Once we found out I was pregnant, we decided to move Bella into this middle sized bedroom along with most of her toys that had amassed in our living room! This is quite possibly my favourite room in the house so far. A young me would have absolutely loved a bedroom like this. It is fresh and bright with white walls and furniture, whilst also girly with splashes of pink all around!
Here's a peek a Bella's new bedroom:









Bella's walls have a few goodies pinned up. On one there's some
personalised handmade bunting
and her very first masterpiece! It's a canvas with her very first crayon squiggles on. Once Bella started making marks with crayons I bought a plain canvas. I stuck it in front of her several times with a tub of crayons so she could create her very first work of art!
A collage of photo canvases and namesake frames she received as gifts are displayed on the next wall. They're very central so we can add to them if we wish as her collection grows. My ornate display frame I created and blogged about recently
here
is on the third wall.

The fourth wall is dominated by a pretty huge window, but we did pin up a cool Ikea pink flower nightlight alongside this. It looks fab when lit at bedtime, creating a warm and cosy orangey pink glow. We have ordered a blackout pink polka dot blind this week. This will replace the current blinf=d which was intended for the spare room only and lets light flood through. The blackout version is very much needed with the lighter nights and mornings fast approaching!

We whipped the previous owners carpet straight up and laid oak style laminate boards with a real wood feel. I prefer real wood or wooden style laminate floor as I find it much easier to clean. Ben took a little convincing as he prefers a soft carpet underfoot! To soften the look and give Bella somewhere comfortable to play we added a super soft fluffy white rug. I think it's the softest rug I've ever felt!

As all the walls are white we decided to replace the original white doors with wooden doors. Not only do I prefer the look of these, but they break up the whiteness! The white doors that were here weren't so attractive either - more like big white blank boards with no detail and very badly hung! We also replaced the white skirting with wooden and sanded the windowsill back to wood. I think the naturalness of the wood creates a calming environment and is pleasing to the eye. All our door frames still need sanding or painting. It just seems to be one of those jobs that have stayed on our to do list and is never as a high priority as anything else. One day!

The main furniture in Bella's bedroom has a white finish and includes a single bed, handmade children's wardrobe (which I really love) and a cube storage unit filled with toys! I thought white a good colour choice, as we can then just change the colour of the textiles/decor as Bella grows and her preferences change. We won't need to replace the actual furniture.
For now pink the favourite colour! A pink bedspread of either Hello Kitty or a patchwork design currently covers the bed. There are also a few great cushions, my favourite being the pink camper van cushion from B&Q. It's just fab! We filled the storage unit with colourful canvas cube boxes to create fun bright pops of colour for toy storage. These are also very light and easy for Bella to pull out and put away herself.

The very cool personalised hot air balloon which hangs from the ceiling is a wonderful crafty gift made by Bella's Oma (Gran in German). All the grandchildren have one and we just received Reuben's last week. They are such a cool idea!

Ooh, another great idea is the children's book sling. You can forward face the books so children can easily find their favourites. Bella is quite the bookworm so ours is rather overflowing, but she still manages to root through and choose books with ease! I found ours on eBay where there was a good selection of different colours and themes.

Bella's bedroom is so far the most completed room in the house. Once the door frame is complete and new blind is installed, there really won't be much else to do. Not for a long while anyway (I hope)!
Here's what it looked like before: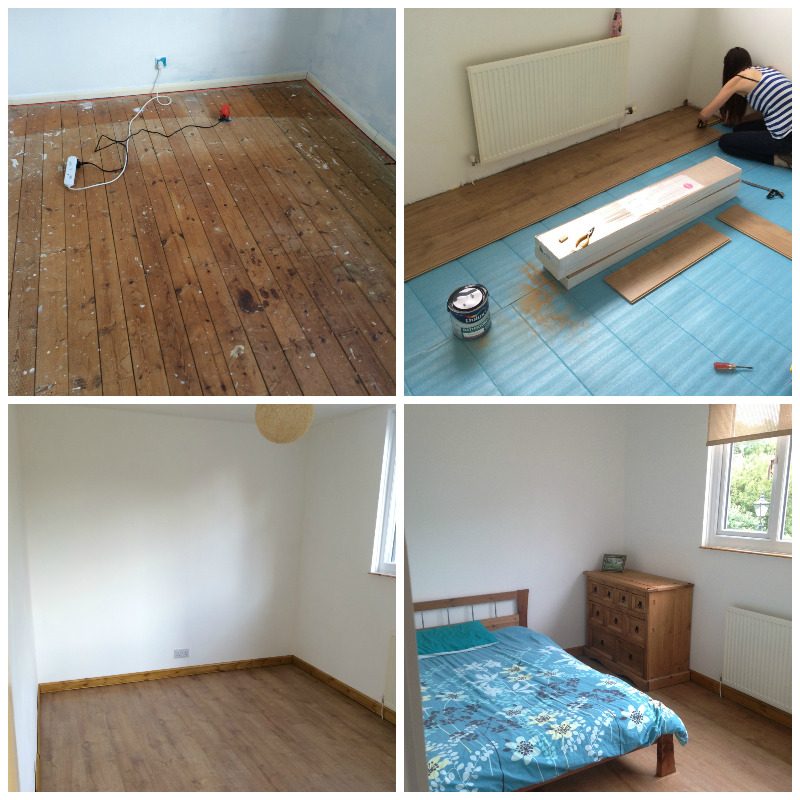 Save
Save