Baby Home Decor: Reuben's First Bedroom
Posted on
Baby Home Decor: Reuben's First Bedroom
For Bella, in our old house, we fully decorated a nursery whilst I was pregnant. It had the full size cot made up along with a toy box, toy and book filled shelves and a clothes rail filled with sweet outfits on display. It was ready for Bella to move straight into from her Moses basket.

Ben ended up sleeping on the sofa quite a lot last time. As I exclusively breast fed, and Ben is up at 6am every morning for work, it seemed silly for us both to be woken up every couple of hours and so both be super tired. This also gives me much more persuasion power in the evenings if I'd like him to cook dinner or help out a bit more. After all, he should have way more energy than me with a full night's sleep!

This time we've done things a little differently. Reuben's bedroom is currently furnished more practically for sleeping arrangements rather than as a nursery. This is so I can sleep in there for the sleepless night stage and Ben can stay in our bed rather than being banished to the sofa.


I figured we'd need a single bed eventually for Reuben, so I could use it for now and then we'll store it in the attic once the full size baby cot is needed in a few months. To be extra prepared and not have to buy twice, we purchased a couple of sets of boy friendly duvet covers. This striped blue set and a robot themed set.
The bed is also home to some fab cushions. The bear one was a steal in a Tesco sale for only £3 and was the first thing I bought for Reuben when I found out we were having a boy. The larger cushions are a newborn gift from Reuben's Oma (german for gran). She has handmade them from some amazing material we picked out together. There are yellow and blue dinosaur materials along with some funky yellow ducks!





As I totally love Bella's bedroom wardrobe, I just had to get Reuben one! They are child sized so will be perfect once they are older to reach and hang their own clothes. To keep their rooms individual I decided to go for the wood finish one in Reuben's room (Bella has white furniture). The wardrobes are handmade and delivered ready built by the company who makes them. They were the best value, nicest looking children's wardrobes I could find and I highly recommend the company Direct Pine, who can be found here.





Reuben's room is pretty simple just now. In a few months once he's into his larger cot and has a few more pictures, etc, the room will start to really become his. So far we just have a blue Ikea star night light and crocodile height chart on the walls. I've ordered a fine marker pen so I can mark Bella and Reuben's heights on the crocodile as they grow.
It will be a great item to keep and one day we can add our Grandchildren's heights to it too!



In the window bay I have a very handy set of drawers. These are filled with nappies, wipes, muslins, sheets, blankets and similar often used baby items. It's so useful to have it all right there in the middle of the night ready for nappy changes and sick spills! Once we move out of the baby stage I'll change these for a toy storage unit. There's a four cube shaped one that will fit perfectly and I've been eyeing up some funky animal themed storage cubes.


Reuben's room is very nearly complete for now. We have a wooden door to hang and a new blackout blind on its way with a baby blue polka dot pattern on the inside. Then that's it for now until I move back out!
This room was my worst enemy
when we moved in last year
. There was a big patch of paint missing on one of the walls so I had to literally scrape the rest of the paint off as it could easily be seen. I spent about 6 hours one afternoon painstakingly scraping paint off with a metal scraper, which refused to come off in sizes larger than around 2 inches long.
I'd planned on painting and re flooring the whole room that day (with Ben of course), but ended up just stripping one wall! Eventually I got there and we painted the walls white, replaced the carpet with oak style laminate and fitted new wooden skirting.
The most frustrating during ever: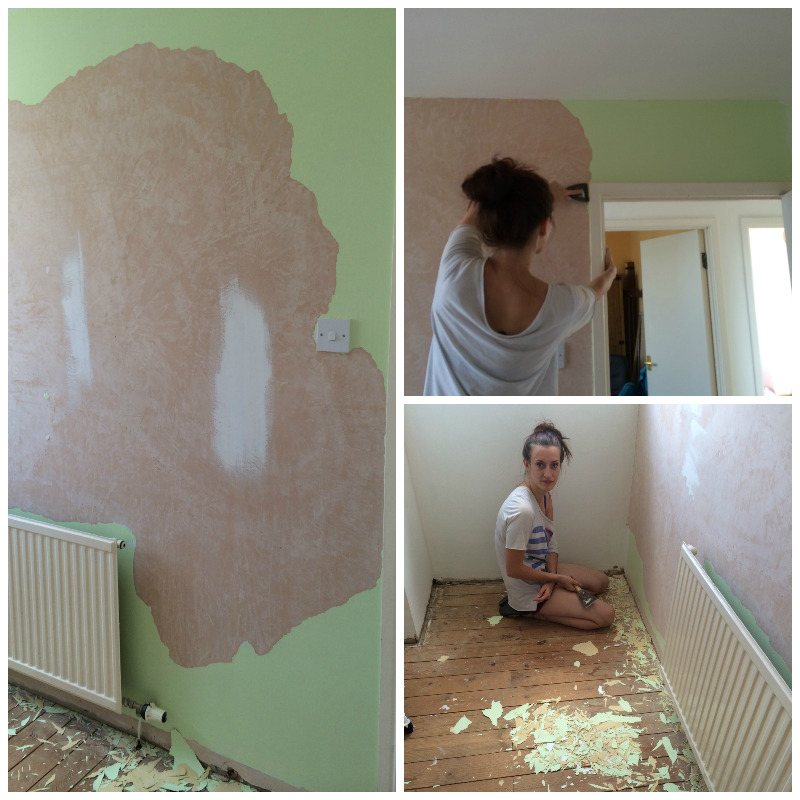 The finished result: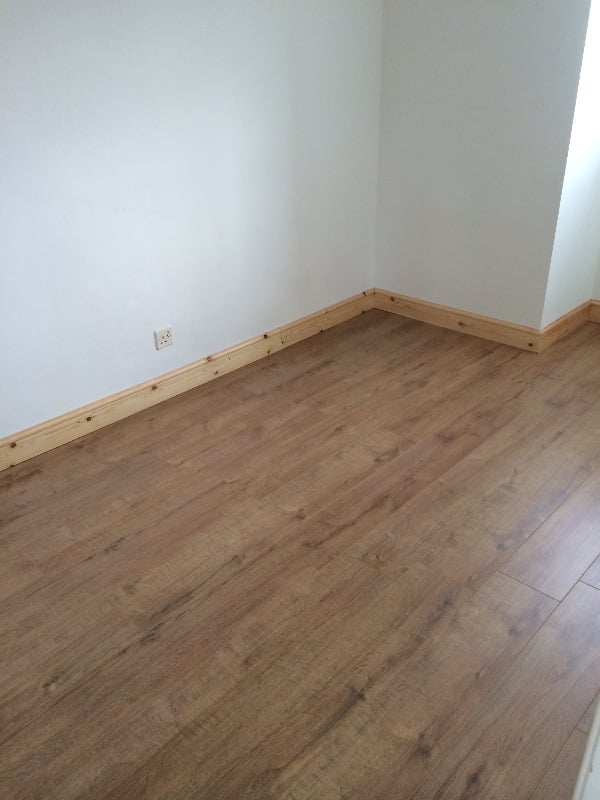 I love the natural wood feel in this room and it's a nice cosy room for me to spend the next few months in with Reuben. I'm also looking forward to putting his cot together when he's bigger and adding more decor as we find/make it. I'll share Reuben's 'second' bedroom with you in the future!
Save