Monthly family roundup August 2015
Posted on
…And breath. August was a BUSY month. As you may have read before it was a very bittersweet month. The main events were my 30th birthday, Reuben's second balloon dilation procedure to his heart (poor thing) and our wedding!
I didn't make my wedding plans too obvious on my blog or Twitter as I was worried things may not have gone well with Reuben's op the week before. Then we'd have obviously cancelled everything. We were expecting his second heart op to be in the middle of July and we'd booked our marriage for August 18th (before we knew he was having a second procedure). Reuben's regular consultant appointments revealed his heart pressure was quickly rising so they wanted him booked in to stretch his valve once more. The appointment came through and it was the 12th August. Of course I was trying to not fear the worst, but one in one hundred don't make it through the procedure, so it's hard not to think about it.
Luckily everything went as well as it could and we were released the next day. Reubs is a little champion and you'd have no idea they've poked around in his little heart twice in his first six months. We did find out his pulmonary stenosis is severe and the problematic valve is quite knobbly and thick. This means they will never be able to fully relieve the pressure using this procedure, so the likelihood of him having it again, before he is old enough for a valve replacement, is very high. I have three more appointments booked from tomorrow to the start of November so we should soon find out exactly how successful the August op was.
Once home we felt we could relax and threw ourselves into the final week of Wedfest preparations! We had the most fantastic day and I'm hoping the professional photographs will be great so I can share some on my blog. Sadly we're not expecting them until October as they are super busy, so we'll all have to wait until then to view them!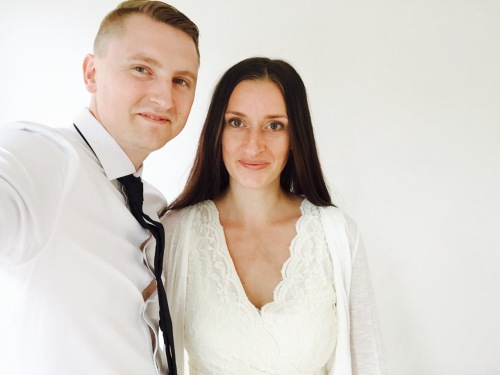 I'm still getting used to being called Mrs Sully. I keep hesitating when I have to say my name as I nearly say my maiden name. I already had to reorder a few cards as I'd totally forgotten to change the Miss to Mrs and just started changing my surname on everything! It's the Mrs part that keeps catching me out the most. Mrs sounds very grown up to me and it's taking a while to get used to saying it!
Married life is great though. Well, honestly, it's not any different yet. It's just so nice to have the family name which matches my childrens name. It's also great to be able to say 'my husband'. We are yet to buy our wedding rings and we are hoping to minimoon next year and honeymoon in a few years. So, we still have a few exciting things marriage related to look forward to. We certainly did things backwards – baby one, buy a house, baby two, get married, buy wedding rings, honeymoon…!
For my 30th birthday at the start of the month we went to the beach. It's becoming a bit of a tradition to go to the beach for my birthday. It's great though as it's been the only time we've been the past couple of years. We really should go more, but last year I was so sick with the pregnancy and this year any dry weekend means working on the garden/house if we've not got events to go to.
Hopefully next year we'll make more trips as Bella had such a fantastic time. We had thought of going to The Gower. I was worried Bella would need more entertaining as it's supposed to be mainly just beach there, so we opted for Weston Super Mare which has entertainment galore. We needn't have worried though as Bella would have sat and played in the sand all day if she could!
I started weaning Reuben in August at just 5.5 months (and I forgot how messy it is)! I didn't wean Bella until the recommended 6 months, and even then she wasn't very interested until well into 7 months. However, with Reuben, I now understand what the guides mean when they say a sign the baby is ready is if they take an interest in your food. Gosh. Reuben would start getting a little ratty when we were eating and looking like he wanted to dive into our plates with some lip licking and sucking going on! We certainly didn't experience that with Bella!
I was hoping to wait until 6 months, but he just seemed like he really wanted to get going so I thought a couple of weeks wouldn't do any harm. His very first tastes were a few sucks on apple and watermelon. His first meals were sweet potato and carrot. He gladly chomped away and opened his mouth for more as though he'd been doing it for weeks! He's now having breakfast, lunch and dinner, and enjoying every mouthful!
I haven't found much time to take care of my plants as well as I'd have liked to during August. We did have a little harvest though - mainly some carrots and tomatoes. The small tomatoes are constantly turning red now, but Bella keeps pinching them before I can get my hands on any! It's so nice knowing she's picking them and eating them so fresh from our garden, so I don't really mind. We also had another couple of giant green courgettes.
My cauliflowers and kale became absolutely infested with black and also green caterpillars. I've read up a lot about these now and will use fine mesh netting next year to try and prevent this. I really want to keep my produce as organic as possible so don't want to use pesticides. It's good to know what pests I'll get and I'll be more prepared for them next time! Three of my cauliflowers are still growing though, so there may still be hope.
Bella absolutely loves helping me pick the caterpillars off too! The potatoes have gone mad too. They have grown so much - it is simply insane what can grow out of a potato! I can't wait until the end of October to start harvesting them.
September is a busy month already as Bella has started 3.5 days at preschool and I am preparing for my return to work at the end of next month. As well as settling into the new routine, we will be visiting a food festival this month, having some much needed massages with my fabulous massage lady (yep, I've convinced Ben to try it) and starting the primary school research for Bella (we need to find FIVE schools to list…?!).