Fighting spots naturally with Salcura
Posted on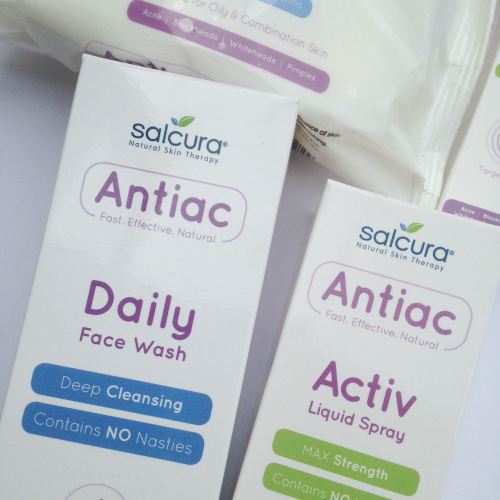 Salcura Natural Skin Therapy Review

It's rare to find a product that claims to fight spots and clear skin that actually works. I'm always very sceptical of such statements, but at the same time I'm always curious to try new products to find the ones that really do work. One problem with a lot of brands, particularly in regular supermarkets and high street beauty stores, is the sheer amount of nasties within the anti-spot range. The high content of synthetic chemicals that promise to clear the skin are surely just making the problem much worse, as well as seeping through the skin, entering the blood system and travelling all over the body causing all sorts of terrible damage.
When it comes to what you put on (and in) your body, natural is always best. Natural ingredients really should be the only option. It's a shame we've got to the point in our society where natural is seen as an alternative treatment rather than the norm. From what I can tell, natural beauty products are on the rise and there are new brands popping up all over the place. More people are beginning to question the ingredients in their cosmetics, toiletries and facial creams. If everyone refused to buy the crap, then brands would be forced to only seek out the best, most natural ingredients. This is my hope for the future! I'm sure one day people will look back and be horrified at the awful things we used to smear all over our bodies!
A brand called Salcura recently contacted me to see if I wanted to try their products. The first thing I did was check out their website to ensure the products contain no nasties. If there's a SLS or paraben in sight I don't want it near me! Luckily I needn't have worried as Salcura are a natural beauty brand with NO NASTIES! Phew! I was excited to see a natural brand which also had a spot fighting range with a few products, not just one, called Antiac. I've stumbled across a lot of natural beauty brands, but rarely any with a whole range of products to help with acne. Of course I couldn't turn down the opportunity and after sending across the issues with my skin they offered to send me the Antiac range to put to the test.
I've been using all four Antiac face products for two weeks now. There's a face wash which I use in the shower and face wipes which are suitable for daily use. I was also sent a spray and cream which are more intense treatments and ideal for one off attacks or regular severe breakouts. They all have a noticeable spot fighting essential oil antisceptic scent (you know the one), but don't sting like other treatments. I've not wanted to remove my make up with these and I'm not sure if they're suited to this, so I have been using them in combination with my usual Isa Marie Skincare cleanser and toner.
What you all want to know – is this a product that really can clear spots naturally?
I think it might be. I've had this tough little crowd of spots on my right jaw for months now and they just haven't wanted to shift. Although there are still some red marks there, over the past couple of weeks the spot heads have gone and the red marks are noticeably reducing in size. They are improving every day and they seem on their way to disappearing altogether. The only thing I've done differently recently is use this Salcura range, so it has to be working!
The face wash claims to be deep cleansing. There's something I really love about those words – deep cleansing. It sounds like it really gets in there and gets all the dirt right out – lovely jubbly! That's exactly what all cleansers should be doing! I'm sure my skin looks a little fresher and brighter the days I use the face wash in the shower.
I can't imagine I'll ever have 100% clear skin, but these products are certainly improving the appearance of my marks and spots. They are a pleasure to use, cause no pain and are reasonably priced. There are a lot of acne brands I would never buy again, so it means a lot when I say I would use Salcura again, particularly the face wash and intense cream.
To give them a go yourself and view their other skin type ranges visit www.salcuraskincare.com