Wikaniko Anti-Ageing Moringa Oil review
Posted on
Have you heard of moringa? Also known as the drumstick tree and ben oil tree, this fast growing tropical tree provides a vast amount of health benefits not only from its leaves, but also its edible flowers, seeds, roots, sap and bark. Because of its powerful health enhancing properties it's nicknamed 'The Miracle Tree'. Read on to see how moringa oil is a natural anti-ageing solution for your skin.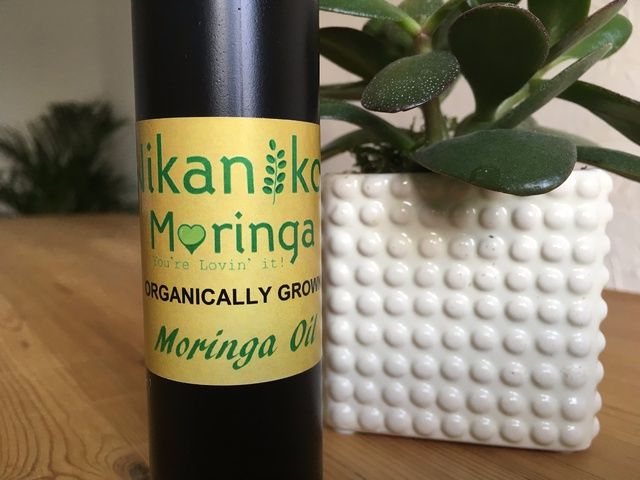 I've been eating moringa for a while now. Well, not literally eating spoonful's out of a packet, but adding a teaspoon or two of powerful moringa to my green smoothies! It has an absolute stack of health benefits and the moringa tree is therefore known as 'the miracle tree'. I had no idea you could get this magical stuff in the form of a facial oil too. It's also known as Ben oil which I quite like as my husband is called Ben! I was kindly contacted by Wikaniko to see if I'd like to try moringa oil and this here is my review.
'Most women simply won't use anything else to protect against the ravages of ageing after trying moringa oil!'
It's been exactly 7 days since I received the oil and I've made sure to apply it every evening after cleansing and moisturising. I'm sat typing this now with two squirts all over my face. Two squirts is far too much by the way. One is plenty. I started the week with three or four as one or two just doesn't seem logical to be enough, but believe me, you'll have enough oil for half your body if you go that far. One squirt is PLENTY to cover your WHOLE face.
That's a great benefit of this oil. A little goes a very long way. One of these bottles (a whopping 100ml currently for £16.95) is going to last you forever, or at least a very very long time. It also does last forever in skin care terms. Lots of natural beauty products I use have quite a short shelf life, but this has an expiry date of 2019 which is very impressive.
I've been putting two squirts on and letting it soak into my face before going to bed. It's quite satisfying and almost becoming a ritual. I assume it then works its magic as I'm sleeping as I wake up with much better looking skin. My skin looks softer and kinder when I wake up. It's also plumper which is great to hide those fine lines and beginning of wrinkles I'm suddenly getting.
'Each 100ml bottle of this precious oil is extracted by hand press from approximately 1.2 kilos of moringa seeds!'
Moringa oil is supposedly one of THE BEST anti-ageing oils in the world. It can promote cell growth as well as protect the skins tissues from damage. It helps to prevent wrinkles and the sagging of skin. It rejuvenates dull, tired and aged skin giving it a natural healthy glow. As well as all this, it's beneficial in removing blackheads, preventing spots and even minimising acne scars.
It really is a wonder oil.
You can also use it on your hair to cleanse your scalp and lift out the dirt. I've not tried this yet, but it's on my list. It's cleansing properties make it a great facial cleanser too, so either use it as a night oil or cleanse your face with a drop or two on a cotton wool pad for a deep clean.
Having used this oil for one week I am seeing good results so far. My skin looks so much fresher and nourished as soon as I wake up. I'm still a bit spotty, but probably because I stay up far too late and don't get enough sleep at all. I'd like to see this improve, but obviously don't expect miracles after only one week of using this oil. I have noticed a reduction in blackheads however. My pores are very clear. I've wiped the oil a few times with cotton wool as I've put too much on, so this must have lifted some of the dirt out of my pores. It's odourless which is a bonus too – so no worrying about an earthy grassy smell all over your face! I'm sure the wrinkles around my eyes are a lot less obvious too.
I can't wait to see how this oil continues to improve my skin over time.
Save
Save