Blog Giveaway: Win a Festive Red Bus Reward Chart from TOTSUP #winitwednesday
Posted on
This giveaway has now ended, but check out the post to see what TOTSUP is! Find an active giveaway at the top of my Giveaway section!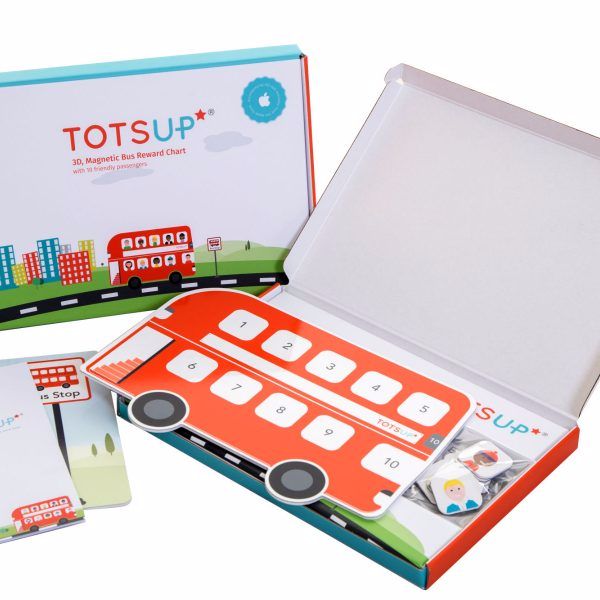 Today I have a brilliant festive themed giveaway for you from the brilliant children's reward chart company TOTSUP.
If you haven't heard of this company before, check out my review here: TOTSUP | Big Red Bus Reward Chart
We have been using the TOTSUP bus reward chart with Bella for over a year now. At the moment she gets a passenger for trying her best at her swimming lessons. Every time she gets a new swimming badge she gets an extra two passengers.
If we're struggling with something, be it her going to bed on time, getting ready for school in the morning or encouraging her to go to her swimming lessons, then we will use the TOTSUP reward chart to help us.
Bella loves getting passengers for doing well and it definitely encourages wanted behaviour. The chart is stuck on the wall in her playroom and she can always see her progress. We let her pick a reasonable reward for once she reaches ten passengers. At the moment she wants a magazine when she reaches ten, so we'll go to the shop and let her choose one. Last month she reached ten and chose to go to the trampoline park, something we all enjoyed!
Win a TOTSUP Festive Edition Red Bus Reward Chart
I am very excited to be giving away a FESTIVE edition of this award winning rewards chart to one lucky blog reader. This special edition includes the magnetic red bus, a set of normal passengers and a set of amazingly cute Christmas themed characters including elves, Santa and reindeer!
To enter simply follow the instructions on Rafflecopter form below.
Please note, there are a couple of mandatory requirements to enter this giveaway:
Follow TOTSUP on Twitter – follow the instructions in the form below
By entering you agree to be subscribed to our newsletters. You can unsubscribe at any time.
There are also more options which aren't mandatory, but the more options you select to do, the more entries you'll receive into the giveaway!
Best of luck!
THIS GIVEAWAY IS OVER. WELL DONE Janet A.
Please pin me:
Terms and Conditions:
There will be one winner
The prize is the item as shown in the picture - a Festive edition TOTSUP rewards bus chart with 1x set normal passengers and 1x set festive passengers
There is no cash alternative
There is no limit on the number of entries per person, follow the instructions to enable multiple entries
Winners will be notified within 28 days
Prizes will be sent out within 28 days of receiving the winners address
The winner must claim their prize within 28 days or it will be forfeited
All entries must be received by the date and time specified
The winner will be picked at random by Rafflecopter & notified by email
Giveaways are open to the UK only
The winner's name and county is available upon request
Entrants will be signed up to the Lylia Rose newsletter to receive blog posts and giveaways. Subscribers are also entered into a monthly prize draw to win a scarf of choice from my online fashion boutique. You can unsubscribe at any time.
Entrants will be signed up to TOTSUP newsletter. You can unsubscribe at any time.