Christmas gift guide for him with Jacamo mens fashion
Posted on
Now it's November everyone can stop telling me to not mention the C word, as Christmas really is around the corner. In fact, it's next month! Are you prepared? If you're wondering what to buy for him at Christmas time then I have some perfect mens fashion gifts in this Christmas gift guide.
I was super organised this year and purchased our presents in September! I wanted to be really prepared. I'm also self-employed, so never know what my income will be like. I had a good month in September so it seemed sensible to get the bulk of our shopping done whilst funds were good.
The kids are super easy to buy for, but husband is not always so easy. As adults if we need or want something, we just buy it! Me and Ben usually don't buy gifts for each other and instead treat ourselves to something big we need for the home. The last two years have seen us buy a washer/dryer and a dishwasher. I've got my eye on a G-Tech Air Ram vacuum cleaner this year!
If Ben did want a Christmas present, he'd be pretty happy with some new clothes. Most people roll their eyes at the thought of socks for Christmas, but he actually loves receiving them! He says there's nothing like a fresh pair of socks. I also have no idea what he does to all his socks as they seem to get holes in so quickly, whereas mine last for years and years!
Christmas gift guide for him with Jacamo mens fashion
I've been browsing the menswear section at Jacamo and they have loads of great gift ideas for men this year. Here are my 6 top menswear gift ideas.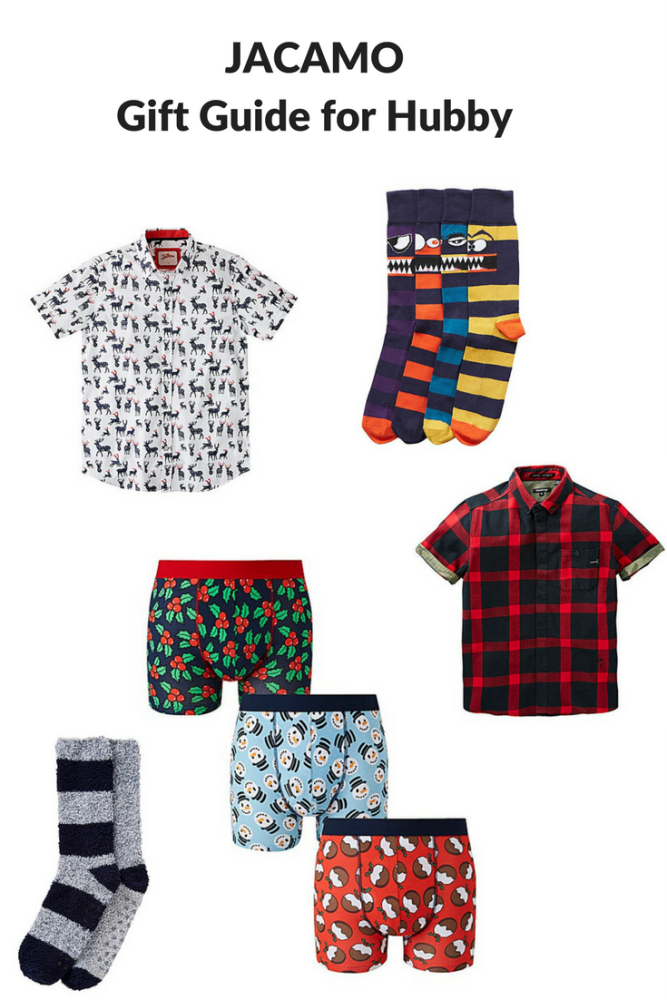 Stag Print Shirt
(JOE BROWNS XMAS STAG PRINT SHIRT)
I just love this shirt, isn't it awesome? Who doesn't love a stag print? If hubby hates wearing a Christmas jumper, this is a great alternative and he'll look cool too.
Monster Socks
(CAPSULE PACK OF 4 MONSTER SOCKS)
I told you hubby always love fresh socks, so I had to feature some. For added novelty value go for these monster print versions.
Red Checked Shirt
(FIRETRAP CHASM SHIRT)
Red and green are colours symbolic with the festive season. This red shirt will look great on and is perfect for casual Christmas drinkies.
Christmas Pants
(CAPSULE PACK OF 3 HIPSTERS)
As well as new socks, who doesn't love some new pants? Plus at Christmas you can get away with wearing some novelty prints such as these holly, snowmen and pudding pants!
Cosy Slipper Socks
(CAPSULE PACK OF 2 SLIPPER SOCKS)
I had to include these socks too as I've never seen the slipper socks for men before. I have stacks of these as they are so cosy on our hard floors in the winter, so I'm sure hubby would be grateful for a pair too.
Click here to go to the Jacamo website for fab socks and pants and even more gift ideas for him.