Eco-friendly playroom makeover with Sundeala recycled notice boards
Posted on
I'm forever changing around our home trying to get the best layout for family life. In particular I keep altering our playroom which is also my office. A strange combination you might think, but originally the entire room was my office. It's a garage conversion so long and narrow. As the kids grew and their toys multiplied and took over our living space, I decided to divide the room up and have my office at one end, perhaps a quarter of the room and to give the rest of the room to the children as a playroom.
The plan was the children can play and be near me whilst I work, however it doesn't always work like that! Usually they're too noisy for me to work or they want my attention if they can see me. We may have to eventually change the layout again and create my own separate office elsewhere in the home. This will also give the children their own private space which is useful as they grow and start to have friends over – their very own den/living room, away from us uncool parents!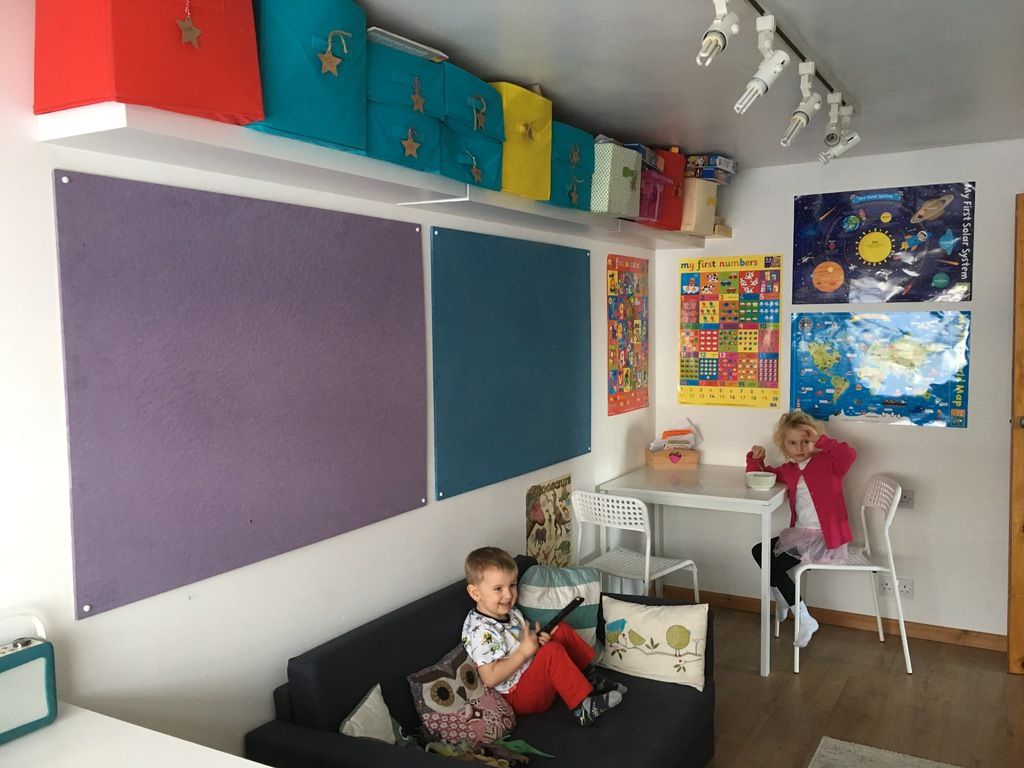 Spot the new notice boards!
I'd already started shuffling the playroom around and thinking of new ideas when eco-friendly company Sundeala got in touch. They very kindly sent me some of their colourboard notice boards to help with the makeover and they are perfect! We have white walls throughout our home and I'd just been tacking up the kids' art work, school information and photos. The kids then copied suit and started doing this themselves too, along with lots of scribbles and art work directly onto the walls which I wasn't so impressed about!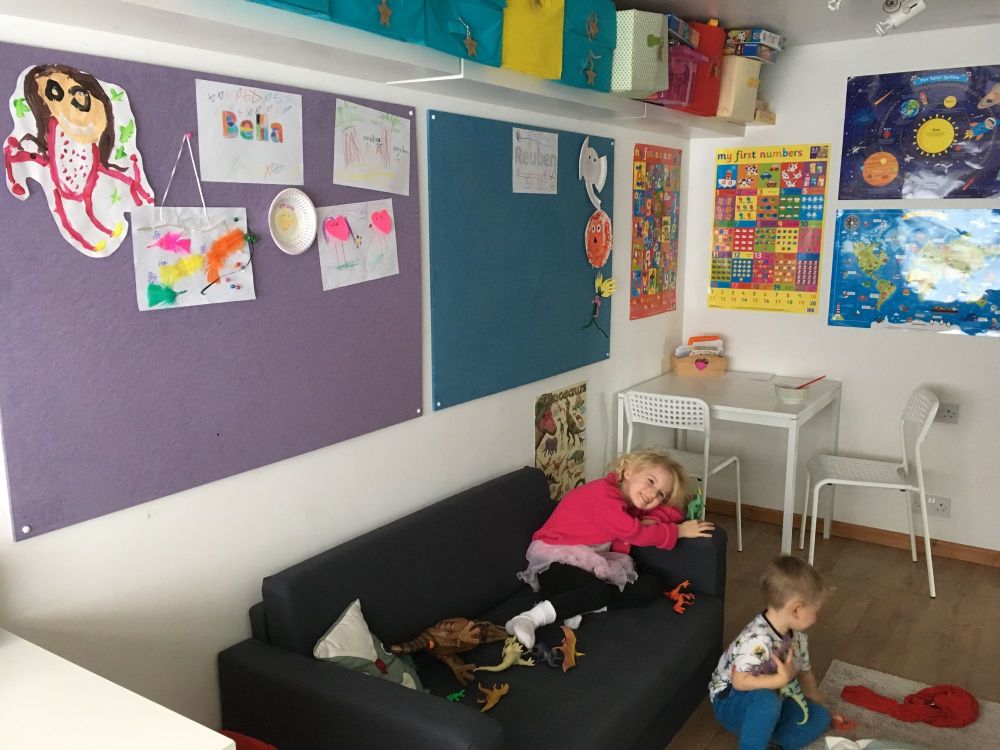 More artwork to come!
My hubby Ben repainted the walls white and I decluttered the toys. We popped some high up shelves for all the toys to try and control the toy chaos that always ensues! We did have cube storage shelves low down, but with Reuben only just turning three he is forever pulling it all out and mixing all the little bits up. I'd had enough of sorting out the playroom toys and reorganising every week, so the toys are now too high for them to reach. We have a new rule where they have a box of toys down each and if they want another then they must first tidy away the box they already have down. Hopefully it will work well and stop me from having to sort the playroom out every week for 1-2 hours! As a parent it's the one repetitive task that drives me bonkers!
I wasn't sure what to do with the walls. I love having their colourful artwork on display, but it was looking a tad messy just stuck directly on the wall. I'm so pleased Sundeala got in touch as their eco-friendly notice boards are the perfect solution! I'm also interested in natural nontoxic living and leading a more sustainable lifestyle, so these fit perfectly. I chose unframed boards in three different colours which are environmentally friendly and made from 100% highly compressed recycled paper. They're also totally reusable and can even be sanded back to 'new' after lots of use. They also suit our chemical free home as they're dyed with natural mineral pigments. Interestingly they are created using wasted newsprint. I love the feel of recycled paper. It's so soft to run your hand over, like handmade paper.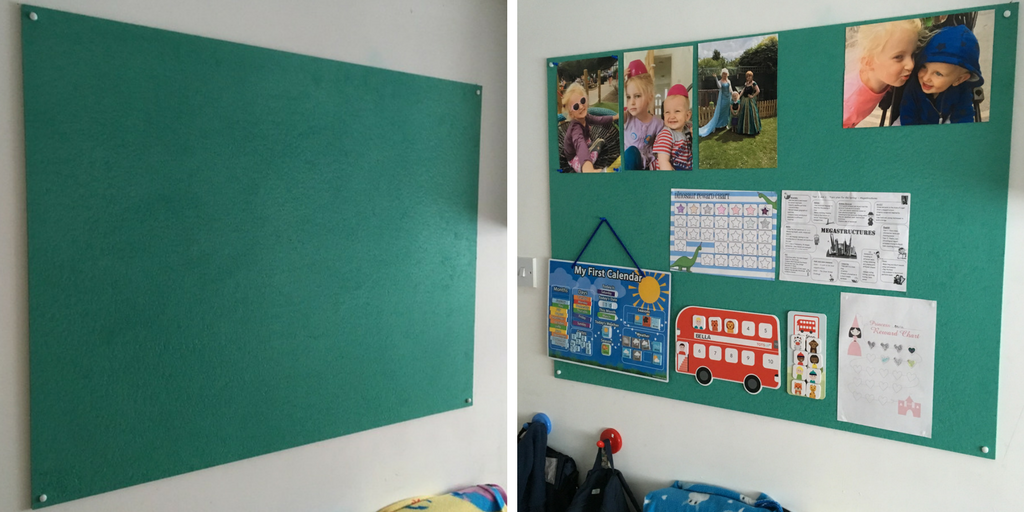 Tada!
So how do they look? Just perfect! They are honestly the most perfect addition to the playroom. Picking three different colours has brightened it up in such a fun way for the children. They have a board each for their artwork and one joint board for photos, school information and kids reward charts. It looks so much tidier than plastering everything all over the walls. Now the walls are hopefully less of a blank canvas white attraction for the children to draw all over too. Though having the pens out of reach on the new shelves should certainly help with that problem too!
You may enjoy:
7 ways to live a more sustainable lifestyle
3 Important Reasons to Choose Organic (other than your personal health)
6 easy ways to save money around the house (and be eco-friendly)