Money making blogger interview with Tina from Mother Geek
Posted on
Welcome to my second installment of my brand new Money Making Blogger interview series where I will interview bloggers who are making money from their blogs!
I've been a full time blogger officially since May 2017. For one year before this I made a part time wage from my blog and worked a part time job. I started blogging in April 2013 and never even realised I could make a real living from my blog and thought it was just a hobby. So for the first three years I didn't make any money from my blog.
Before properly monetizing my blog I did have a few opportunities land in my inbox which I politely declined as I wasn't really sure what they were. Then I stumbled upon some blogger income reports and realised there was some real money to be made. I've never looked back and I started collaborating with brands and putting a value on my time and worth, instead of accepting unpaid collaborations. I now make a full time living from my blog and I want you to realise you can do this too, if you want to.
I get to write every day and make money by doing what I love. It's amazing and still amazes me each day, even two years into making money from my website. It's not without a lot of hard work though, so don't be fooled into thinking you simply set up a website and voila, income starts rolling in. If only! I work 30-40 hours per week currently and my blog is my life!
In this series I am going to interview other bloggers who also make money from their blogs to hopefully inspire people to start a blog if they wish or to make that leap to monetizing content. I also find it so interesting to learn what other bloggers are up to and even us full time bloggers can learn from each other and inspire one another.
Hello, please introduce yourself and your money making blog.
I'm Tina and I blog at mothergeek.co.uk. I've been blogging for seven years and began to monetize last year.
What sort of income do you make from your blog each month?
Around £500 a month
What steps did you take in the beginning to monetize your blog?
My blog was well established and I had been accepting product reviews for years before I decided to monetise my blog. I'd been turning down sponsored post emails for years, but when my husband's health deteriorated, it felt right to accept them.
How do you make money from your blog?
I accept sponsored posts, I monetise my YouTube channel and I do occasional paid social media shares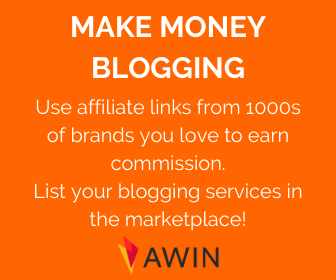 What are the top three ways you make money from your blog?
Sponsored posts, monetise your YouTube channel once it's active enough, sponsored social media.
What is your favourite way to make money from your blog?
Sponsored posts are the easiest way, but I enjoy making videos the most.
How much do you really work on your blog?
Around 30 hours a week in term time and about 20 hours a week in school holidays. (Plus a lot of social media)
What are your aims for your blog in the future?
Continue to grow my DA and accept more guest posts from newer UK bloggers to help them boost theirs as well. I miss the blogging community from 2011-2013, since blogging and "influencing" exploded, it seems to be more competitive at times - I want to help newer bloggers feel part of a family like I did when I started, rather than a small fish in a big pond.
If someone is totally new to blogging, what would you advise they concentrate on to help make their blog a money making success?
You need to boost your DA if you want to be offered guest posts. To do that, you need to get your URL out there. Join in with linkys, do guest posts for other bloggers, make sure you add it to your social media platforms and comment on other blogs. Even no follow backlinks help to get your blog's name out there. Don't forget to make sure your blog has lots of fresh, well written content too though. (And make sure you use a spell checker). Brands want to place their products and links on websites which will show them off positively. Typos, grammatical errors and swearing will often put potential clients off.
Are there any drawbacks to running a money making blog?
Tax returns! Save all your receipts - Deduct everything you can! Make a spreadsheet and add income as and when it comes in - it'll make the process much less painful.
What's the best thing about blogging for an income?
It allows us to pay the mortgage! My hubby had to reduce his work hours and due to our son's Special Needs, a traditional 9-5 was never going to work for me.
Would you blog even if you couldn't make money doing it?
Yes - I did for a long time.
Do you think blogging is here to stay?
Definitely. I think it's constantly evolving though and it's becoming harder to get noticed.
Thank you so much for taking part in my Money Making Blogger interview series and best of luck with your blog!
Helpful articles if you want to monetise your blog:
Make money from your blog with Awin affiliate marketing
Make money from your blog without Google ads
4 ways to find paid blog opportunities
How I save hours every week scheduling tweets with Social Oomph
How to improve your domain authority (DA)
The 5 ways I made £30000 money from home in 2017/2018
5 tried and tested ways to make money as a UK stay at home mum
Do you make money from your blog? Would you like to take part? Click here for the interview questions.