May 2019 monthly family roundup and photos
Posted on
Wowsers, we are now half way through the year and the kids only have half a term left before the summer holidays! Bella is in her final year of infants and Reuben at pre-school. In September I'll have one in infants and one in juniors - crazy!
May flew by just like the rest of the months have this year. It will be Christmas before we know it. Life is just so busy with two young kids and working full-time that there's no time to stop and breath. I know that's why it goes so quickly. There's rarely any time to sit down, stop and take it all in.
Ben is now running two businesses whilst he works his notice at his employed job before going fully self-employed in July, so he's stacked with work. He's working pretty much every night and weekend day, so he's working all day, all night and every day! It's manic!
I'm running four blogs. It is busy and we are both working late into the night and all day at the moment! It's no wonder time is going so quickly.
I do keep reminding Ben of the quote that entrepreneurs are the only people to work 80 hours so they can give up the 40! He's soon going to be joining me in the madness of running a business and never being able to switch off!
But hopefully once he can work in the day times in the week on his businesses, we can get more weekend time back as a family.
Introduction to my monthly family roundups
Welcome to my UK family lifestyle roundup. It's a monthly roundup where you get an insight into the person behind this blog and what my little family and I have been up to for a whole month. It's also a place for me to document our lives each month and save them in this category so we can look back through them and remember what we've done!
If you follow me on Instagram then you're probably up to date! But here is a more in-depth blog post of things we've been up to, some more photos and family happenings.
We're a family of four - Victoria 33, Ben 35, Bella 6 and Reuben 4 in Gloucestershire, UK.
Catch up on some of my previous family roundups here:
November 2018
December 2018
January 2019
February 2019
March 2019
April 2019
May 2019 mont­­hly family roundup
Here's a look at some of our family highlights for May.
Bella swims 10m
Go Bella! Her swimming is going from strength to strength! After getting her 'I can swim' certificate in December, she can now swim 10m by herself which is a whole width. I am so proud of her. It's taken two years of lessons, but the difference is incredible.
When she started she was too terrified to get in the pool and even a drop of water or small splash on her face or near her would make her scream and get hysterical. It's taken a lot of time to get her confident in the water and to stop being so scared and now she is over that fear she can learn to swim. She's even enjoying swimming!
I'm hoping to start Reuben's lessons next January and I think he'll catch up with Bella quite quickly. It will be great to then go to waterparks when they can both swim!
Bella learns to ride her bike!
As well as amazing us with her swimming, Bella has also learnt to ride her bike! I'm so proud of her for this as she's not very confident when it comes to things like this. Whereas I'd have fallen off as a youngster and then hopped straight back on, she's a lot more sensitive. She really freaks out when she hurts herself and isn't good with pain or the thought of it. So when she was first falling off she was too scared to get back on, so…
Ben bribed her!
Maybe not the best parenting tactic and often frowned upon, but it worked a treat!
He came home with a box of Lego Friends, which she loves, and said she could have it when she learnt to ride her bike.
She literally ran outdoors right away and got on her bike until she could do it!
It took a couple of days of determination and practice after school and she was off!
Well done Bella!
Handyman Ben and Wood Create is going well
As you can probably guess from the opening introduction to this blog post, Ben's businesses are going well. Ben has a few orders on the go for custom and bespoke furniture.
Handyman Ben was launched in April and he has a few customers he's working for during the evenings and weekends. We'll really start to market it in July once he's nearly finished working his notice at his current employed job.
He had to give 12 weeks' notice and has worked around 5 weeks of that so far. Because of this he can only do his business during his spare time and has already had to turn down larger handyman jobs as he can't take them on until August. Once it's July we can start booking in bigger jobs for August. I'm helping him with all the marketing and admin side of things.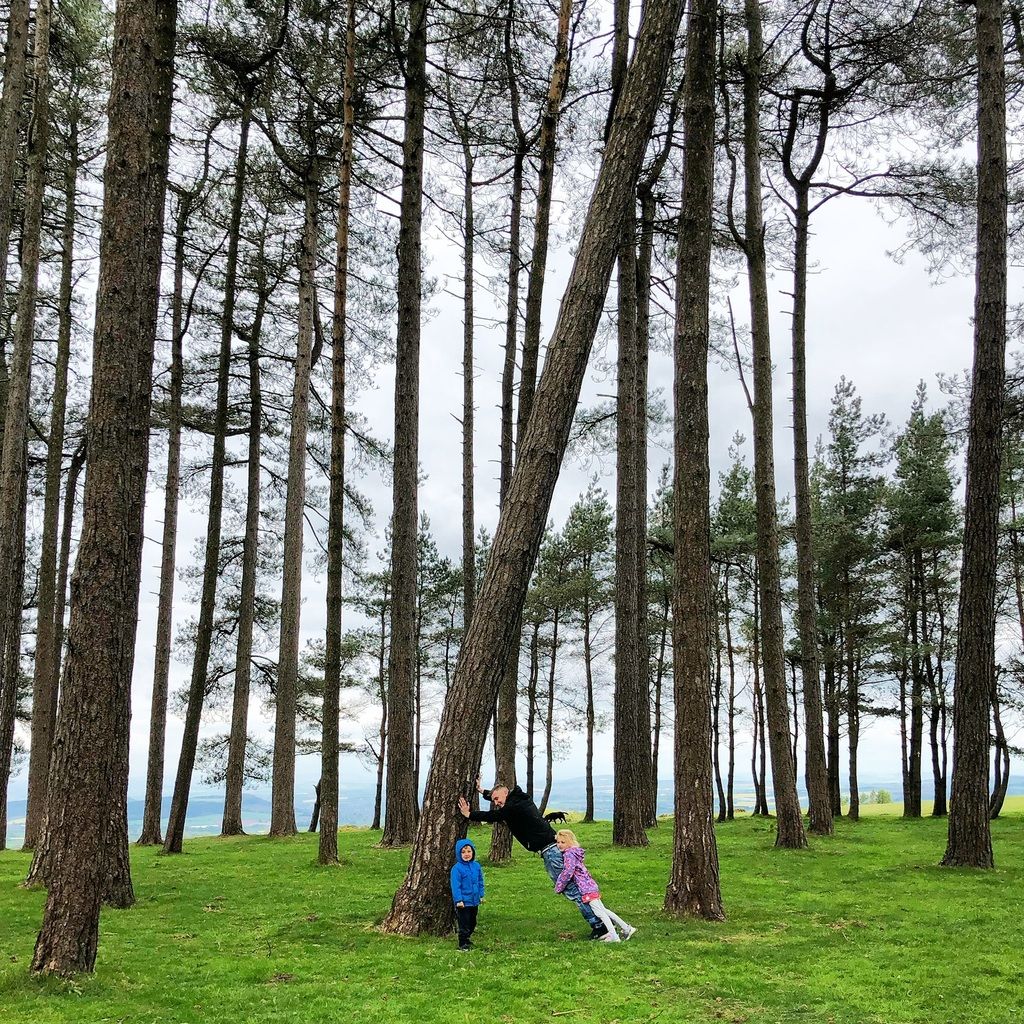 A walk on May Hill on May Day
On May Day Ben did have some work to do, but we managed to grab a few hours to go out as a family. Bella really wanted to see some ostriches! There's a farm called Over Farm near us where you can walk around and see the animals. They just have a few - ponies, donkeys, goat, ostriches and pigs. It's free to walk in and is next to their farm shop. We popped into the farm shop for a browse and saw they had some vegan pasties so we had one each!
As it's only a short stop we decided to visit May Hill which isn't too far away and show the kids the summit. I've been up there twice before and it's well known for having a cluster of pine trees on the summit, yet the surrounding area is grassy and bare, so the trees make quite a statement! Unfortunately that was only a quick visit too as it was really freezing cold on May Day, like winter!
Bella goes to Fizzpop Science
For five Friday's in a row, Bella went to Fizzpop Science club after school which she absolutely loved! If you have kids and they ever attend their school then I'd definitely recommend it. They got to make different things each week and do different experiments.
She was really upset when it finished so I hope her school do it again. She's not so into sports clubs, but this was perfect for her. I hope when she goes to juniors in September that there will be more options for clubs after school as so far, aside from this, there's only been sports activities.
Bongo MOT
We have finally had our first MOT for the Bongo! We've literally been dreading it for months as it's been a money pit ever since we bought it a year ago! Almost right away we had a £350ish repair and then a £2000 repair after that!! We were dreading thousands of pounds of repairs at its first MOT, but only had £350 of repairs which is still obviously a lot of money, but not as bad as we'd been thinking.
Hopefully our Bongo is good for another year and makes it to the next MOT without any major problems!
We've not managed to get away with it much this year, but I hope we can do something in the summer as it seems a shame to not make use of it for camping. It is also Ben's van for doing handyman stuff and delivering furniture as all the seats fold away to make it like a work van in the back, so it does have multiple uses other than just a camper for us.
Half term and Wychwood Festival
The last week of May was half term and it was pretty normal. The first Monday was a bank holiday so we were all off. We took the kids out on their bikes every day so Bella could practice properly. She cycled all the way to Tesco and back with me, which is around a 3km round trip, and she did great! She's really doing well on her bike. Proud mummy!
We didn't have the Bongo as it was waiting for its MOT repairs and the MOT had ran out and we also didn't have my car as it needed repairs too! So we had a few days without cars so there was lots of bike riding and walking to Tesco and back. The kids also played in the garden on the new trampoline which they are enjoying and we watched films and hung out at home.
At the end of the half term we went to Wychwood festival for three days, but I'll share that in the next post as two of the days were in June.
That's pretty much all the highlights of May. Pop back to my Monthly Family Roundups next month to see what we get up to in June!