Win prizes when you shop online with Kerching And Win
Posted on
Update - on 10th September 2019 I was alerted that this website is no longer online. I'm not sure yet if it's gone for good or it's just been down for a few days.
Today I'm going to share with you a brand new website kerchingandwin.co.uk that launched only two days ago. If you love to shop online and love to win prizes then read on. This website is perfect for you!
Shop online and win prizes with Kerching
Kerching is a new website that combines the thrill of shopping online with the excitement of winning prizes. You can earn credits for shopping online as you normally would and these can be used to enter huge prize draws.
They are the first and only website to provide over 10 weekly prize draws!
You can shop and win with all the big retailers you already know and love. There are over 300 retailers to choose from including Amazon, eBay, Groupon, Very, TUI, Argos and many more.
How does Kerching work?
It's really very simple and straightforward:
Simply sign up to Kerching here and create a free account. I had to enter my name, email and choose a password. It takes less than a minute to sign up!
Search for the retailer you want to shop with online and click through to their site. Do your shopping.
Once you've shopped online then you'll receive credits on Kerching within 12-24 hours which you can use to enter prize draws!
Is Kerching free?
Kerching is free to join and there are no hidden charges. It does not cost anything extra to shop via the retailer links. Just click the links and shop as you normally would.
How much do I need to spend at a retailer to earn credits on Kerching?
There is a minimum spend of £4.99 excluding shipping costs to qualify for earning credits.
How do I know if I've won a prize on Kerching?
Once a prize draw has finished, you will receive an email to let you know. Simply log in to your account to see if you've won.
You have seven days to claim your prize, so check as soon as you can!
What prizes can I win from Kerching?
They will always have ten prize draws for you to choose from. You can use your credits to enter as many of the prize draws as you like, or you can enter the same prize draw multiple times for more entries!
You need different amounts of credits to enter each draw.
At the time of writing the following prizes are available:
£2000 TUI voucher
£150 Amazon voucher
Apple watch series 4 with GPS
£100 Nando's voucher
Nintendo Switch console
There's also a sofa set, PS4 bundle, trampoline and also a prize draw to win more Kerching credits.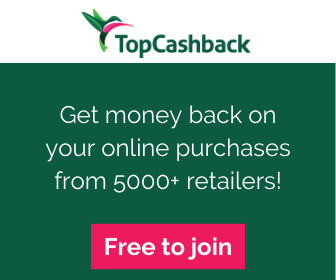 How can I earn bonus credits on Kerching?
At the moment there are four ways you can earn extra bonus credits. Simply go to 'My Account' and 'Referrals & Bonus' to find the following options:
1. Refer a friend
Get an extra two credits by referring a friend. Enter their name and email to invite them.
2. Trust Pilot
Get one free credit for leaving an honest review on Trust Pilot.
3. Facebook
Like their Facebook page for one extra credit.
4. Shop with a featured retailer
Earn bonus credits for shopping with a featured retailer. The featured retailers change weekly.
Whether you're an avid comper or just like entering prize draws now and then, Kerching sounds like the perfect way to combine your online shopping with the chance to win great prizes.
Find out more and sign up here: https://kerchingandwin.co.uk/about/
Blog posts to read next
5 tried and tested ways to make money as a UK stay at home mum
How I earn up to £50 per hour matched betting from home

How to make money from your phone with Roamler
20 ways to make and save more money in 2019
How I made £35000 from home in 2018
Make money by searching the web
Make money at home with Prolific
Make money online with Crowdville