Tulipshare review: £10 free credit for new customers
Posted on
Tulipshare is closing down!
I've just received an email that Tulipshare is closing down!
Here is the email I received. And below are some links to other free money UK offers instead.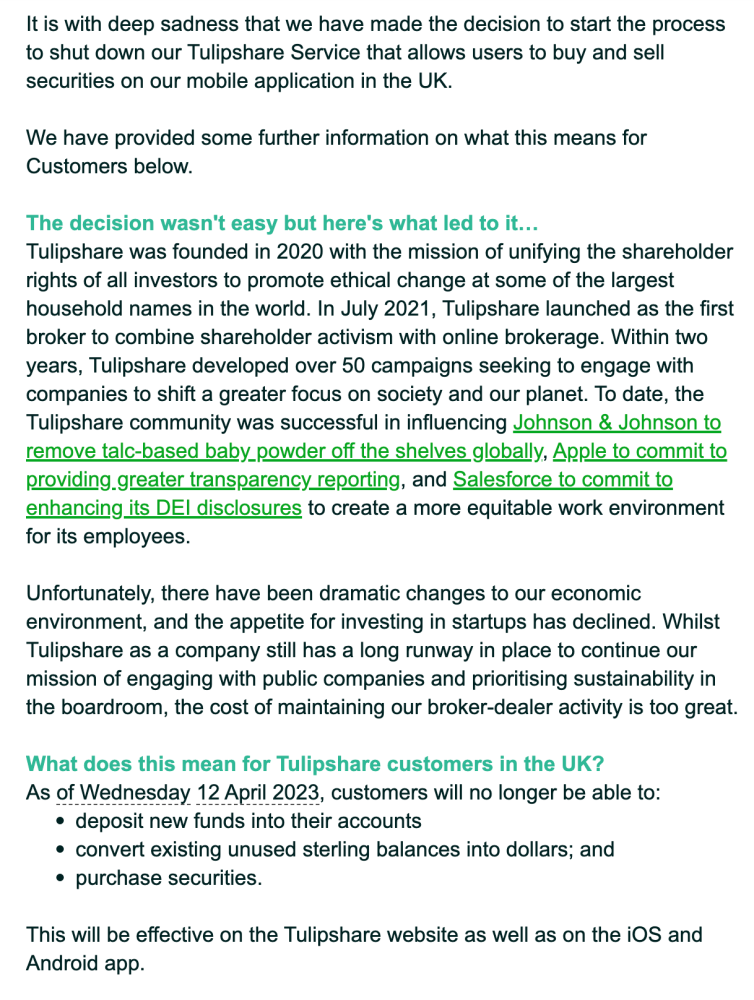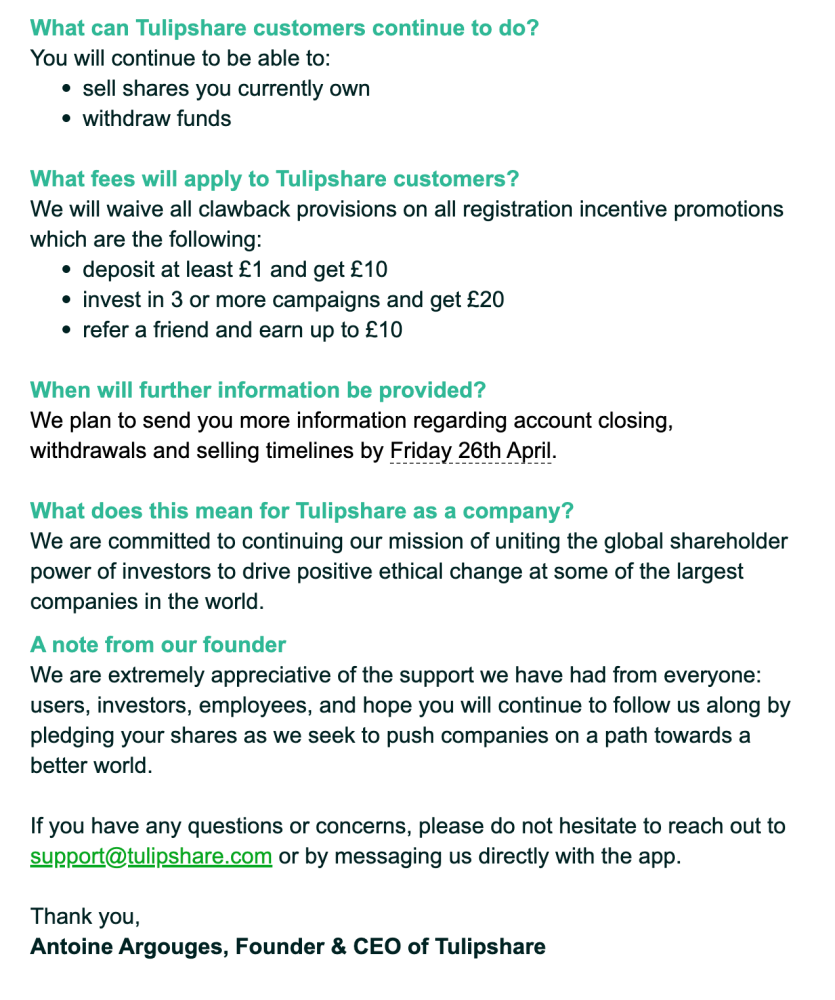 ---
Looking to save money or get free money?
Check out my massive money-saving tips section and find some great deals on my voucher codes and how to get free money pages!
Check out my list of UK apps that turn receipts into cash and also this list of UK cashback sites to maximise your free cashback and savings.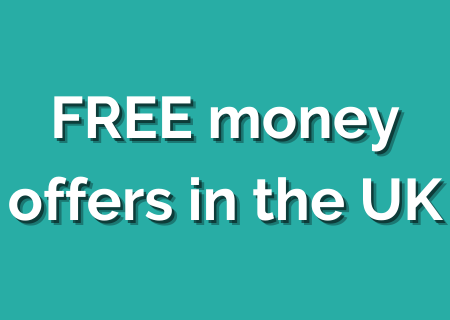 ---
Collaboration with Tulipshare.
Have you ever wished you could have a voice in how a retail company is run? Do you wish Amazon would treat their warehouse workers better or Coca-Cola would use 100% recycled plastic packaging? Well, now you can.
I was invited to try out Tulipshare and share my honest experience. Discover how easy it is to sign up on the platform and what sort of investor activism you can expect. Plus, you can currently get £10 free credit as a new customer (subject to terms and conditions). Read on to learn how.
What is Tulipshare?
Tulipshare is a stock trading platform with a difference. Rather than simply investing in stocks and hoping your money will grow, you can now invest in a number of campaigns which aim to change corporate governance for the greater good.
Tulipshare is a new activist investment platform allowing individual retailer investors to have a voice and voting rights. By pooling together individual shareholders, whose investments could haveotherwise be too small individually to have such rights, Tulipshare investors can be united together to have their say in creating more ethical and environmentally friendly businesses.
Supporting Tulipshare activist investing campaigns
Shareholders pool together to support specific campaigns which are designed to make a change. Tulipshare users can choose to support an existing campaign or suggest a new idea to the founders.
Current campaigns include:
Ensure fair and safe working environments for Amazon warehouse workers

Demand Johnson & Johnson stop global sales of cancer-causing products

Demand that Apple adopt fair and accessible right to repair policies

Produce plastic bottles made from 100% recycled material (Coca-Cola)

Stop JPMorgan Chase's investments in fossil fuels

Fight for racial equity at Salesforce
Tulipshare review
To experience the platform for myself, I signed up for a Tulipshare account to learn how the platform works and how to support one of their current activist campaigns.
How easy is it to sign up for a Tulipshare account?
First I downloaded the Tulipshare app, but at the time of writing (April 2022) it's still being built, so you can't sign up using the app at the moment. You can leave your email address in the app to be notified when it's up and running.
So, I signed up using the desktop version of Tulipshare instead. Their homepage states it takes two minutes to sign up and it really does! All I had to do was enter my email and choose a password and I was on the website. I then completed my registration by entering my name, phone number, date of birth, address, national insurance number and work status.
It really was all very quick and my account was verified and set up in two minutes, just like they say!
How do I deposit into my Tulipshare account?
Once your account has been verified (mine was almost instant), you can top up your Tulipshare account with funds to start investing. Simply click on 'Top up wallet' on the dashboard and you'll see bank account details for your Tulipshare account. You can then send yourself some funds.
I tested this by topping up just £1 at first to see what happened. It wasn't instant but only took around 5 minutes for the funds to reach my Tulipshare account. I knew because Tulipshare emailed me saying "Your money has been deposited into your Tulipshare account and is ready to be converted into US dollars so that you can begin investing." This is because their trading platform and securities are in US dollars. Once the funds have cleared, there will be an option on the dashboard to convert the funds into US dollars.
Supporting a Tulipshare campaign
Once your funds are converted into dollars, you can choose to support one of the campaigns. I decided to support the campaign 'Ensure fair and safe working environments for Amazon warehouse workers.'
There have been numerous reports of unfair working conditions and pay in the Amazon warehouses with undercover reporters revealing what it's really like to work in the Amazon warehouses.
And, if you think it's just an issue in Amazon warehouses in other countries… think again. There are issues in UK Amazon warehouses too as Tulipshare reports "in Rugby, England, on average one ambulance was called each week to the Amazon warehouse which employed over 1,000 people." There are also stories of Amazon staff having to pee in bottles as they don't have time to use the restroom.
Jeff Bezos became much, much richer due to the pandemic, whilst many of his staff are paid very little and continued to work in unsafe working environments, according to many reports.
We try to avoid shopping on Amazon as much as possible and prefer eBay as a similar marketplace, but occasionally there are things we can only find on Amazon, or sometimes we are given Amazon vouchers. We've also found, more so in the past year, that even when we shop using eBay or other websites, our items are dispatched from an Amazon warehouse anyway!
So, even as we try to avoid supporting Amazon, we are still sometimes using their services unknowingly, sadly supporting the unethical treatment of their workers. Because of this, I decided to support the Amazon campaign on Tulipshare which you can read more about here: https://tulipshare.com/campaigns/AMZN
I would never normally want to invest in a company I don't believe in, but this is a way to try and make a positive change in a company such as Amazon. Singly I can't make a difference, but together with numerous other Tulipshare users, we can pool together our shares and actually have a voice to try and make a difference in how the company is run.
Even if you would usually invest in a company like Amazon, isn't it better to do it on a platform where you can have a chance to improve worker rights with your investment?
The Tulipshare Amazon campaign aims to "provide an independent audit of warehouse workers wages and working conditions." Amazon is trying to exclude this from being a vote at their next AGM.
Surely if Amazon were confident in their workers being in a safe environment and paid appropriately, then they would just have an independent audit to prove this? To silence all their critics and prove them wrong?
How to support a Tulipshare campaign
Anyway, I had deposited £1 and got £10 in free credit as a new customer as part of their current promotion for new signups. I converted this to dollars and chose to support the Amazon campaign from the campaigns page.
To support a campaign, simply enter the amount of shares you want to buy. There is a Tulipshare fee, depending on the amount of money you want to invest.
And that's it.
It's really easy to support a campaign. Once you do, it means you now have shares (or a proportion of a share) in that company. Tulipshare will submit a shareholder proposal at the company once they have raised enough funds and continue pushing for change.
You can check your investment and see the campaigns you are supporting right from your dashboard.
Get £10 free credit when you sign up for a Tulipshare account
At the time of writing (April 2022), and ongoing for the foreseeable future, Tulipshare have a great signup offer for new customers. Each new customer who successfully opens a verified account and deposits will receive a £10 credit. This can be used on the platform to invest in one of the Tulipshare campaigns.
To qualify for the free £10 credit, you must not make a withdrawal for 90 days. If you do withdraw within 90 days you will lose the £10 credit. Terms and conditions apply.
As with all investment, your capital is at risk. Tulipshare Ltd. is an appointed representative of RiskSave Technologies Ltd which is authorised and regulated by the Financial Conduct Authority (FRN 775330).