Make your own super muesli
Posted on
It's really easy to make your own DIY homemade vegan muesli at home without even following a recipe!
Plus, did you know that a lot of the cereal boxes of muesli in the shops aren't vegan friendly?
I had no idea at first! I was shocked to realise that Alpen, my pre-vegan favourite brand of muesli, contained milk powder! It's such a shame as I really think they can cut out the milk powder and make it suitable for vegans too.
Once I turned vegan and wanted muesli I sometimes purchased vegan friendly muesli, but these often came at a premium price or in tiny little boxes that barely lasted me a few days. I like a big bowl of cereal!
Many prepackaged muesli have added sugars or aren't that tasty
So I decided to make my own and it's really very easy. In fact it's the best muesli recipe ever because it has no recipe! You can choose your favourite ingredients to make the muesli you love the most.
How to make the best homemade muesli without a recipe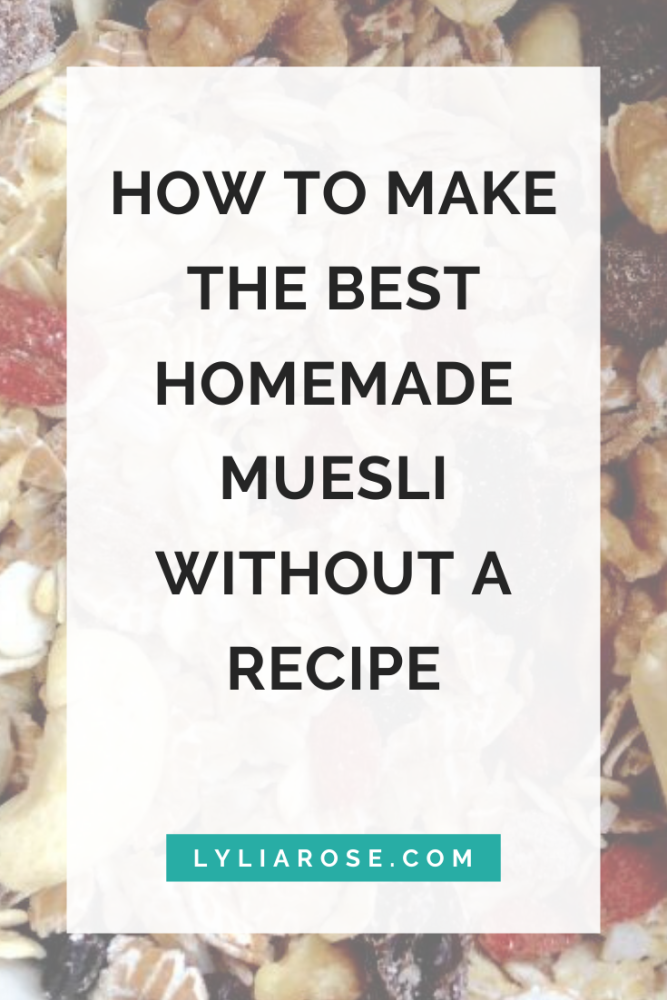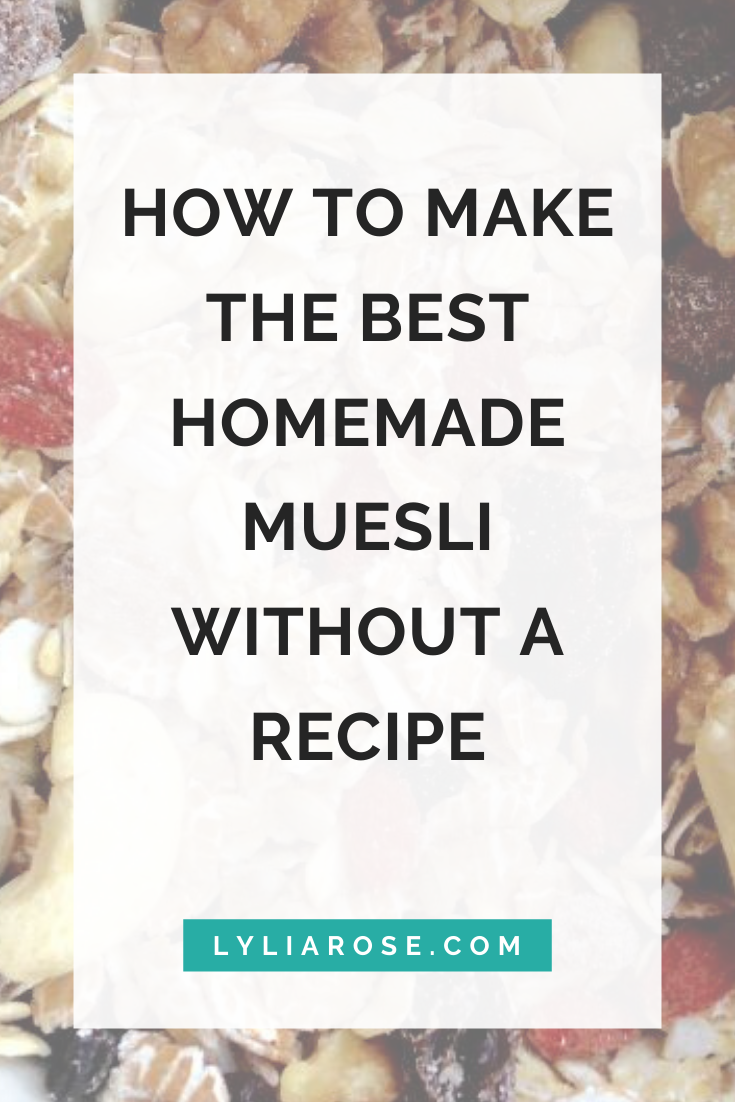 Easy homemade muesli
This isn't technically a recipe blog post as you don't need a recipe to mix up your own delicious muesli.
So long as you have some oats, dried fruit and/or nuts, then you can make a delicious muesli mix in seconds.
I call this homemade muesli 'super' because it's packed full of nutritious energising ingredients including superfoods, if you add them, which I do!
The best thing is you can add whatever you want or whatever you have to hand in your kitchen cupboards. If you haven't found your perfect store bought muesli then just make it yourself!
I have a big Kilner jar which I pour oats into and then a layer of dried fruit, nuts and any superfood powders I want to include like flax seed powder.
As an example I might add
goji berries, coconut, almonds, cashews, Brazil nuts, chopped dates, raisins, milled flaxseed, pumpkin seeds, hemp seeds & white mulberries.
Then I just twist the jar around and shake it all together!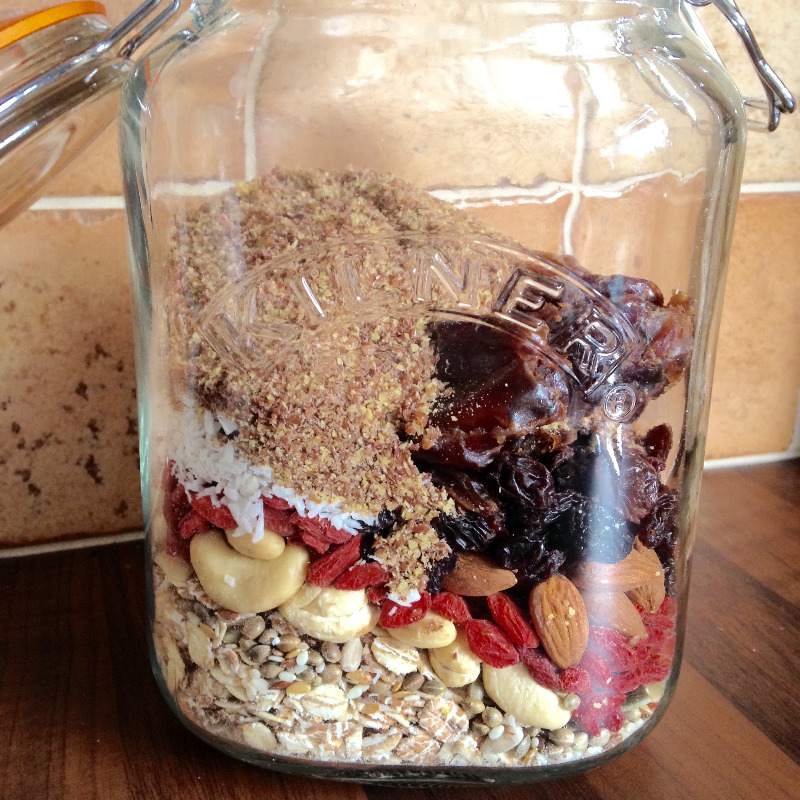 Your favourite muesli recipe
You really can add any fruit and nuts you like. Mine will always vary depending on what I have in the cupboard, meaning each batch of muesli is always unique and tastes different which keeps the taste exciting.
If I fancy chewier muesli then I add more dried fruit or extra raisins. If I want added crunch then I lessen the fruit and add more chopped nuts.
To keep it vegan friendly I use plant based milk, but you can even simply use water.
Here's a look at my latest batch. Yum!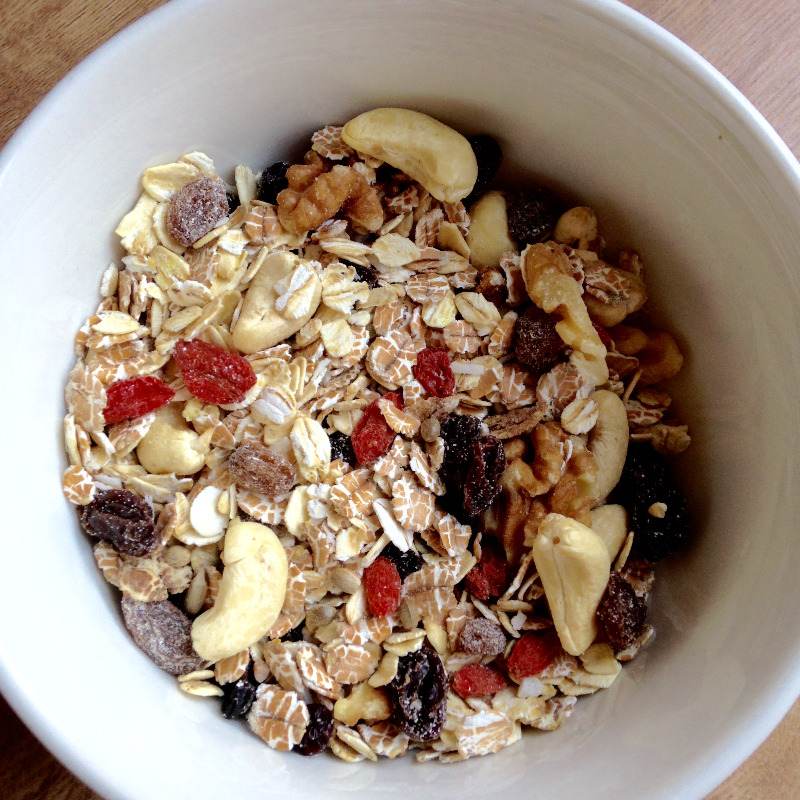 There's no need to buy prepackaged muesli if you have supplies of oats, nuts and dried fruit. Just make your own and experiment using different fruits, nuts and quantities.