Create Website Discount Code
Posted on
Are you thinking of starting your own online business but don't know where to start with creating a website? Look no further than Create.net, a user-friendly website builder that can help you build a professional-looking online store without any technical or coding experience.
As someone who has used their platform to set up an online fashion boutique, I can vouch for their easy-to-use templates, full stock management system, and excellent customer service team.
In this article, I'll share my personal experience with Create.net and explain why it's a great option for anyone looking to start their own online business.
Plus, don't miss out on my Create.net referral code RAF315226 for a 10% discount on their service.
Create.net website builder discount code
If you're looking for a discount code for Create.net then you're in the right place! Create are the website builders I used for my first online ecommerce shop and I really enjoyed using their website building platform. It's ideal for beginners and was the first one I used...
Save 10% with my discount and referral code RAF315226 at https://www.create.net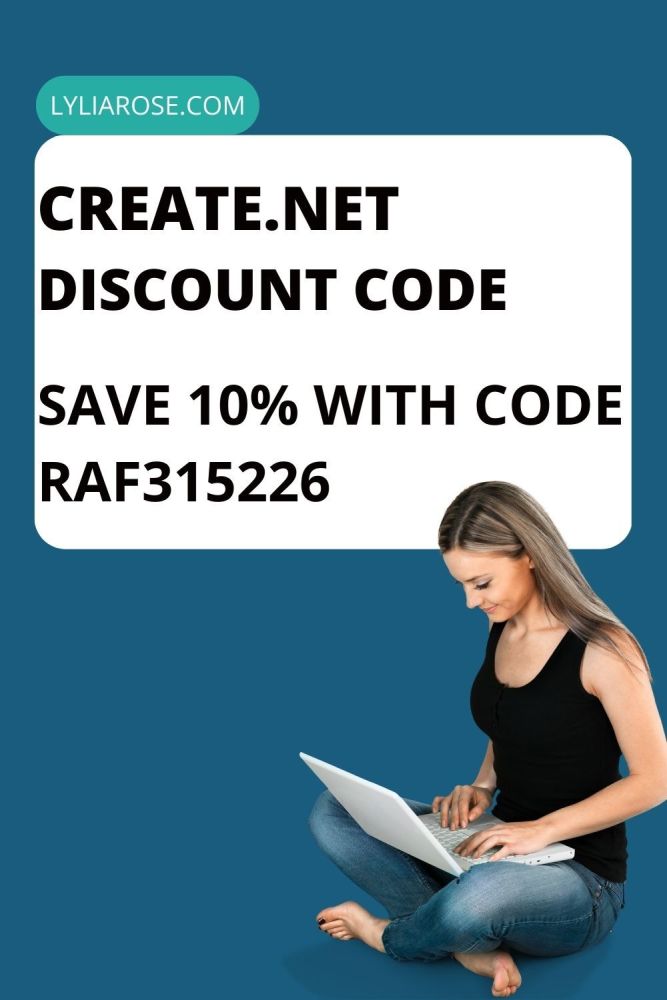 Why I set up an online shop with Create.net
Originally I didn't have a blog. My first online business website was when I set up a fashion shop online in 2012. I'd sold items on Facebook and Esty prior to this, but even all those years ago Facebook were constantly making changes to their algorithm which was affecting my sales. I knew I had to set up my own online website if I was to continue. Create.net were perfect for this.
A lot has changed in the years I've had my website and blogging is now my focus. I no longer have my online store, but I do still run this website with Create.net! I just don't have the online store on it anymore, but I loved it when I did. The Create.net platform made it so easy to create a great looking store and manage my sales.
Benefits of using Create.net website builder
Here are some of the reasons I loved Create.net for my online store:
Easy to use templates and themes
They have so many fully customisable responsive themes to choose from, so you can pick one that suits your brand and tweak it to personalise. It's so easy to change the themes and preview before deciding on them to pick the best for you.
Full stock management system
There's a full stock management system and stock control all integrated into an easy to use backend. You can generate sales reports and see everything you need in the dashboard.
The best customer service team and your own account manager
The customer service team are also brilliant!
I think I've had around three account managers in the years I've been with Create and they have all been the most helpful people ever. They never make me feel like an idiot, even when I'm asking the most stupid questions.
No technical experience or coding experience needed
You need no technical experience whatsoever to make a website with Create.net. It's all really straightforward and your account manager is on hand if you do need some tweaks or help with design.
Pay monthly or yearly
There's an option to pay monthly, or save if you pay yearly. I pay every January and it's done and forgotten about for a year.
They'll arrange your domain name purchases
I have two domains, both the .com and .co.uk and they are around £30 each for two years. Create will organise all this for you through your dashboard and send reminders when the payment is due.
Free trial
If you want to play around there's a free trial where you can test everything before committing to a contract.
Save 10% with my discount and referral code RAF315226 at https://www.create.net
Try Create website builder for free today!
Create.net is a website builder that offers a range of features to help users create professional-looking websites, including online stores, without requiring any technical or coding knowledge. Their platform provides fully customisable templates, a stock management system, and a user-friendly interface.
Create.net also offers customer support and account managers to assist users with any questions or issues they may encounter. Additionally, they provide options to purchase domain names and offer monthly or yearly payment plans.
Create.net has been around since 2001, and has helped thousands of businesses to create websites for their brand, products or services. They offer a free trial so users can test out the platform before committing to a contract, and they also have a referral program that rewards users with discounts for referring others to the platform.
Create.net has received positive reviews for its ease of use, customer support, and value for money. Overall, it is a reliable and affordable option for those looking to create a website or online store without requiring extensive technical expertise.
In conclusion, if you're looking for an easy-to-use website builder to set up your online store, Create.net is a great option. As someone who has used their platform to build an online fashion boutique, I can attest to their user-friendly templates, full stock management system, and excellent customer service team.
Moreover, Create.net requires no technical or coding experience, and they even offer a free trial for you to test out their features. Don't forget to use my referral code RAF315226 to save 10% when signing up for their service.
Save 10% with my discount and referral code RAF315226 at https://www.create.net