Octopus Refer a Friend Code: £50 Credit With My Referral Code
Posted on
Are you tired of paying high energy bills and looking for a way to save while also contributing to a more sustainable future? Look no further! With Octopus Energy, you can unlock incredible savings and receive a generous £50 credit by using my exclusive Octopus refer a friend code.
Join the Octopus energy revolution and start enjoying the benefits today! We made the switch to Octopus Energy in 2023 and so far, so good!
Read on for more information about the scheme and how you can get a free £50 added to your Octopus account with my exclusive Octopus referral code.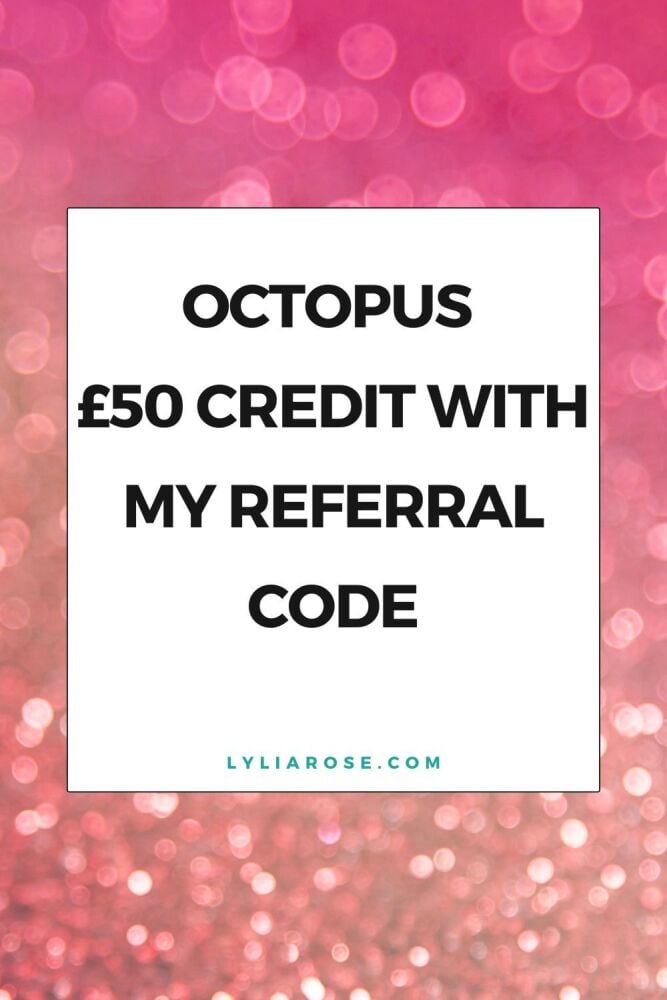 Just here for the Octopus Energy referral code? Click here to use our referral link.
Read on if you need more information!
Why Choose Octopus Energy?
Octopus Energy is a game-changer in the energy industry. With a strong commitment to providing clean and affordable energy solutions, they've gained a reputation for being a reliable and customer-centric energy provider.
Their dedication to renewable energy sources and excellent customer service sets them apart from the competition.
Not only this, but the Octopus £50 referral cashback is too good a deal to miss!
Plus, they offer more chances to save money on your energy bills with a spin-the-wheel game in the app each month, with prizes of cash that are added as credit on your account. Great!
We love the Octopus app for keeping tabs on how much energy we are using throughout the month. We were able to choose to have our statements and bills on the 1st of each month by contacting their customer service. We never set up a direct debit and instead pay on receipt of bill by topping up our account using a credit or debit card in the app or on the Octopus website.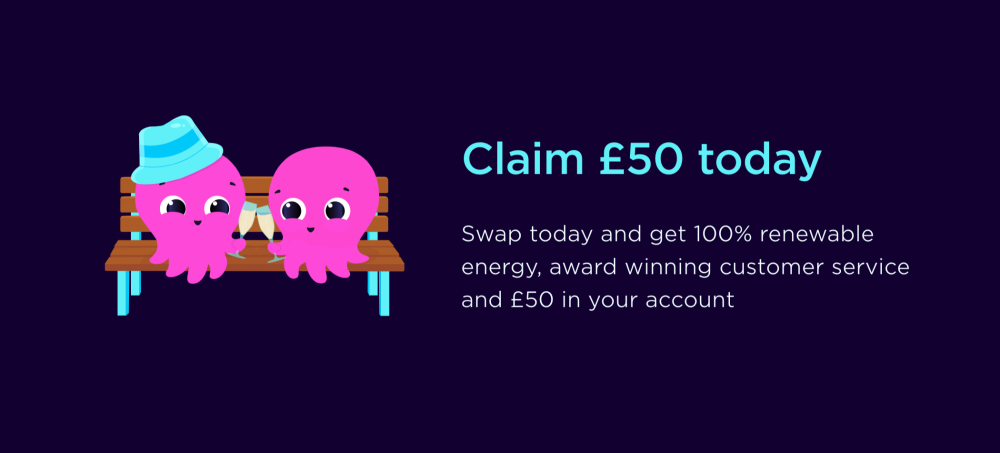 The Power of the Octopus Refer a Friend Code
With the Octopus Refer a Friend program, you have the opportunity to earn fantastic rewards while helping your friends and family make the switch to a more sustainable energy source.
By using my exclusive Octopus £50 referral link https://share.octopus.energy/grape-pup-439 when you make the switch, you'll receive a £50 credit when you sign up for Octopus Energy services.
It's a win-win situation: you save money, and you're taking a step towards living a more sustainable lifestyle.
Then you'll get your own Octopus referral link which you can share with your friends and family to split £100 between you and each person you refer!
The Octopus Energy refer a friend code is one of the best and most generous referral schemes out there! If you love sharing referral deals like this, then check out my huge list of the best refer a friend schemes I know about. With these, you can share great deals, just like the Octopus energy referral code offer, with your friends and family and get rewarded with cash, credit and other incentives for successful referrals. I love these types of schemes, especially for great companies I already use and love.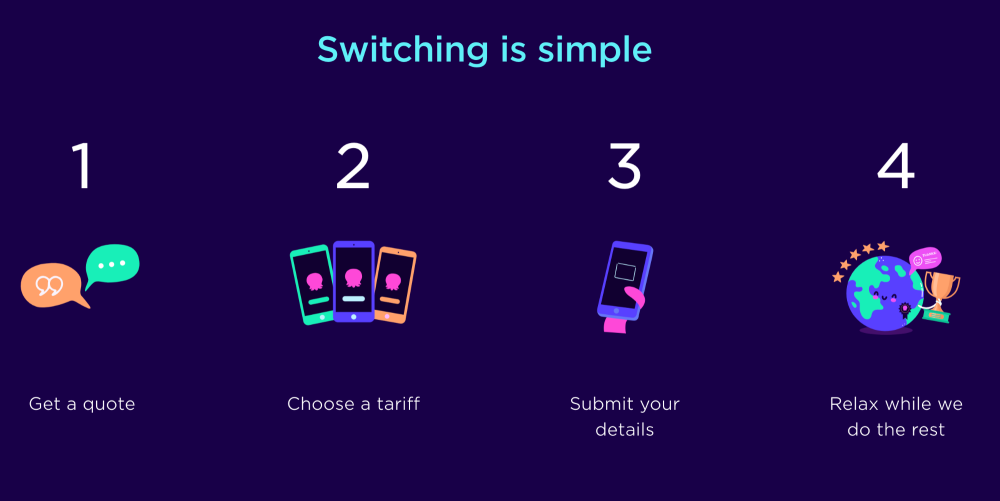 How to Redeem Your £50 Octopus Credit
Redeeming your £50 Octopus credit couldn't be easier. Follow these simple steps to start saving on your energy bills today:
Click my Octopus £50 Referral Link: Click on my referral link https://share.octopus.energy/grape-pup-439 to access the Octopus Energy website.

Get a Quote: Once you're on the website, get a quote for switching your energy to Octopus. Their user-friendly interface makes the process quick and hassle-free.

Choose a Tariff: Happy with a quote and want to make the switch? Simply pick a tariff and submit your details. Let Octopus handle the switch.

Enjoy Your Savings: Once you've completed the sign-up process and your services are activated, you'll receive a £50 credit applied to your account. That's instant savings for you!

Why Go for Octopus Energy?
Switching to Octopus Energy isn't just about the immediate financial benefits. By choosing Octopus, you're supporting a cleaner, greener future. Octopus Energy is committed to using renewable energy sources, which helps contribute to a more sustainable planet.
Spread the Word and Share the Benefits
Once you've experienced the incredible savings and environmental impact of Octopus Energy, why not share the love?
With the Octopus Energy refer a friend scheme you can invite your friends, family, and colleagues to join you in making the switch, and each make some amazing savings on your energy bills in the process.
Share your own Octopus referral code with them, and you'll both enjoy the rewards. It's a fantastic way to help your loved ones save money while also making a positive impact on the environment.
Where to find your Octopus referral code? Simply scroll to the bottom of the homepage on the app to discover the refer-a-friend option, click and you'll find your link to share.
Get started with a free and quick quote using my Octopus referral link at https://share.octopus.energy/grape-pup-439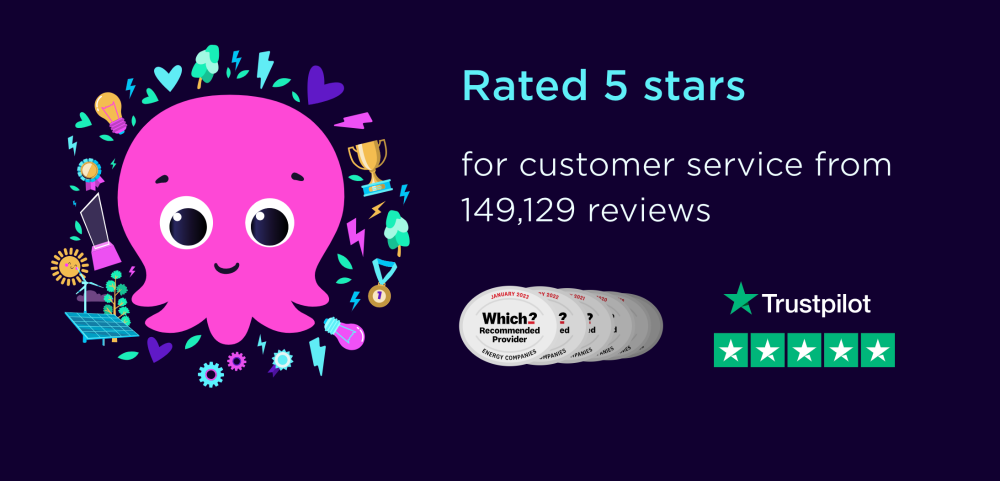 Final word
Make the smart choice for your energy needs and join Octopus Energy today. By using my Octopus refer a friend code, you'll earn a £50 credit and take the first step towards a brighter, more sustainable future.
No need to enter an Octopus referral code, simply click my referral link above and you'll be taken to a special referral page where you can enter your postcode to get a quick quote for your energy with Octopus.
Once you're a cusomer, you'll get your own Octopus invite a friend link which you can share to get even more Octopus credit added to your account.
Remember, every small action counts towards a cleaner planet. Don't miss out on this incredible opportunity to save money and make a positive impact. Sign up with Octopus Energy now!
Sign Up with My Referral Code and start enjoying the benefits of Octopus Energy's £50 credit offer.
Happy saving :)
Want more free money offers like this?
Check out the free money page for lots more ways to get free money, some offers are instant!