Snoop App Review + £5 FREE Amazon Gift Voucher
Posted on
If you're wondering what the Snoop app is and how it can help you with money management then read on. This app also gives away free £5 Amazon vouchers to new customers who sign up to the free Snoop app and link one bank account for at least 28 days. You don't have to spend any money or do anything else! This is an easy free money offer. Read on to see what Snoop is and how to get a £5 free Amazon voucher.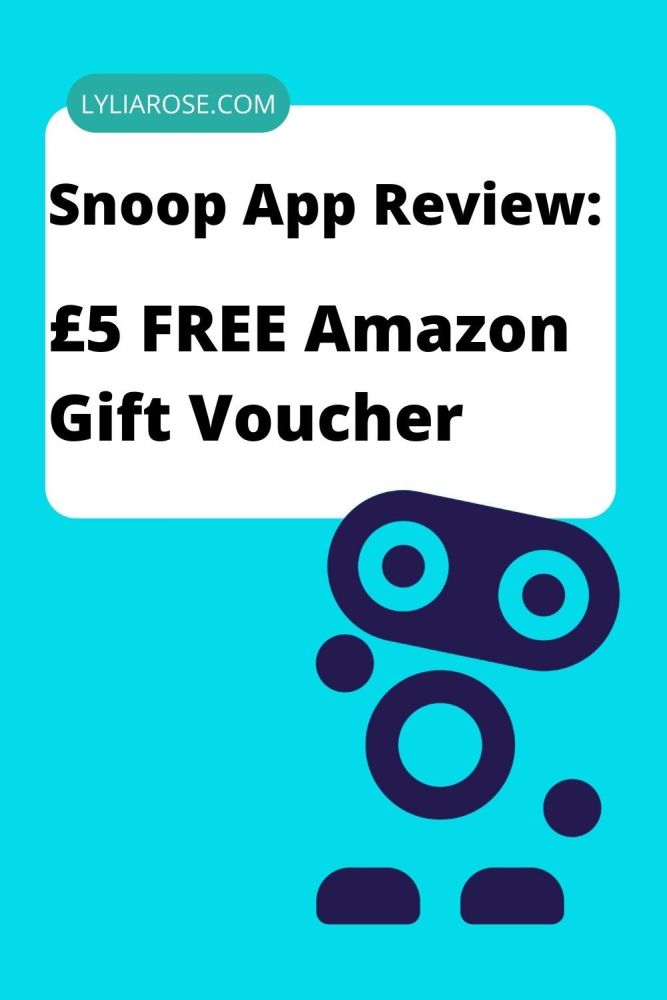 Use my Snoop referral link by clicking here and get a free £5 Amazon gift voucher!
What does the Snoop app do?
Snoop is a free money management and budgeting app. By connecting your bank accounts and credit cards via open banking, Snoop will help you track spending, see upcoming bills and let you know your total net worth across all connected accounts.
By seeing your accounts, Snoop offers customised tips to help cut your bills with better deals compared to the providers you are currently using.
You can also take better control of your finances by setting up spending alerts for specific merchants to tackle overspending in certain categories.
Snoop aims to offer everything you need to beat the cost of living increases by providing personal money management in a free and easy-to-use app. You can see all your account balances and transactions in one place with personalised 'snoops' which give you tips to better manage and review your personal finances.
Oh, and they regularly offer cash prize draws, such as a chance to win £2000 for setting up a spending goal, as well as regularly giving referrers and referees £5 Amazon vouchers for free.
Snoop is giving away £5 Amazon vouchers to new customers!
Sign up to the free Snoop app using my referral link and connect at least one bank account to qualify for a free £5 Amazon gift voucher.
You must stay signed up and with a bank account connected for at least 28 days, otherwise, you won't qualify for the reward.
The voucher will be paid within 28 days of a successful bank or credit card connection by a new Snoop user.
Use my Snoop referral link by clicking here and get a free £5 Amazon gift voucher!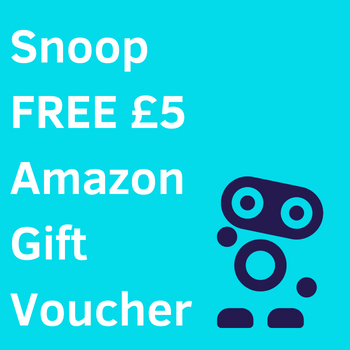 Refer your friends for more free Amazon vouchers from Snoop!
Once signed up, you'll get your own referral link and referrers can get a £5 Amazon voucher per successful referral when the offer is running. Keep an eye on the app for the latest offer dates.
To get your referral link simply go to the Snoop app, press the hexagonal cog in the top left for the settings and go to the Invite section. From here you can share your Snoop refer a friend link with your friends via messaging, email or however you prefer.
Love sharing great offers with friends? Make extra cash with these refer-a-friend schemes.
Is the Snoop app safe to use?
When it comes to fintech apps like this and having to link your bank accounts, you may be wondering if the Snoop app is trustworthy and safe to use.
The Snoop app uses open banking technology to analyse your account transactions. They have no access to your login information and use the latest secure tech, just like your bank apps. All data shared is encrypted and they'll never ask for or need your bank login details.
They simply analyse your banking data to provide their service. You don't deposit money with them and they can't access your money.
Snoop is regulated by the Financial Conduct Authority and registered with the Information Commissioner's Office. They have the same high standards of data protection and security as any other bank.
Use my Snoop referral link by clicking here and get a free £5 Amazon gift voucher!
Is it safe to connect a bank account to Snoop?
Yes, the bank accounts are connected via open banking which means Snoop never see your login details and you don't have to enter them. You can securely connect and authorise your bank transactions to be accessed via your own banking apps using open banking technology. All data shared is encrypted.
Snoop app review
I've been using the Snoop app for quite a while and I love being able to see all my account balances and transactions on one screen. I like how they group together spending in each merchant so you can see your overall spending in one supermarket, for example, for a month. You can also set up spending alerts, for example for your favourite takeaway, to limit spending if you want to set spending goals.
They also share useful financial news and the latest information on things like the Bank of England base rate. As well as personalised 'Snoops' to help you better see and visualise your spending.
If you're looking to save money on things like mobile phone contracts and broadband, you can input your contract ending dates and be alerted of the best deals they can find when your contracts are ready to be renewed The same with energy and insurance.
Best of all, they have a great refer a friend scheme at the time of writing so you can bag yourself an easy free £5 Amazon gift voucher by clicking my Snoop referral link and connecting at least one bank account for 28 days. Then you can get your own referral link to invite your friends from the app.
Use my Snoop referral link by clicking here and get a free £5 Amazon gift voucher!
Want to manage your finances better?
Here are loads of family finance tips and helpful debt articles.
Find some great deals on my voucher codes and how to get free money UK pages!
Learn how to get free food and heavily discounted food.
Check out my list of UK apps that turn receipts into cash and also this list of UK cashback sites to maximise your free cashback and savings.
Find free cryptocurrency offers here and free shares offers here!
Subscribe to our newsletter for the best free money offers, money-making and money-saving tips we discover!