10 ways to make money blogging
Posted on
If you're a regular follower then you'll know my blog is my full time income. If you're new then welcome and hello! Welcome to my little space on the internet, my very own blog where I write about the topics I am most passionate about including making money online, money saving tips, family finance and WFH advice.
I have been very lucky (and with a lot of hard work) to be able to turn my blog into a source of income for me. It now provides me with a full time wage.
I do work full time hours, and then some, so I'm not here with a quick fix or going to promise you can earn thousands working ten hours a week and living on a yacht off a tropical island…!
But, if you have a blog already or you wish to start one then I'm going to share with you 10 ways to make money from blogging.
This Lylia Rose blog took three years before monetising, but it wasn't my original aim so I could have done it sooner.
My husband has a blog and it took one year.
My second blog, Healthy Vix, took only six months and my third blog Travel Vixta took even less.
It's totally possible to make money from blogging and have an enjoyable career in the process... especially if you like writing and working by yourself!
Here are 10 ways you can make money from a blog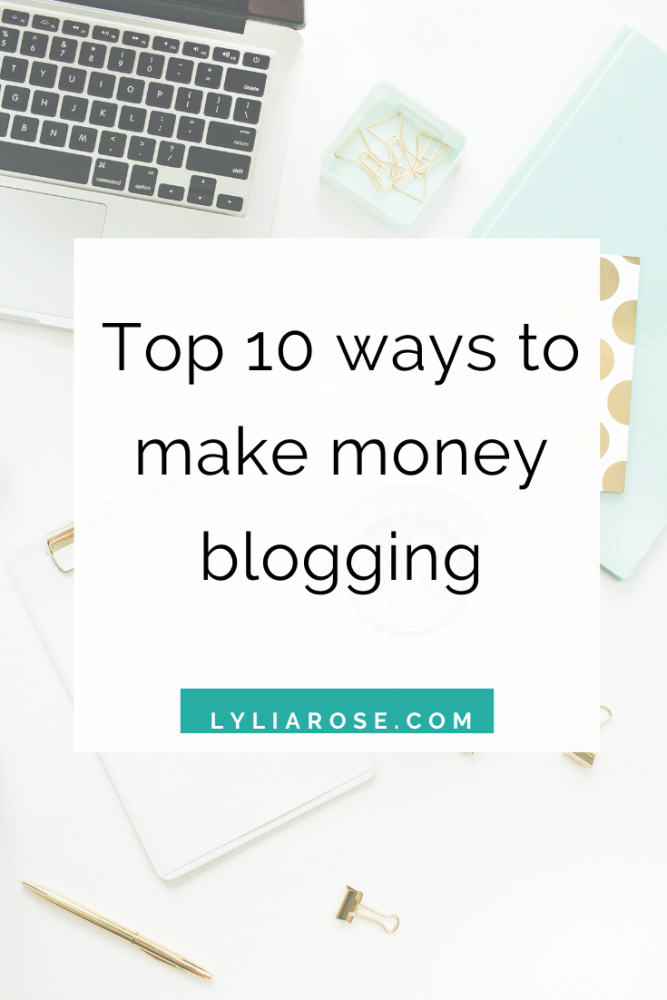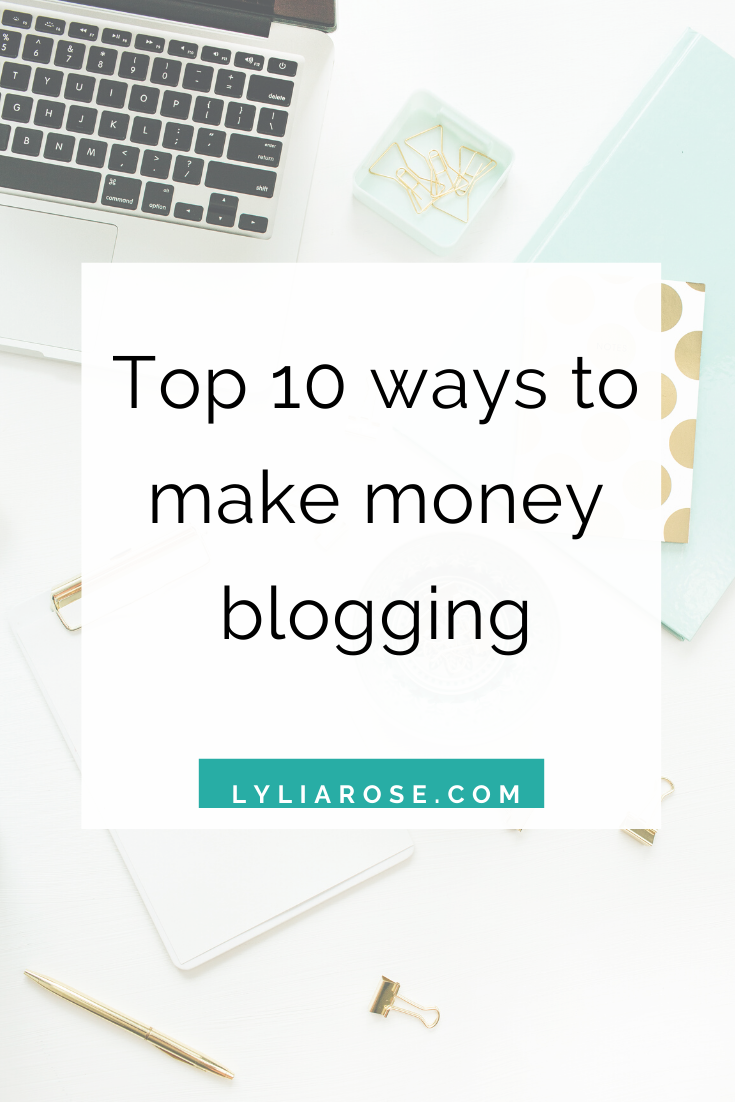 1. Write sponsored blog posts
The most popular of mine is to write sponsored blog posts. This is where a company will pay for you to create a blog post on your own blog and include a link to them or their client.
Usually they require a high DA score (Domain Authority).
Read How to improve your domain authority (DA) for tips and tricks.
I love the challenge of writing unique content and relating it to a topic I'm interested in or my lifestyle. I also love writing my own blog posts as much as possible.
Some of these opportunities land in my inbox so I'd suggest having a work with me page and contact page on your blog.
I also find them by searching hashtags on Twitter such as #bloggerswanted and #bloggerrequest. Be warned – these hashtag feeds are filled with lots of spam, but I retweet all the opportunities I find each day on my Twitter account, so follow me there!
These can also be found in Facebook blogging groups as well as blogging opportunity websites such as:
There are lots more too. I simply Googled 'blog networks' 'blog agencies' and similar when I first started monetising and signed up to everything I could find!
*** Check out this huge list of websites to find paid blogging opportunities for your blog ***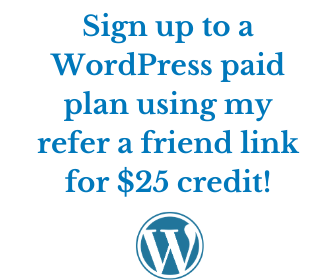 2. Accept pre-written paid blog posts
Sometimes companies will offer pre-written sponsored blog posts. Often they will try to write it in the tone of your website and they usually don't mind if you edit the content, so long as links are left in place.
These are usually found by the same methods as above, but sometimes disguised by people pretending to be bloggers and wanting to place a 'guest post' or offering their 'awesome free content' for your blog!
I get these emails every day in my inbox and send back my rates!
Usually they will be including a link to their client in the blog post and it's not genuinely a guest post from another blogger. If you're a new blogger then watch out for these emails. Some call them blogger scam emails or the people sending them 'SEO sharks'!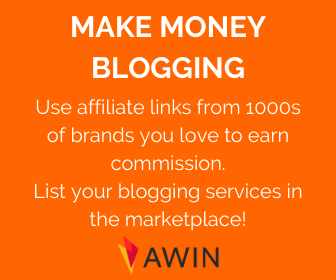 3. Giveaways
Hosting giveaways on your blog or social media accounts is another great way to make money. Some bloggers offer this service for free as it will generate traffic and followers, but you can also set a fee as giveaways can be quite time consuming to create and promote. Plus the brand is getting exposure, advertising and often new followers from your hard work.
It usually takes more of my time to run a giveaway than to write a sponsored post. I value my time and resources.
4. Reviews
Again, many bloggers will review items for free, but you can also charge a fee for your time and access to your platforms.
If an item is very high value and will be of use then you may not charge, but again, consider the time and effort you put into the blog post.
Also if the blog post stays on your blog forever, that's links and advertising FOREVER for the brand. I'd suggest putting a value on your time, platforms and effort unless it's a product that really is of value to you.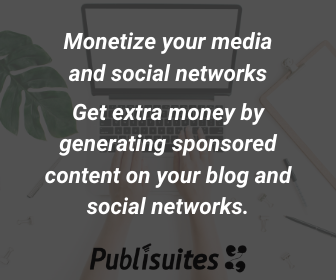 5. Ads
Some bloggers are very successful with ads. I know when you get over 50000 sessions per month then you can apply for ads from a company called Mediavine. At 10000 page views then Ezoic is recommended.
Got 10000 page views a month? Sign up to the Ezoic ad network here!
I've seen several bloggers say they make more in a day with Mediavine than they did in a whole month with Google Ads. With Ezoic, revenue is usually doubled or tripled.
I did use Google Ads and made around £60 per year when I used to have 10,000 page views a month! To be fair, I only had one ad in my footer for the majority of that time. There's more to be made if you want their ads in more prominent places and also if you have a lot of traffic.
You can also charge companies directly for ads if you wish. You can offer banner placements and different charges for 1 month, 3 months, 6 months and so on. Just add this service to your work with me page and/or media pack.
Have you heard of header bidding?
The lack of transparency, control, and limited demand pool from AdSense and similar networks, pushes many to header bidding. If you hit 30,000 unique visitors per month, Newor Media is recommended. They can optimize your ad units and get competitive rates for them as well.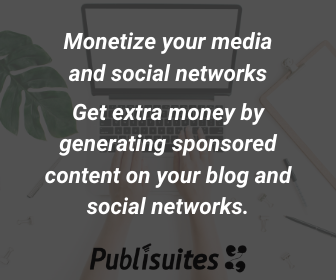 6. Affiliate marketing
Affiliate marketing is something I need to increase, but I usually make around £100 per month thanks to promoting Profit Accumulator which is a company I use myself and highly recommend if you want to start matched betting.
If you're wondering where to find affiliate schemes to sign up to, then here's a comprehensive list of high paying programs to get you started.
I also make a regular income from Awin affiliate marketing. Awin have thousands of well-known brands on their books and when you sign up to the platform you can apply to each brands affiliate program. You have to pay £5 to sign up, but you get it back in your first affiliate payment. The threshold is only £20 for a pay-out. I get regular pay-outs now and I just currently have £300 pending - the payments need checking and clearing before they are paid. My husband's blog is making around £100 per month on Awin.
I've decided to put more effort into Awin recently on my blogs by adding banners to each blog post and writing more blog posts specifically about the brands I have used and recommend.
You can also share links on social media to try and increase your revenue.
Signing up to referral schemes, like refer-a-friend opportunities, is also a great way to make money blogging. Here are some of the best refer a friend schemes in the UK.
Related: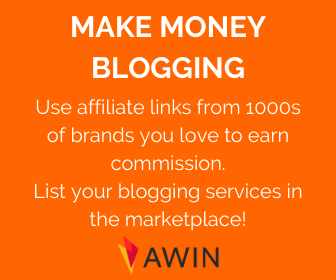 7. Social media posts
Setting up social media accounts for your blog is always a great idea. I include social shares as standard with all my blog posts, but I also offer social shares only if a brand is only looking for this. Some bloggers do not include social shares with a paid blog post and instead have it as an optional paid add on to generate more income.
Social media is also a great way to be found by companies looking for bloggers to work with, so it pays to be active and consistent on your accounts.
Some companies will pay for stand alone social media posts, especially on Instagram if you have an active and engaged account.
Related: How I save hours every week scheduling tweets with Social Oomph
8. Images
If you're taking amazing images for your blog, then why not sell them as stock images so others can use them too?
There are lots of stock image websites you can sell them to and you'll be paid each time someone downloads the image.
Brands may also want to use images you've created in collaborative blog posts with them, so consider charging for image use or for giving away the copyright to a brand.
I regularly see bloggers talking about this in the blogger groups and many charge for image use by brands.
It's also worth checking the fine print of any contracts you sign with brands as some will automatically expect rights to any images you create as part of a collaboration.
Get free stock images here in return for a backlink credit to my blog!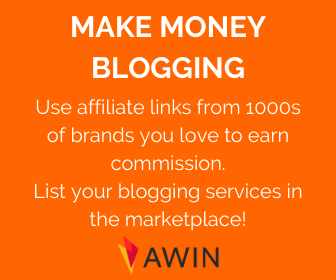 9. Write for brands
Lots of brands look for guest bloggers, which is usually in exchange for exposure and a link back to your site, but sometimes brands need a regular content writer for their own blog or website.
For bloggers it can seem like a natural progression to offer copywriting services to brands for their own blogs.
If this is a service you wish to offer then add it to your work with me page and let people know!
It's not something I offer currently, but I have been approached several times by random brands and those I've already worked with to ask if I can write their blogs. It's definitely an income stream worth exploring if you have the time to do additional writing.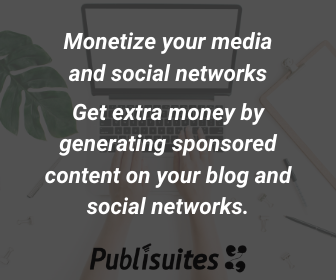 10. Blogger outreach
Sometimes after you've worked with a brand they will ask if you know more bloggers who are interested in working with them too. It's great to share these opportunities with your networks even without payment, sharing is caring after all, but occasionally they'll offer a finder's fee.
This means you'll get a certain percentage from any completed work with the bloggers you recommend or a set fee, such as £5 per blogger you refer. I guess there's no harm in asking if they offer a finder's fee when asked to find more bloggers for a company!
On ocassion I've been sent a finders fee without even asking for one - amazing!
Some blogger's offer blogger outreach as a part of their services. We have access to private blogger groups that brands don't and we can save brands a lot of time by doing the outreach on their behalf. It's another great way to make money from your blogging skills and contacts if you have the time.
Final word
Hopefully this article has enlightened you as to how you can make money from home with your blog. It also shows you how to think outside the box and make money from services linked to your blog that doesn't always include just writing blog posts. There's a lot of different ways blogging can serve you financially.
Want to make more money from your blog?
Check out this huge list of websites to find paid blogging opportunities for your blog and my 6 secrets to make more money from your blog!
Maybe you're looking for ways to make money from home?
Here are 60 tried and tested ways to make money online in the UK and check out my favourite side hustle to make money in my matched betting blog!