Primark discount hack (save money on every purchase)
Posted on
Primark already offers amazingly low prices, but with this hack you can save money and get a Primark discount every time you shop!
Yesterday we went to Primark as we needed several different clothing items for the kids for winter from coats to jumpers to trousers and more. We were on a bit of a budget so wanted to maximise what we could buy and Primark was the best option. They already have great prices on their clothing, but we managed to save an extra 5% on our purchases too!
If you love Primark then you might be wondering how to get a Primark discount every time you shop. Read on to learn exactly how anyone can get a Primark discount on any purchase with this gift card hack!
How to get a Primark discount on any purchase!
There's a great way you can save money on whatever you buy in Primark… every single time! It's by using an app called JamDoughnut before you hit the checkout at Primark. This amazing app is fast becoming our favourite cashback app! So how does it work?
Quite simply, you buy a discount card for Primark on the app and get instant cashback! At the time of writing, you can get up to 4.9% cashback in Primark.
You can also get £5 free cash if you sign up with referral code 2XYM
You buy a gift card on JamDoughnut and the cashback is added to your JamDoughnut balance instantly. There's no waiting! Then simply use your gift card to pay at the checkout in Primark. It is added as an e-gift card and there will be a barcode for the assistant to scan at the checkout.
You can link JamDoughnut to your bank account and once you have £10 in cashback, you can cash out! There's a 20p charge for cashing out at the time of writing.
It's an amazing way to get a Primark discount every time you shop.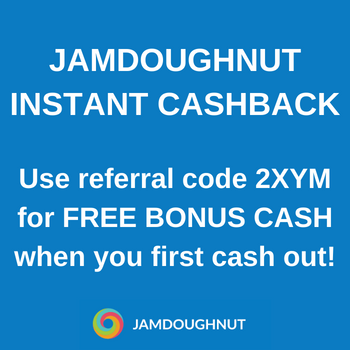 Wait, there's more…
Not only can you use the JamDoughnut app for Primark, but for many other popular High Street stores both online and in-store. As well as some popular supermarkets like Asda, Waitrose, Sainsbury's and Morrisons.
The best thing about Morrisons is you can use their gift vouchers at their fuel stations, so you can save on fuel every time you fill up!
And, if you use my JamDoughnut referral code to sign up then you'll get an extra £5 added to your balance for free when you first cash out!
Get £5 free cash when you sign up to JamDoughnut with my referral code
Here's how:
Click here to get the JamDoughnut cashback app on the App Store or Google Play

Register on the app. Enter referral code 2XYM

Make your first purchase and receive 500 bonus points worth £5 in free money!
Once you have 1000 points, worth £10, you can cash out. It costs 20p to cash out at the time of writing, which they deduct from your JamDoughnut balance.
(When I signed up I got 100 points for signing up and 500 points when I made my first gift voucher purchase, so in I had £6 added to my balance for free! Hopefully, you'll get the same!)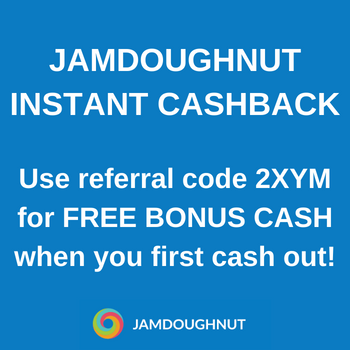 Want to save more money?
Check out my massive money-saving tips section and find some great deals on my voucher codes and how to get free money pages!
Learn how to get free food and heavily discounted food.
Check out my list of UK apps that turn receipts into cash and also this list of UK cashback sites to maximise your free cashback and savings.
Find free cryptocurrency offers here and free shares offers here!
Subscribe to our newsletter for the best free money offers, money-making and money-saving tips we discover!