JamDoughnut Cashback App: Free Cash With My Referral Code & Review
Posted on
JamDoughnut is an amazing cashback app that gives instant cashback on prepaid gift vouchers for the High Street and online brands you love, including supermarket gift vouchers so you can save on both food shopping and fuel.
By using my JamDoughnut referral code 2XYM and making your first purchase, you can get £2 free cash added to your account! Simply enter JamDoughnut promo code 2XYM when signing up!
Read on for full instructions and to learn more about this amazing instant cashback app and how you can quickly and easily cashout your first £10.
Plus, there's a chance to win cash prizes every single day, and more!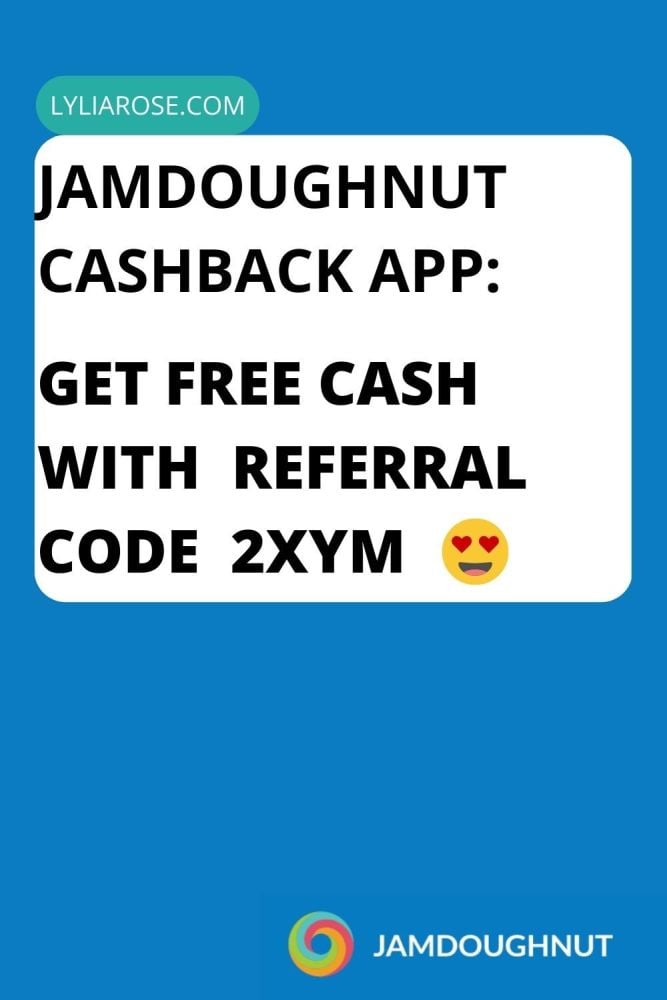 ---
TABLE OF CONTENTS
How to get free cash with the JamDoughnut cashback app

How I cashed out instantly when I downloaded the JamDoughnut cashback app

How to cashout on the JamDoughnut cashback app

My JamDoughnut cashback app review

Make money with JamDoughnut refer-a-friend

Win cash prizes daily for free with JamDoughnut

What is JamDoughnut?
---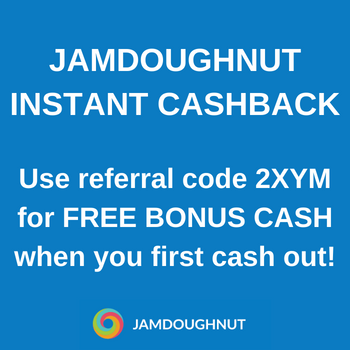 How to get free cash with the JamDoughnut cashback app
Click to get the JamDoughnut cashback app on the App Store or Google Play

Register on the app. Enter JamDoughnut referral code 2XYM

Make your first purchase and receive 200 bonus points worth £2 in free cash when you cash out!
Once you have 1000 points, worth £10, you can cash out straight to your bank account.
Easily get up to 1000 points by purchasing gift vouchers with instant cashback for your favourite stores and supermarkets.
I simply purchased some Morrisons and Sainsbury's gift vouchers for our monthly grocery shopping!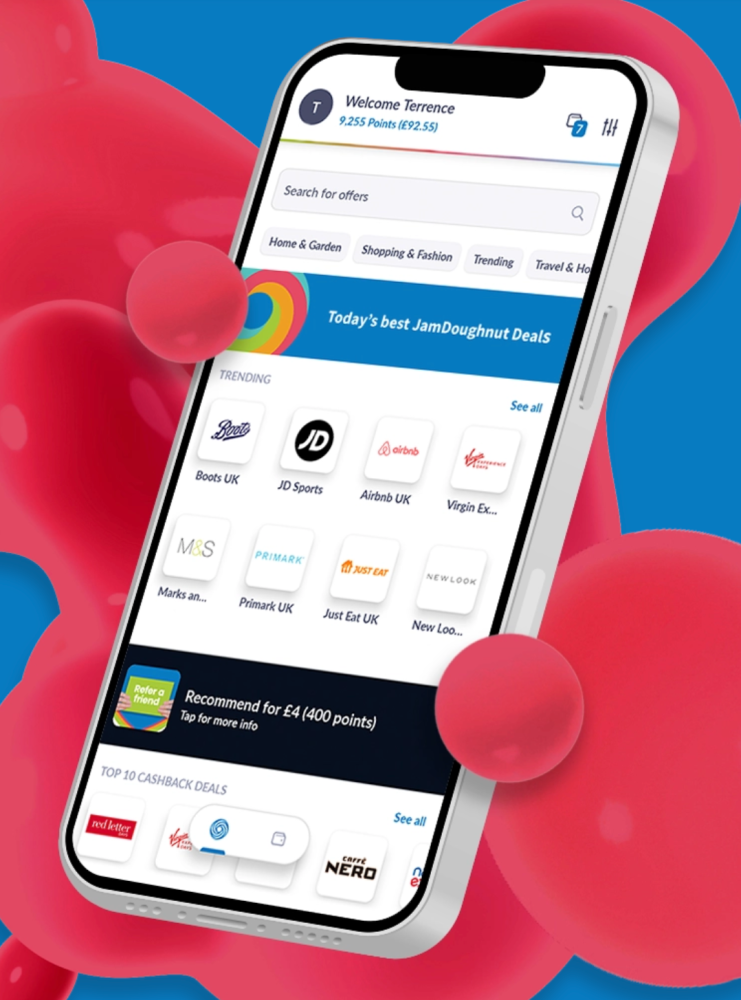 How I cashed out instantly when I downloaded the JamDoughnut cashback app
(AND saved money at the supermarket)
Here's a great tip to reach the £10 cashout threshold instantly. You can purchase gift vouchers at a discount for the supermarkets you shop in to quickly release the free cash bonus and cashout.
When I first downloaded the JamDoughnut cashback app, I instantly purchased £50 worth of gift cards for Sainsbury's, plus £40 worth of gift vouchers for Morrisons. This was money I was going to spend anyway in the supermarkets for our grocery shopping that month.
Both of these supermarket gift voucher purchases, via the JamDoughnut app, came with cashback which was instantly added to my points balance. Along with the signup bonus I received, I then had a £10 balance which met the minimum payment threshold and I could cash out!
Easy!
How to cashout on the JamDoughnut cashback app
Simply choose to cash out on the Wallet screen and enter your bank details (name, sort code and account number). The cashout will be with you in 5 days. Easy!
My cashout was in my bank account same day.
Here are my screenshots from the first time I cashed out: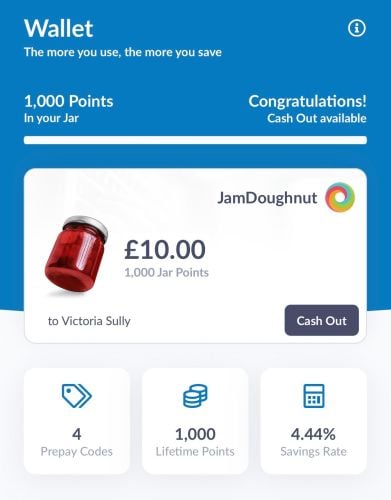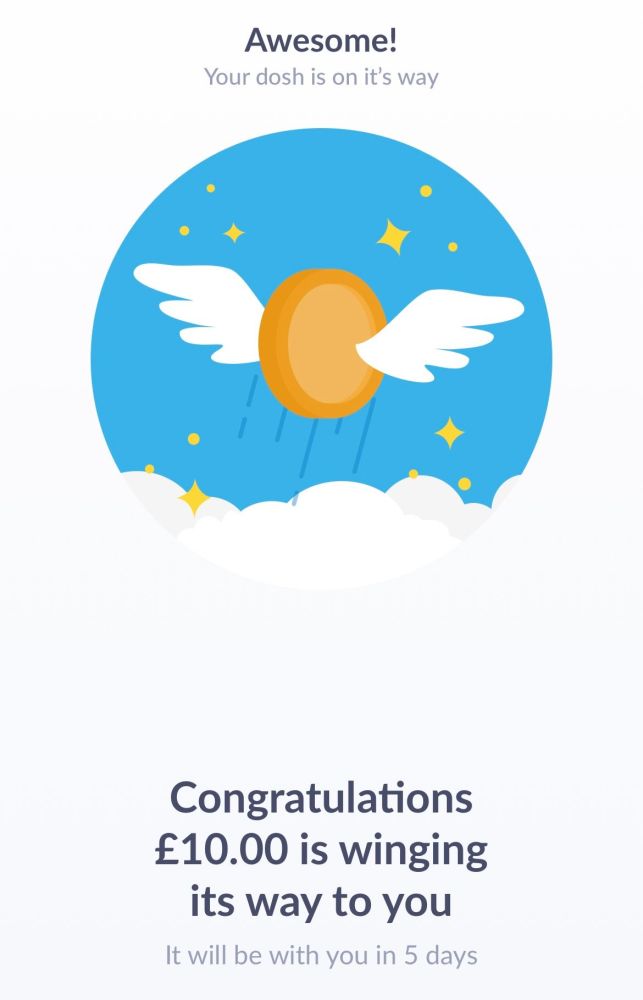 My JamDoughnut cashback app review
I originally wrote this post sharing how to get free cashback from JamDoughnut with my referral code 2XYM in April 2022. Since then, I have used this app numerous times. In fact, to date I have purchased 168 gift vouchers with JamDoughnut and I will purchase many, many more!
I basically use the app every single week to save money on our supermarket shopping. Where I live, we have a large Morrisons supermarket and a large Sainsbury's supermarket. Luckily, JamDoughnut has gift cards with instant cashback for both of these stores!
The Morrisons here has a fuel station, so I also use the app to buy Morrisons vouchers which I can use to pay for my fuel every month. Morrisons accept gift cards at their fuel stations, so prebuying gift cards on JamDoughnut with instant cashback a great way to slash the price of fuel.
Thanks to the JamDoughnut app, I am making amazing savings on our family food shopping and fuel costs every single month!

Why do I love the JamDoughnut cashback app so much?
There are a lot of cashback apps and websites about, and I am a big fan, so what is it about the JamDoughnut app that keeps me coming back? I use it every week, but why? Here are some of the reasons why this app is a firm favourite:
Simple, straightforward design: The app is really easy to use. I simply use the searchbox on the first page to find the gift vouchers I need. There are just two tabs on the app, one for finding and buying the gift vouchers, the other is the wallet where all purchased gift vouchers are stored.

Loads of stores I actually use: The app has 100s of brands to choose from. Some other apps I use have very limited deals on discounted gift vouchers or cashback deals, but the JamDoughnut app has so many brands, I can almost always find what I'm looking for. So I'll always check the JamDoughnut app first.

Lets you know if you can spend online: Some vouchers are in-store only, others can be spent online too. If you click on a store then it highlights at the top whether it can be spent in-store and/or online. This is super handy to see if I can use a voucher for my online shopping. I bought some FitBit scales recently and I was able to use a Curry's gift voucher online purchased via JamDoughnut to save several pounds (there's an unintened pun there...!)

Quick and easy to buy vouchers: Simply choose your amount and pay in a couple of clicks using Apple Pay or from your bank via secure 3rd party bank processing.

Wallet: The wallet is really handy as you can see all your gift cards in one place, so you can access them here when you are ready to use them in-store. Simply find them and scan the barcodes at the till. Some gift card balances update automatically once you've spent part of the balance, but if they don't update then you can update your spending yourself to keep tabs on your remaining balance.

Archive: Once you've spent 100% of a gift voucher then you can archive it. These aren't deleted and you can access your archive in case you delete a voucher accidentally or in case you have a refund on a voucher and need to recover it. I do have another gift card cashback app which totally deletes gift vouchers, so I love this feature on JamDoughnut as sometimes you need to recover a used gift card.

See your total savings rate: The wallet tab lets you see your total savings rate, so I can see I have saved 3.54% overall on all the gift vouchers I have purchased.

Easy cashouts: The cashout threshold is just £10 which I easily reach thanks to buying all my supermarket gift vouchers in advance on the app each week. Payments go straight to my bank account and have been same day or they take just 1-2 days usually.

Cashback in store: I love being able to essentially get cashback in stores. Many cashback websites require you to click via a link to track a purchase and qualify for cashback, which means you can't get the same deal in-store. By purchasing gift cards with cashback using JamDoughnut, you can get cashback when you prefer to shop in-store too.

Quickly purchase gift cards using the app at checkouts, in-store, so you don't overpay: The app is so quick and easy to use that I am able to wait until I get to the till in supermarkets and shops and I often purchase a gift card for the exact amount I need when I'm at the till. I remember to search on the app everytime I'm buying something in a store to see if I can get cashback. I prep by clicking on the store in the app so I'm ready to quickly buy a voucher when I'm ready to pay. Then I say I have a gift card on my phone to pay with, I quickly enter the amount on the app, pay with Apple Pay and within 60 seconds I have the gift card on my phone to pay! This is handy so I don't overpay on gift vouchers for stores I don't regularly shop in and end up with a small amount of change on the gift card which would waste my money.

Prizes, free cash bonuses and giveaways: There are chances to win gift vouchers on the app. Keep an eye on the app for giveaways and prizes.
There are many reasons I love the JamDoughnut app and use it every week, and, of course, the biggest reason is that it saves me so much money!
It's also handy for budgeting money through the month when it comes to our family finances. Often I will buy separate vouchers for our weekly food shops in advance for the month, as well as Morrisons vouchers specifically for fuel. I then share the vouchers with my husband by screenshotting them on my iPhone and popping them in shared "grocery" and "fuel" folders, so we can both use them.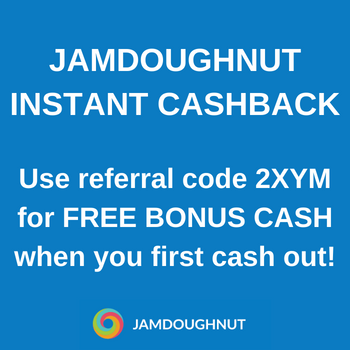 Make money with JamDoughnut refer-a-friend
Another great benefit of JamDoughnut is their refer-a-friend offer. You will receive your own referral code once you've signed up and, at the time of writing, you will be rewarded £4 for every friend who uses your code when signing up and goes on to cash out.
Not only can you make money from the instant cashback, but you can potentially make even more money by letting your friends and family know all about JamDoughnut and sharing your refer-a-friend code with them! They'll get a free cash bonus when they make their first purchase and cashout for the first time too! (Free bonus is £2 at the time of writing).
They've had special refer-a-friend promotions too where you can earn even more, so keep an eye on the app!
Daily Doughnut: Win cash prizes daily for free with JamDoughnut
JamDoughnut have launched their new Daily Doughnut section on their app. Just click the little newspaper icon at the bottom left of the app and you can find lots of special offers.
Within this section, you'll find the daily giveaway with cash prizes every single day! Just check if your own JamDoughnut refer-a-friend code is shown and if it is, you've won £10. There are ten winners per day, at the time of writing.
There are also other giveaways, competitions, discounts and deals shared in this section.
At the time of writing the Daily Doughnut section includes:
Daily News
Double Discounts
Jammy Deals
Competitions
£100 Daily Giveaway
What is JamDoughnut?
In their own words "Earn when you spend - Instant cashback guaranteed when you spend online, in-app and in-store at your favourite shops and restaurants with JamDoughnut. No more waiting for payouts as your Cashback is paid as soon as you buy with 100's of brands"
JamDoughnut is a cashback app that pays you instant cashback when you buy gift vouchers on their app.
Love coffees at Costa?
Love booking accommodation with Airbnb?
Love buying tech from Curry's?
There are hundreds of popular UK brands just like Costa, Airbnb and tech on JamDoughnut, including online stores, restaurants, cafes, takeaways, travel, entertainment and supermarket brands to choose from, so you can save on your regular shopping and spending with the huge selection of JamDoughnut retailers.
Rather than having to wait weeks or even months to be awarded cashback, JamDoughnut is disrupting the UK cashback market by offering instant cashback. No more waiting!
JamDoughnut now has ten's of thousands of monthly users spending £2 million via the app each month and they pay cashback every 20 seconds!
The final word on JamDoughnut
Hopefully after reading my JamDoughnut review and free cash instructions, you now have a better understanding of how the jam doughnut app works and how you can use it to save money easily, get free money, and have a chance of winning gift vouchers too!
Sign up today:
Click here to get the JamDoughnut cashback app on the App Store or Google Play

Register on the app. Enter referral code 2XYM

Make your first instant cashback gift card purchase and receive 200 bonus points worth £2 in free cash!

Once you have 1000 points, worth £10, you can cash out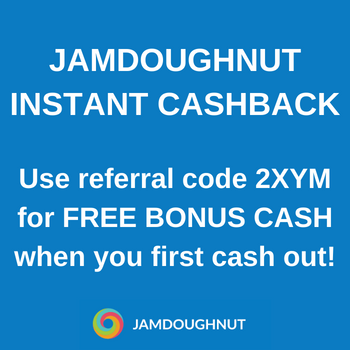 Want to save more money or get free money?
Find some great deals on my voucher codes and how to get free money pages!
Check out my list of UK apps that turn receipts into cash and also this list of UK cashback sites to maximise your free cashback and savings.
Originally posted in April 2022 and updated with review in March 2023. Updated to share new features in July 2023.