Make extra money online with YouGov
Posted on
In this article I'll explain what YouGov is and how you can earn money answering simple polls that are regularly published in the media.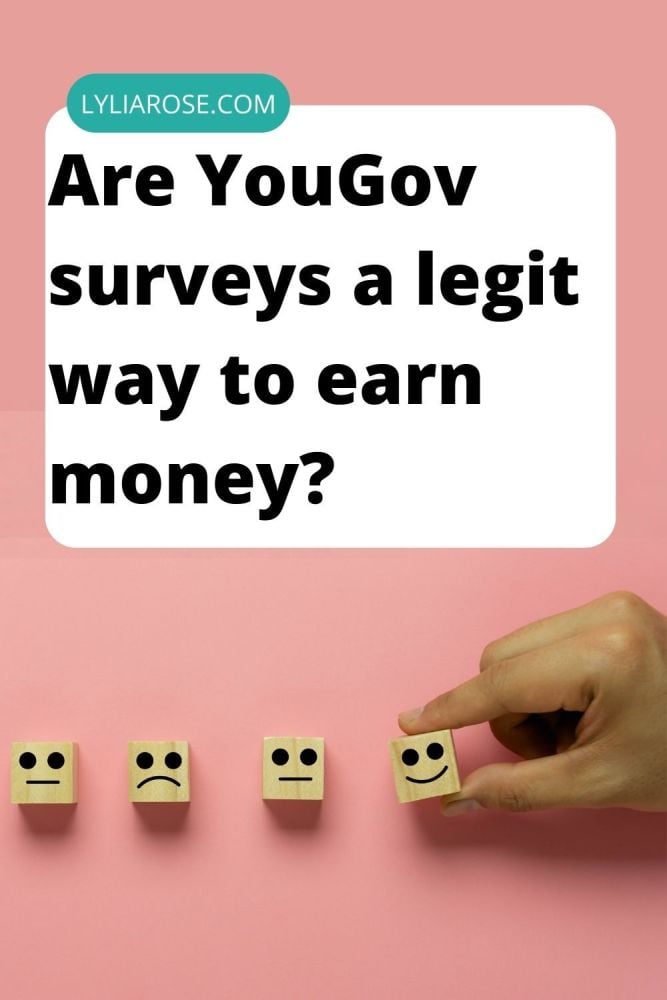 YouGov review
We are at a time where people are looking for ways to earn money from the comfort of their home. With the rise of online surveys, many people have been looking into them as a way to make some extra cash.
However, when it comes to YouGov paid surveys, there are mixed reviews about whether they are legit or not. This article will shed some light on what YouGov is and whether their paid surveys are worth your time.
Don't have time to stick around? Click here to sign up to YouGov and start earning money answering simple polls today!
What is YouGov?
YouGov conducts polls about all sorts of current affairs and topics of interest to people in the UK. These results are often shared in the media and used by political parties or marketing agencies, for example, to assess public opinion on hot topics.
"YouGov is a global public opinion and data company. Explore what the world thinks, discover our solutions, and join our community to share your opinion."
I decided to sign up to YouGov myself to see if it really was a legit website to make money at home. This was back in 2018 and I can confirm they are a legitimate website and they do pay.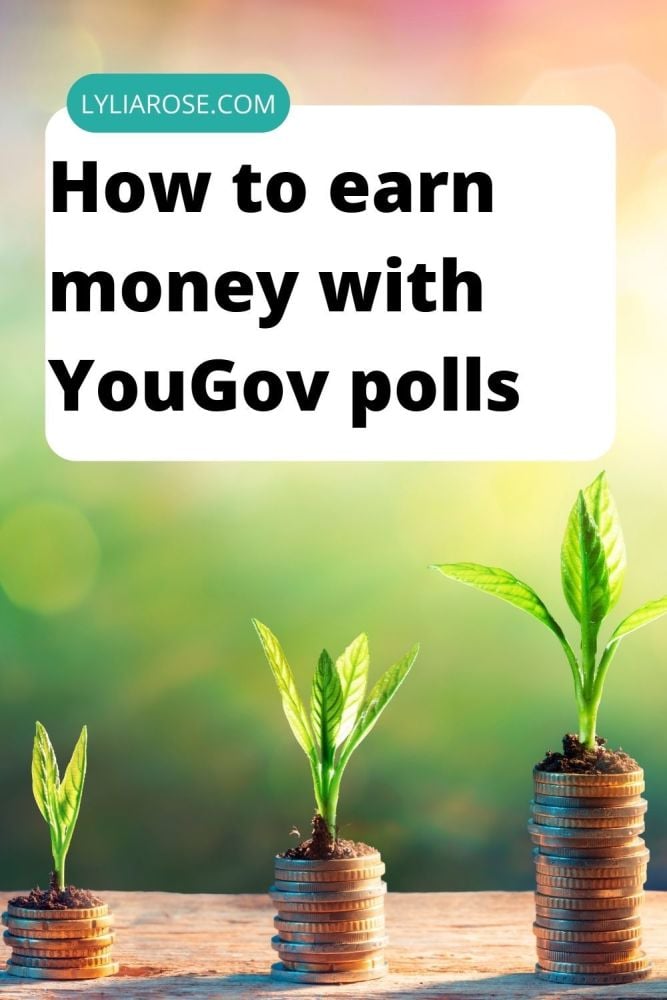 How can I earn money with YouGov?
So how does YouGov work? If you sign up as a participant with YouGov then you will be invited to answer polls and complete surveys.
You'll receive an email whenever there's a new survey for you and you can complete it straight from your smartphone or laptop.
You will receive points for each survey completed. When you have enough points they can be exchanged for cash.
There are actually two methods for how to make money on YouGov and you can do both, or just one. Simply sign up to YouGov, earn money by completing polls for the first method, and also by referring friends as the second method (more on that later).
How long are YouGov surveys?
There is no set length to a YouGov survey. Some are only a few quick questions and others are longer. I'd say they take anywhere from a couple of minutes to 15 minutes to complete, depending on the length.
Unfortunately, you can't always see the length of the survey before you start, but when you enter the survey it will tell you the average time it takes to complete the survey. It can be quicker or slower depending on how quick you are to read the questions and answer them.
It's usually simple checkboxes or multiple choice, so I find they are often quicker to complete than the suggested time.
Occasionally, they have sent me a shorter survey and this has been made clear in the email stating it will take only 5 minutes to complete.
Here's an example of the starting page for a YouGov survey: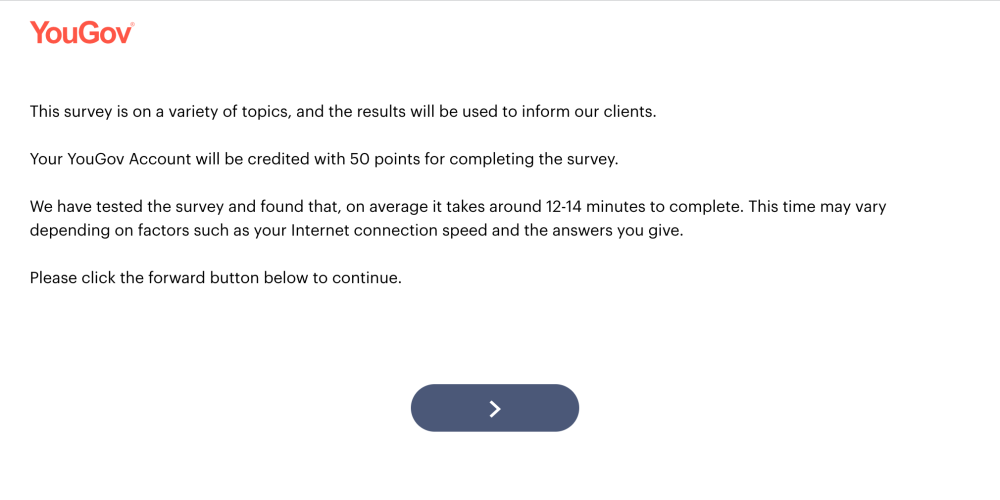 At the end of each survey is even a YouGov survey review, so you can rate the survey, whether you enjoyed it and any comments for them to improve future surveys.
How much does YouGov pay per survey?
Each survey earns you 50 points which equals 50p. Some surveys have a couple of extra questions at the end for some bonus points so you might be able to earn more per survey if you answer the bonus questions too.
Sign up here to join YouGov today and give your opinion for cash!
How many YouGov points do I need to cash-out?
You need a minimum of 5000 points to cash out. 5000 points equals £50.
Most surveys are 50 points, so you'd need to complete 100 surveys to cash out £50.
It sounds a lot, but many of the surveys are quick to complete. Some have bonus questions at the end so you can earn extra points.
As they are mainly multiple choice questions, often asking your level of feelings towards something, you can multitask and complete them at the same time as doing something else. For example, you could answer them while on an exercise bike at the gym or while watching TV in the evenings.

How will YouGov pay me?
Once you've met the minimum payment threshold of 5000 points, you can request to cashout the £50 to your chosen bank account. The bank transfer will be processed within the next working day.
Will YouGov make me rich?
No, definitely not. It's a simple side hustle that will make some extra pocket money in your spare time, depending on how many surveys they send and how many you choose to complete.
I don't complete every single survey I receive as I'm often working or too busy, but I was able to cashout £50 in my first year.
Completing YouGov surveys for money is a small side hustle that is easy to do while doing something else like when you're watching TV, instead of browsing your personal social media!
It's also quite fun to give your opinion and know your results are included in polls that the media mention.
Sign up to YouGov here and share your opinion for money!
How long does it take to get 5000 points on YouGov?
How long is a piece of string?! It all depends on how many surveys you answer and how many you are sent. I didn't do every survey due to lack of time and because I was just testing this to see if it was legit, and I was able to cash out in around one year. I have seen claims of others cashing out much more regularly, like several times per year, but most reviewers say they cash out once every 6 months to 1 year.
Is YouGov legit?
Yes, no doubt you see this company mentioned in the media all the time. I have tested YouGov myself and have successfully cashed out and received the money. Here's a screenshot from my payment confirmation email from YouGov: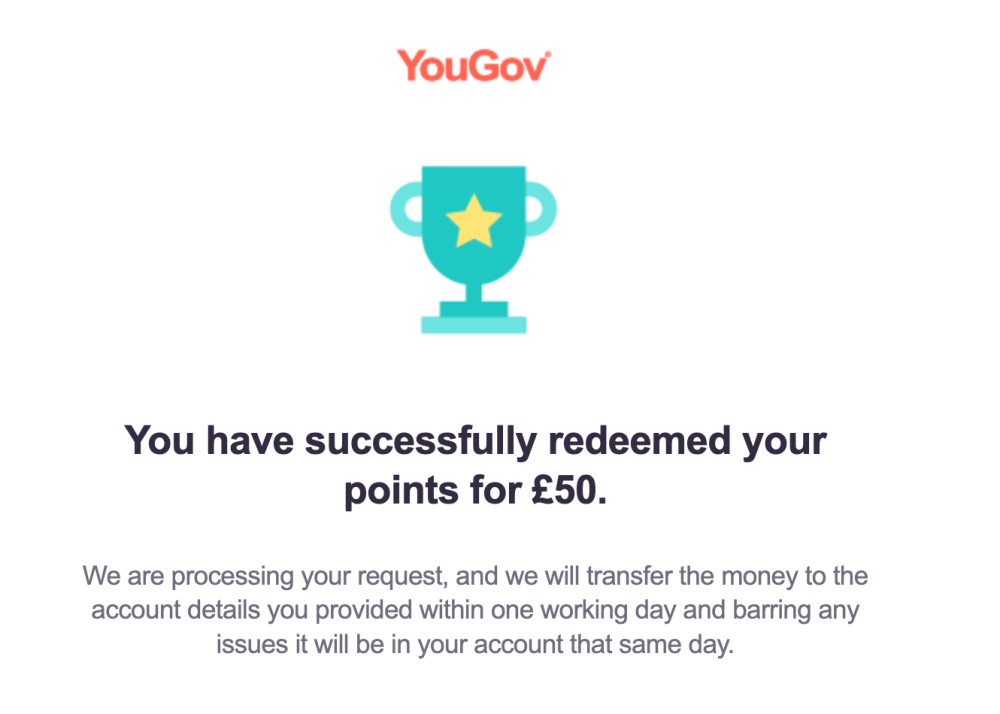 How often do YouGov send you surveys?
There isn't a set amount of surveys they send to each person. Most people seem to get 1-2 surveys per week, but others claim they get 5-10 per week. I do notice that the more I take part in, the more I seem to be sent. Also, when I don't take part for a while, they seem to send me more of the shorter surveys, maybe to entice me back in!
How to get more surveys on YouGov
If you love YouGov and want to make more money using this survey and poll platform, you might be wondering how to get more surveys on YouGov. Is there a way?
Firstly, set your profile settings to receive surveys as often as possible.
Also, ensure you are receiving emails from YouGov and they aren't going to your spam folder. Whitelist the email address [email protected] where the surveys are emailed from.
Finally, make sure you are answering the questions honestly. Don't rush through clicking anything as their quality checks will notice you are not legitimately completing the polls due to inconsistencies in your answers.
YouGov refer a friend
YouGov also have a refer a friend scheme. You can get 200 points for free for every friend who signs up with your referral link and completes at least six polls. This is equal to £2 added to your balance, so it's a great incentive to take part in the YouGov refer and earn scheme by sharing with friends and family.
Love sharing great offers with friends? Make extra cash with these refer-a-friend schemes.
What I'd improve about YouGov
Now you've read my YouGov surveys review, you can hopefully decide whether it's worth your time to make a little extra money on the side. If you love paid survey sites, then it's another easy one to add to your collection!
There are some things I'd improve about YouGov to make it more appealing:
More points per survey
More shorter surveys
Lower payment threshold
Show length of every survey in the email
Show topic of survey in the email
Otherwise, it's a good way to make some extra cash with minimal effort.
Sign up here to join YouGov today and give your opinion!
Love sites like YouGov? I recommend checking out my Qmee review next for a survey site with instant cashouts!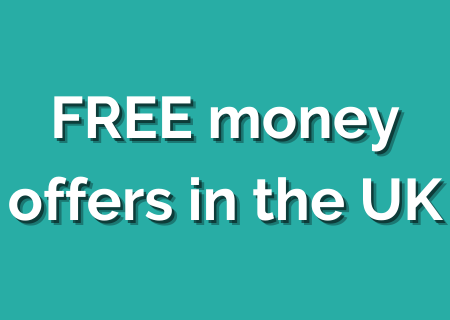 Want to make more money?
There are lots of real ways to make money from home for free.
Find loads of ways to make extra money at home on my blog, as well as my favourite side hustle in my matched betting blog!
To get started, you can make money online in the UK with these 60 ways I've tried and tested.
Follow these steps to make £1000 in one month at home.
Or, if you're short on time, try these methods to make money in one hour.
Subscribe to our newsletter for the best free money offers, money-making and money-saving tips we discover!