If you want to make money blogging then you may have read about bloggers using Awin to earn a passive income from their online blogs and social media accounts. However, you might not know what on Earth Awin actually is.
Fear not! Today I am going to explain to you what Awin is and how you can use their platform to monetise your blogs or make money from social media.
What is Awin?
Awin is a global affiliate network. When I first joined it was called Affiliate Window, but it's since merged with another company and rebranded as Awin.
Globally they have over 100,000 publishers (like bloggers and other websites) for their 13,000 advertisers, according to Wikipedia.
Awin is a way for bloggers to earn money online through affiliate marketing.
Canva
What is affiliate marketing for bloggers?
For bloggers, affiliate marketing is when an online business pays a commission to a blogger for any sales, or sometimes traffic, that is generated as a result of a customer clicking on an affiliate link on the blogger's blog or social media channels.
By joining a brand's affiliate scheme, such as those available on Awin, the blogger will receive a special tracking URL for the brand website that can be shared with their audience whenever said brand is mentioned.
If a reader clicks on this link and makes a purchase that is not returned then the blogger will receive a commission as a thank you for the sale.
It's a win-win. The brand gets advertising and reaches the blogger's audience to increase their sales. The blogger gets a commission for making the referral.
The blogger is called a publisher and the brand is called an advertiser.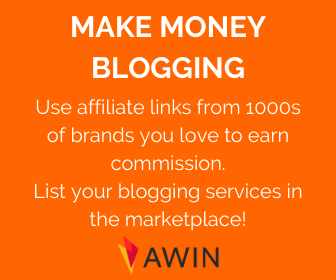 The benefits of affiliate marketing for bloggers
Promote the brands you love and get money for every referred sale
Make passive income from blog posts as affiliate links can stay in them forever generating ongoing commissions
Even if you already make money from your blog from other methods, this is an extra income stream to boost your overall blog earnings
Make money from the brands you are already talking about on your blog, if there's an affiliate scheme for them
Monetise your email subscribers by including affiliate links in your newsletters
I'm interested! So, how does Awin work?
You'll need to sign up as a publisher in order to join Awin and begin applying for their advertisers (brands) affiliate schemes.
The first step is to apply to sign up to Awin.
Once you've been accepted as a publisher on Awin then you'll want to start applying for affiliate programmes on their network. Each brand has its own affiliate programme listed on Awin and you apply for each one individually.
Some brands will accept you automatically, some will reject you and others will take a while to accept to you, even months! Make sure your website is a good fit for the brands you are applying for to make it more likely to be accepted.
Oh, and some brands will even find you and directly invite you to join their affiliate programme.
Once you've been accepted onto a brand's affiliate programme then you can add your tracking links for that brand to your blog to start getting paid for every sale you generate through that link. They have a few options for adding links:
Link Builder - copy and paste the URL for the brand's page that you want to convert into a tracking link, paste it into the link builder, select the brand and it will generate your unique affiliate link for that page.
Convert-a-link - Insert a piece of code onto the bottom of every page on your website, turn on Convert-a-link in your dashboard and let Awin automatically convert any normal links you have on your website for their advertisers into affiliate links. If you're not already a member of a brand's affiliate programme, but have a link to them on your website, then Awin will apply to that programme on your behalf.
My Awin - add this Chrome browser extension to quickly get tracking links when you're browsing an Awin affiliate brand's site. Also use it to discover brands that are on Awin when you're on their sites and easily click through to apply to their programmes.
Awin have lots of helpful affiliate marketing guides on their website to make the whole process as easy as possible such as this Getting Started with Awin guide.
How much does Awin cost?
There is a £5 joining fee when you sign up to Awin. It's slightly inconvenient, but you do get it back once you start earning affiliate income.
The Awin sign-up fee is added to your account once you are approved as a publisher and will be paid back in your first commission payment once you reach the payment threshold. The Awin payment threshold is £20.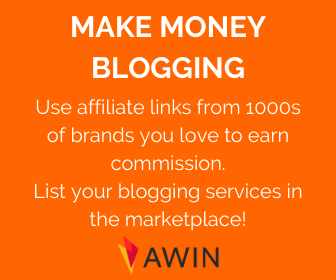 If you read my blogging income reports then you'll have noticed me sharing my earnings from Awin, especially over the last few months. They have a lot of brands I like to promote and I like their low £20 payment threshold.
Oh, and they also have a marketplace where you can list your other blogging services. I've secured a few paid blog posts thanks to the marketplace.
If you want to start monetising your blog and/or social media channels using affiliate marketing then sign up to Awin today at www.awin.com
More helpful articles if you want to monetise your blog
Make money from your blog with Awin affiliate marketing
Make money from your blog without Google ads
4 ways to find paid blog opportunities

How to improve your domain authority (DA)
Make money blogging with Get Blogged (even as a new blogger)
Make money blogging with Considerable Influence

Make money blogging with Press Loft
Make money blogging with Bloggers Required
6 secrets to make more money from your blog

6 handy tax tips for bloggers
All make money blogging blog posts

How I drive traffic to my blog
10 ways to make money blogging
Everything you need to stay organised and productive as a professional blogger
Is it really possible to make money blogging?
5 reasons to use Awin as a blogger
More blogging advice
Loads of blogging tips
5 tips to overcome writer's block when blogging
Where to find free stock photos for blogs
Blog posts on how to make money from home
How I made £32000 from home in 2018/19
Online resources to make money at home
5 tried and tested ways to make money as a UK stay at home mum
Do you already make money from your blog? Take part in my interview!
Do you make money from your blog? Take part in my interview to help others learn how to make money blogging.
Click here for the interview questions.
Read the interviews here.
Please pin me