Save Money Online With This List Of UK Cashback Sites
Posted on
In the UK we are really lucky to have not one, but loads of websites that offer free cashback on everyday online shopping. In this blog post you'll find a list of the best cashback sites in the UK. Plus, many signup bonuses and promo codes so you can get even more free cash!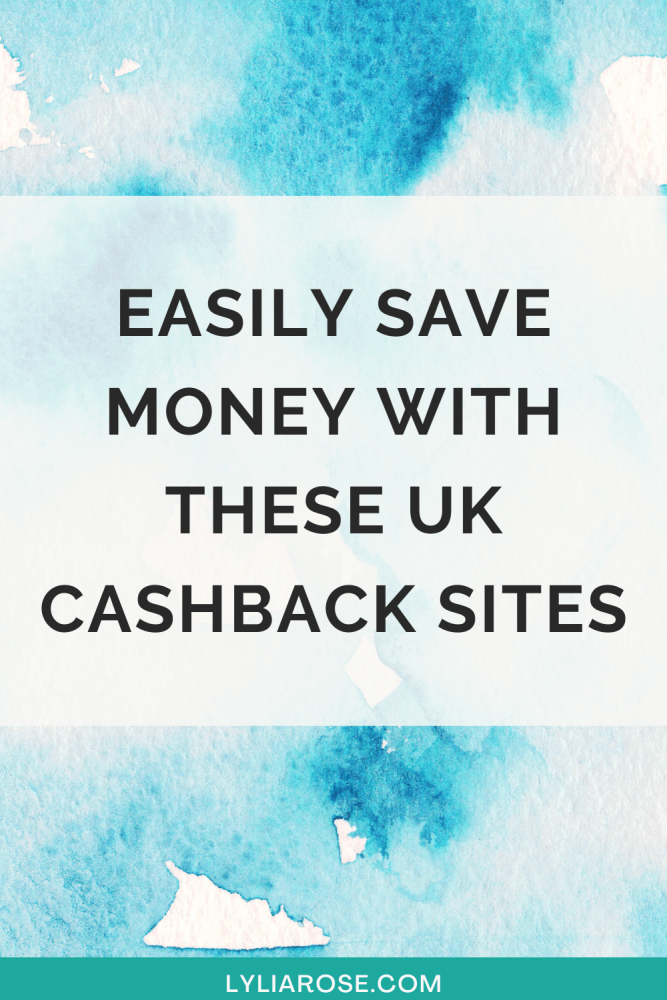 Why you should always check for cashback. Save £100s every year!
Before buying anything online, or booking a service, you should always check for cashback. It's easy to do, as many of the main cashback websites have browser extensions so you know instantly whether the website you're shopping on has a cashback offer. This means you'll never miss out on getting free money back for your purchases.
If you're wondering whether getting cash back online is worth it, then let me tell you it definitely is! With just one of these cashback websites we managed to get over £1200 cashback in only three years! Amazing!
These websites do not even include any cashback offers you have already with your bank cards. Some bank accounts offer cashback incentives and rewards for certain retailers. The best thing is you can use your cashback bank cards to shop at the online retailers using the links below to benefit from your bank's cashback offer and the cashback website's offer!
For example, I regularly shop on eBay via Top Cashback. To pay I use a Tesco bank credit card (which I pay back in full every month). This means I get cashback from Top Cashback, Nectar points as my Nectar card is linked to eBay and I also get Tesco Clubcard points for using my Tesco credit card! Win-win-win!
Cashback UK: The Top Websites And SignUp Bonuses
Many of these cashback sites have great signup offers too, so you can get more free cash. I'll share those I know of below and the links or promo codes you need to get the free signup bonuses as a new customer.
Read on for a list of great UK cashback sites to save money on your online and instore shopping including:
TopCashback
Quidco (£1 bonus)
JamDoughnut (£5 bonus)
Swagbucks (£3 bonus)
OhMyDosh! (£1 bonus)
Airtime Rewards (£1.50 bonus)
Qmee (50p bonus)
Widilo (£5 bonus)
Super
Cheddar
*signup bonuses correct at time of writing, but subject to change and each has its own T&Cs.
Top Cashback
This is by far my favourite cashback website and we had over £1200 cashback in our first three years. We use it for online shopping, booking travel, booking car MOTs and services, insurance, savings products and more.
Click here to sign up to Top Cashback today!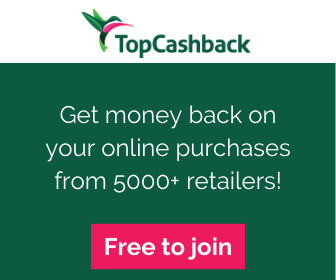 ---
Quidco
(£1 bonus if you sign up with my link)
Some people prefer Top Cashback and some prefer Quidco. Sometimes they have different offers, so if one doesn't offer cashback where you're shopping, then the other might. It's free to open accounts at all these websites, so you may as well sign up to them all and start maximising your online savings.
Click here to sign up to Quidco today!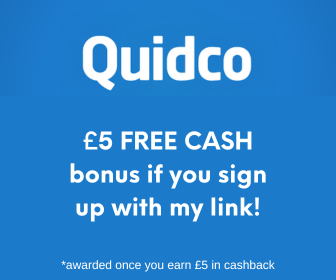 ---
JamDoughnut
(£5 bonus if you sign up with my referral code)
A great app that gives you cashback when you buy gift vouchers for stores, including supermarkets! Great for regular food shops and even fuel shops for places like Morrisons that accept gift vouchers at their fuel stations.
You can get £5 free bonus cash by signing up with my referral link.
How to get £5 free cash with the JamDoughnut cashback app:
Click to get the JamDoughnut cashback app on the App Store or Google Play
Register on the app. Enter referral code 2XYM
Make your first purchase and receive 500 bonus points worth £5
Tip: Buy supermarket vouchers for your next food/fuel shop to reach the £10 cashout threshold instantly!
---
Swagbucks
(300SB bonus if you sign up with my link)
This site is more than just a cashback site. They have lots of ways to make money, including cashback on many popular websites.
Click here to sign up to Swagbucks today!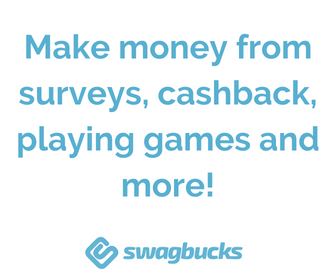 ---
OhMyDosh!
(£1 bonus if you sign up with my link)
This is a great 'get paid to' website which has a lot of offers and trials which you can sign up to for free cash and then cancel the subscriptions if you no longer wish to continue with them when the free trials run out. They also have cashback offers too!
Click here to sign up to OhMyDosh! today!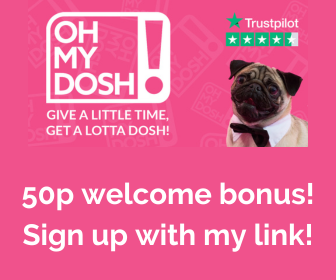 ---
Airtime Rewards
(50p to £1.50 bonus if you sign up with my link)
Instant cashback without having to do anything, well almost! Simply get the app and link up to 10 of your credit and debit cards. Then, when you shop at one of their partnered retailers you'll get instant cashback. This cashback can be used towards paying your monthly mobile phone bill or to purchase pay-as-you-go credit, reducing your phone bill costs!
Click here to sign up to Airtime Rewards today!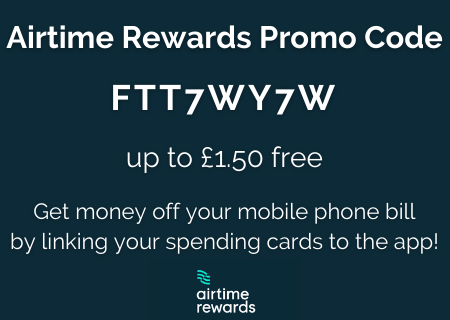 ---
Qmee
(50p bonus if you sign up with my link)
There are lots of ways to make extra cash with Qmee, from completing surveys, searching the web and even cashback.
The best part? There's no minimum cashout! I've literally cashed out 13p to my PayPal account!
Get 50p free once you've cashed out to your PayPal for the first time by signing up with my referral link.

Click here to sign up to Qmee today!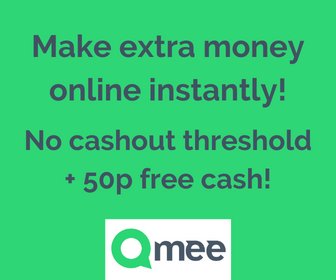 ---
Widilo
(£5 free cash if you sign up with my link)
Join the Widilo cashback site for discount codes and cashback on your online shopping in the UK.
Sign up for free using my link to get a £5 welcome bonus.
Click here to sign up to Widilo today!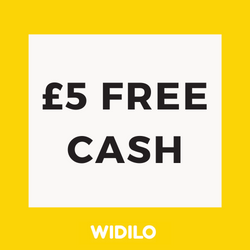 ---
Super
Have you heard about Super? Shop your favourite brands and get cashback!
---
Cheddar
Want to save money when you shop?
Join me on Cheddar and earn automatic cashback shopping at brands like Sainsbury's, Starbucks, Uber and McDonald's.
Use my referral code PTXKBZZ and earn £2.50 for everyone you refer!
Sign up to Cheddar by clicking here!
---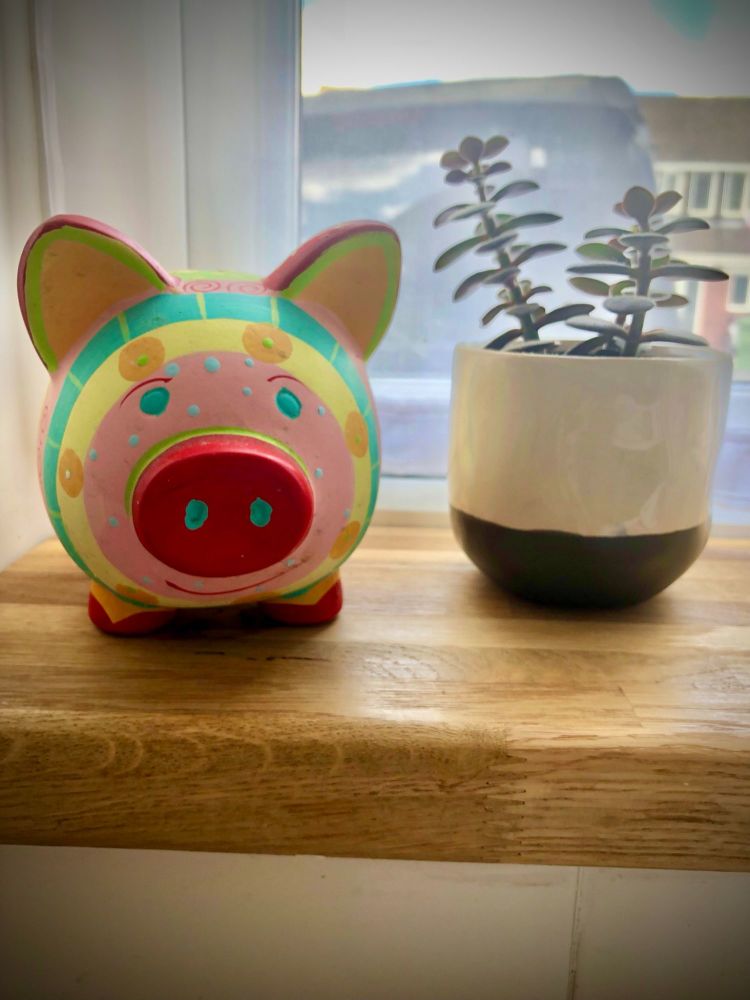 Start saving today!
There are a lot of cashback sites and it's all about finding the one you like to use the best, or use a combination. One thing's for sure though - you are losing out on a lot of cash each year if you're not using cashback sites to do your online shopping! Since we started using cash back websites and apps, we've saved an average of £400 per year for things we were already buying and booking! Don't miss out on free cash.
Next I recommend reading my list of apps that turn UK receipts to cash to save even more money on your shopping and maximise your cashback! If you're looking for a savings app with a difference then check out my EverUp referral and review!
Looking for more ways to save money?
Check out my massive money saving tips section and find some great deals on my UK voucher codes and even ways to get free cash in the UK on my free money pages!
Don't forget to subscribe to our newsletter for the best free money offers, money-making and money-saving tips we discover!