Zilch Free Money Offer (Easily Get A Free Amazon Gift Voucher)
Posted on
If you love my free money offers then I am back with an oldie but goodie as I just noticed in August 2023 that the Zilch refer a friend offer is back. Woohoo!
By taking advantage of the Zilch sign up offer, you can bag yourself some free money in the form of free Amazon gift vouchers to spend on whatever you like (providing it's on Amazon!).
The Zilch offer has so far given away £5 for free, £15 for free and £10 for free. Right now, in August 2023 the current offer is for £5 free in Zilch rewards, which you can use, if you want, to purchase an Amazon voucher.
For the Zilch free Amazon voucher then read on. I'll explain how to easily get free money to spend on Amazon for just 5-10 minutes of your time!

CLICK HERE to sign up to Zilch using my referral code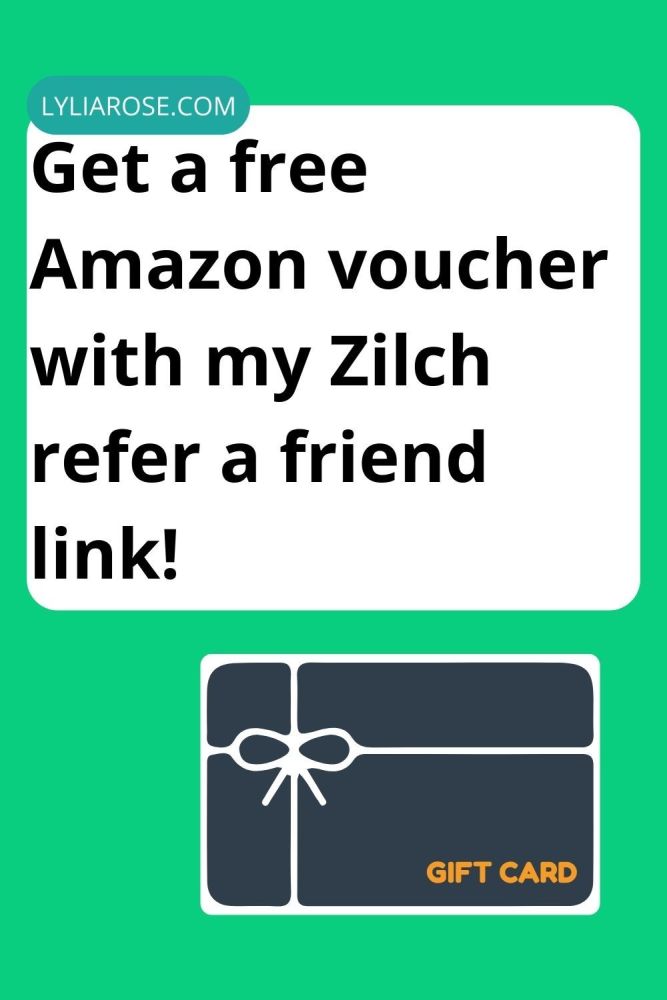 How to get free money with Zilch
Looking for the Zilch Amazon voucher offer? You're in the right place!
Zilch was originally a buy now pay later card, but now you can use it to pay in full instead of spreading the cost and get cashback on your purchases!
But... you don't have to use it for this - you can use it to get a free Amazon voucher at no cost to you!
If you do use it for the buy now pay later features then read the terms as you will be charged a fee.
BUT, you don't need to use their credit feature to take part in this offer. You can simply sign up to Zilch to get the free money offer... and then to use it for the cashback rewards if you use it to pay for things in full.
At the time of writing, you can get a £5 Amazon voucher with your rewards points, however, the offer does change so it could be a different amount depending on when you are reading this. Still, whatever the current offer is, it's free money for a moment of your time!
I will do my best to update this post as soon as I know the offer amount has changed, but as with all the free money offers I share, check their own terms and conditions. The offer is correct to my knowledge at the time of writing, but is subject to change.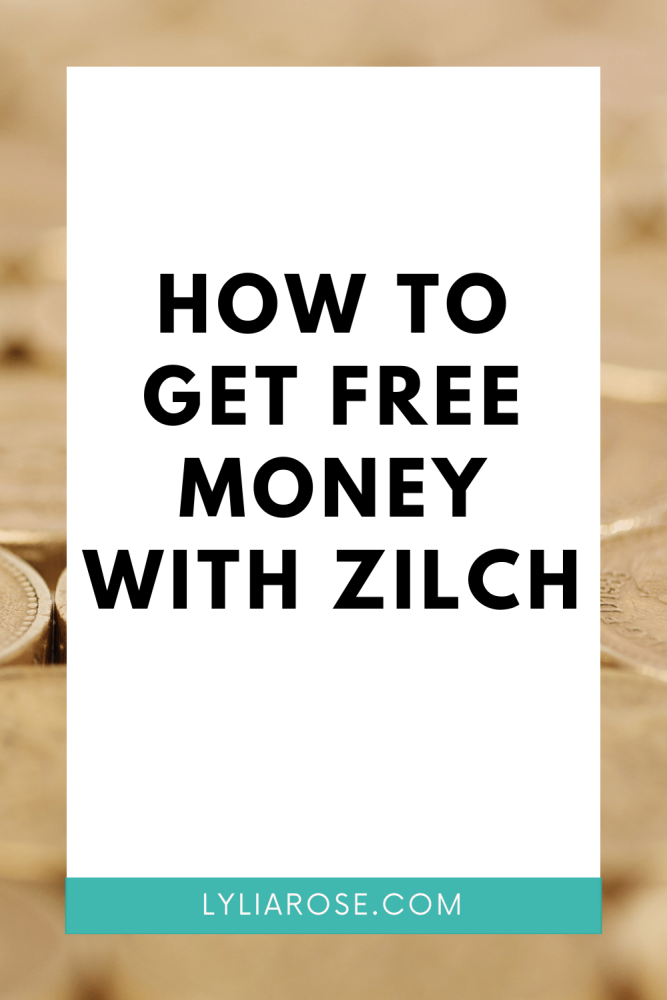 How to get Zilch free £5 Amazon voucher? It's simple:
Link your bank card and get rewarded in points (currently 500 points at the time of writing, but sometimes this changes) once you've made your first tap and pay purchase with your Zilch card. Choose to pay in full and get cashback on your purchase... if you choose to spread the cost you may be charged a fee.

Get rewarded with £5 of Zilch rewards after your first tap and pay purchase!

Top up your Amazon account by buying yourself a £5 gift voucher with these points! Simply locate Amazon on the Zilch app, select to pay in full, then on the next screen select to use your £5 Zilch rewards. Pay for a £5 Amazon gift card top-up using your Zilch card details.

Wait a few minutes for your gift card balance to be updated on Amazon... and spend your free Amazon gift card when ready!
There are also instructions on Zilch for how to spend the Zilch rewards if you get stuck.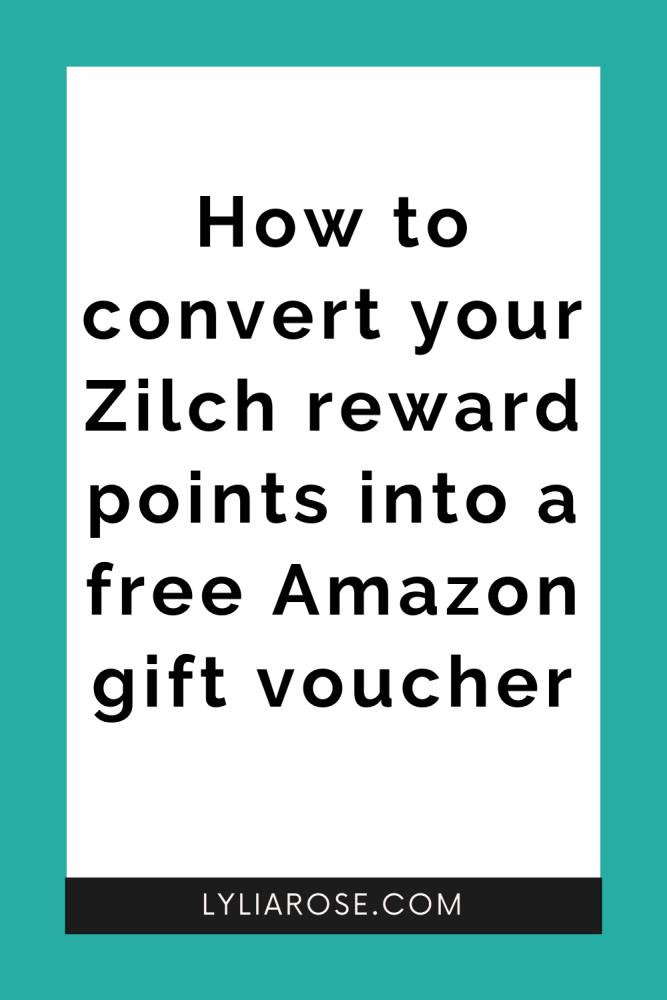 How to convert your Zilch reward points into a free Amazon gift voucher
Now you've got your Zilch offer rewards points, you'll want to convert them into an Amazon voucher to spend as you please!
Here's how I did it when I signed up... the screens might look a little different today:
Choose how you want to pay. I only had the option of 'Pay in 4' so I selected this. If it's the same for you, just make sure you only buy a voucher worth the total of the rewards points (i.e. I had 1000 points so I bought a £10 Amazon voucher. At the time I'm updating this post in September 2023, the offer is 500 points so you can buy a £5 Amazon gift voucher for yourself for free. But they recently had a Zilch free £10 offer, so you could be luckier!)

Click the slider on the rewards discount to ensure your rewards balance is enabled and click 'enable card'



(When I signed up a few months ago, the offer was only for £10, but yours will say whatever the current offer is, in August 2023 it's £5)

It then took me to the Amazon store where I searched 'top up' to find my top up screen. I was using mobile to do this. Find the top up your gift card balance screen.



Go back to the Zilch screen and click 'tap to copy card number'.

Go back to the Amazon screen and go to 'top up your balance' and enter the amount you want to top up. Make sure it's at maximum the amount of your free rewards. At the time of writing it's 500 points which are worth £5. So enter £5. (If you have 500 points you need to enter £5, if you have 1500 points you can enter £15 and so on. 500 points equal £5.)

Click 'buy now' and choose 'enter payment method'.

You need to add the Zilch debit card to pay for this purchase only to use these rewards points!

Paste the Zilch card number which you have already tapped to copy from the Zilch screen.

Enter the expiry date which you can see back on the Zilch screen.

Click 'add your card' and select it to pay. Complete the purchase being sure to only enter the maximum amount of your Zilch rewards and pay with the Zilch card.

Allow a few minutes for Amazon to confirm your gift card purchase and payment via email. It's never instant for me when I shop on Amazon, so it may take a few minutes for you too!

Voila! You now have some Amazon gift vouchers for free!


IMPORTANT: Make sure you don't select the Zilch card to pay when next shopping on Amazon! It's a buy now pay later card and they may split your purchase price into four and charge you a fee! However, you can choose to pay in full via the Zilch app and potentially get a cashback reward!
You can use the Zilch rewards points to spend at any other store that's on their list too, but you might need to make up the difference if it's more than your Zilch rewards.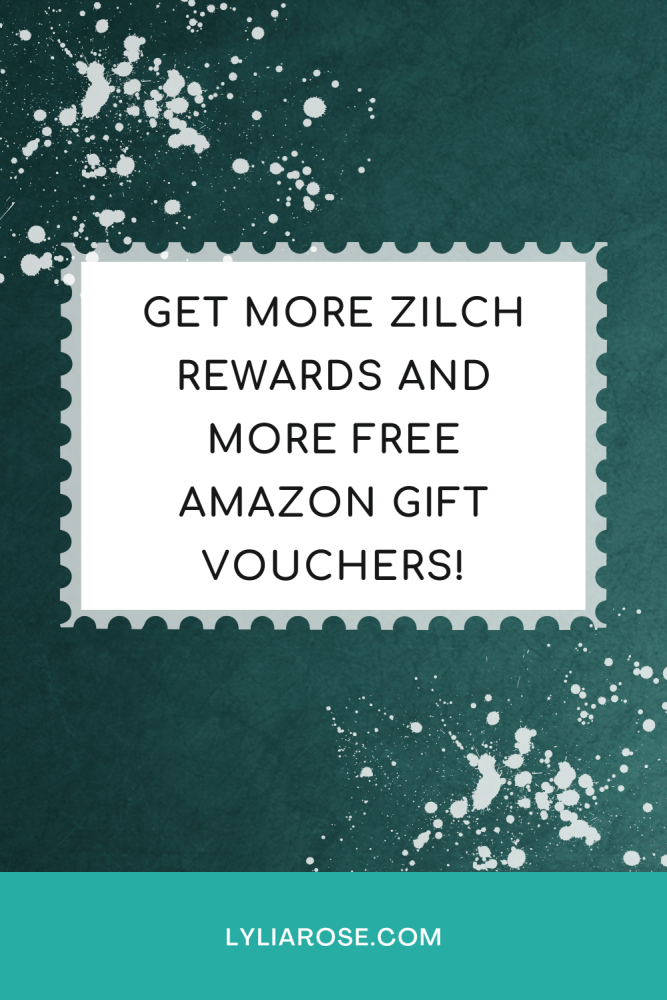 Get more Zilch rewards and more free Amazon gift vouchers!
Once you have completed the offer using my Zilch refer a friend link, you can then grab your own link to share yourself.
Use this link to get your friends and family to sign up and you can earn even more Zilch rewards! Plus your signups will get rewarded too!
Simply go to the menu and select 'Refer & Earn' to grab your own referral link.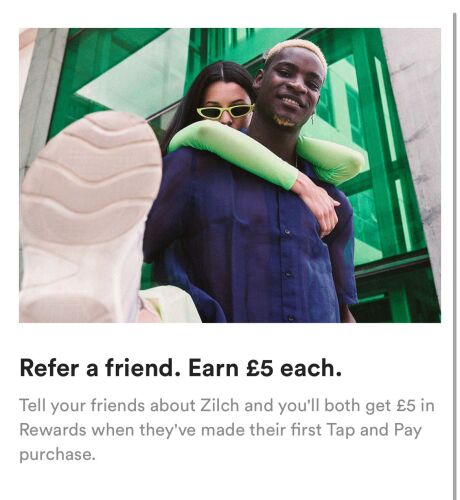 Final word on the Zilch free money offer!
This is a great offer and one that keeps on giving if you can get friends and family to sign up using your own referral link.
It's one of my favourite free money offers as it's so quick and easy to do.
To get your Zilch reward points which you can use to buy an Amazon gift voucher for yourself, make sure you click my refer a friend link to sign up
Then, enjoy your free Amazon gift card, or whatever you choose to buy!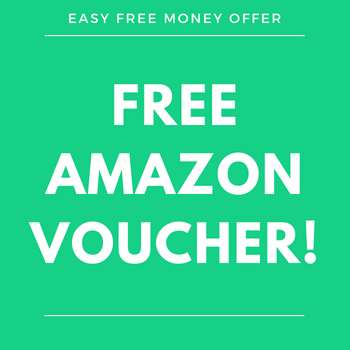 ---
Want to make more money online, at home or need a side hustle?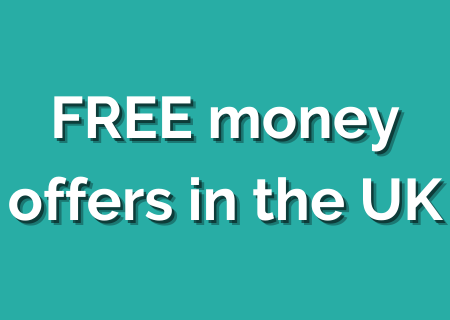 Don't forget to subscribe to our newsletter for the best free money offers, money-making and money-saving tips we discover!