List of 8 Apps That Turn UK Receipts to Cash
Posted on
If you're looking for the best cash back receipt app in the UK then I have not one, but eight to share with you today. I use all eight of these receipt snapping apps to make extra cash at home from all my in-store spending.
Sometimes I scan my receipts on nearly ALL of the apps, if they qualify, to get the most cash value out of every single receipt! It's really possibly to scan receipts for money in the UK and it's so easy.
Read on to discover the 8 best receipt snap apps that turn your UK receipts into free money and gift vouchers.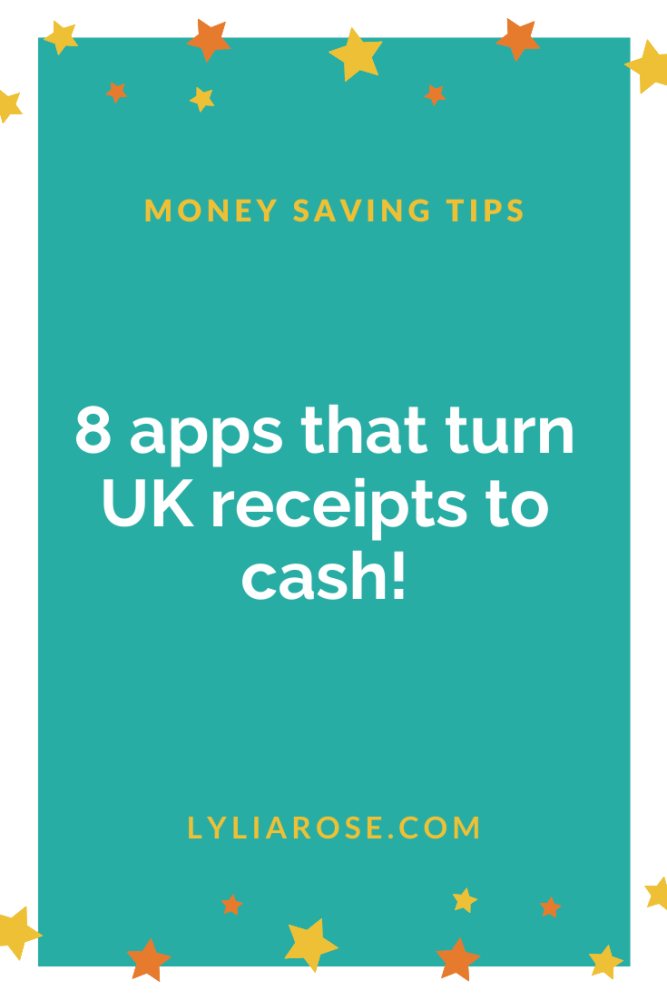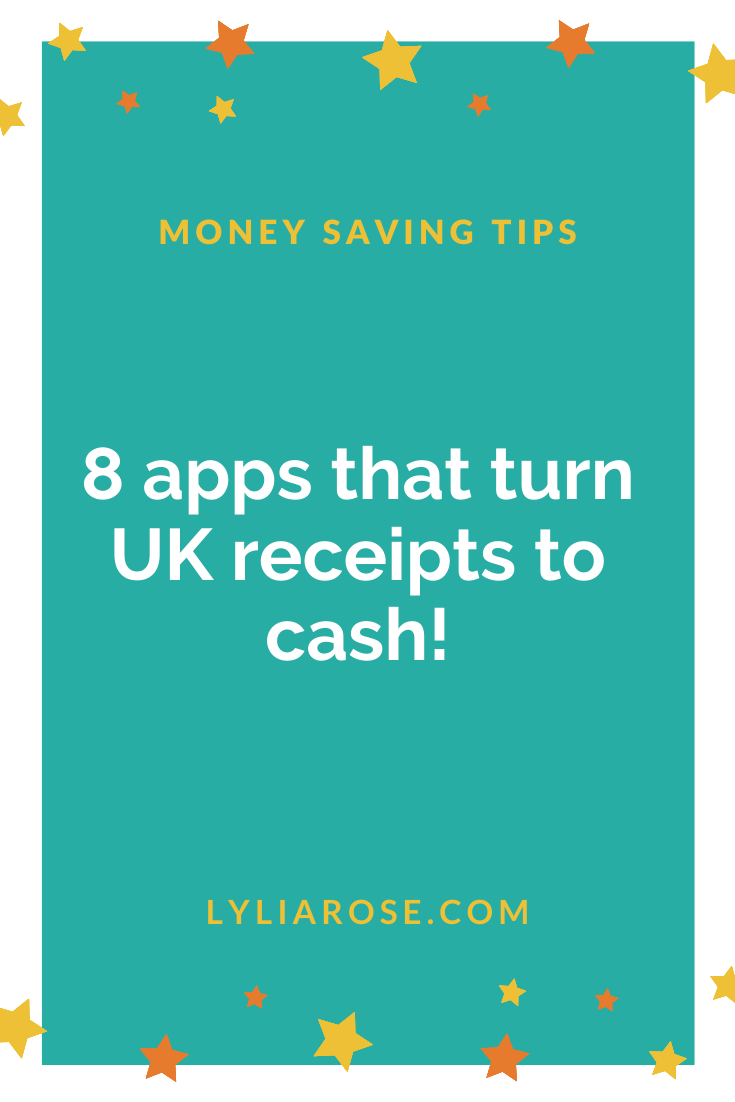 Cash for Receipts UK: 8 receipt snapping apps that pay real money for your UK receipts!
Cash for receipts in the UK, is it really possible? YES!
I have all of these receipt snapping and cash back apps on my mobile and I use them as often as I can to earn money from receipts that I would otherwise just chuck in the recycling bin!
Always remember to ask for a receipt when you make a purchase in store as you can get cash back on every UK receipt.
Some of these apps give you cash back on every single receipt. Others have rules such as food purchases only or selected supermarkets only, so I'll explain the rules as quickly and as best as I can below.
Every now and then, especially with food items, it's possible to use almost all of these apps to get even more cashback!
1. Shoppix
Shoppix is a UK receipt snapping app. As far as I can tell it accepts all UK receipts. There's an extra bonus if you snap the receipt same day and regular short surveys to earn more credits that can be exchanged for PayPal cash.
If it asks for an invite code then use Shoppix promo code 52YFMN8U used to give 200 extra tokens when you snap your first receipt! Give it a go if there's still a place to enter a code when you sign up! Sign up at https://www.shoppixapp.com/
2. STOREWARDS
This receipt app replaced another app called Receipt Hog in the UK. (I think you can still get the Receipt Hog app in other countries).
If it asks for an invite code then use my Storewards invite code gz1sc and get 250 extra coins to spend at STOREWARDS on gift cards. Earn gift cards by snapping your UK receipts!
Learn more from my Storewards review.
3. SnapMyEats
This one is for UK food and drink receipts only. You earn a £1 Amazon voucher per 3 receipts to a maximum of £5. So snap 15 food and drink receipts in one calendar month to earn a £5 Amazon voucher.
See my full review here: SnapMyEats–Amazon gift vouchers in exchange for your food receipts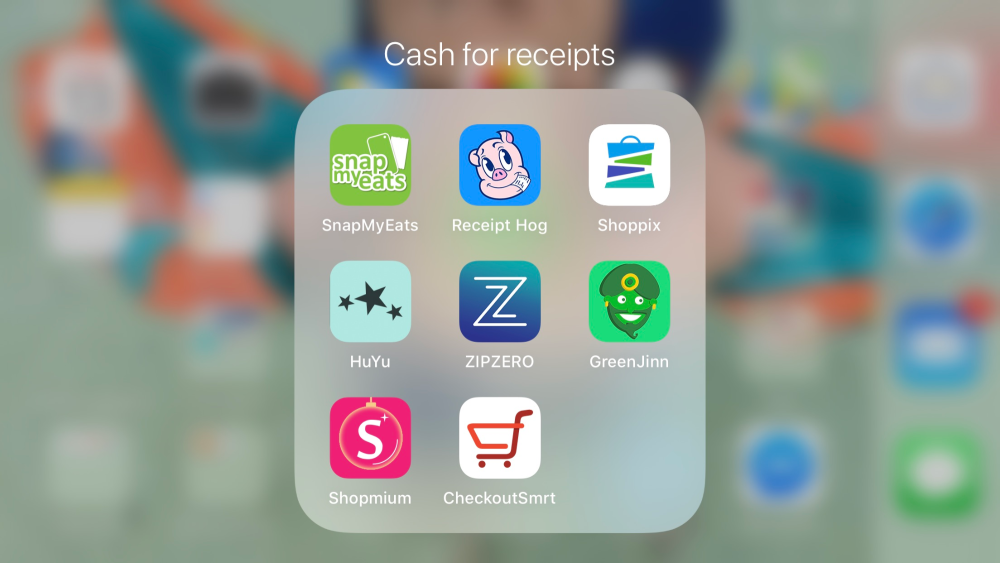 4. ZIPZERO
Snap photos of your in-store receipts for cash towards your bills. Upload your household bill account numbers to the app and use your receipts to pay for your bills! You can email e-receipts too. I use my cash from these receipts on the ZIPZERO app to pay towards our water bill each month.
5. Amazon Shopper Panel
This is a new one to me in 2022 and it does say invite only, but I was able to sign up without being invited, so give it a go!
The app links to your Amazon account. Simply s
ubmit 10 receipts a month & get a £5 Amazon voucher added to your account! Make more with surveys if you want to.
Can send email receipts from last 30 days, so go through your emails and send 10 to get your first £5 Amazon voucher - easy free money!
6. GreenJinn
This is a UK coupon app that has digital coupons for the supermarkets each week. They refresh on a Monday and if you buy any of the products then you can get the cash back by snapping your receipt. You can withdraw the cash back to your PayPal or bank account.
See my full review here: Save money at the supermarket with coupon app GreenJinn
7. Shopmium
Save money at the supermarket with Shopmium and their coupons. If you purchase an item featured on their app then simply snap your receipt, scan the product's barcode and the cash back will be sent to your PayPal within a few days.
Use my referral link to get an item with 100% cashback in the app. It's currently free chocolate, but sometimes changes! Here it is: https://www.shopmium.com/uk/referral/46e3t
Learn more from my blog post: https://www.lyliarose.com/blog/read_200328/shopmium-promo-code-free-pringles-and-uk-supermarket-savings.html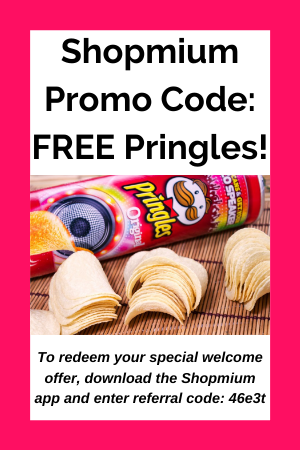 8. CheckoutSmart
This is also a coupon app so you have to buy the exact products in the app to get the cashback. If you buy something then select which item you have bought from the correct retailer and snap your receipt. Once you have at least £5 cash back then you can withdraw. If you have under £20 you will be charged a small fee, so it's best to wait until you have over £20 in cashback to avoid the fee and get all your cashback. They feature supermarkets, both online and in-store, plus loads of High Street retailers. Here's their website: https://www.checkoutsmart.com/
Learn more from my blog post: https://www.lyliarose.com/blog/read_192839/save-money-at-the-supermarket-with-checkoutsmart-cashback-app.html
Are ClickSnap and CheckoutSmart the same?
You may already have the ClickSnap app which has exactly the same offers as CheckoutSmart.
The difference is Clicksnap is linked to cashback site Quidco and the money will be added to your Quidco account.
If you'd rather be able to withdraw your money directly to your bank or PayPal then use CheckoutSmart. If you want it to go to your Quidco balance then opt for the ClickSnap app instead. Both let you upload your receipts for cash, it just depends how you want to access the cash and if you have a Quidco account or not.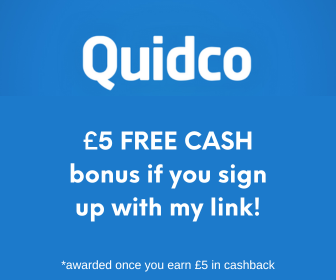 Bonus Tip: Sometimes you can make money from receipts with TopCashback too!
You know I am a big fan of cashback websites, especially TopCashback which is my favourite. Sometimes, as well as earning cashback for shopping online, you can also earn cashback with in-store receipts using TopCashback.
In the past I have been able to get money back for an Easter Egg purchase at Easter, and also a pumpkin purchase at Halloween! Just keep an eye on the homepage of the app around special holidays like these and you may spot a special in-store offer to claim back cash from a receipt.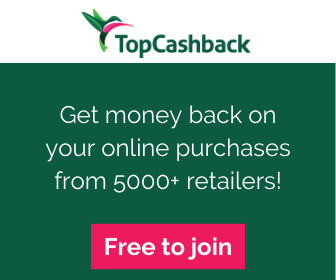 Final word on the best UK receipt snapping apps
It really is possible to turn your paper and e-receipts into real money with receipt scanning apps. So long as you don't mind sharing your households or presonal shopping behaviour with market research companies, then you can make real money and earn gift vouchers for simply taking photos of receipts or emailing/uploading your e-receipts.
It's an easy way to make some extra pocket money each month. You can scan receipts for money whilst watching TV in the evenings so it doesn't have to feel like a chore or take up any other valuable time. So if you've been searching for "money for receipts UK" then you can stop searching, download the above apps and start getting free cash for your receipts!
Want to make more money from home, online or need a side hustle? Find loads of ways to make money at home on my blog, as well as my favourite side hustle in my matched betting blog!
Looking for ways to save money? Check out some great deals on my voucher codes and free money pages!
Want to manage your finances better? Here are loads of family finance tips and helpful debt articles.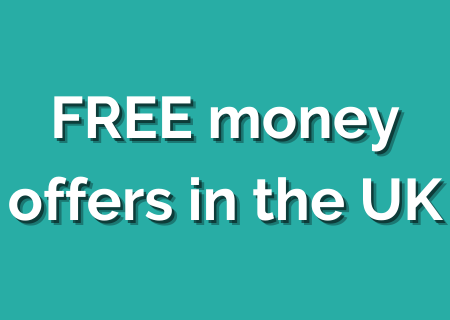 Originally posted in 2019 and updated in 2022 and 2023.