Costa App Invite Code - Free Coffee and Cake!
Posted on
If you love to grab a coffee when out and about then make use of the Costa app to collect 'beans' to get free coffee. I have a Costa invite code SV77B which will get you started with 5 free beans. Read on to learn how to get another bean for free and even how to get free cake!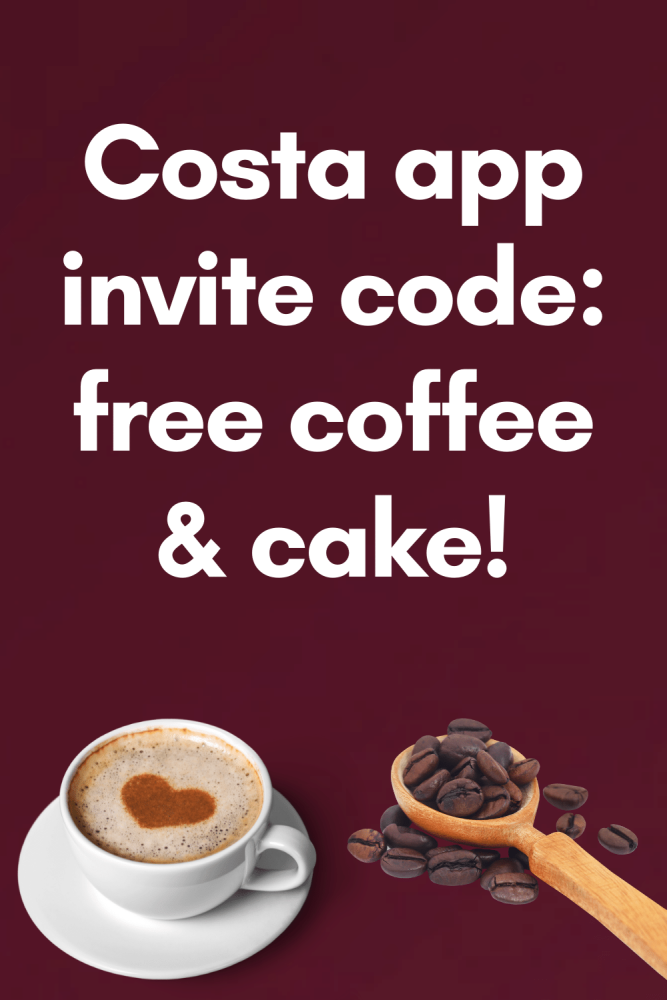 How to get free coffee and cake with the Costa app
Sign up to the Costa coffee app and get 5 free beans by using my invite code SV77B
You can use the app to earn free coffees and get free cake. Here's how:
Collect 8 beans to get a free drink, or 4 if you use a reusable cup

Get 1 free bean when you sign up for the app

Get 5 free beans once you use the app to start collecting beans if you use my invite code SV77B when you sign up

Add your birthday to the app to get free cake on your special day
Click here to sign up and enter code SV77B when prompted.
Get more free Costa coffee by referring your friends
Who doesn't love saving money, getting free money and free stuff? Once you've signed up to the Costa app, you'll get your own refer a friend code. Share this with your friends and family to give them 5 beans and you'll get 5 beans too! More money saved and more free coffees!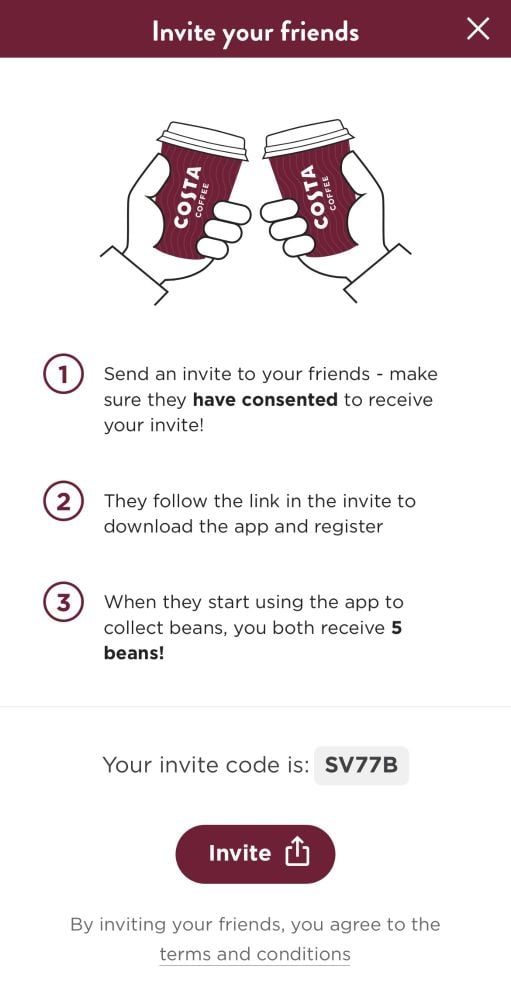 How to use the Costa app to collect beans for free coffee
Firstly, follow the instructions above to get the app. Open the app to collect a bean every time you buy a drink from Costa whether that's in-store, at a Costa machine or via delivery. Here's how:
1. In a Costa coffee shop select 'Shop' in the Costa app and scan the QR code in the app at the till.
2. At a Costa coffee machine? Choose 'Machine' in the app instead. Scan the code on the machine to order from your phone, or order using the machine and click 'Collect beans only' to scan the QR code that appears on the machine whilst your drink is being made.
3. If you've ordered a Costa delivery, select 'Delivery' in the app and scan the code on the delivery voucher.
Essentially, you use the app to scan a QR code to confirm your purchase and your bean will be added to your virtual stamp card on the app.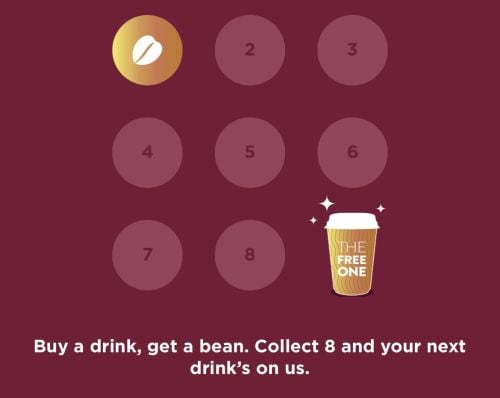 How to redeem your free drink
Once you have 8 stamps you will receive a free coffee! Yay!
To redeem, use the rewards section of the app where your free drink will be listed. You have six months to use free drinks. Simply choose 'Use now' and a QR code will appear to scan at the till to order your free drink.
Start earning free coffee today!
Use the Costa app like me and get 1 bean to start, then 5 more with your first purchase of a Costa handcrafted drink. That's halfway towards a free one. Click here to get started and enter code SV77B
Changes to the Costa rewards coming in 2023...
Costa are making a few changes to their rewards scheme in 2023, so depending on when you are reading this, they may already be live.
Firstly, from August 2023 you'll need to collect 10 beans to qualify for a free drink, rather than 8 beans. Here's the notice I received: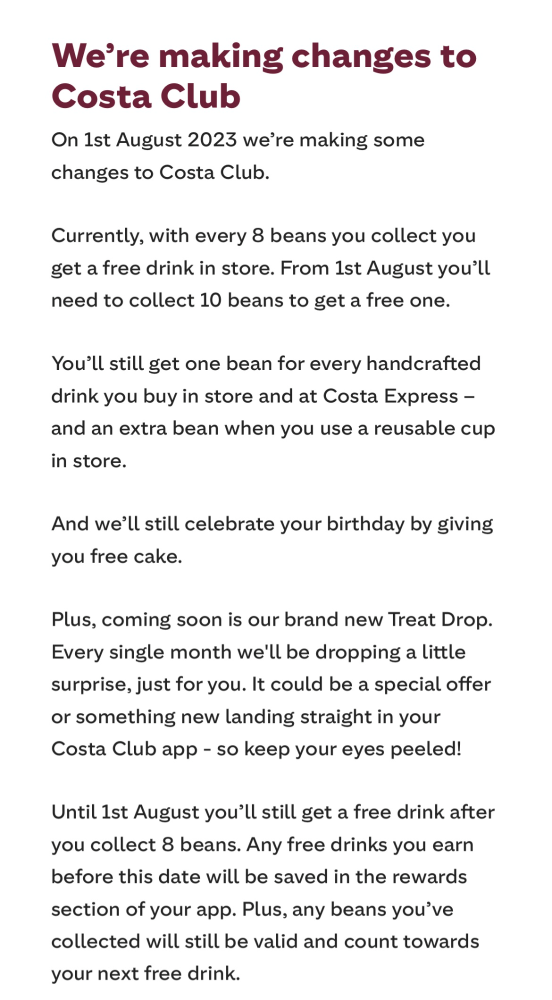 Next, they are changing the expiry date of free drink rewards from a six-month expiry to a three-month expiry. Still plenty of time to get your free drinks!
Here's the message I saw, confirming this change will take place in June 2023: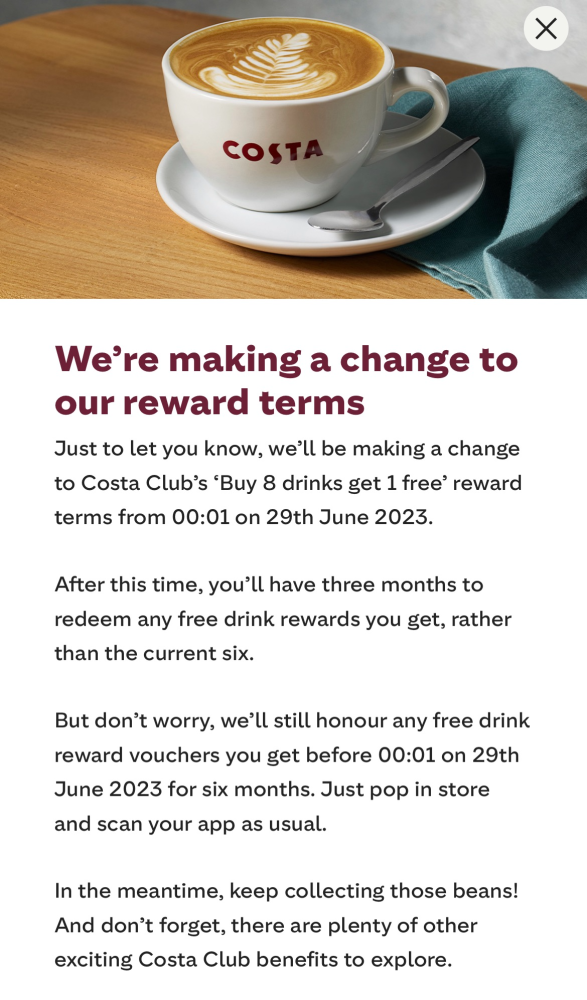 More offers like this:
Looking to save even more money or get free money?
Check out my massive money-saving tips section and find some great deals on my voucher codes and how to get free money pages!
Check out my list of UK apps that turn receipts into cash and also this list of UK cashback sites to maximise your free cashback and savings.