Super tasty peanut butter balls
Posted on
I've jumped on the bandwagon with creating delicious protein energy balls. I'm obsessed!
They are so delicious and really easy to make. These peanut butter balls are made using raw ingredients straight from your food cupboards which slashes the preparation time as they are no bake!
There are infinite flavour combinations that can be made to suit your every taste desire. These delicious peanut butter balls are a peanut butter lovers dream!
The best thing is they use all natural and lots of healthful ingredients, making them the ultimate guilt free treat.
These peanut butter balls without powdered sugar are perfect for kids too! Not only do they love helping to make the balls, mixing the ingredients and rolling the balls, but they love eating them too! Perfect elevensies snacks or much healthier goodies to add to their lunch boxes or when on-the-go.
No bake vegan peanut butter energy balls
I've seen energy balls, raw balls, bliss balls, whatever you like to call them, all over blogs, online and even for sale in shops! They are hot stuff right now!
I decided to make my own homemade versions and let me tell you - they are unbelievably delicious, so good for you and really simple and quick to make! Plus you can literally chuck in anything you want from ingredients you may already have in your cupboards.
If you're craving a naughty snack like a chocolate bar then stop right there and whip up some of these super easy to make peanut butter bliss balls. Your craving will be satisfied in no time.
Peanut butter bliss balls recipe
You really can experiment and add whatever you like or whatever you have in your cupboards that will mix well as a bliss ball, namely dates, dried fruits, dried cereals like oats and seeds. Experiment and create new flavours!
Here's what I used to make this scrumptious batch of ten good sized balls:
Ingredients
1x handful desiccated coconut
1x handful goji berries
1x handful pumpkin seeds
1 x handful raisins
1x tablespoon of chia seeds
1x heaped tablespoon of cacao powder
1x tablespoon of flaxseed
1x squirt of maple syrup (optional)
5x tablespoons of crunchy 100% peanut butter
Method
For this recipe you don't even need a food processor!
Simply mix the ingredients together really well in a large bowl.
Roll into balls using the palms of your hands (they should be quite sticky)
Pop into the fridge overnight or for a few hours to set.... or eat right away if you like the stickiness!
If your mixture isn't sticky enough to roll into balls then add some more wet ingredients (peanut butter, maple syrup...)
If it's a bit too sticky then simply add some more oats or other dry ingredients. They will firm up and lose some stickiness when stored.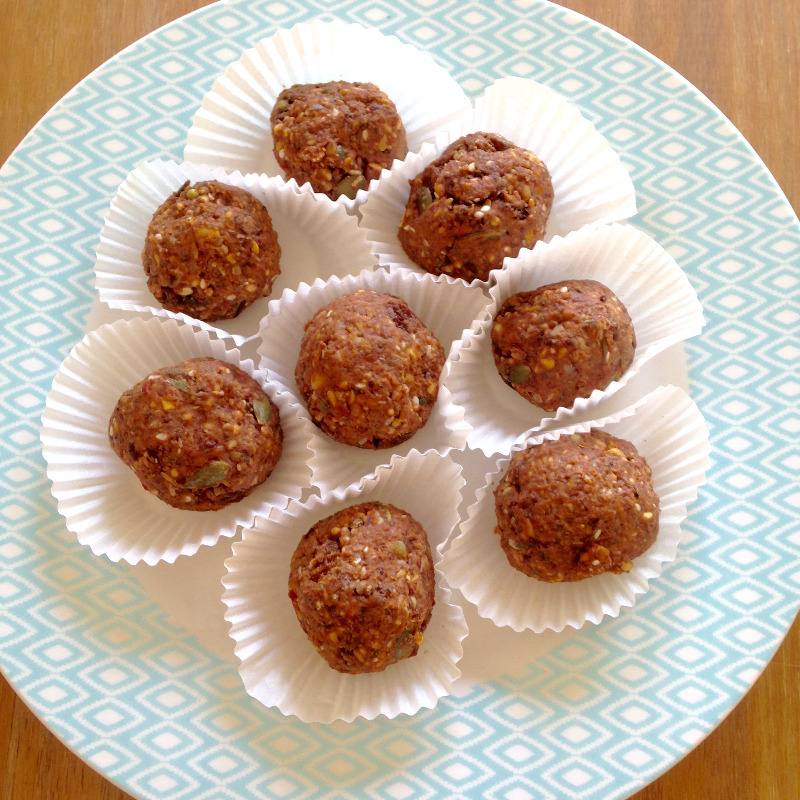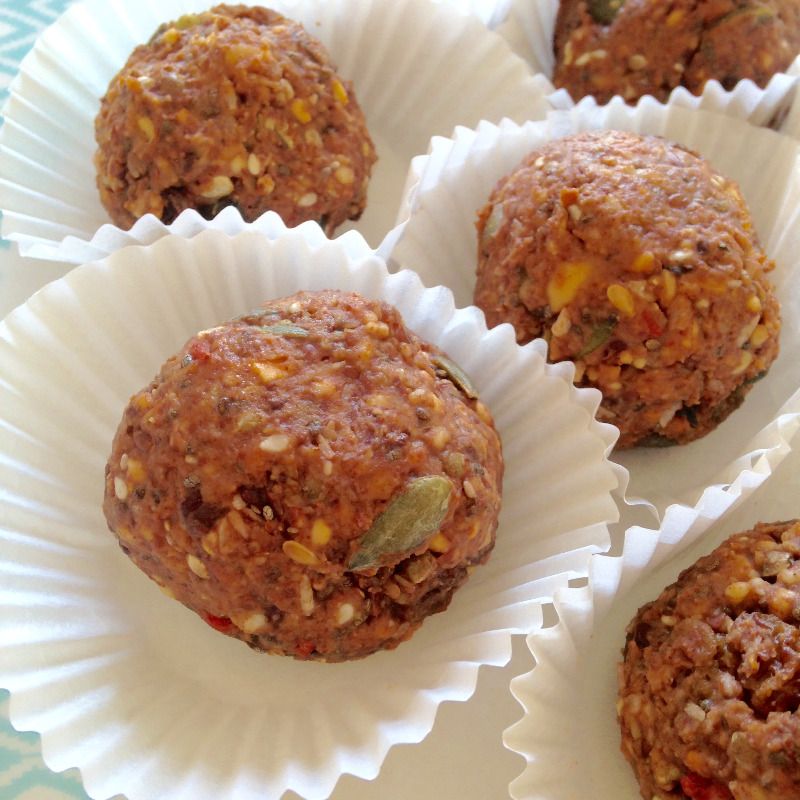 These are fantastic for a quick healthy energy boost or to satisfy a sweet snack craving at any time of the day. In little paper wrappers, tied in a box, they also make a wonderful homemade gift for a loved one.