Warming sweet potato soup
Posted on
I made my first successful homemade soup. In fact, it was so good I made it twice in one week! This delicious sweet potato, carrot and lentil soup is super easy to make too.
It's really great with whole grain rice crackers to dip in (I love the Kallo organic version).
Sweet potatoes are really good for us and there are so many ways to use a sweet potato. They're really high in vitamin A, vitamin C and manganese. If you're looking for an alternative to the humble white potato then these offer a great alternative that have many different nutritional benefits, taste totally different, but can make most of the same things!
If you need to brighten up a plate of food then look no further. Their glorious orange colour is so happy and bright.
Sweet potatoes are surprisingly very hard when raw, but they soften a lot quicker than white potatoes. Great for blending into delicious soups!
Read on to discover a super easy vegan soup recipe.
Super easy sweet potato vegan soup recipe
Ingredients
1 Ginormous Sweet Potato (or 2-3 smaller ones)
1.5 Litres Vegetable Stock
1 Can Chopped Tomatoes
2 Carrots
8 Tablespoons Red Lentils
A Sprinkle of Chilli Flakes
A Few Twists of Black Peppercorns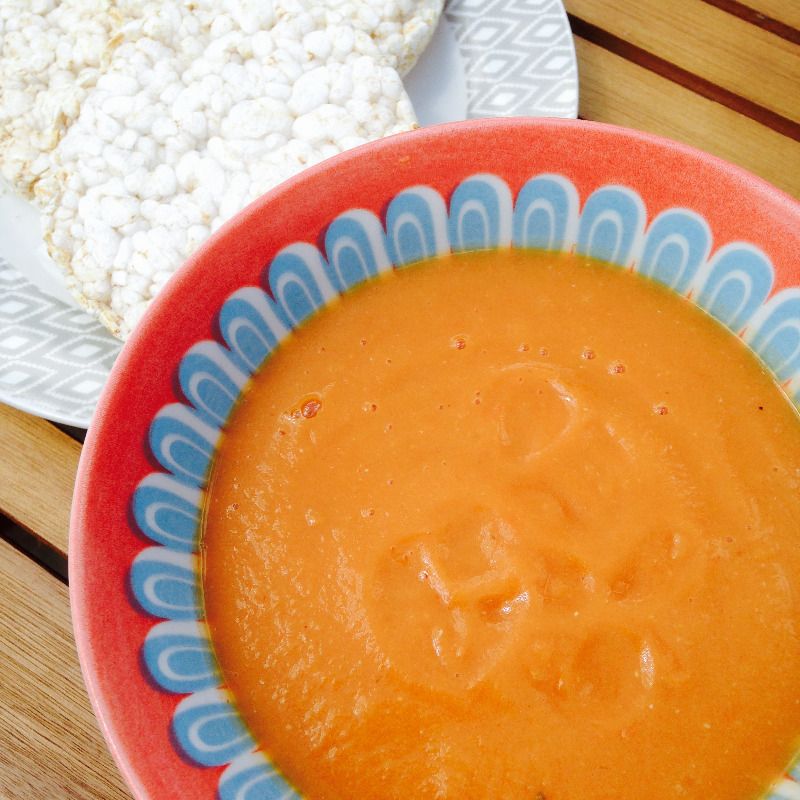 Method
First I made the stock using a shop bought veg stock cube and veg gravy granules with boiled water. I'm currently saving veg peel in my freezer to make my first homemade stock which I'll use next time.
I made up the stock, mixed in lentils, pepper and chilli, then slow boiled chunks of the sweet potato and carrot in this for around one and a half hours.
Next, I poured the mixture directly into my blender and added the chopped tomatoes. I use a Kenwood Multipro Blender. The jug is thermo proof so hot mixtures can be added straight to it which makes soup-making really easy!
If you prefer a runnier soup simply add more water. Add less to make it thicker.
It's so easy to make and really warming and tasty, plus the colour is amazing!