Greenfrog Botanic
Posted on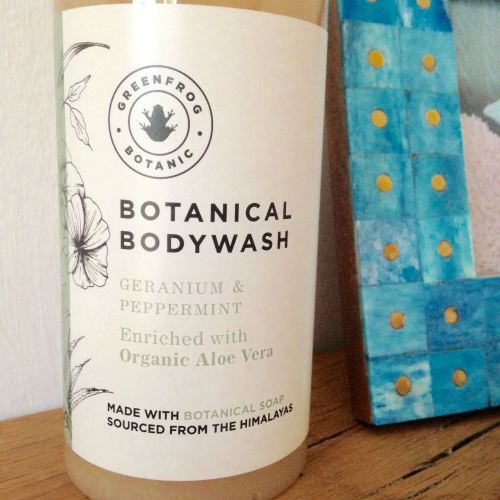 Greenfrog Botanic Geranium and Peppermint Bodywash Review
I always get so excited when I discover new natural beauty companies, and even more so when they offer a sample for me to try! Greenfrog Botanic very kindly sent me their Geranium and Peppermint Bodywash to try and as it's such a fab product I just had to document it in this blog review.
Greenfrog Botanic source botanical soap all the way from the Himalayas to make 100% natural, chemical free products. There are no parabens or SLS (which I always avoid) and no other nasty ingredients. They are vegetarian society approved, vegan and also palm oil free. The ingredients are not only good for your skin, but also the environment.
I think we can often forget that the products we use, not only go on our skin, but are washed off into the environment where they can have devastating consequences. Greenfrog Botanic makes clear there are no phosphates in their products. Phosphates washed into the environment can increase algae growth and in some instances reduce the PH levels in water. This results in a reduction of aquatic life in lakes and ponds as they cannot compete with the algae for oxygen. It can even contribute to aquatic dead zones where areas of the ocean have such low oxygen levels, any life suffocates and dies. This is certainly alarming and makes products without phosphates a more natural and ethical choice.
The main 'soapy' ingredient is a botanical soap known as soapnut. It is sustainably sourced and so this process is also environmentally friendly. The soapnut is kind to sensitive skin and also suitable for conditions such as eczema and psoriasis. It has cleansing and foaming properties making it an ideal natural alternative to chemical detergents.
I was lucky enough to try the Geranium and Peppermint Bodywash. This was the perfect item for me as I often settle for natural bars of soap nowadays instead of gels, due to my preference for natural ingredients, so I was thrilled at the prospect of a natural shower gel instead. This product does not disappoint and is just as good, in fact a million times better considering the above, as any other shop bought chemical laden shower gel. It froths up beautifully and works just the same. It smells floral, yet uplifting and is great to use during a morning shower. The peppermint smell just seems so refreshing to me.
There are also some other fantastic ingredients and Greenfrog themselves describe the product as 'Infused with high quality, antioxidant and moisturising aloe vera and combined with calming geranium oil and cooling peppermint oil, this body wash acts a deep conditioner for your skin.' My skin feels moisturised and does not dry out after use. The product itself is very luxurious being super silky and creamy, leaving a very much wanted trace of this luxe on the skin.
I would recommend Greenfrog Botanic for their excellent ethos and natural skincare products. You can visit their website to shop and learn more at www.greenfrogbotanic.co.uk