InstaNatural 100% Pure Argan Oil
Posted on
I recently received an InstaNatural 100% Pure Argan Oil for review. It's actually the first time I've ever tried 100% argan oil so I was keen to see if it was as amazing as I'd heard. Before now, I had only used products which contained this miracle oil (also known as 'liquid gold'). I knew hair products which contained argan oil added fantastic condition and shine to my hair, but I had rarely tried this miracle oil on my actual skin and never in its pure form.
Read on to discover my InstaNatural Argan Oil review and lots of argan oil benefits and beauty uses.
How I used the argan oil
The first thing I did when I received my pure argan oil was to apply it directly to my face as a moisturiser, after cleansing, and to the tops of my feet where I suffer with a small dry patch on each.
Well, the dry patches on my feet have literally disappeared before my eyes after a week of use which is just incredible!
As a moisturiser on my face, it absorbed super quickly leaving an amazing healthy glow. I was expecting a shiny greasy oily layer, but nope. It really absorbs well just like a cream moisturiser.
I was particularly worried at first about having extra oily skin as I already have combination skin, but using this day and night for over a week now has made my skin LESS oily!
I use one pump's worth, which is probably only one or two drops. Only a tiny bit is needed.
I've also added a drop to my cleanser on a cotton wool pad each evening before bed. After a couple of weeks of use I'm convinced my skin looks so much healthier and with a natural looking glow.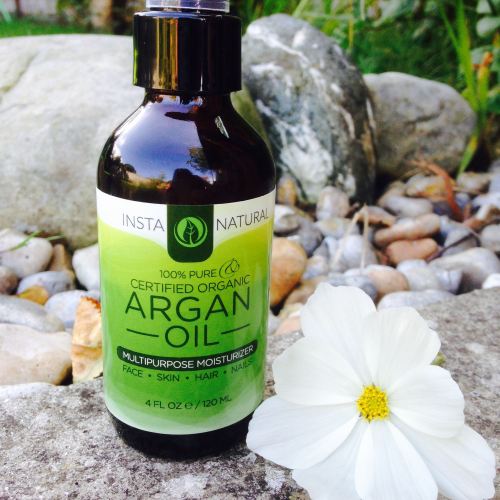 What is argan oil?
Argan oil comes from the nuts of the Argan tree which is native to Morocco.
It is high in vitamins, minerals, fatty acids and skin loving vitamin E.
Being a 100% cold pressed argan oil, it contains no nasty ingredients and is 100% natural – no nasty chemicals, preservatives, additives in sight. Perfect.
You can't get much purer than 100% natural!
It is fragrance free, but I do notice a slight earthy smell which I'm not too keen on. Luckily this smell disappears quickly as the oil absorbs and is then unnoticeable.
Pure argan oil can seem a little pricey at first, but you really only need one or a few drops for each use, so it will last for ages!
Being totally pure, nutrient rich and holding so many beauty uses it's definitely worth the expense.


Argan oil benefits + beauty uses
Argan oil has numerous health benefits and beauty uses. Here are some ideas for how to use argan oil:
1. Face m
oisturiser
I have tried and tested this and I'm so impressed. It's my top use so far and leaves skin nicely moisturised, hydrated, healthy and surprisingly grease free.
2. Dry skin
This stuff works wonders literally anywhere! Chapped heels, dry knees, rough elbows and cracking hands will soon disappear with some drops of argan oil added daily.
3. Hair conditioner
Add a few drops to hair whilst in the shower and rinse for super glossy and highly nourished locks
4. Hair styling
Use on damp hair to control frizz, soothe split ends and add luxurious shine. It will also make any tangles more manageable.
5. Anti-aging
A few drops before bed not only moisturises the skin, but has anti-aging properties. Skin looks plumper and softer.
6. Reduces acne
It can also help to prevent breakouts and promotes the healing of acne. I usually have a few spots and pimples and these are improving with continued use. It's non-greasy oil so helps to provide natural moisture.
7. Nail and cuticle treatment
A few drops rubbed over cuticles and nails will help prevent brittle nails and encourage strong and healthy growth.
8. Lip balm
Rub over lips and dab off any excess for shiny, healthy, soft lips.
9. After shave
Great for soothing skin after shaving and healing any irritation. Great for men and women for the face, legs and even bikini line.
10. Massage oil
Being non greasy, fast absorbing without leaving residue, and leaving skin silky soft, argan oil makes a perfect massage oil.
Final word
Argan oil definitely is a wonder oil and a great addition to your beauty routine.