Budget pushchair review: Graco Mirage vs Hauck Viper
Posted on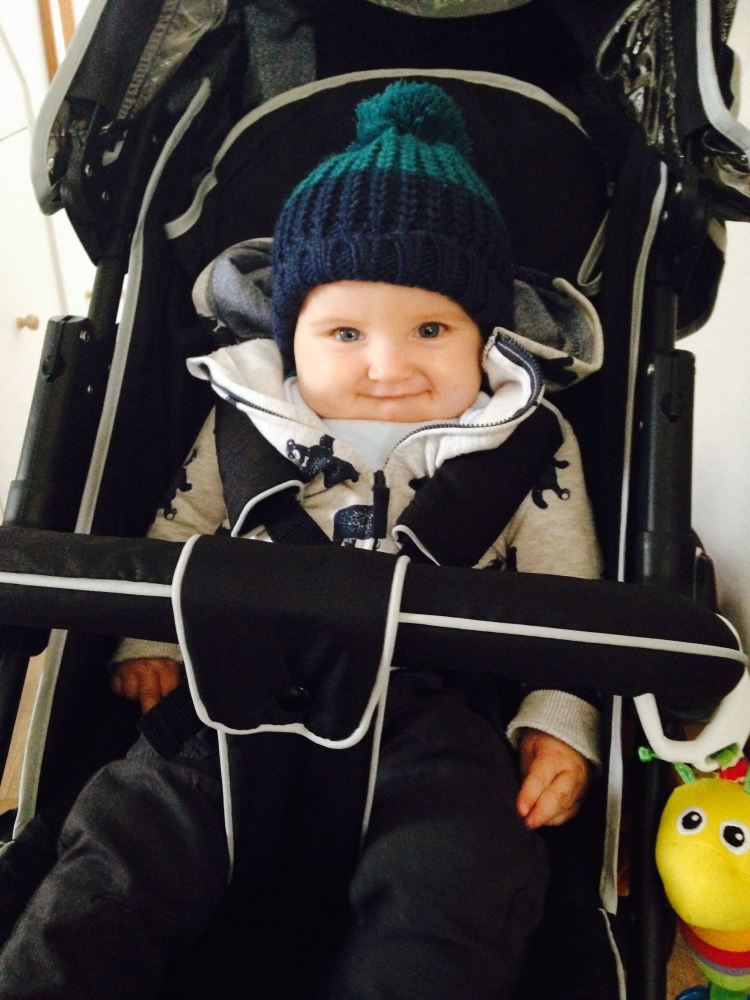 Reuben in the Hauck Viper!
Budget pushchair review: Graco Mirage vs Hauck Viper
Two weeks ago I invested in our second pushchair. We only had the one with Bella, and though it was cheap, it has lasted incredibly well. We bought the Graco Mirage Black Travel System whilst I was still pregnant with Bella. I'd looked at the pushchairs in Toys R Us and Mothercare a few times, but was drawn to this one as it seemed much more lightweight and smaller than most others. I only had a Vauxhall Corsa at the time so needed something that fitted into the boot! We also lived on two upper floors with no downstairs hall space ,so the one handed folding in one second meant I could pop it in my car boot whilst holding Bella!
I'd definitely recommend the Graco travel system. It even survived a fair few hill/forest/countryside walks, even though it doesn't have the wheels for it! The baby car seat clips onto it easily and the whole travel system idea is a lifesaver with small babies so you don't have to wake them to move them from car to pram. We invested in a base for each of our cars too so we could pop the car seat in and out with ease.
When pregnant with Reuben I started looking at some rather expensive pushchairs. I was quite tempted, but then decided the Graco was just fine really and such money could be spent on something else, rather than something we already had. I soon changed my mind though once Reuben arrived, as being a four wheeler, it was impossible to steer one handed whilst also trying to hold Bella's hand. My three wheeler dream began again!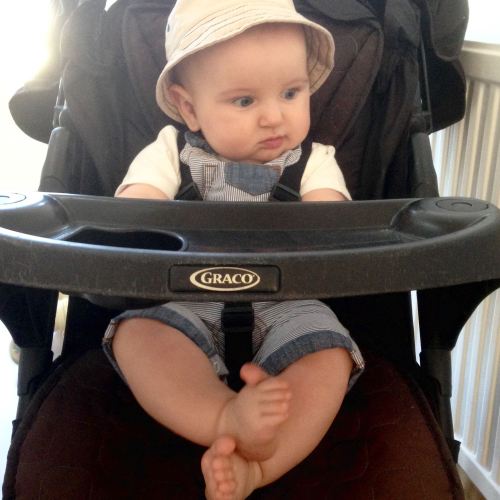 Reuben in the Graco!
I saw a very affordable three wheeler Hauck Viper on sale last week and just had to buy it. Another budget pushchair, but the reviews were great. The one I most liked said the rain cover was really easy to use. In three years I had never worked out the Graco rain cover. I always ended up with it on backwards after five minutes of faffing around in the rain! Ben swears it's just me. The Hauck raincover is SO simple. I worked it out straight away and can leave it off until it's raining and pop it on quickly without panic! I wouldn't dare leave the house without having it ready and waiting on the Graco…
And… OMG… how easy are three wheelers to steer?!!
I'm thinking now we should have got one first time round just because of this. They glide around so easily and steering one handed is simply not a problem. I wanted to go out on several walks as soon as it arrived just so I could experience this amazing new steering luxury! The huge wheels make any terrain a dream and it even has suspension!
The only downside with the Hauck is two hands are needed to fold it down and it remains rather large once folded. I do have a slightly larger car and boot now, but this one takes up the whole of my boot. I've pretty much used this one every day though so it's usually up in my hallway ready to go!
If you can only get one pushchair I think the Hauck Viper would be the winner. It can also be used as a travel system so doesn't lose any points there. For now we are using both, but if I had a larger boot I'd probably just take the Hauck everywhere.
More kids blog posts
Tips for saving money when buying kids clothes
Kids and cash: teaching little ones about money
Save money on UK family days out with Kids Pass and sign up for just £1
Getting the kids to eat healthier
A list of 50 free and cheap things to do in the summer holidays with kids
More baby blog posts
Top 100 Baby Names 2016 – Are your names there?
9 Tips and words of wisdom for successful potty training
5 baby products to definitely buy and 5 not worth your money
Jelly Baby Photography review: at home new-born photographer in Bristol