Benecos review: affordable natural, vegan make up
I have now changed all my makeup to natural make up brands. Yay!
I stopped using paraben containing makeup a while ago, perhaps two years now, but I knew there were a lot of other questionable ingredients too. Switching to paraben free makeup brands is a good start though if you want to start reducing the number of harmful chemicals you are putting on your skin. If you are looking for great natural products, also check out the Nature Republic's products.
Lots of the harmful chemicals often found in popular makeup brands are absorbed into the skin and make their way into the bloodstream! These nasties then circulate your body and can even end up deposited somewhere. Therefore, it's so important to make sure the most natural of ingredients are used on the skin and preferably organic when possible.
It took me a while to transfer my make up over to natural makeup brands as 'eco' or 'green' makeup can be quite pricey. It is of course worth the extra in my opinion, it's an investment in your health and the environment of course, but buying replacements as they run out will be much easier for me now, rather than having to buy the entire lot of makeup in one go to start out.
If you are on the same journey and can't afford to buy an entire new set of natural makeup, then start replacing the items that run out with natural makeup brands and eventually you'll have an entire natural beauty set like me!
The cost of natural makeup can often be off-putting, but I luckily discovered Benecos around one month ago and it is, surprisingly, very affordable. It's widely available in the UK both in natural health stores and online.
If you're looking for a budget natural beauty brand then Benecos could be for you. It's so affordable, anyone can make the switch to less harmful makeup.
Read on for some of the makeup items I have tried so far and my Benecos reviews.

Why do I avoid parabens in makeup?
Around two years ago I started reading cosmetics labels and not purchasing anything containing parabens. I worked at Boots at the time and started noticing baby products labelled 'paraben free'. I had a one year old at the time and wondered what these parabens were and why some brands refused to use them, yet they were still an ingredient in many other brands.
Intrigued, I started researching what parabens were and I was shocked to discover they are carcinogens which have been found in the tissue of breast cancers! They are a cheap preservative and as far as my research goes, they are not safe!
Some companies defend their use and claim they are safe, but if this is true, then why would other companies spend money altering their ingredients and removing them?
I am also satisfied with natural grocery store 'Wholefoods' own independent research into ingredients and they refuse to sell any products containing parabens. This is based on their own personal research into lots of cosmetic ingredients and their safety.
To further confirm they are potentially dangerous, I even met a cancer patient once whose doctor had told her to avoid parabens!
Even worse? It's not makeup related, but I was shocked to later find out that Calpol contains parabens hidden under E numbers on their ingredients list! Craziness!
Benecos reviews
Although Benecos is much cheaper than other natural brands, I believe the quality is still high and it's good to see they refuse to use a lot of harmful ingredients. Here are some benefits of using Benecos makeup:
Benecos use as many organic and biodegradable ingredients as possible.
Their products are free from parabens, silicones, mineral oils, synthetic emulsifiers, synthetic colorants and aromatic substances.
The oils and waxes used are of natural origin, are harmless on our skin and actually encourage natural regulation of our skins processes.
They are also certified natural by the BDIH (an organisation that uses a strict set of guidelines to certify natural beauty products)
Here are my thoughts on some of their products.
Benecos Natural BB Cream 8 in 1
When first applied this makes my skin look quite dewy, but this quickly calms down and soon my skin looks fresher, younger and healthier.
It moisturises too making my skin look and feel soft. My skin tone is really even and slight blemishes are covered.
This product is so impressive I now wear it daily. I'm so glad I found a natural BB cream and I don't have to worry about nasty chemicals absorbing into my face!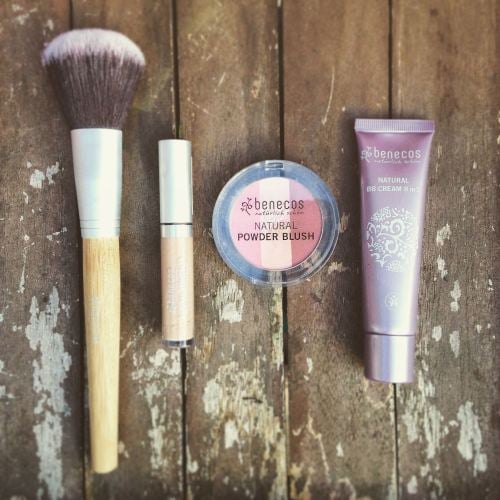 Benecos Natural Concealer
This was the first Benecos item I ever purchased!
I worried that beacause it was a 'cheap' natural brand, the quality wouldn't be great, and so I held off buying any other items from the range until I had tested this one.
Well, I thought this concealer was so good I quickly bought some other items from this brand and I'll soon be buying many more!
I bought a much more expensive natural concealer at the same time as this, literally three times the price (and recommended as the better one by the shop assistant), but this is actually the one I've used more often.
The coverage is really good and it stays on my face covering blemishes, rather than rubbing in to the skin like a cream and not hiding the blemish. I also use this under my eyes to cover dark circles and there's a noticeable improvement.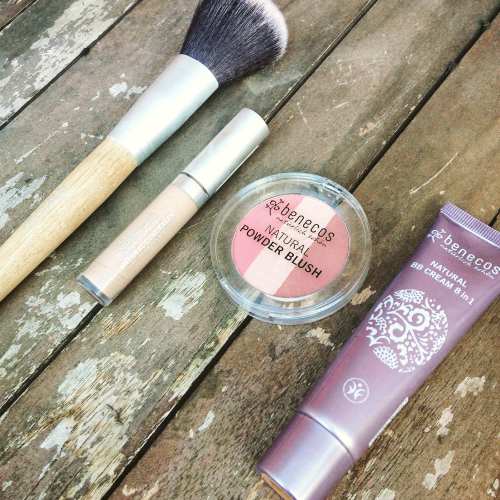 Benecos Powder Brush
I threw my last brush away when I realised my shimmer block contained parabens! I didn't dare use the brush again and haven't used anything on my cheeks for months now.
I wanted to give the trio blush a go, so needed a brush to go with it. As far as brushes go, this one does the job and I like the long eco-friendly bamboo handle. It's nice to hold, making application super easy.
Benecos Natural Trio Blush
I'd usually go for a more bronzed look on my cheeks or a glow, but this looked lovely on the back of my hands in the store! It's just as great on my cheeks, giving a subtle healthy red hue. I'll now be using this every day!
Conclusion
I needn't have worried about Benecos being so affordable in comparison to the more expensive natural beauty makeup brands. It's really affordable, avoids lots of harmful ingredients, is a vegan-friendly beauty product and is actually really nice on my skin. The concealer is actually my favourite concealer to date!
If you're looking for natural makeup you can afford, then give Benecos a go.