Little Grippers Review: Baby socks that really stay up
Posted on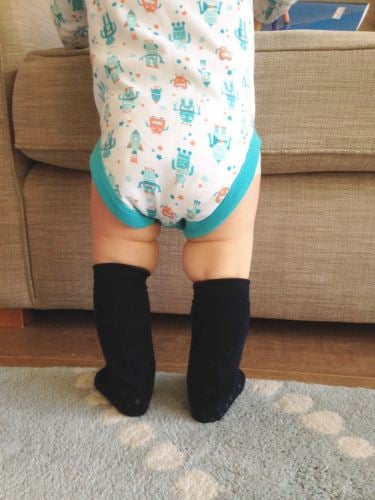 Kids socks that really do stay up
I have finally discovered baby (and kids) socks that really do stay put. Well I can't personally take credit for discovering them, but I can thank Little Grippers who kindly sent me a few pairs of their awesome socks for review. They really are super!
I have been using three pairs of Little Grippers socks with Reuben for the past two weeks and they totally stay on. We've even washed two pairs and the results are exactly the same. He's got chunky little legs so I normally pop the band down to the ankles so they're more comfortable, but we've pulled them right up and they stay on all the same.
The secret is Little Grippers 'stay on technology'. The socks have a see through layer of silicon inside the band working its magic to keep the socks in the right place all day long. We've not had a single footless sock since taking up their #FloorChallenge, perhaps much to Reuben's dismay (he quite likes to pull his socks off!).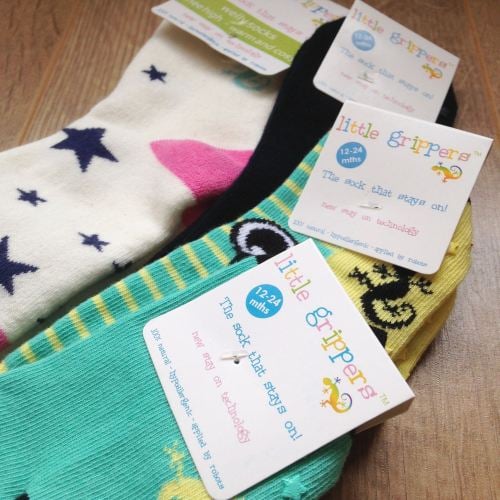 Bella has even been sporting a pair of their star printed welly socks which she absolutely loves. She wore them two days straight. I did try to pop a fresh pair of socks on the second day, only to be greeted with squeals of 'no Mummy, my new star socks!' I think it's safe to say she's rather fond of them!
The silicon has been approved by dermatologists and is hypoallergenic. This means it will not irritate the skin and is safe for babies and children to be in close contact with. Amazingly the silicon can be washed without losing any of its grip, so the socks are like new with each and every wear.
There is a huge selection of socks online right from the teeniest baby sizes, all the way up to a junior size 11. And of course, there are the awesome thicker welly socks which Bella has been testing (they're also great for doubling up as super cosy socks indoors!)
As a parent, anything that makes each day a little easier is welcome. These socks certainly do that. I'm usually forever trying to find a sock that has fallen off around the house, and you can guarantee it will be just as we need to leave the house for the preschool run or an important appointment! Little Grippers really are going to make the tedious sock falling off game a thing of the past.
Save