Peanut butter + Brazil nut smoothie
Posted on
I had a couple of weeks of not making smoothies. I don't know why, but I've definitely reignited that smoothie spark with this deliciousness. Oh my! I'm now back to a smoothie a day.
In my most recent The Goodness Project box (a vegan subscription food box) I received a Pip and Nut peanut butter, which as well as spreading on wholegrain rice cakes, I love to add to smoothies. A spoonful of peanut butter makes a smoothie so creamy and like a dessert.
Having won a recipe competition with Nutri Advanced recently, I have lots of their Nutri Super Food Plus powder. It's a superfood powder filled with nutritious superfoods and tasty chocamine – a tasty chocolate ingredient. A scoop of this makes the smoothie extra chocolatey. Luckily I no longer crave chocolate as I don't eat the regular commercial stuff anymore, but I still love a chocolate flavoured healthy smoothie. Yum.
I must do a little mention to Eco Straws too. I purchased some of their straws ages ago as they are reusable, so less waste. They also have a thicker smoothie friendly straw. I always use them with my smoothies and retweeted one of their competition tweets recently and won! So now I have lots of their amazing straws! I know they do a thinner straw too, so if you use straws please check them out. It will save you so much waste (and money) to use their reusable eco friendly ones.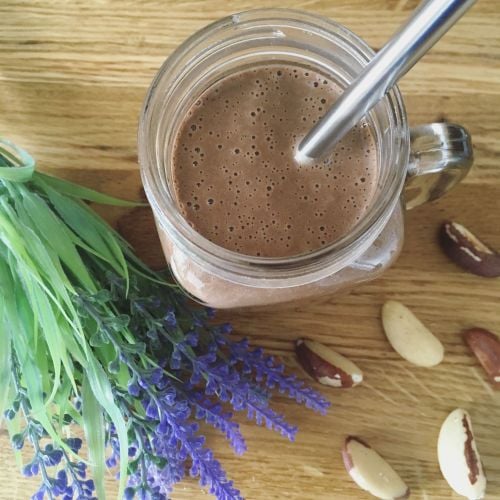 Here's my yummy recipe, blended up in my medium Nutri Ninja cup with the oat 'milk' filled to the maximum line:
Oatly Oat Drink (/'milk')
1 Scoop Nutri Advanced Nutri Superfood Plus Powder
1 Tablespoon Pip & Nut Peanut Butter
1 Large Banana
6 Brazil Nuts
So simple, quick to make and totally satisfying!