Discover your dream salary with this lifestyle calculator
Posted on
Have you ever wondered what your dream lifestyle would be like and how much you'd need to make that a reality? Stay Sourced released a lifestyle calculator so you can see exactly how much you'd need to earn in a year to make it come true!
It's really quick and fun to use. Want to know what my dream salary is?...
£53,000 !!
This is based on my answers:
Facts: 31 years old, female, South West England, 2 children, no pets, supermarket
Desires: Detached house, family car, chain restaurant, high street, short haul holidays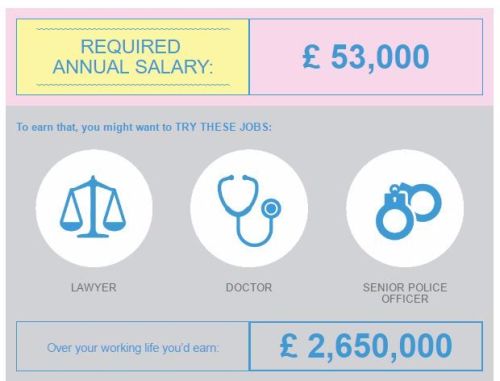 Most of my answers were actually what I do now and I think even if I had more money I wouldn't change the way I am. I'm happy with High Street clothes, but this is now a desire as with raising two kids and buying our first family home means I don't go shopping regularly for clothes. I can only buy when I need, not when I want. Before kids I'd clothes shop every week!
I'm also happy shopping at regular supermarkets. We normally shop at Tesco as it's the closest to us, but I do shop at Waitrose around once per month (is this a high end supermarket or normal, I don't know?!)
We have a semi-detached house, but ideally I'd love a detached house with more privacy in the countryside. One day...
I also chose to eat at chain restaurants each weekend. This used to be more than a weekly occurrence for me before children, but now it's a special treat, not every weekend.
I have quite a small car, but I guess a family car with more room would be more beneficial for our family now. It would be great to have the money to shop around, but I am quite happy with my little car for now. Big cars scare me a little!
I'd love a yearly short haul holiday to the Canary Islands or Greek Islands. We do visit Germany once a year to visit family, but I'd love a beach holiday abroad as a family soon. We've so far only visited Cornwall as a family, but I hope to stay at an all-inclusive beach hotel somewhere sunny in 2018. It has to be done!
Most of my answers stayed the same as how I live now. I'm not bothered about having any pets and I'm happy with two children. I used to want more, but now I'm looking forward to leaving the baby years behind us! I don't mind where we live, but would rather live more rural or nearer a beach if I could.
£53000 is a huge wage and much higher than the average. It definitely is a dream salary as it would enable me to be worry free, get my dream home, go on regular holidays and enjoy more days out.
What's your dream salary?
2023 update: The dream lifestyle calculator was at http://lifestyle.staysourced.com/ in 2017 when I used it, but it doesn't seem to work now. I'm sure you can check www.google.com and find another!