The Langton, Cheltenham: Restaurant Review with Bookatable
Posted on
Today Ben and I had the pleasure of a meal out by ourselves at lunch time. Yep, kid free! A rarity and always so precious to be able to spend even a short amount of time together as a couple to properly talk and enjoy each other's company! I do often feel like I'm just a grumpy mum nowadays and miss having kid free dates, so it's super special when we can grab some time to ourselves and I feel once again like I do have a boyfriend and we still date (even though he's my husband now!). We enjoyed lunch at The Langton in Charlton Kings, Cheltenham, courtesy of Bookatable.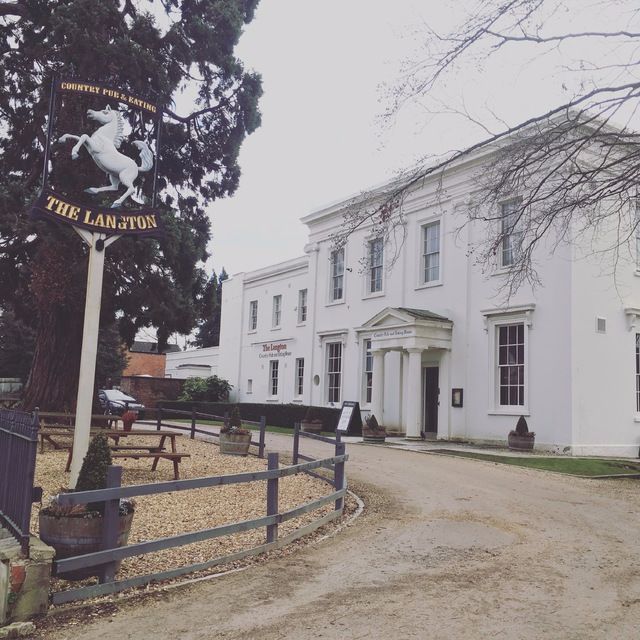 I booked a table at The Langton using this online restaurant reservations website. It's the first time I've been introduced to Bookatable and so was the very first time I'd used its services. It made the process of finding a local restaurant, viewing menus, discovering special deals and booking a table really easy. It even states the average price of a meal and average amount you can expect to spend on food for each establishment, ensuring you are choosing an eatery within your budget before booking. There's an app too, which I've already downloaded as I'm sure we'll use this lots more for future restaurant bookings (and for discovering new ones!).
Though we're both from Cheltenham, we'd not visited The Langton before. We tend to end up going to the same old places for meals, but I'd like to change that this year and visit new places every time we eat out. Upon arriving we were impressed by the building itself. It's quite a sophisticated looking Georgian building with well-kept grounds and I wasn't sure if it was a hotel too at first! We walked into the bar which was very welcoming and then were shown to our table in the restaurant area. Seated next to a roaring open log fire, we felt cosy, warm and comfortable in an instant.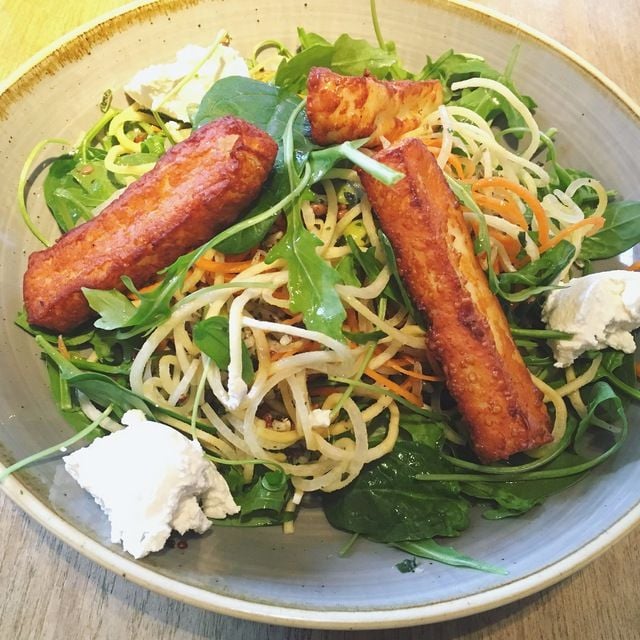 I thought I'd already decided what I was having when browsing the menu at home, a delicious sounding nut roast, but spied something I'd missed when looking through the menu again. I changed my mind and couldn't resist the sound of the Spiralized Carrot Salad. Served with 'whipped ricotta, roasted beetroot, brown rice and quinoa in a lemon & herb vinaigrette' and I chose grilled halloumi as an extra topping. For £11.75 I felt this was a reasonable price and the portion was so large I struggled to finish it all (though chewing is a bit of a mission with my biting blocks in with my brace at the moment!). There was no sign of the roasted beetroot, perhaps they'd ran out or missed it, but I didn't even realise until writing this review and checking the ingredients list on their website! It was still delicious even without the beetroot.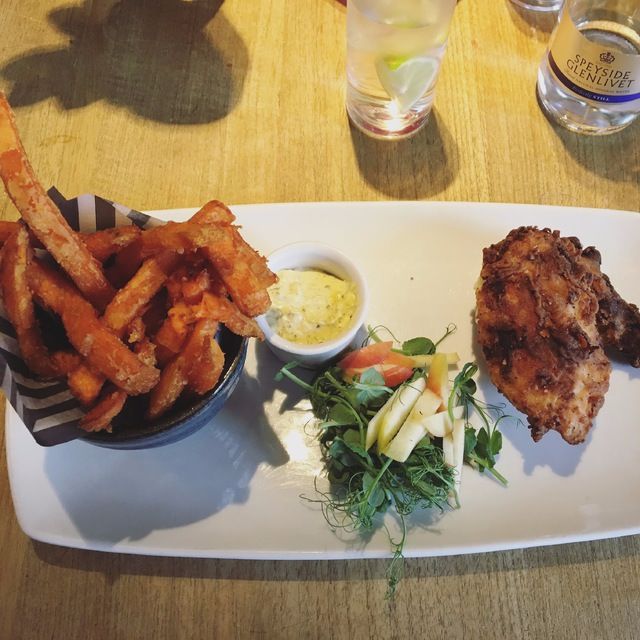 Ben chose Buttermilk Southern Fried Chicken which was 'stuffed with 'nduja sausage, with sweet potato fries, apple salad and preserved lemon aioli'. At £15.50 it was pricier than my meal and rather lacking on the salad. Ben says it was delicious, but a little small on the size of the portion. I personally think they could have beefed up the size of the salad. I should have given him some of mine!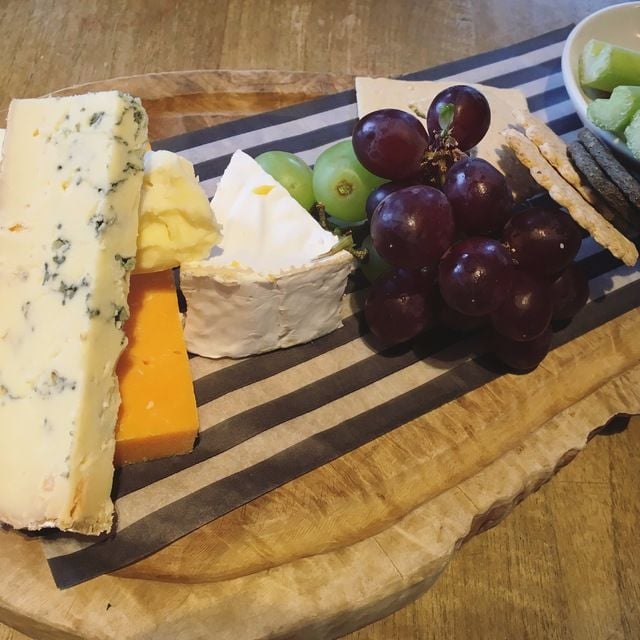 I don't eat sugary foods (well things with added refined sugar) so desert is usually out of the question. I had a feeling they might serve a cheese board as it was a nice upmarket type venue and I was right! I was quite excited at this and though Ben really wanted some sugar filled chocolate bomb thing for desert, he decided to share a cheese board with me. Yippee! Although, I am such a cheese lover I probably could have polished it all off myself. Cheese is my weakness! I love how the cheese board was presented on a rustic piece of wood.
We had hot drinks to finish, a green tea for me (standard!), and nibbled away on cheese whilst talking away. What I really mean is with me jabbering on and Ben pretending to listen! Is that something all men do?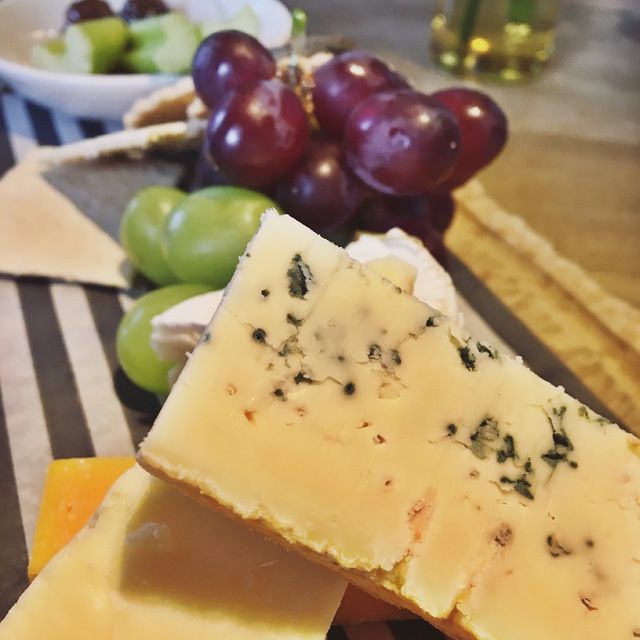 We really enjoyed our meal in The Langton and I can't believe we haven't visited before. They have a great selection of food for vegetarians, including some unique dishes rather than the usual bog standard veggie choices most places serve. The décor was inviting, well maintained and welcoming. I'd recommend it for a meal if you're in Cheltenham and we'll certainly be back. It has great food and decor which are two of my top reasons for returning to a restaurant.
To book a table at The Langton and view their latest offers, click here: http://www.bookatable.co.uk/the-langton-cheltenham-gloucestershire
Save