Winter wedding ideas
Posted on
Planning a wedding at any time of year takes a lot of doing. But if you're planning a winter wedding there are many other things you'll need to consider, like the unpredictable weather and ice cold temperatures!
So how can you use these to your advantage to create a magical winter wonderland day for all to remember?
From the décor you're going to choose to the outfit you're going to wear, here are some of the best ideas for the ultimate winter wedding.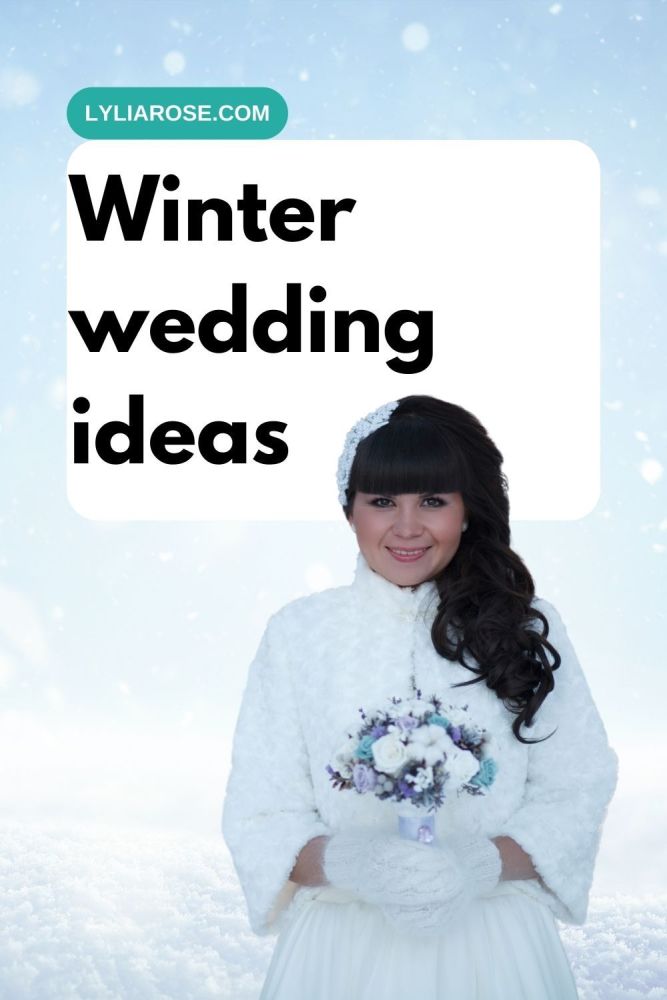 Top tips to take the chill off a winter wedding!
The winter season is a perfect time to get married. The snow and ice add an extra touch of magic to the ceremony and reception. If you are thinking of getting married in the winter, here are some ideas that will help make your day unforgettable.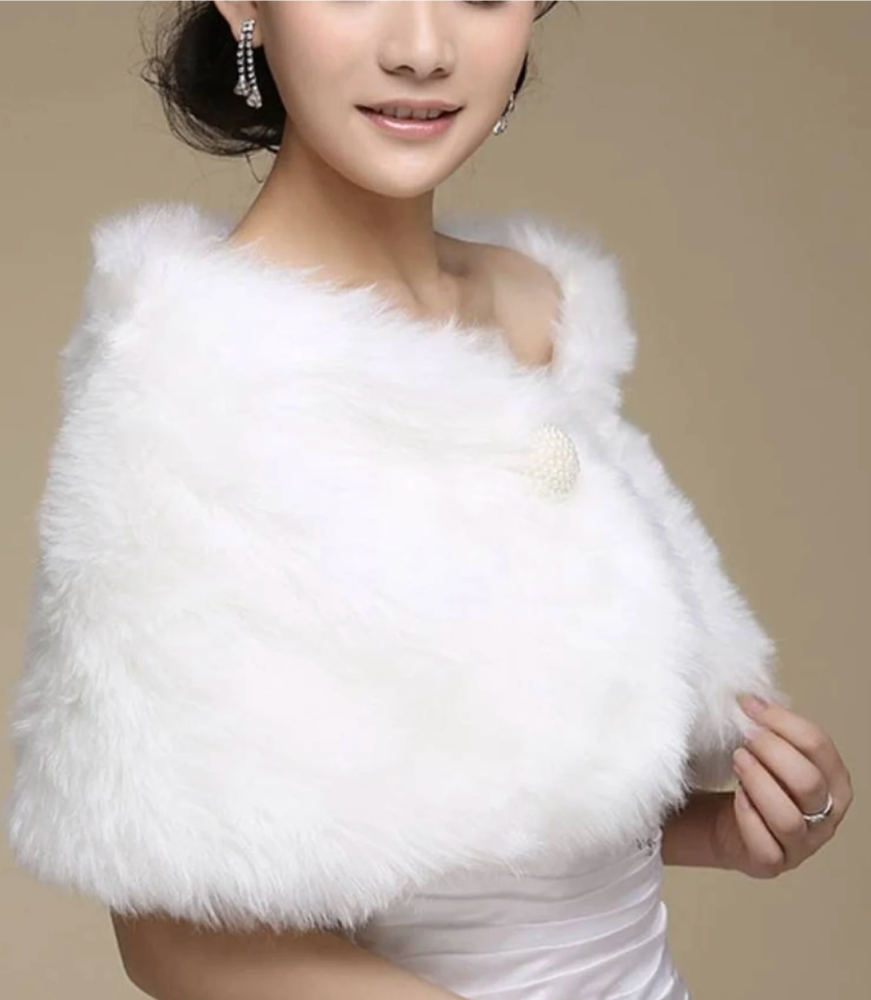 Click here for faux fur bridal shawl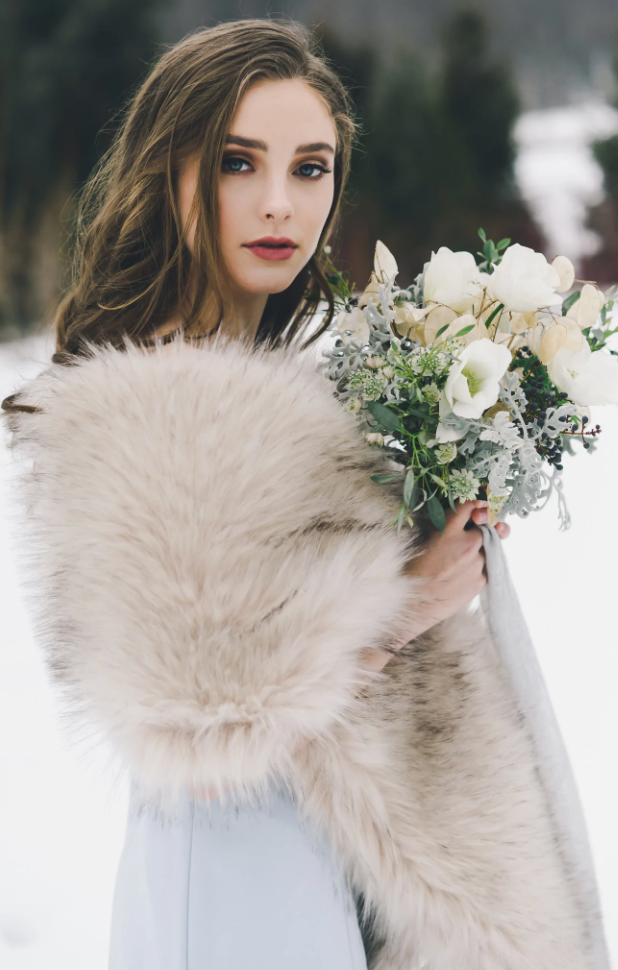 Consider the temperature when choosing winter wedding outfits
Everyone wants to look their best on their wedding day but in the winter you're going to need to take the plummeting temperatures into consideration.
That doesn't mean you need to sacrifice that stunning dress you've had your eye on but does mean you need to think about adding an extra layer. Places like Coast have a whole host of outfits for brides and wedding guests that evoke all the glamour you desire but with some added warmth. Or for something more unique we love the winter wedding clothing ideas for a bride at Etsy which we've taken inspiration from for the images in this article. Simply click the links underneath the images to view the full details of each beautiful item.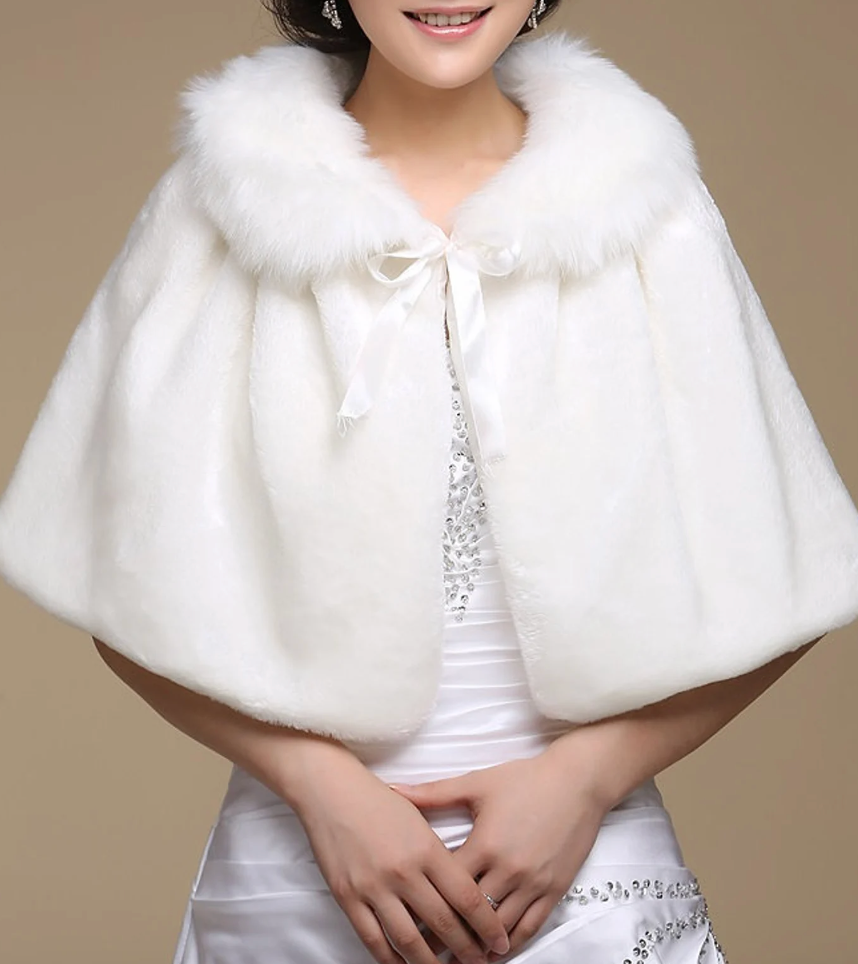 What are the best winter wedding outfits?
For the bride, think about a thicker dress, perhaps with long sleeves instead of short. A bridal poncho will really set the magical winter wonderland theme. Or a faux fur shawl will add a touch of glamour while keeping you cosy.
To accessorise, you can opt for luxurious long gloves if you have a short sleeve or strapless wedding dress. It's still possible to go strapless or short sleeved, so long as you choose accessories to keep warm!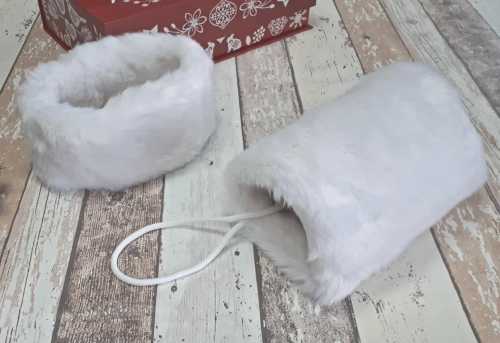 Faux fur headband and hand muff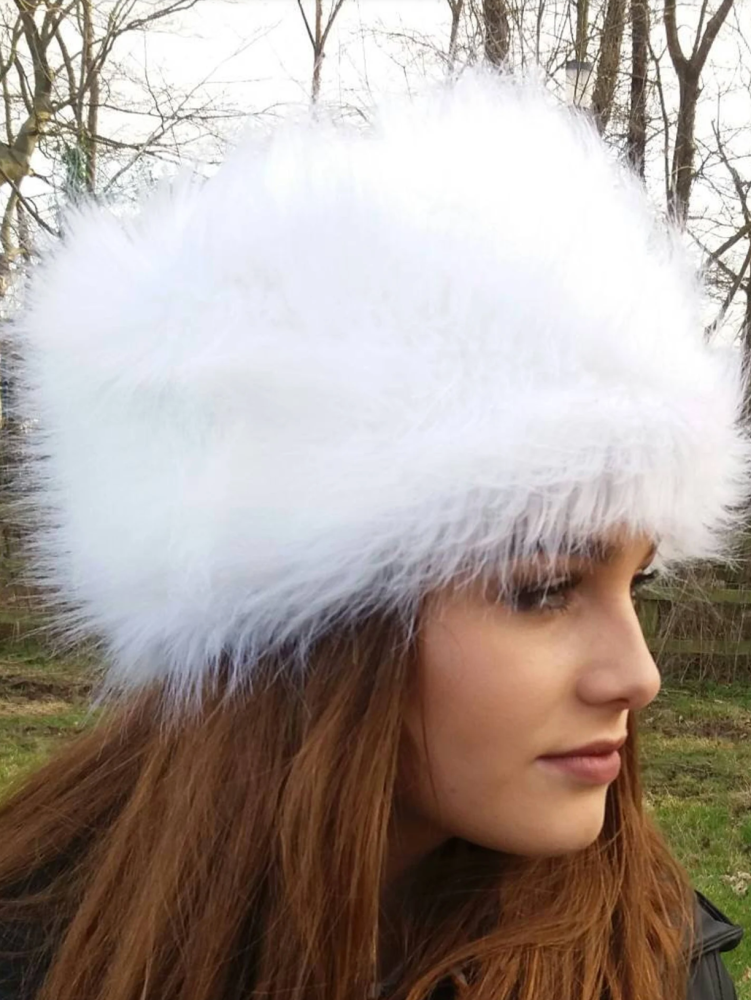 Faux fur Russian ice white hat
What about a winter wedding hat?
Styled well, a faux fur head band or Russian hat in white will look perfect on the bride, along with a hand muff to keep fingers toasty.
For a Christmas themed wedding you can even get a luxury white Santa hat... if not for the bride and groom, then maybe a nice touch for the guests incase they get cold... or to hand around for fun photos at the reception!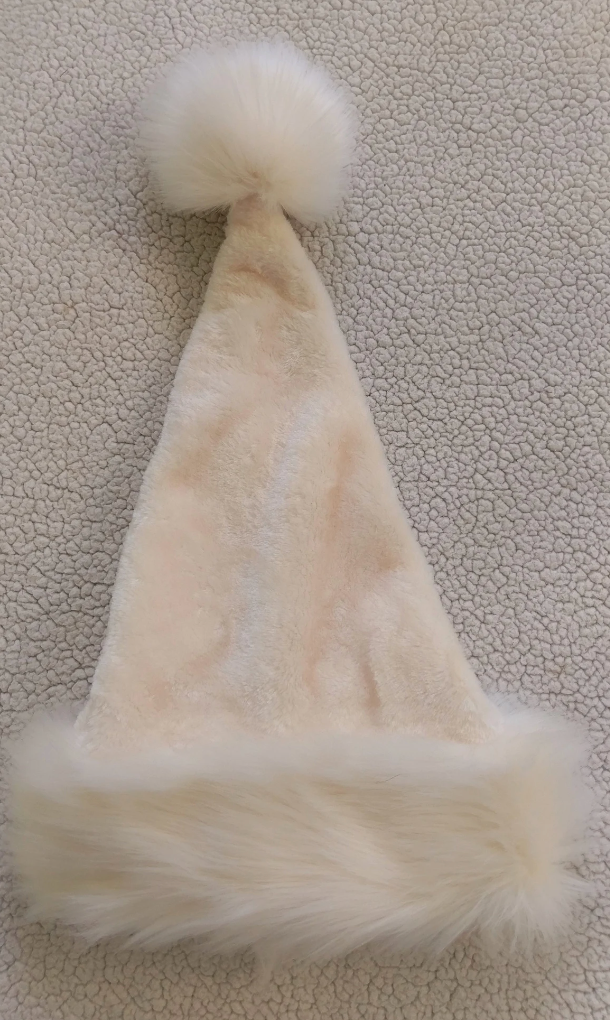 Luxury faux fur white Santa hat
Use the weather to your advantage
Whilst you might not get snow on your big day, that doesn't mean you can't centre your wedding on this theme. Consider using ice sculptures for centrepieces, snowflake decorations and wintery themed table names (like Jack Frost and Ice Queen).
You could even hire a fake-snow machine so you can create a magical atmosphere – and without all the mess of real snow!
Keep your winter wedding guests warm
And for one last touch, why not hand out blankets, or the warm Santa hats as shared above, to your guests during the wedding ceremony/reception? Not only will they appreciate the added warmth but it adds a cute finishing touch to your winter wedding too.
Check out these amazing shawls which can also be used as blankets for your guests, whilst also doubling up as the perfect winter wedding favours for your guests to keep as a memento of your wedding day.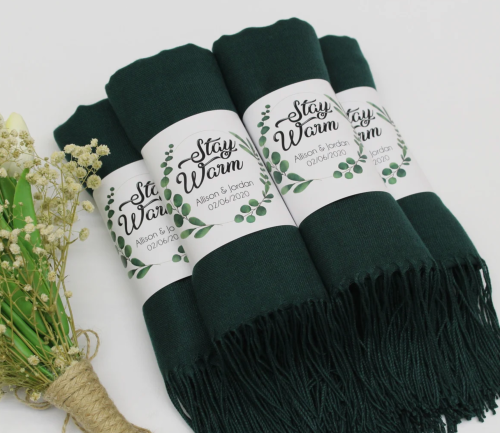 Winter wedding blankets for guests
Opt for warm drinks at the wedding reception
If your guests have had to travel to the venue from the wedding ceremony, or you've been dragging them outside to have their photos taken, provide them with some welcome warmth by offering them warm drinks instead of champagne at the wedding reception.
Mulled wine or hot chocolate (with an optional shot of whisky or Baileys) will go down a treat!
And you can always have them served up in clear glasses with a touch of sparkle and snowflake stirrers to add a quirky touch that will look great in your wedding photos.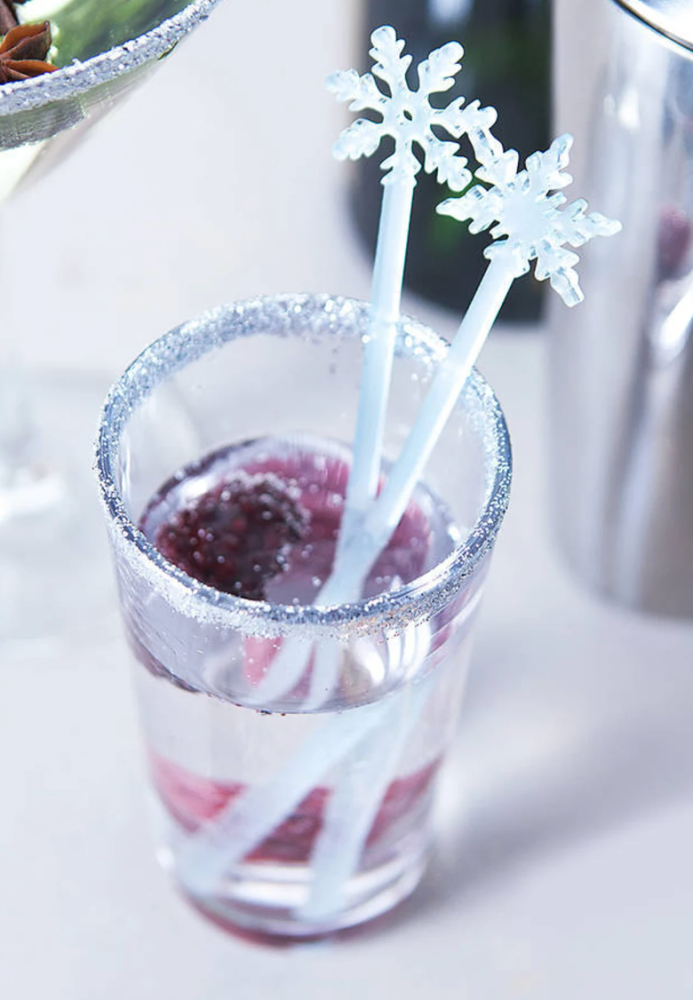 Choose ice queen makeup for the bride and bridesmaids
Create added impact to your outfit with natural base makeup and pearly shades. This will look stunning against your white dress and you can even add to it with silvery touches to your eye makeup.
Opt for pearly shades on your nails and lips and keep the rest of your makeup neutral to add to the dramatic effect.
You can also create a beautiful ice queen look for your eyes if you want something more daring and bold.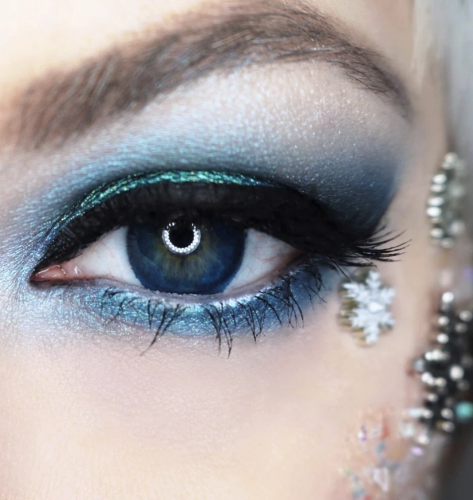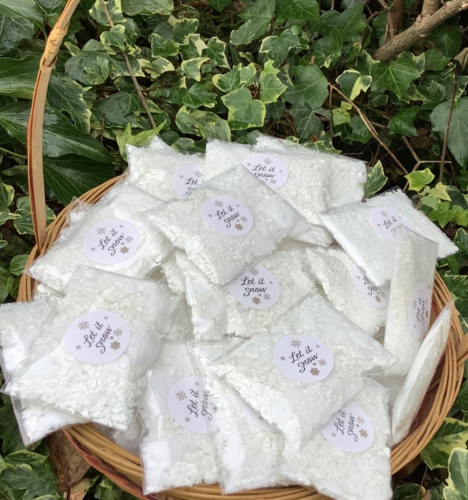 Snowflake confetti for a winter wedding
Snowflake confetti
For confetti you can use real white petals or choose some biodegradable materials to create white snowflake looking confetti. Hand these out to your guests in pouches with stickers saying 'Let it Snow' or 'Snow in Love' to match the winter theme.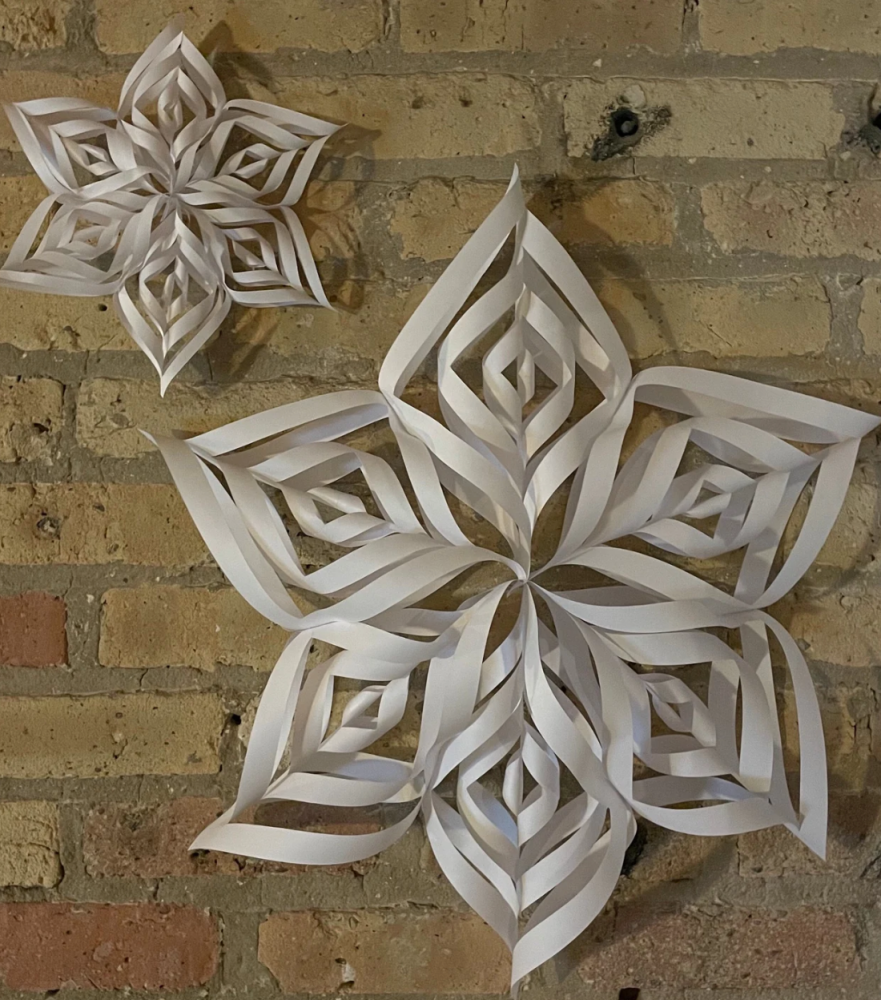 Winter wedding decor
Likely your venue will be indoors in which case you can create a magical winter wonderland with fairy lights, white drapes, a collection of hanging paper snowflakes, sparkly snowflake garlands, candlelit lanterns and fake snow.
Wedding planners can create winter-themed centerpieces with pine cones, evergreen boughs, and white candle holders.
Instead of flowers, you can use pine cones or evergreens as your flower arrangements.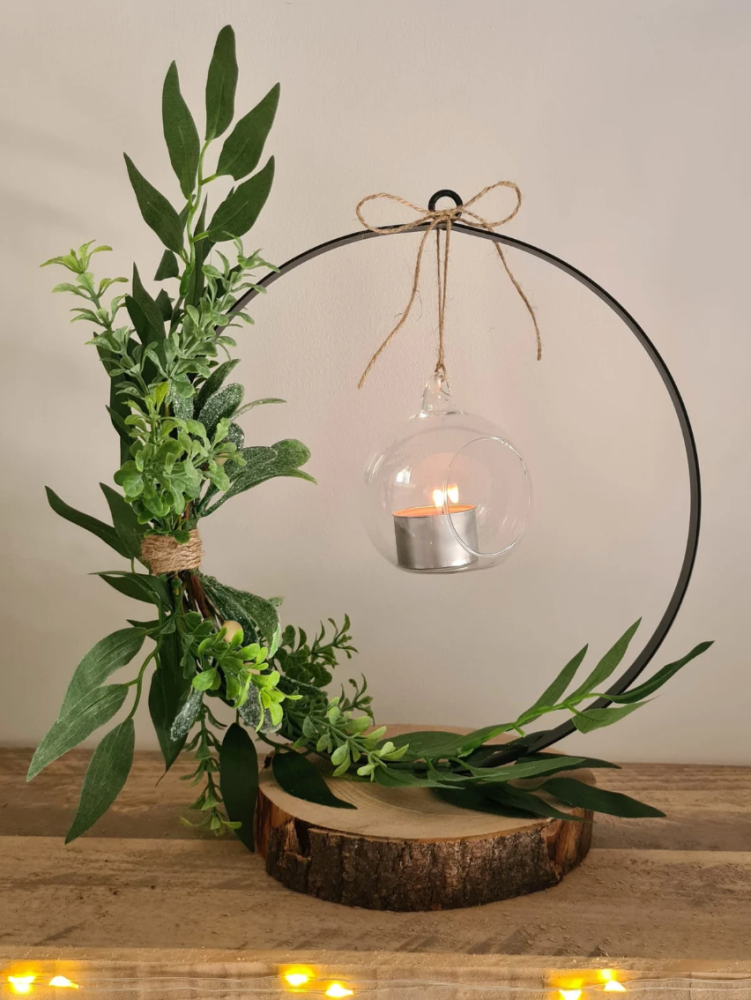 Winter wedding table centrepiece
What about the perfect winter wedding venue idea?
If you're looking for an intimate, romantic winter wedding, consider a snowy locale or an indoor venue with a fireplace. You can also choose to have your ceremony in the evening instead of the morning so that it takes place under the stars.
If you're looking for something more grandiose, try hosting your ceremony at a mansion or estate with a beautiful outdoor space such as an ornate garden or historic chapel. You can also have an ice sculpture on display or incorporate snow into other aspects of the event such as table settings and centerpieces to give it a winter theme.
If you have an outdoor space then decorate with large lanterns with candles, if the weather is dry or there's a covered area. You could set up firepits to keep guests warm and add a romantic feel under the moonlight.
Here are a few winter wedding ideas that will keep you warm:
Consider having your ceremony in a cozy, intimate space.
Use natural materials such as wood and stone for your décor.
Utilise candles and fireplaces or firepits to add warmth to the day.
For your menu, consider having soup or hearty homecooked meals like cottage pie or roast dinner.
Serve hot chocolate and coffee instead of wine.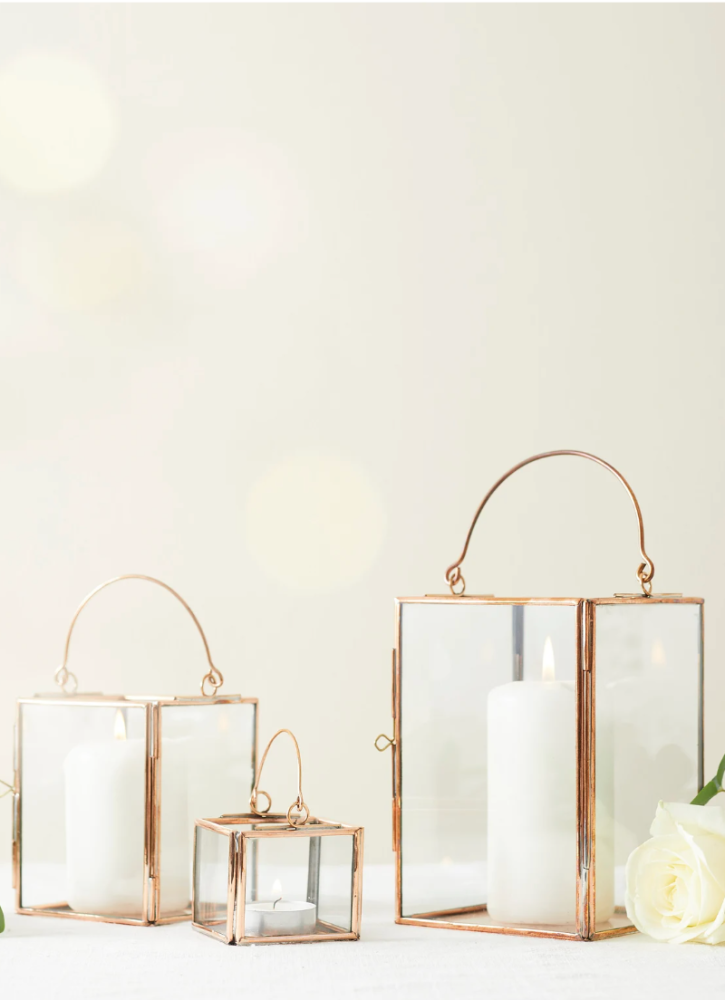 Final word
Winter weddings are a great idea for those who want to celebrate together with their loved ones in a cosy atmosphere. There are many winter wedding ideas that will keep you warm. Check out tje ideas above for inspiration and click the links for even more great decor and clothing ideas for your dream winter wedding.
Originally posted in 2017 and updated in 2022
Save
Save