Skin Elixir review: natural, organic, vegan perfume + moisturiser
Posted on
Chemicals are all around us and unfortunately we cannot escape them in modern life. However, we can learn how to take care of our skin naturally as well as ethically, by using a skincare and perfume brand that is not tested on animals. If you're looking for a new organic beauty brand with plenty of natural kind to skin ingredients, then read on. I'll review two natural beauty products from organic skincare brand Skin Elixir in this beauty blog post.
Your perfume might be toxic!
Yep, nasty chemicals could be lurking in your perfume!
Since becoming so interested in a more natural wholesome lifestyle and cutting out parabens in make up and skin care products along with many other nasty chemicals, it took me a while to realise that most perfumes are also potentially harmful. It's not just a bottle of perfume either as many products are fragranced with perfume, such as body lotion and deodorant. Unfortunately I am yet to find a good natural antiperspirant/deodorant that cuts it for me, but I'm always trying new ones.
Most scented cosmetics contain a group of petroleum chemicals called phthalates. Don't ask me to say that out loud. If I had to guess, I'd say the first ph is silent!
These phthalates are everywhere. Not just in cosmetics, but used in plastic to make it more flexible and less breakable, and also used in household cleaners. So the chances are you can't totally avoid them, but you can definitely cut down and stop putting them all over your skin and breathing them in from perfume.
Why would you want to do that?
Because they are toxic. They are potentially a carcinogen. They are an irritant. They can cause nausea, stomach upsets, headaches, asthma, cancer, hyperactivity disorder, infertility. . . the list goes on and on. They are a man made chemical and from what I can tell in recent years, we should really stop messing with nature and creating these man made chemicals as the research soon comes out telling us how bad they are!
But I like to smell good?
I'd never even thought about looking for a natural perfume and assumed they didn't exist. That was until Skin Elixir got in touch with me. Skin Elixir create natural, organic, vegan perfumes in small batches by hand in Nottingham. They asked if I wanted to try some. Of course I did!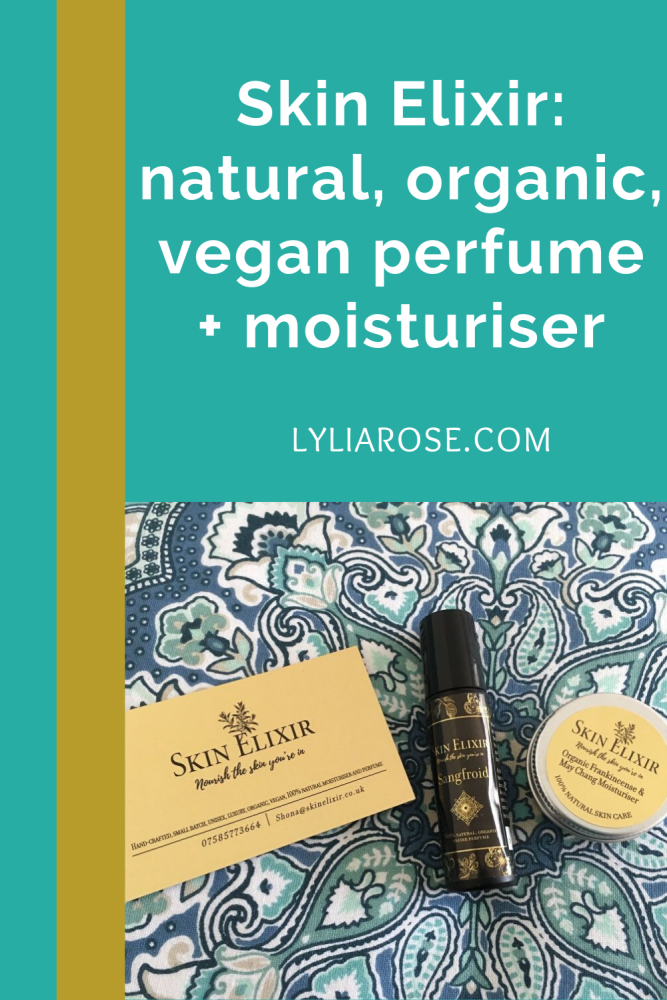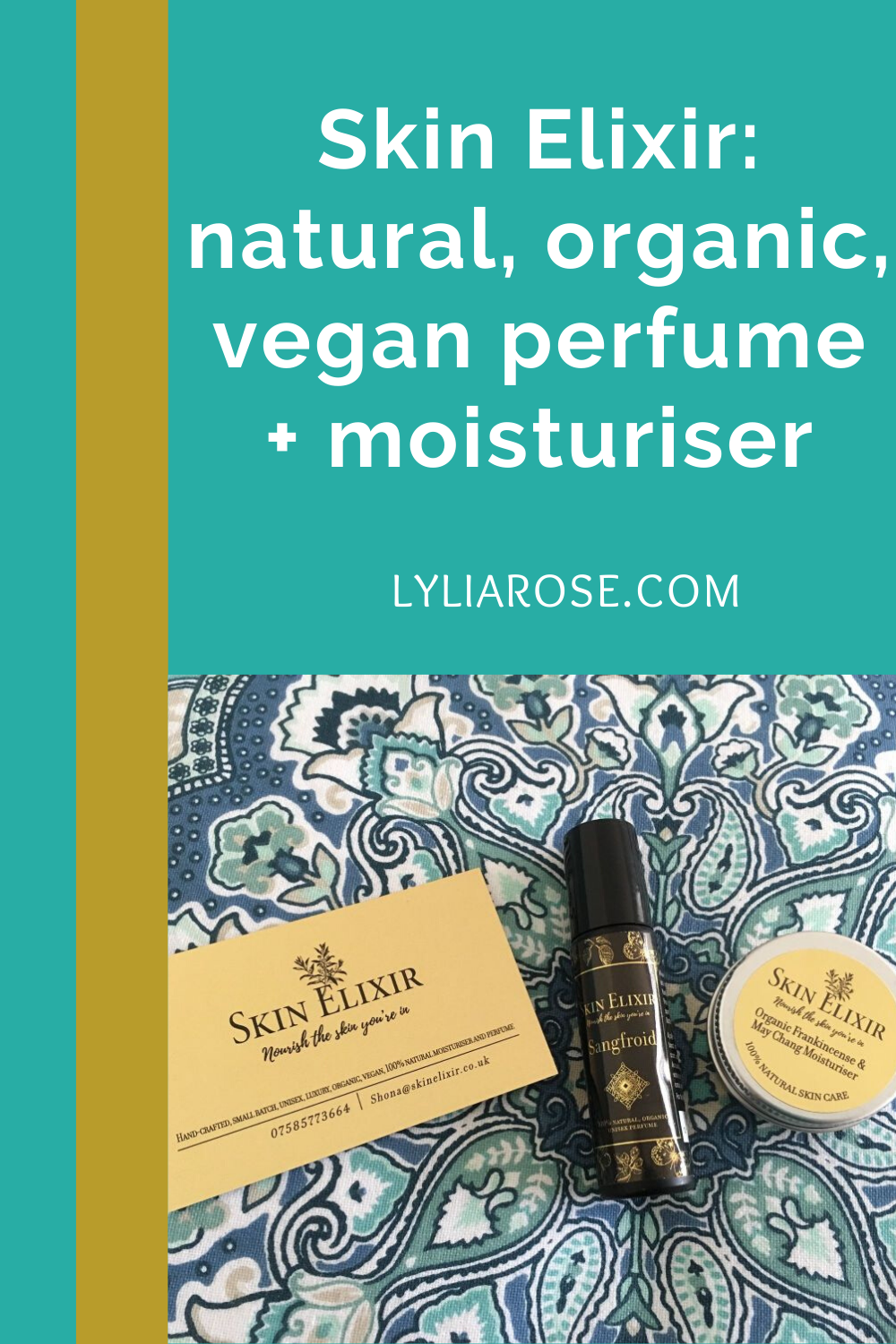 Skin Elixir Review
'Nourish the skin you're in'
Whereas most natural brands have a natural wholesome feel to the packaging, Skin Elixir has a luxurious finish with its tasteful black and gold design. The moisturiser and perfume arrived in a black gift box – a perfectly presented present idea. It really was a treat to open and arriving close to Mother's Day it really felt like a perfectly timed gift.
Sangfroid Natural Perfume
Sangfroid, the natural perfume, is a 10ml rollerball in a sleek black tube. Perfect for throwing in a handbag or pocket to reapply throughout the day. The perfume is unisex and both me and Ben have been wearing it for a couple of days now. As a female I prefer a lighter scent, so a quick dab or one roll on the wrist is plenty for me. As a male I believe you can build the scent up by applying more liberally for a stronger smell. As we went for a walk in the beautiful sunshine over the weekend I kept getting delightful whiffs of this natural perfume and kept stopping to sniff Ben's neck! It's a captivating scent that I want to smell over and over. When I first smelt it I thought it was going to be too overpowering for me, but the trick is to add just a little and the more I sniff it, the more I like it.
This perfume has a whole host of good benefits for both you and the environment:
Cruelty free
100% natural
Vegan
Organic
Free from preservatives, parabens, mineral oils, artificial frangrance
Ethically sourced ingredients
Organic Frankincense and May Chang Moisturiser
I haven't yet experienced the benefits of this moisturiser as a face cream and I instantly used it on my hands. In my part time evening job I clean cold warehouses and outside toilets (glamourous I know) and I've been prepping the garden recently for vegetable growing season, as well as weeding, so my hands really have been getting worked. For the first year ever I have had sore dry cracked creases. I've never suffered with this before, so perhaps it's a sign of my skin becoming older or I've just been working my hands in cold temperatures too much. As soon as I opened the moisturiser it seemed like I just needed to spread it all over my hands and boy, were they thankful!
The high quality of the moisturiser is instantly recognisable as it is a thick, rich balm, not a gloopy runny thin milk like many. This is probably thanks to Skin Elixir not adding water to any of their formulas – meaning you are paying for the very best ingredients only and can apply the products sparingly.
It's highly nourishing and after one application my hands are almost back to normal and they were pretty atrocious! I can only imagine the wonders this moisturiser will do to your face. There are plenty of positive reviews shared on the website to praise the moisturiser for aiding skin conditions such as eczema. If you have troubled skin you really should start avoiding synthetic products and reach for such natural good for you skin healers instead.
Visit www.skinelixir.co.uk today to purchase these wonderful products and find out more about the story behind the brand!
Save
Save
Save
Save
Save
Save
Save
Save
Save