Blog Giveaway: Win a £25 Amazon Voucher
Posted on
THIS GIVEAWAY IS OVER. CHECK OUT MY GIVEAWAY SECTION FOR THE LATEST ACTIVE GIVEAWAY AT THE TOP OF MY WEBSITE!
Choose your perfect holiday books with my giveaway
What are your favourite types of holiday books? The blog post How to Pick The Perfect Holiday Book from Holiday Gems will help you narrow down your choices if you're struggling to pick a title for your hols this year. They're also kindly giving one of my lucky readers a £25 Amazon gift voucher to put towards your holiday reads this year.
Just read on and enter the giveaway at the end of the blog post.
I really miss reading. I used to read quite a lot, but since having children I don't read at all. Well, I do read quite a lot all the time, but I mean I never read an actual book. I just never have the time to sit down and get my head stuck into a book. Reading books on holidays was one of my favourite things to do before motherhood, and I look forward to the day I can do it again!
The only holiday I've been on with Ben abroad was our babymoon to Gran Canaria when I was six months pregnant with Bella. I purchased three books from the airport to read on holiday and ended up reading nearly all of them on the flight there! I'm quite a fast reader and a bit of a skimmer sometimes over boring parts! I also can't read just a little bit and then put a book down. I have to know what's going to happen next. I'm too impatient to take my time reading a book and always read them in one go or a few chunks. I can never read them over weeks and weeks like some people.
I'm hoping we can go on a family holiday abroad this year or definitely next year, but I don't think reading will be on the agenda with a five year old and a two year old in tow. Maybe I can sneak a read of a book in the car to the airport? I look forward to the day I can lie on the beach reading a book in peace and quiet!
My sister reads loads of books. We always used to read a lot when we were younger and would sneak our curtains open a little in the summer once we'd been put to bed, so we could sit up and read in bed! We used to share a room so would both do this together. She still reads loads and has even invested in a Kindle type thing. I've never used one, but I assume it's like an iPad only it's purely for storing your favourite books and reading them electronically.
I quite like the idea of an e-reader as they must be so much more environmentally friendly, you know save the trees, etc. But I do love an actual book. There's something so much more satisfying reading an actual book with text on paper and not on a glaring screen.
Holiday Gems have released an infographic listing the pros and cons of actual books compared to e-books which is quite interesting so I've pasted it here for you to see. What side are you on; real physical in your hand paper books or an electronic device? I'd love to know in the comments.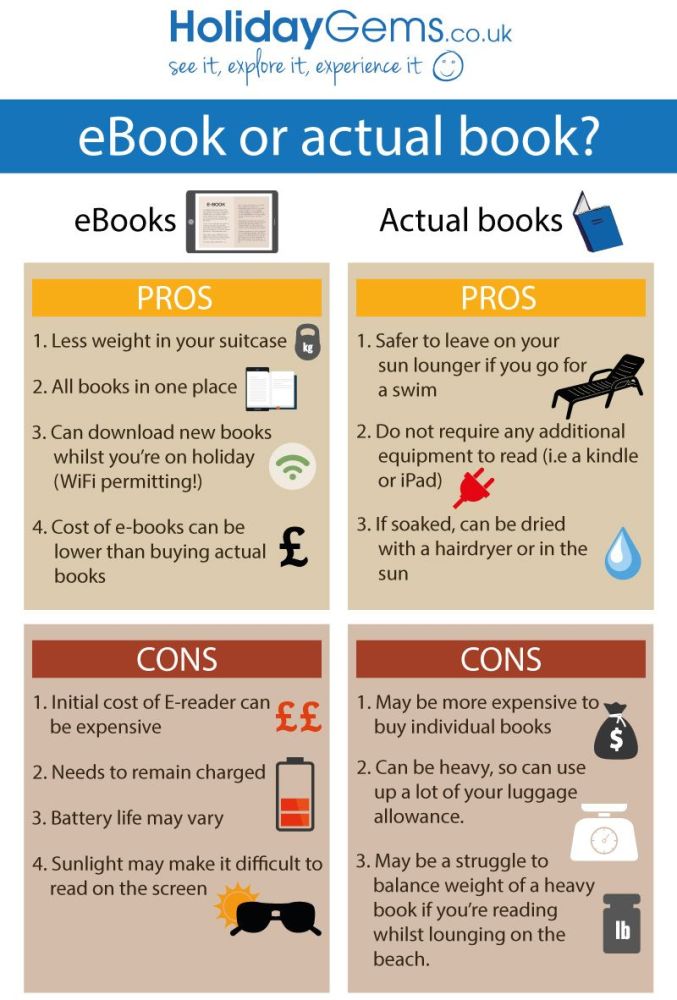 £25 Amazon Voucher Giveaway
Now it's time for the giveaway! To give you a head start on your holiday book shopping, Holiday Gems are kindly giving one of my readers a £25 Amazon Gift Voucher!
Who doesn't love Amazon and the chance to treat yourself to whatever you wish?
Entry is via the Rafflecopter widget below for UK residents only.
Good luck!
THIS GIVEAWAY IS OVER. CHECK OUT MY GIVEAWAY SECTION FOR THE LATEST ACTIVE GIVEAWAY AT THE TOP!
WELL DONE WILLIAM G
Save
Save
Save