A kid free camping trip to the Vale of Glamorgan
Posted on
On Saturday me and Ben dropped the kids off at Nana's after Bella's morning swimming lesson and headed to Wales for a much needed night away. For the past three years whenever we've had a night or day to ourselves, we've spent it busily doing up the house or garden and spent many romantic weekend trips alone to B&Q! My Mum banned us from going to B&Q this time! Though we did end up in Homebase which I'll explain later!
Having poured all spare money into our home for three years, I've been desperate to start having some family trips away as well as just adult trips away. This year sees us finally doing so and as well as this trip I've booked another night away for me and Ben in July, a family weekend away in August, a family visit to Germany in August and a beach holiday next year! We are also off to Wychwood festival on Friday for the day and we'll do something in the October half term too as Ben has booked it off. It's so great to finally have plans to look forward to as a family and as a couple. I'm ready to start adventuring and travelling once more.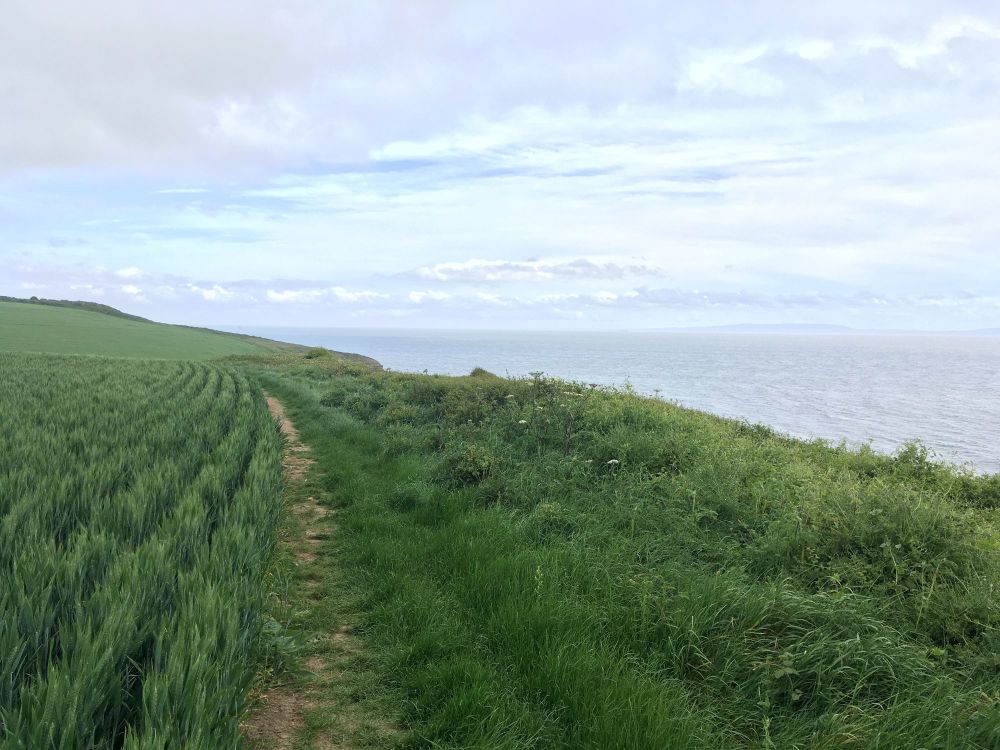 Booking a night away
I was originally looking at The Gower when booking our night away to Wales as I still haven't been, but Ben has and I hear it's beautiful. Being the bank holiday weekend at the start of the half term holiday they were fully booked, so I looked for a beach a little closer and discovered Ogmore Beach in the Vale of Glamorgan. Pictures of castle ruins and stepping stones enticed me and I set about ringing campsites to see if they had availability.
'Oooh that's the bank holiday weekend isn't it?' said the first. Oh dear I thought! Fully booked? But luckily, nope! The very first campsite had a pitch for us so I booked it straight away. My mum was actually with me when I rang and she was in disbelief I was booking a pitch for a tent. I'm not a big camper! Well, I'm more of a glamper! I loved Our First Time Staying in a Yurt and a comfy bed and good night's sleep definitely makes me enjoy a night away camping!
I wanted to get away near a beach for a night though and Ben has a small tent, so for £17.50 for a cheap night away I couldn't really complain (much)!
Arriving in Ogmore
When we left Gloucester it was around 20 degrees and I was in shorts and a t-shirt. When we arrived at Ogmore it was 15 degrees and super windy. Brrrr! Ben had thankfully packed for all weather, but I hadn't packed anything warmer, only a maxi dress, so our first trip was to Tesco to get me a pair of jeggings and a hoody! I should know by now in this country to pack for all eventualities!
Before Tesco, we popped to a beach café called Hilary and Iain By Sea for lunch. Ben had their Famous Surf Burger which looked insane! It was beef, chicken, bacon, you name it! It was one of those tower things stacked ridiculously high with an actual knife stabbed through it! I went for a more modest veggie breakfast of eggs, plum tomatoes, mushrooms and a hash brown. We shared a pot of tea and it was a great start to our kid free trip away.
Acorn Camping and Caravan Park
After lunch and buying me some suitable clothing for the windy weather, we found the campsite and set up the tent. By set up, I mean let it out of its zip case and TA-DA! It's up. It's a pop up tiny little thing that takes no setting up at all. We took four duvets with us, so tried to make the best marshmallow sleeping land inside we could.
The campsite was lovely. Clean and tidy and Ben said the toilets were the cleanest block he'd ever seen at a campsite. The foodie inside me was also pleased to see they served breakfast in their café, so that was the morning sorted!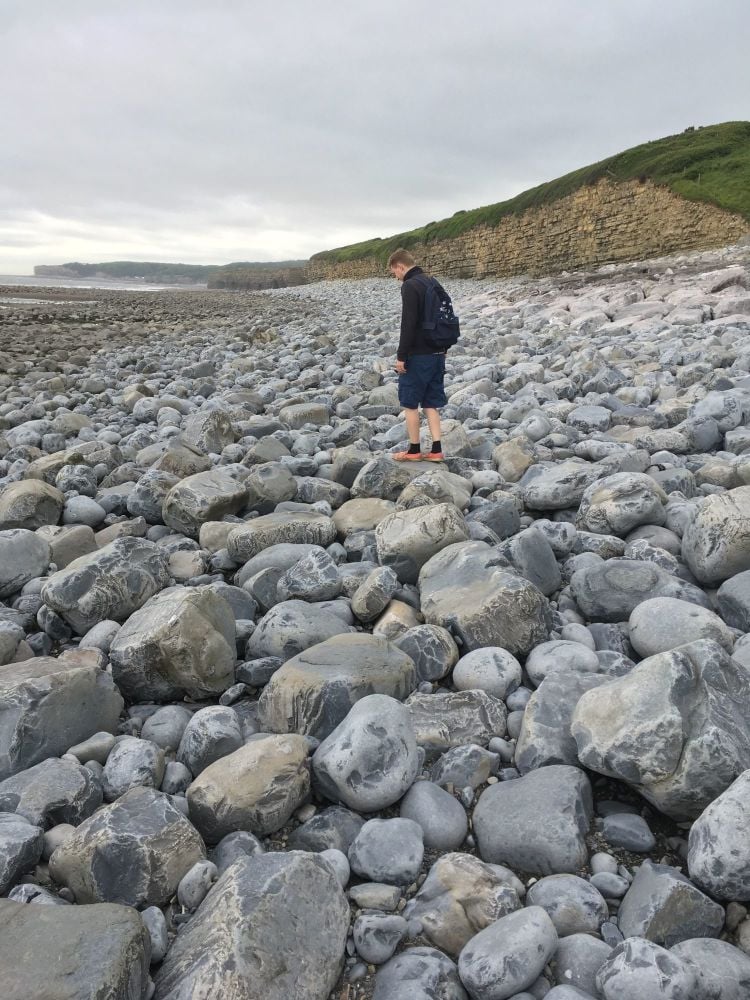 Cwm Colhugh Beach (Llantwit Major Beach)
The campsite was next to farmers fields which stretched out to the cliffs so we walked through the peaceful fields to the path along the cliffs for a walk. It was bliss! The sea view and luscious green countryside is my kind of heaven. I'd love to live by the sea in the countryside one day. It's the perfect combination. It was super quiet so we were able to explore by ourselves. We walked to Llantwit Major Beach which was around a half hour walk.
It's the rockiest beach I've ever seen!
There were rocks everywhere, giant boulders all over the place! We had a good go at walking along the beach using the rocks as stepping stones. Ben decided to take us through a watery area where the stones were quite sparse and I fell in! Oops! He managed to catch it on film too and finds it hilarious.
The cliffs and rocks here are really something and well worth a visit if you're nearby.
Il Vesuvio
We walked back to the campsite and changed my wet seaweed shoes. Ben looked up the best place to eat nearby and found an Italian in Llantwit Major which was rated #1 on TripAdvisor. Travelling is so easy with an iPhone and internet!
Il Vesuvio is a lovely authentic family ran Italian restaurant with a great choice of food and drinks, including plenty of vegetarian options. Ben chose a meaty pizza (because he hadn't enough meat at lunchtime!) which was super spicy and burnt his face off! Not really, but he caught a big bit of chilli in his first bite which was amusing to see! I had a mushroom and gorgonzola pasta which was delicious. The portions were very generous and we felt overly satisfied afterwards.
On the walk back we ran into a park to have a go on the zip wire like giddy teenagers! We needed to work our food off!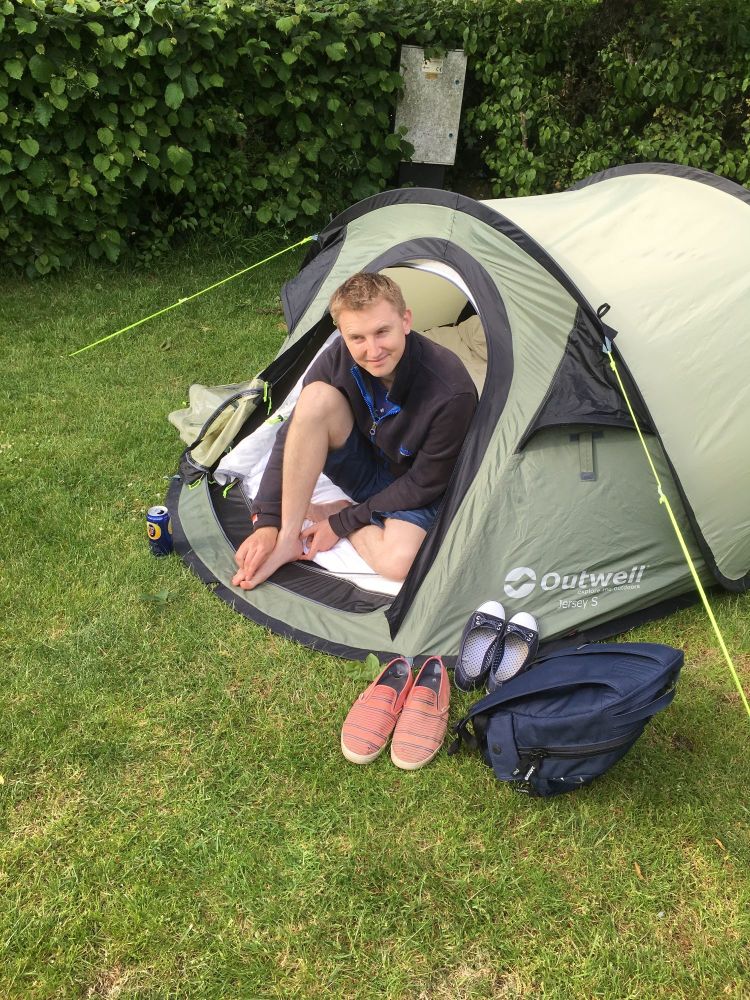 The tent
We stayed in the tent and one night was enough for me. I just can't do tents! I need a mattress of some sort. I found it really hard, even though I was on top of three of the duvets and I was constantly woken by people walking past the tent. At 5am it was bright daylight, so that was me awake. The tent is so small I just needed to get out and couldn't face getting back in again – claustrophobic! It's so dinky I can't even sit up in it! We really need to invest in a bigger tent and then perhaps I'll enjoy the sleeping part a little more. There was a lot of talk of getting a camper van, so this sounds much better to me too! Anything I can get a decent night's sleep in.
Ben says he had a great night's sleep!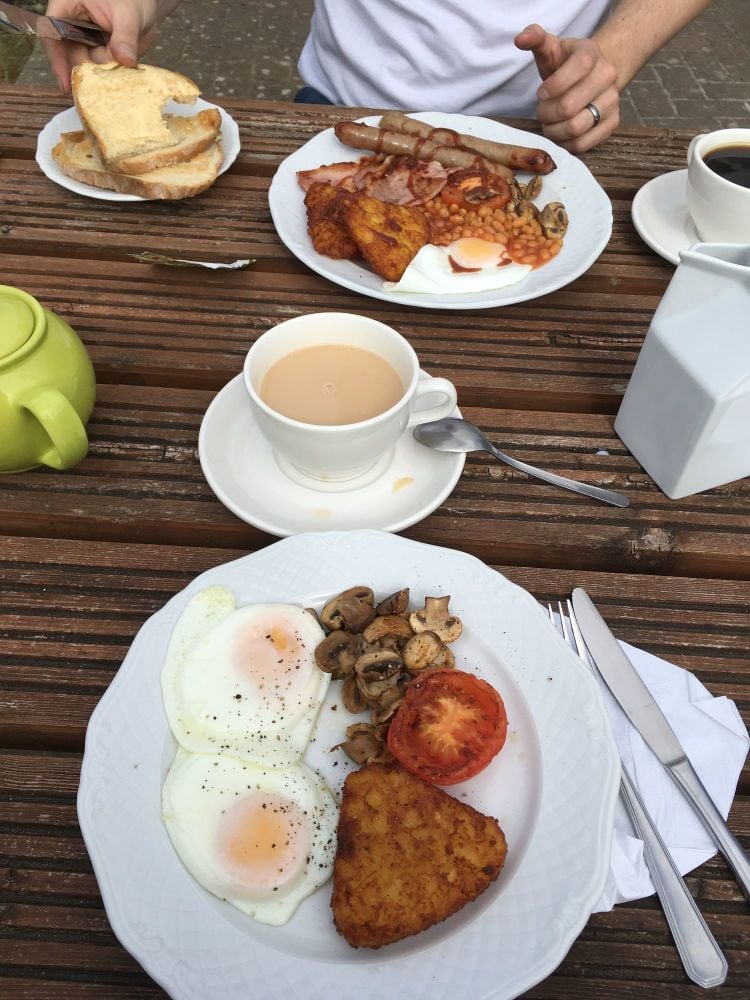 Flat tyre
Ben noticed his car looked a little wonky and the tyre wasn't right. On closer inspection he saw a nail in the tyre! Yikes! He changed it for the spare tyre and we found a Kwik Fit which was open on a Sunday. After a delicious breakfast at the Acorn campsite we headed for a very exciting trip to Kwik Fit to get a new tyre.
Unfortunately there was a one hour wait, so we had a browse in Homebase and grabbed some lunch from Tesco. We could only find a patch of grass near a busy road, so had a picnic here. Luckily it was super sunny and not windy at all on Sunday.
£130 later and we were on our way again!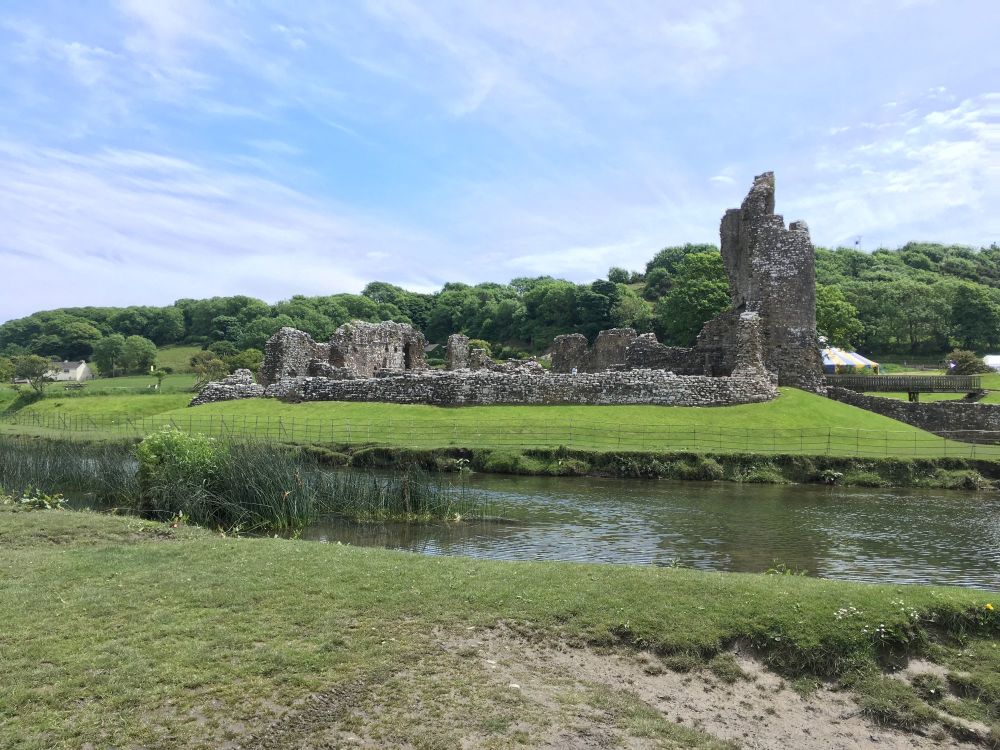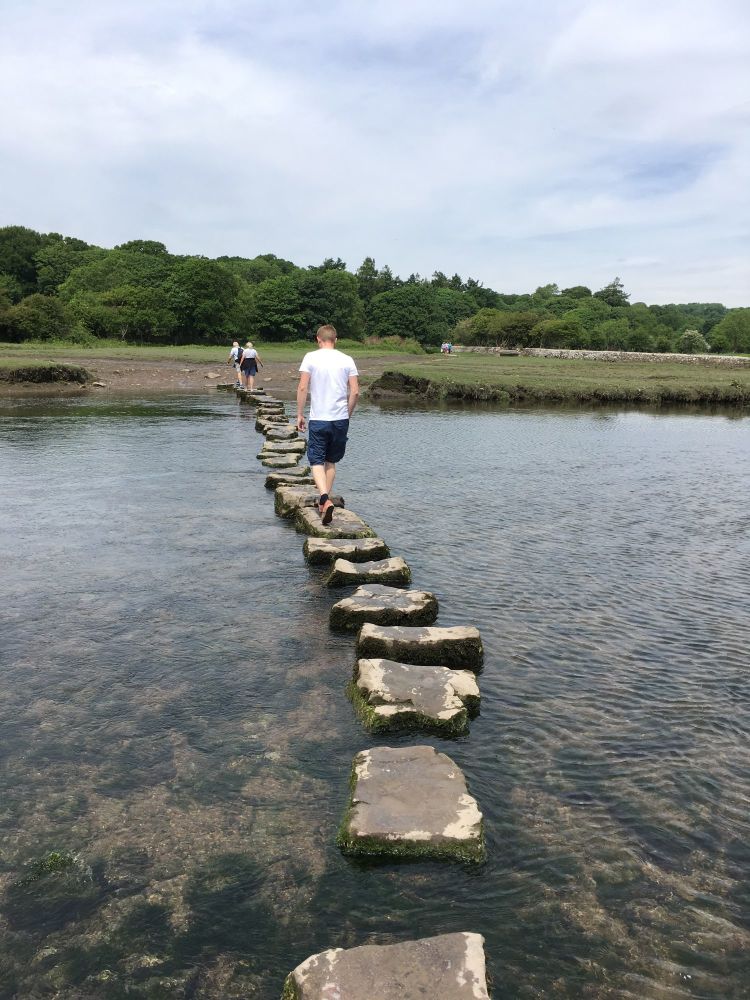 Ogmore Castle Ruins
We had a lovely walk along the river by Ogmore Castle Ruins and crossed the huge stepping stones, with me being super careful not to fall in this time! Ben tried filming to put me off, but did not succeed, ha-hah! We walked through a field filled with horses and back up to the ruins. It was so sunny and peaceful and very picturesque.
I just love ruins and especially castle ruins. They make me want to go back in time to see the castle in use. In very stereotypical Wales style, there were sheep everywhere, including in the castle! One ran in and baa'd so loud it made me jump! This means there is poo everywhere, so watch your step.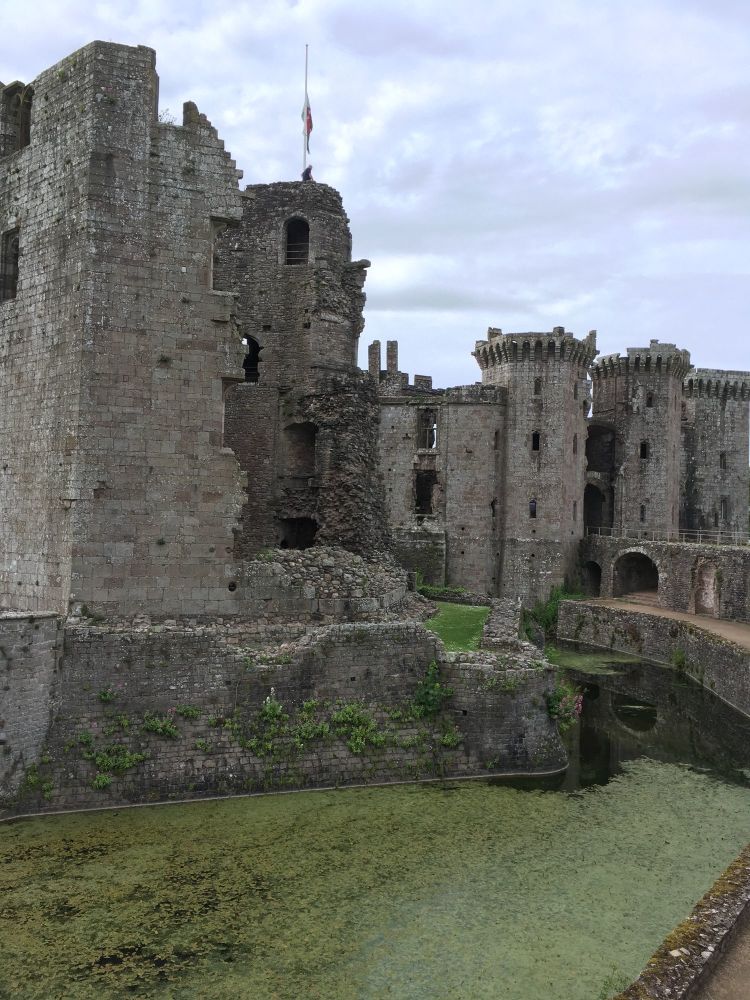 Raglan Castle
Feeling inspired by castles, Ben suggested a trip to Raglan Castle on the way home. He's visited last summer with his brother and Dad so knew it was amazing.
It really is an incredible castle and ruins.
I was surprised we would have to pay to see a ruin, but I could see why when we arrived. It's not a tiny ruin, but huge! We were able to climb two of the towers up spiral stone stair cases to admire the ruins from above and great countryside views, as well as climb down into the creepy dark dungeons!
It's well worth the entrance fee and I was amazed by this magnificent castle. It was where a young Henry Tudor was raised and one of the grandest castles of that time. The walls are so thick it could not be destroyed when seized in the 17th century, so instead they dug under it to try and make it collapse into the moat!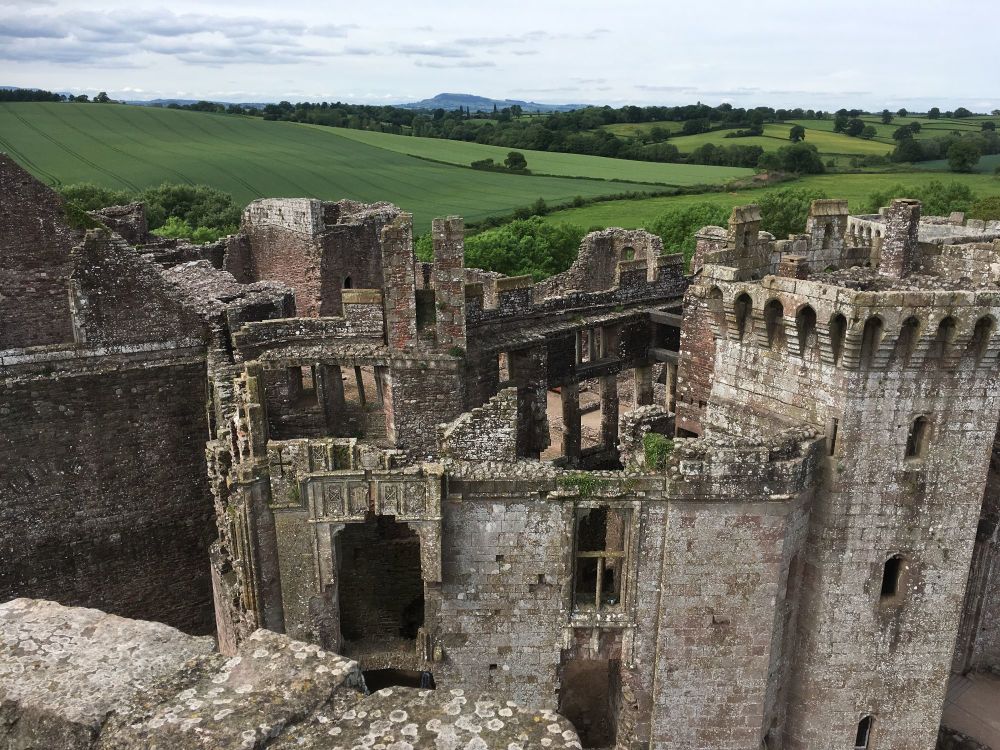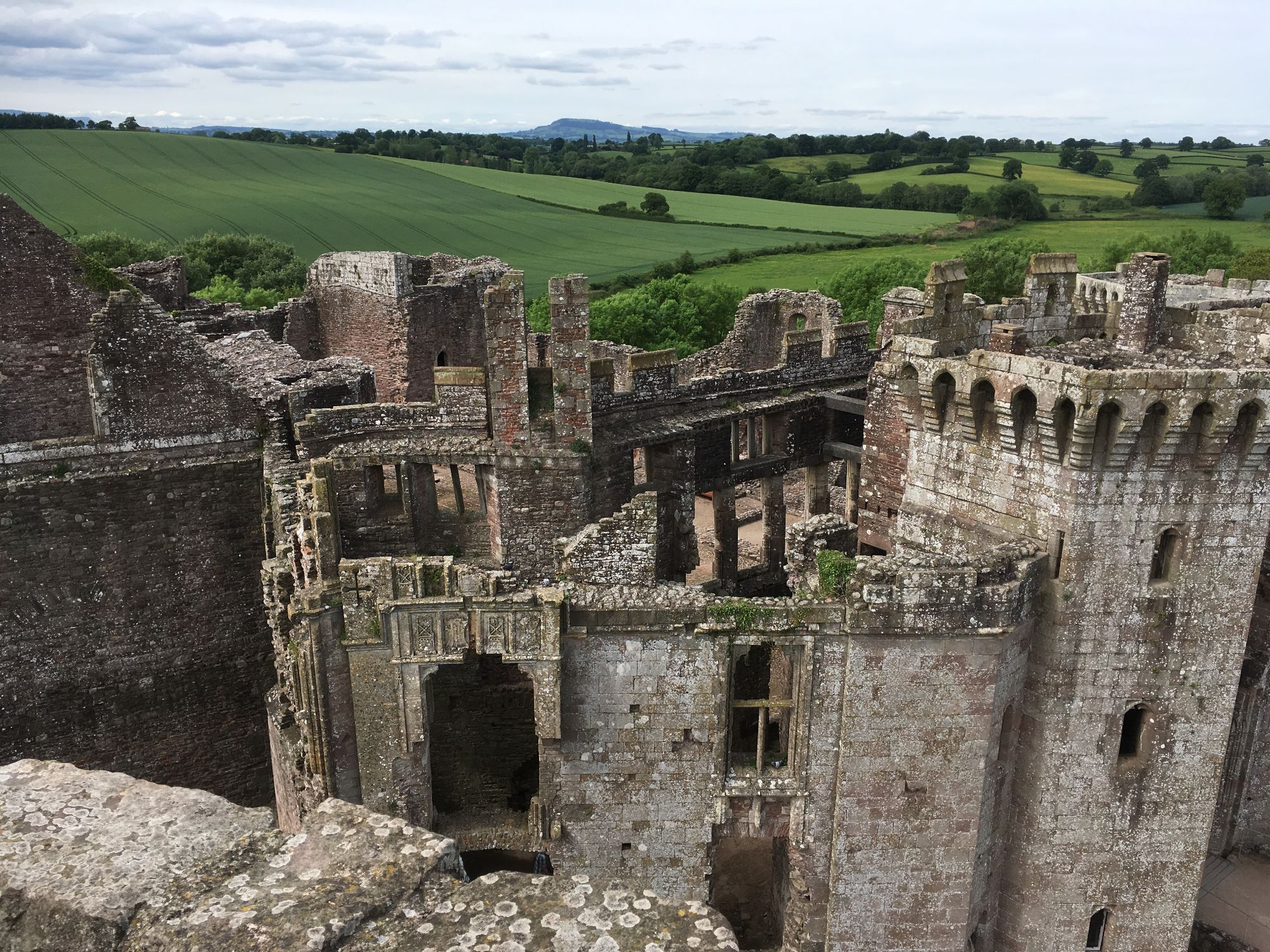 We did so much in just one night away and had a really great time kid free. It was great to spend a rare weekend away as a couple and I look forward to our next trip in July. We'll be staying in a quarry in Chepstow and experiencing a zip line across!
Save