Natural beauty review: Beyond Organic Skincare
Posted on
You might have guessed by now I am passionate about leading a healthy lifestyle. Being healthy is more to me than just getting my 5 per day, in fact, it's so much more. Being healthy is my entire lifestyle. Keeping active, eating healthily every day, getting enough sleep, using as many eco-friendly nontoxic cleaners around the home, and only using natural beauty products. For me 'healthy' is the whole package. It's no good eating really well to only go and smear a load of chemicals all over your skin each day!
These chemicals can be in your blood in as little as 90 seconds, or so I once read. Who knows what the exact figure is, but skin does absorb what's left on it, otherwise how would patches work? Plus there have been several studies in the news that have found parabens in breast cancer tissue. Yet still, they are not banned. Shocking isn't it.
Shocking that large well known beauty brands continue to create chemical laden products that most consumers spread over themselves on a daily basis without the knowledge of the harm these chemicals can cause. In fact I bet most people don't even realise these chemicals can even end up I their system. I sure never used to think this. I never made the connection as a youngster that what I put on my body would end up in my body.
This is why it is so important to only use products on your body that are natural and safe.
It's been exactly six years since I started my mission to health and I now only use natural makeup and toiletries. The last two things I changed this year were my deodorant and toothpaste. I'm now all natural for my entire beauty routine and it feels good. It feels good not to buy into a chemical filled lifestyle. It feels good to harm the environment less. It feels good to only use kind products on my skin, hair and teeth. It also feels good to be supporting smaller companies with real values and not lining the pockets of the CEOs of the huge companies who really care very little about the damage they are doing to us and the world.
Introducing Beyond Organic Skincare
One of the best things about going natural is the constant discovery of brands I haven't heard of before. Small friendly brands who genuinely care about creating products that nourish our skin using the best ingredients. One of these brands contacted me recently to see if I'd like to try some of their products. When it comes to natural skincare, you don't need to ask me twice!
This brand is Beyond Organic Skincare, home to natural organic skincare made in Cornwall, UK. Their products have got to be some of the most natural I've come across. They don't use any synthetic ingredients whatsoever. All ingredients are 100% natural and many are food grade. Though they don't recommend eating them!
Interestingly they say 'each product contains between 10 and 190 botanically active ingredients in every pot, whereas most cosmetic formulas contain between one and three active ingredients.'
I just knew I was going to love their products before they even arrived. Since turning to a more wholesome lifestyle I've become used to the herbal smells of products and could sniff them all day! Ben, on the other hand, often says I smell weird. But I don't care! I think these products smell amazing. It's almost as if you can smell the goodness. It was the first thing I did once they arrived – the sniff test!
Here's what I was kindly sent:
Organic, Sulphate Free, Shine & Strength Shampoo
Organic Shine & Strength Hair Conditioner
Organic Rejuvenating Serum
Purifying Facial Cleanser
Natural Clarifying Toner 120ml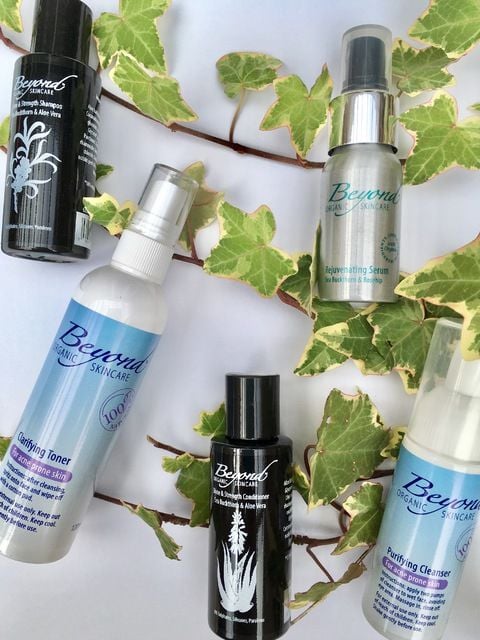 My review
You've probably guessed by now that I love the products! I've been using them for 11 days as I write this. I've probably used the shampoo and conditioner four times and the facial products daily. I apply the serum before bed every evening. The toner I use both morning and night. The cleanser I use in the shower each morning.
I love the shampoo and conditioner. My hair has been in for a real treat as usually I'm quite lazy and don't condition. I've two young kids and a business to run so time is of the essence and all that. The quicker my routine the better! I have, however, made an exception and made sure I used the conditioner every time I washed my hair for this review. I'm glad I did as my hair has been lusciously smooth, shiny and manageable. That sounds just like what you'd expect the advert to say, but my hair normally gets so tangled and it's been less so this past week and a half. I actually look half decent most days and not so straggly! One thing I've noticed is my hair has needed less washing. The longest I left it was four days and it still looked great. I reckon I could have gone longer, but I did aqua aerobics so had to wash it the next morning!
The smell is super herbally, natural and aaaahhhhhh. As mentioned before, I'm becoming obsessed with these smells.
For some reason I just can't get rid of the spots on my jawline. No matter how hard I try. I've not eaten refined sugar this whole year. I mainly eat a wholefood plant based diet. I don't drink or smoke. I'm no longer a teenager full of hormones. In fact, those days are long long gone. I've not eaten dairy for four weeks and had cut down massively before this. I've been using natural skincare for around 2-3 years. YET STILL I HAVE SPOTS. Aaaaaagh!
So I wasn't expecting miracles with the cleanser and toner which are made for acne prone skin, as I fear nothing will ever rid me of my pesky spots 100%. BUT I do believe I see an improvement. The toner, especially, smells of those amazing spot clearing ingredients - witch hazel, tea tree and lavender. The website says these will 'soothe and heal inflamed skin and balance oiliness'. Though they've not cleared the spots, and I honestly don't think anything could in just 11 days, my skin does look less angry and less spotty. It feels a lot less bumpy than usual and feels cleaner.
It's thanks to the serum I've been waking up with much calmer, plumper, ready-to-go skin. I also feel less wrinkled first thing! Usually I wake up looking super creased and my skin is dying for some moisture, but since using the serum I wake up looking like I've already cleansed and moisturised. I've also had much less shiny skin which I've just read on their website is because 'its sebum balancing action makes the skin less greasy'. It really is quite an amazing serum. It contains Sea Buckthorn which has over 190 bio-active ingredients and is known for its skin healing and rejuvenating properties.
Would I recommend Beyond Organic Skincare? Yes I would. I won't review anything on my blog that I don't think is worth buying. I will continue to use these products and my absolute favourite is the serum which is doing wonders for my skin.
To finish off, here are some great reasons you should check out Beyond Organic Skincare (if I haven't already convinced you):
All ingredients 100% natural
The two main ranges are organic
No synthetic ingredients so NO nasties
Ingredients are fair trade
Cruelty free (products and ingredients are NOT tested on animals)
Suitable for vegetarians
Most products suitable for vegans
Recycled and recyclable packaging
Microbead-free
For all skin types.
Winners of 29 awards.
Handmade in Cornwall, UK.
Find them here: https://beyondorganicskincare.com