Braces at 30: My 13th tightening appointment update (20 months)
Posted on
My last tightening appointment feels like forever ago now. I had to change this one so it was around a 2 month wait instead of 6 weeks. That extra couple of weeks really dragged!
I can't believe it's been 20 months with a brace. I was telling my good friend it will be 2 years in March and he couldn't believe it. It seems clear as day I was telling him I was thinking of getting a brace and now here we are, nearly two years with a brace!
I was hoping the end was in sight, but not so.­
My orthodontist guesses another six months with the brace and a further six months full time with the retainer before I can get my false tooth and veneer.
I think for most people the big exciting day is when the brace is off and the teeth are perfect. As I'll need a false tooth at the front (lateral incisor) and a veneer over my peg tooth to make the other lateral incisor (these are both teeth either side of the front teeth), the brace off day isn't going to be that exciting.
My exciting day will be once I get the false teeth at the front as this will complete my perfect teeth and smile.
Fingers crossed this will be by next Christmas! That will be over two and a half years in total.
Here's what they look like at the moment: (that lateral incisor is a false temporary tooth just attached to the brace to fill the huge gap for now. It's where I'll have a false tooth, bridge style)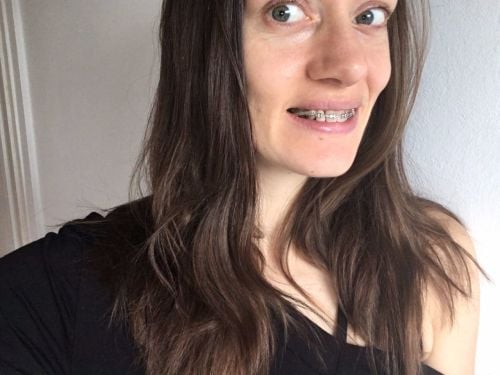 What happened at my 13th appointment?
The bottom wire was changed back to the thickest steel wire. We now need to close all the gaps at the bottom starting from the centre gap between the front teeth, then move backwards and bring all the other teeth in to close all the new gaps that will form as the front teeth are closed.
The big elastic that was all around my top teeth was removed and three elastics put on instead. One for the front teeth and two for each set of back teeth. My peg tooth has too much space either side still so we need to close about 2mm so it's equal to the gap on the other side. Then my false tooth and veneer can be equal sizes.
My overbite is now 6mm. Arg! It was 5.5mm and we were trying to reduce this. So I'm back to the horrid top to bottom elastics which clamp my mouth shut and give a constant pressure in my mouth and face. I really hate them so I hope they work to close this overbite or it's a waste of a lot of discomfort! I have to take them out when I eat or brush my teeth and put more in after. I have to remember as often I forget as I'm so busy with work or the kids.
Here's what the horrid top to bottom elastics look like: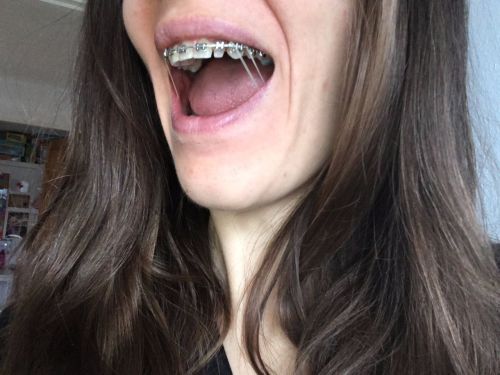 With one full year and maybe even more left to go, I'm feeling a bit disheartened, but I know it will all be worth it in the end. It's just a long time to have your mouth taken over and not feel like you can eat, kiss or smile properly!
Find my entire journey here: Braces at 30