First Choice Premier family holiday review: Club Jandia Princess Hotel in Fuerteventura
Posted on
We recently went on our very first 'proper' family beach holiday. By proper, I mean a holiday abroad to sunshine! Ben, my husband, would class a rainy week camping in Wales as a holiday, but a holiday to me is really getting away, far away, to sunshine and a foreign country. We booked a First Choice Premier Family Holiday and stayed at the Club Jandia Princess Hotel in Fuerteventura. The resort is ten minutes from Jandia and the beach we were on was Esquinzo beach. In this blog post I will provide my honest review of the hotel only.
We're no strangers to flying with the kids. We've already been to Germany five times since having the children to visit Ben's family. Still, those were family visits and not a holiday to me. This time we chose where we were going and picked somewhere warm and sunny of course. We chose a beach location with children's pools and spoilt ourselves with all inclusive. It had been 6 years since me and Ben went away on holiday together like this, so we booked a year in advance and chose a premium location.
For Ben this was only his second time on a beach package holiday. I've been several times with my mum when younger to Greek islands and the Canaries, as well as with ex boyfriends. In total I've been on around 10 package beach holidays to European destinations, 4 or 5 camping trips to the south of France, 3 work trips to Italy and Germany, plus I've spent 7 weeks across two trips to California. I'm only sharing this information so you can tell I've been abroad several times and seen all manner of accommodation from tents and caravans to two, three, four and five star hotels.
Hopefully my experience so far means I can provide a fair review in this blog post and my honest opinion of the good and the not so good.
My review of the Club Jandia Princess resort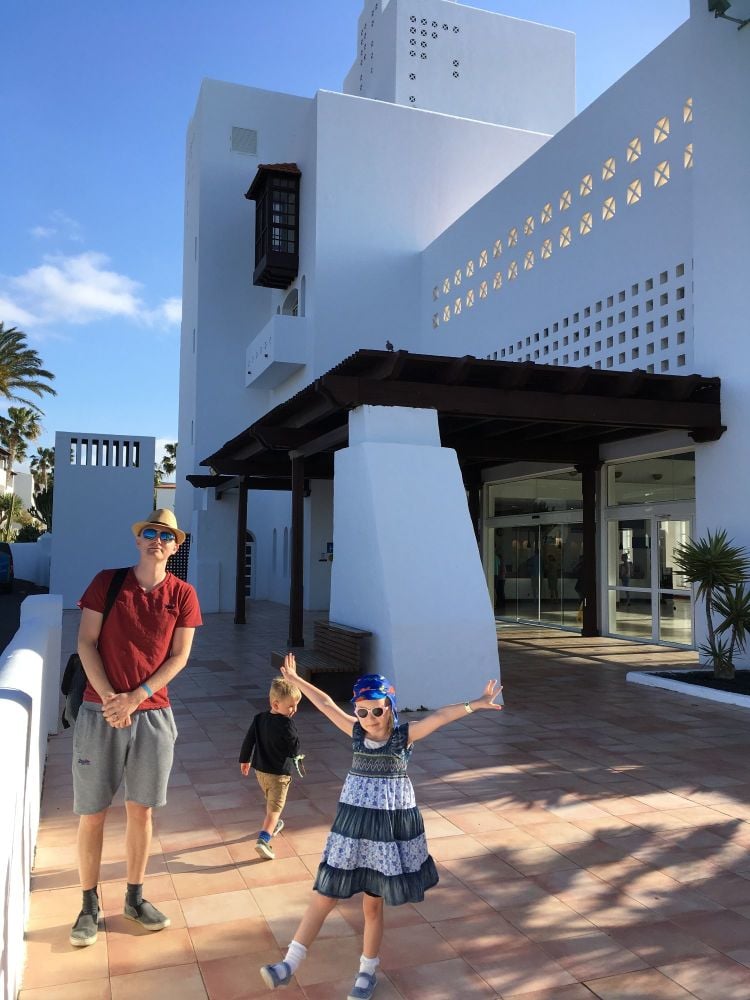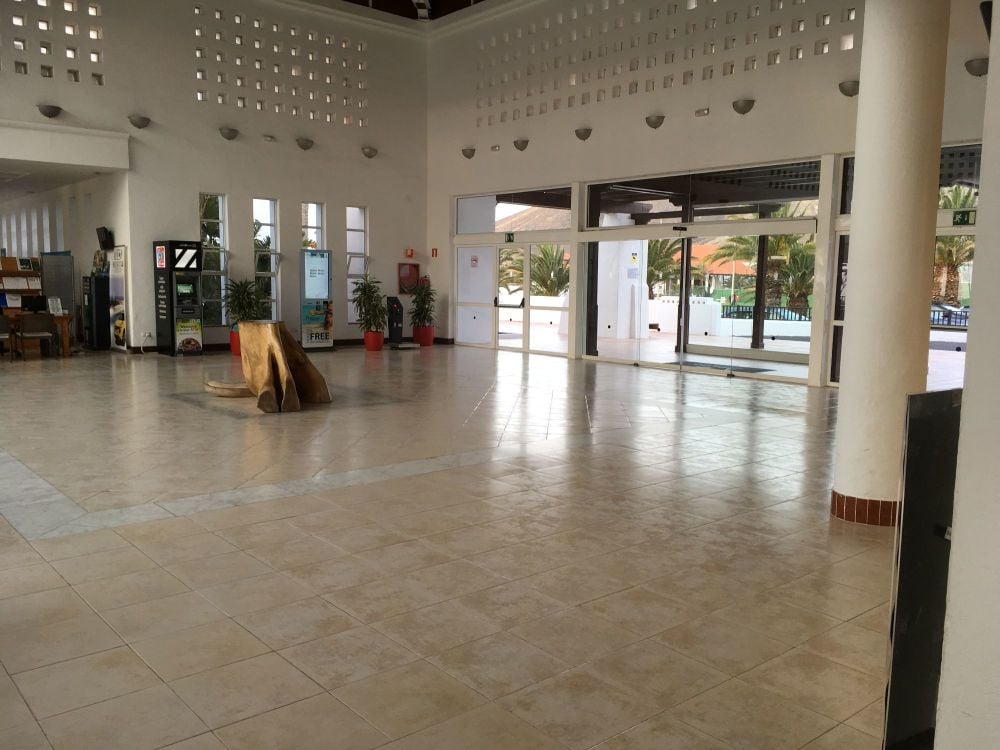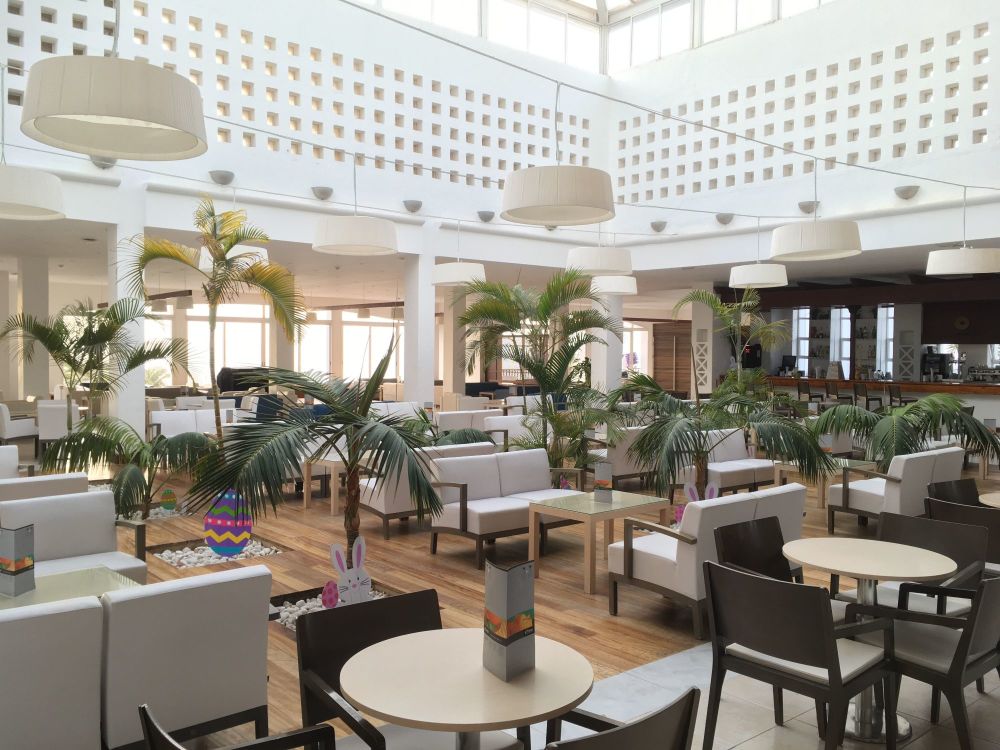 Arrival
My first impressions were it is very beautiful outside. It looked like a well-kept white building with a large clean and attractive entrance.
I know this probably can't be helped when we all arrive on a transfer coach in one go, but there was a very long wait for check in. Unfortunately we ended up at the back of the queue with two tired restless and hungry kids. This was around 8pm and the children hadn't eaten a proper meal since 11am at the UK airport so they were starving and bored. We really needed to check in ASAP and get them to the restaurant. The bar staff did serve wine and Fanta to those waiting in the queue. A tray was brought over and drinks were complimentary. This was a nice touch. They must have known we were going to wait for a long time! I don't drink alcohol or let the children have fizzy drinks, so we didn't accept any, but a lovely gesture nonetheless.
We finally checked in and found our room easily, but did not find the restaurant easily as not sign posted very well from outside. We did see a sign directing us up some stairs to reception so ignored this, but after some frustrating going around in circles trying to locate the buffet it turned out the restaurant was up the steps we had previously ignored! As soon as we knew where it was we could obviously locate it for the rest of the holiday, but I'm surprised there's not a sign pointing to the restaurant too for newbies.
We made it just in time for the end of the dinner buffet service, fed the kids and everyone was happy again.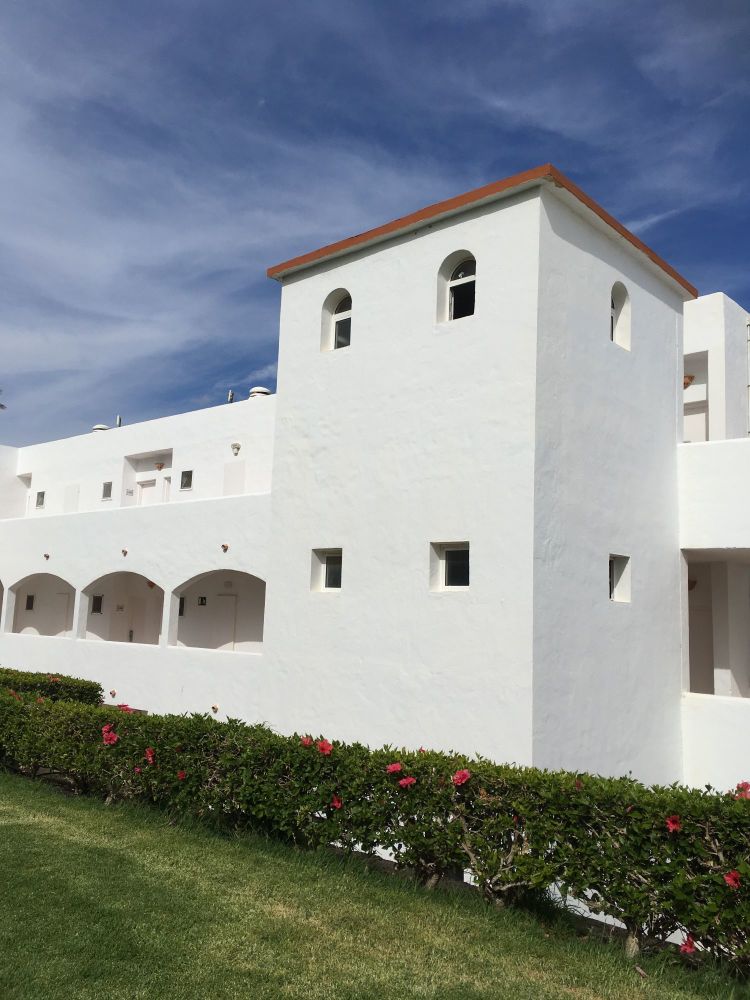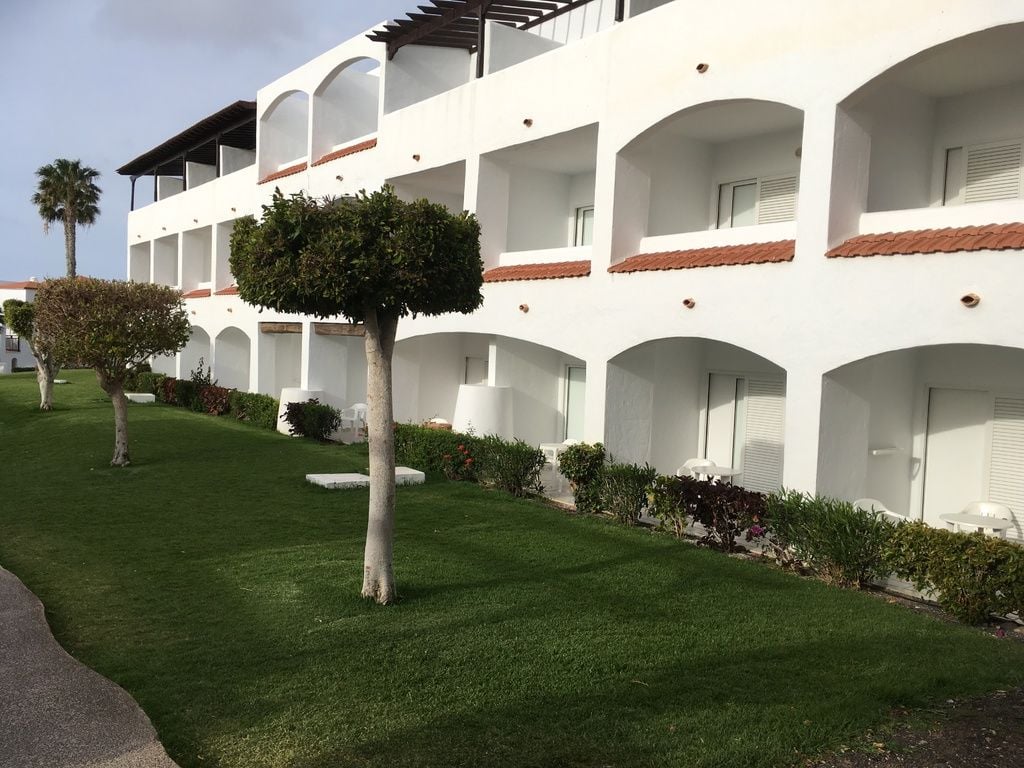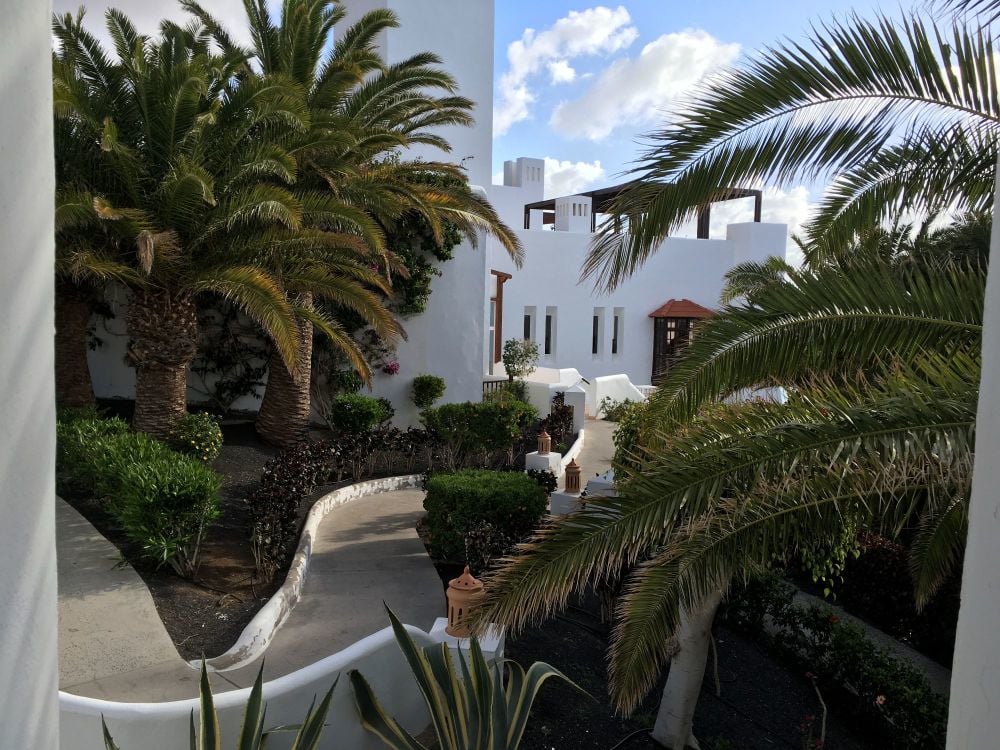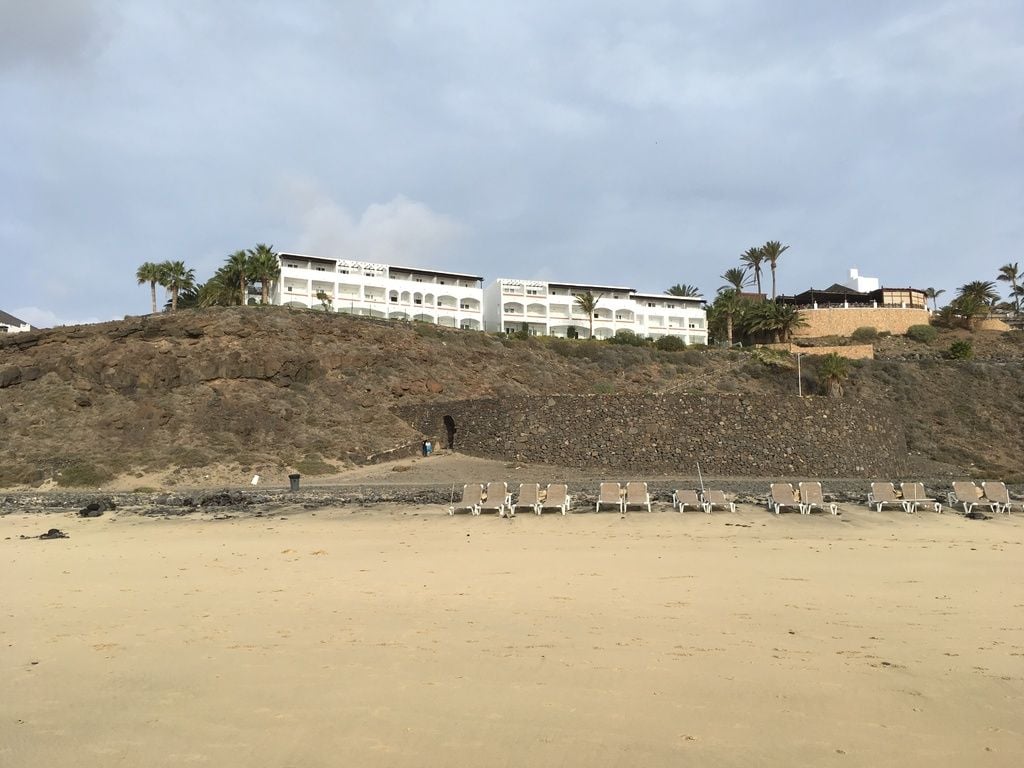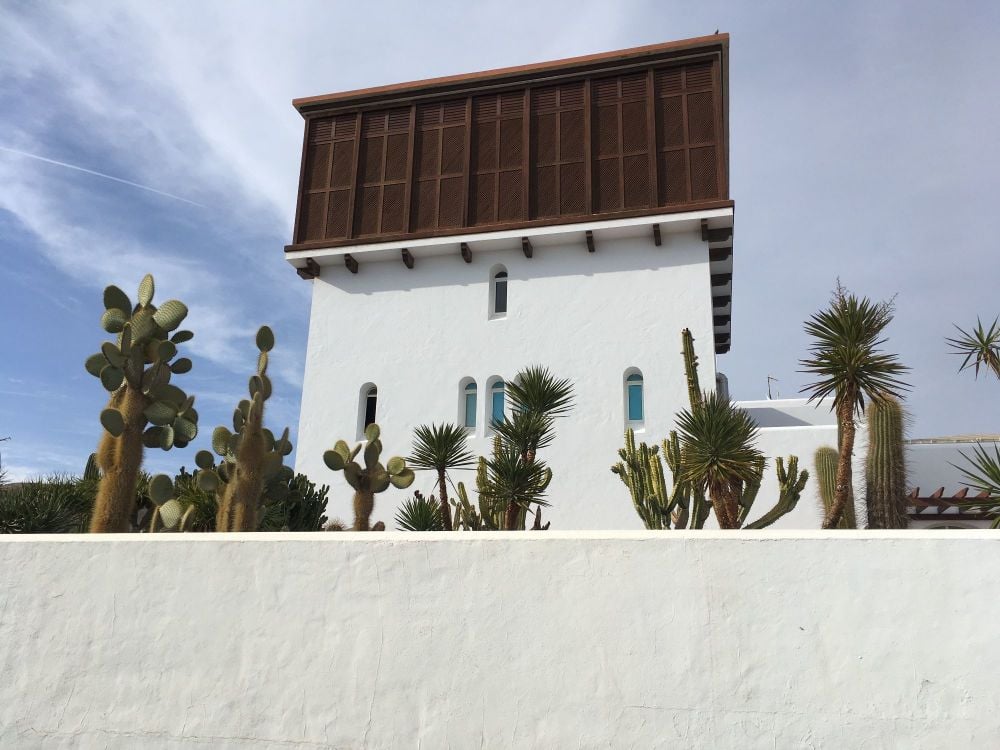 The hotel
The rooms are in apartment blocks in separate buildings with the family side to the right of the main entrance and the adult only area to the left. There are twisting paths to each block and to get to the pool with white washed walls and lots of palm trees, flowers and cactus to look at. Beautiful lanterns light them up in the dark. It looked very pretty. The hotel and its grounds were very picturesque and perfect with the sea as its backdrop.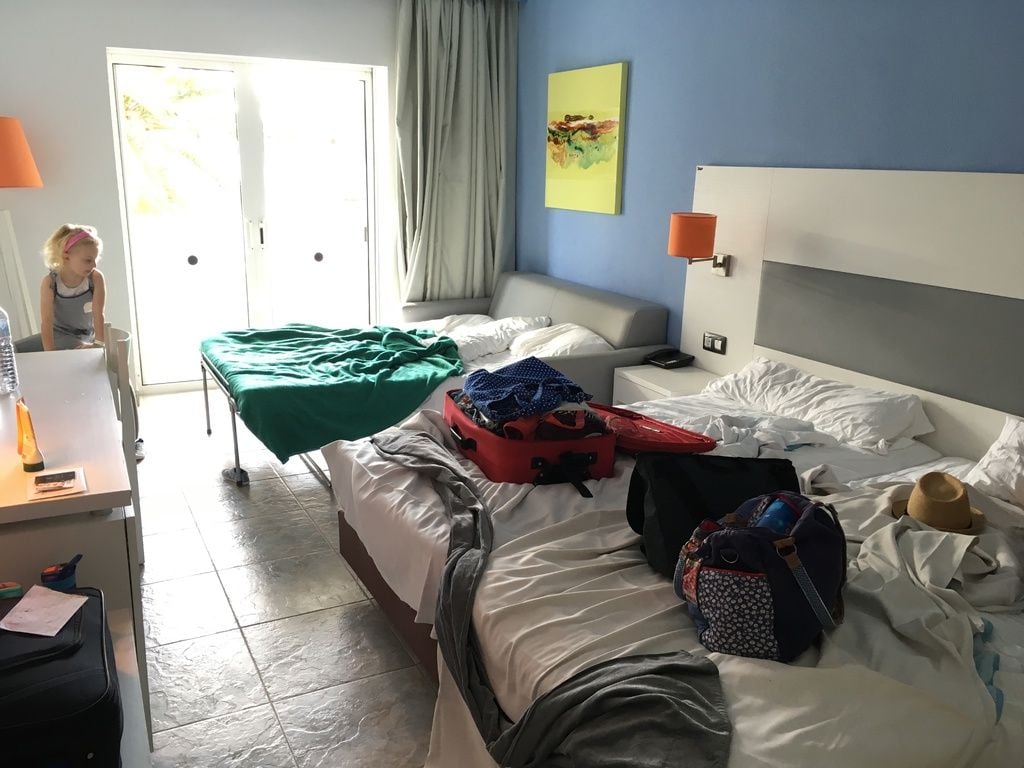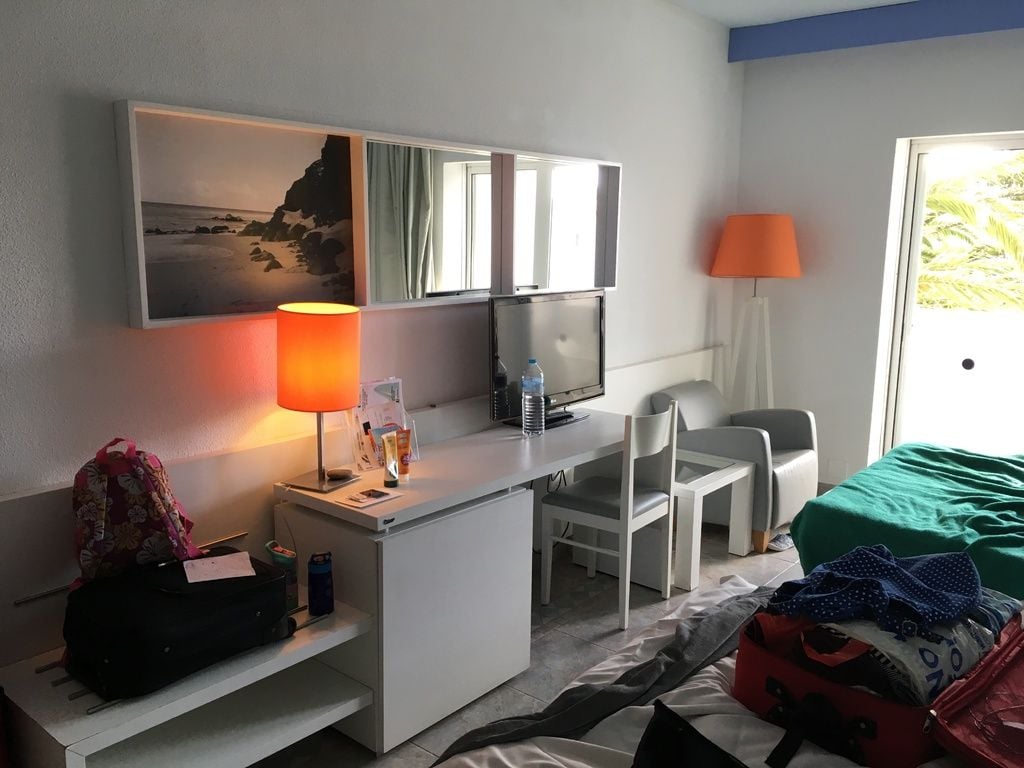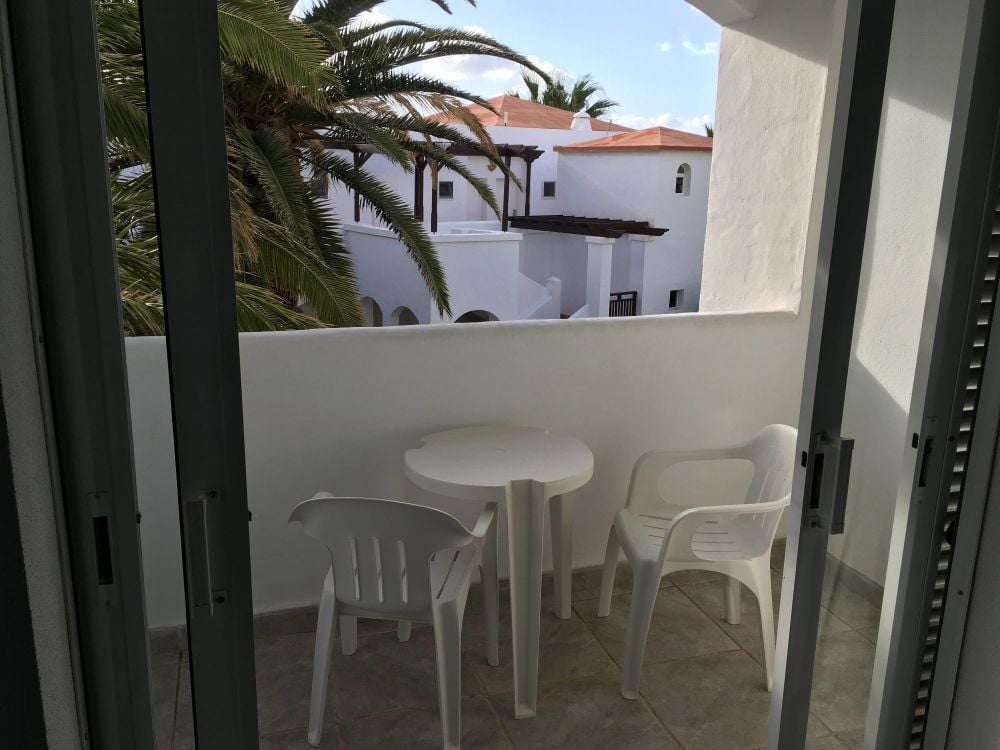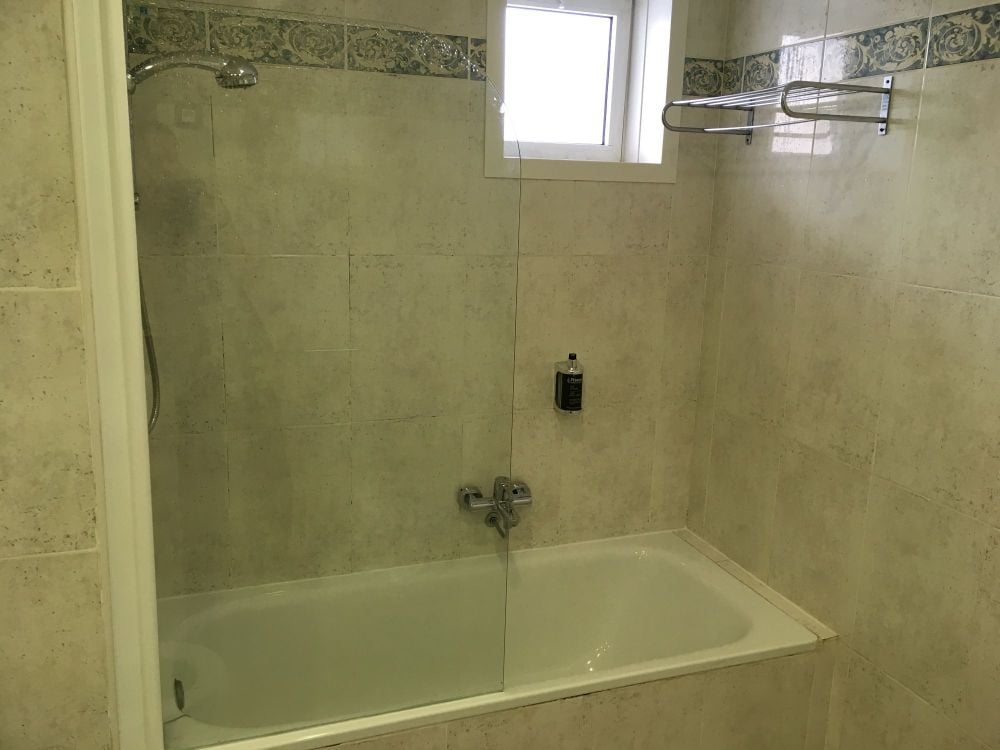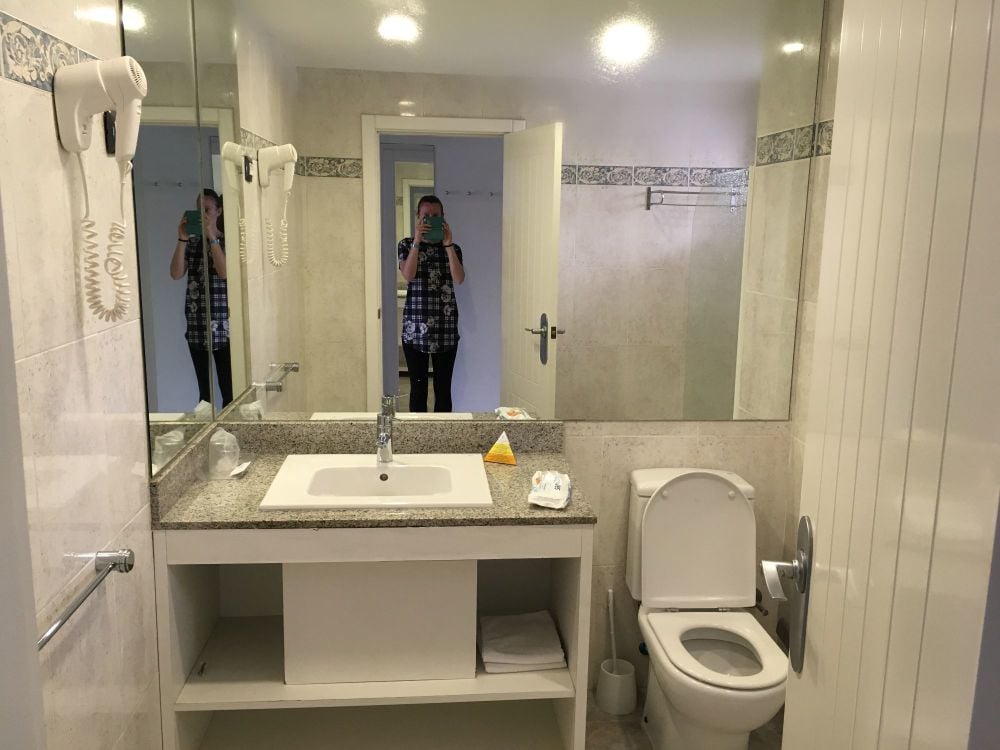 Our room
The room is lovely and clean with simple modern décor, but very disappointing the kids only get a creaky old uncomfortable sofa bed to share! We did know this before we went so I can't complain too much, but the children are the same price as the adults, so you'd expect they'd get a bed each or bunk beds. I think if Ben and I had gone by ourselves, without the kids, we would still have had the same size room. Kids should be cheaper if we're not getting any more space or beds.
Next time we go on holiday I will definitely find somewhere with separate beds for the kids. They wound each other up a treat sharing the same bed! Plus, as the sofa bed was made into a bed the whole time it gave us very little movement space in the room. It was basically a room full of beds. It did have everything you need for a beach holiday and most people would say you're out all day anyway, but with the little ones we go back to our room quite early to try and get them to bed and it was cramped with four of us in the same space. Others might be fine with this set up, but it will be a requirement for more actual beds or a separate bedroom area or living area for our next holiday, especially if we have to pay adult prices for the children.
The room was cleaned and beds made every day. This is always a lovely touch when on holiday, to get back to a made up room. The towels were changed if we wanted them - just leave the ones on the floor that need changing. The bathroom was spacious and the shower was amazing - a proper power shower that always had pressure and was always hot! I could have stayed in the shower for days…
There were enough towels, plenty of loo rolls, and complimentary soap, shower gel and shampoo if needed.
There was a TV that we couldn't get to turn on, but we didn't really need it. We were just trying to put it on to settle the kids during their crazy bedtime hour, but it didn't work. We didn't bother saying anything as we didn't really need to use it for our holiday. I'm sure they'd have fixed it or replaced if we had asked. The reception team were always very friendly and made sure we knew to take any concerns to them.
We had a small balcony that we didn't really use. It had a table and two chairs. Great for a warm evening if you wanted to sit outside your room. Plenty of storage space and a small safe is in the wardrobe for an additional fee if you need to use one.
Sleep
We were in the family area so it was pretty quiet at night with regards to other hotel guests. There was something very noisy outside of our room which disturbed me the first night or so, then I must have got used to it. I have no idea what it was, but a smallish building just outside our room with some equipment making a loud extractor fan type noise! The sofa bed was unbelievably uncomfortable – I slept on it with Bella for the first night and did not sleep well at all. Luckily the kids didn't complain about it for the holiday, but perhaps as they are much smaller than me it wasn't too bad (they are five and three). The beds were much comfier and I slept a lot better in the actual beds. There are blackout blinds on the sliding balcony doors so the room can be pitch black. You'll not even know what time it is in the morning as it blocks all daylight! With the blackout shutters, the actual beds and a room away from the noisy thing then getting a good night's sleep shouldn't be a problem.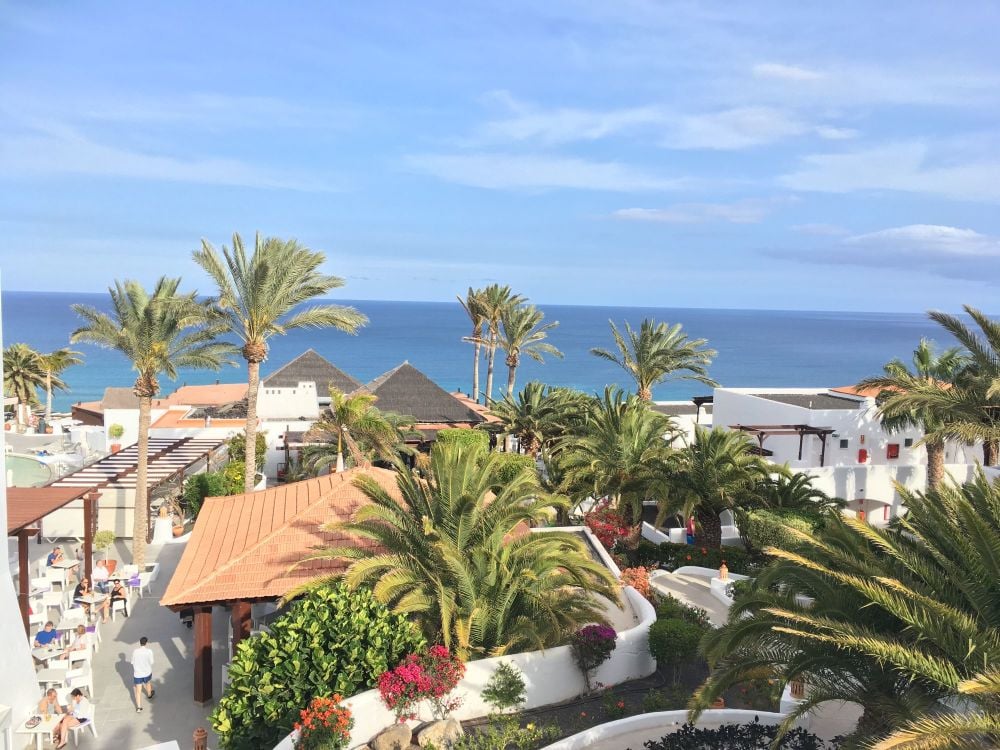 WiFi
The WiFi was €19 for a week for one login. If you have more than one device then you'll need to pay per device you want to use WiFi on. The connection was a little temperamental. It seemed to always work, but sometimes was very slow. On these days I linked to a personal hotspot on my phone. Being self-employed and panicking I'd miss out on lots of paid work, I took my laptop and worked one hour most evenings and some mornings. The WiFi even reached the beach! I checked something on my phone one day when we strolled a short distance down the beach and was amazed to see the WiFi connection going strong!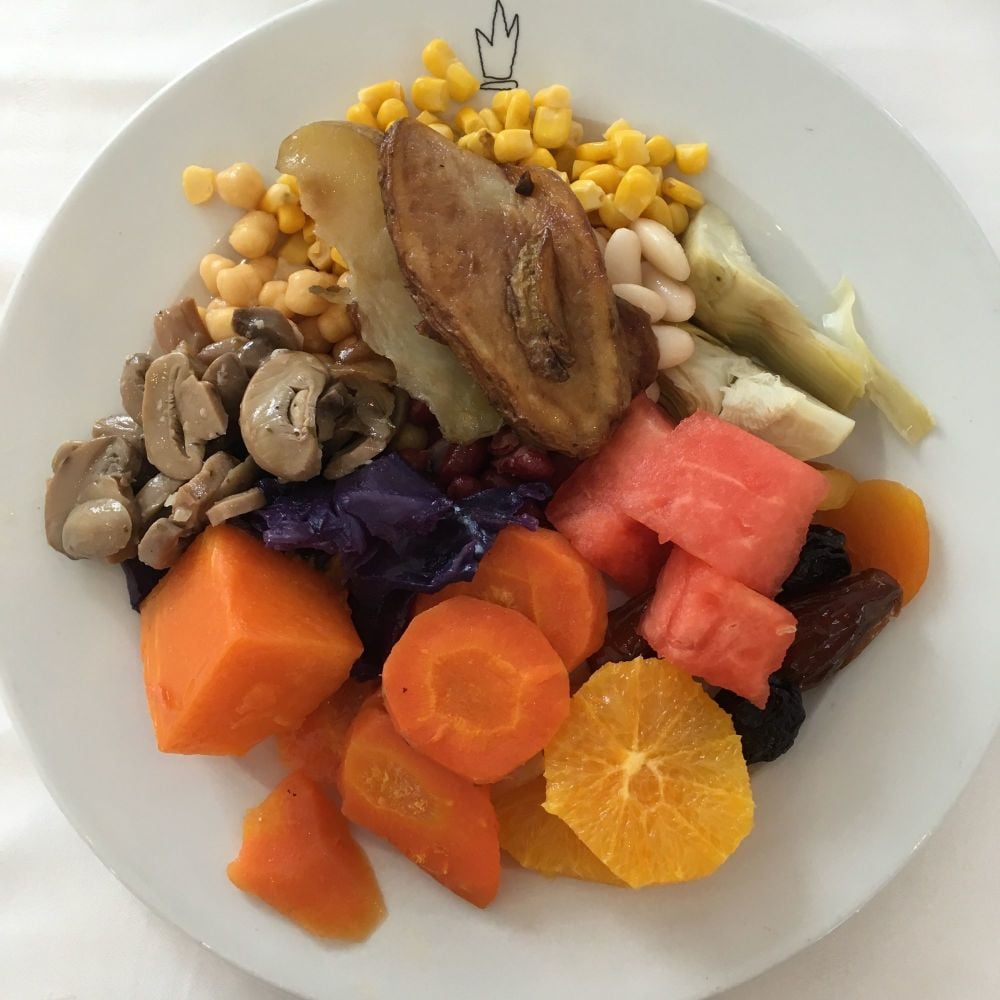 Sweetcorn, chickpeas, cabbage, potato slices, beans, melon, orange, carrot, apricot, dates, artichoke!
Buffet Restaurant
We ate at the buffet restaurant for nearly all three meals each day. I was worried before we went as I eat a vegan diet, Ben is no dairy/meat and the kids are veggie with minimal dairy. Even for me, the fussiest one, there was plenty of different vegetables, salad, fruit and potatoes each day. For meat eaters there is a huge selection. The kids loved pasta and pizza as a treat some days. Of course, there were chips available nearly every day too!
For breakfast there was a good selection of pastries, cooked and cold meats, cheese, fruit, cereal, pancakes, churros and everything to make a good British cooked breakfast! I was able to have mushrooms, grilled aubergine, pepper, tomatoes and courgette most mornings with watermelon and orange juice. There are beans, hash browns, all sorts to keep you full.
The main meals varied each day so there was always something new to try. Orange juice is served at breakfast time only. I'd have liked to have juice at other meal times too. If you drink alcohol you can have it at all three meals! There were some bottles of something at breakfast too!
The staff were always very friendly and efficient in the restaurant. They'd clear our plates away quickly and serve fresh coffee to the tables in the morning and jugs of water (or whatever you ask for) in the evenings.
I never told them my dietary choice so I have no idea if they would cater specifically for a vegan or not. I was pleased to get home and gorge on a vegetable pizza and huge roast dinner, but I'd not let my dietary choice put me off returning there. I ate lots of fresh fruit, veg and salad. For naughty meals I had chips and vegetable spring rolls!
La Choza snack bar
Not far from the pool is La Choza which serves snacks all day as well as breakfast and lunch. It's a smaller restaurant so there is a smaller choice here, but it makes for a nice change from the buffet restaurant sometimes. They also have an outdoor seating area which looks over the sea, so it's worth eating here just for this. This is where you come for a beige lunch and snacks! They do have some pre-prepared sandwiches and salads, though most of these have meat in, but at least one was veggie each day. If you're hungry before 1pm, which is when the buffet restaurant opens, then you can pop here for a starter or a naughtier lunch.
Pizza, burgers, hot dogs, chips, nuggets, veggie spring rolls, mozzarella sticks, fish fingers, sandwiches, pre-packaged salads, a small fruit bar, desserts. This was pretty standard every day. There is not much choice for vegans here, so this was my naughty chips and spring rolls meals. They could do with small salad bar.
A la carte Restaurant El Lagar
I can't comment on the a la carte restaurant as we didn't go! There was one meal included in our stay if we wanted to go, but with young kids and having to pre-order and book a time, we decided not to. Plus I thought we'd be pretty tricky to cater for and they might not have anything suitable. We had the family all-inclusive bands (blue), but other band colours allowed more than one visit to this restaurant.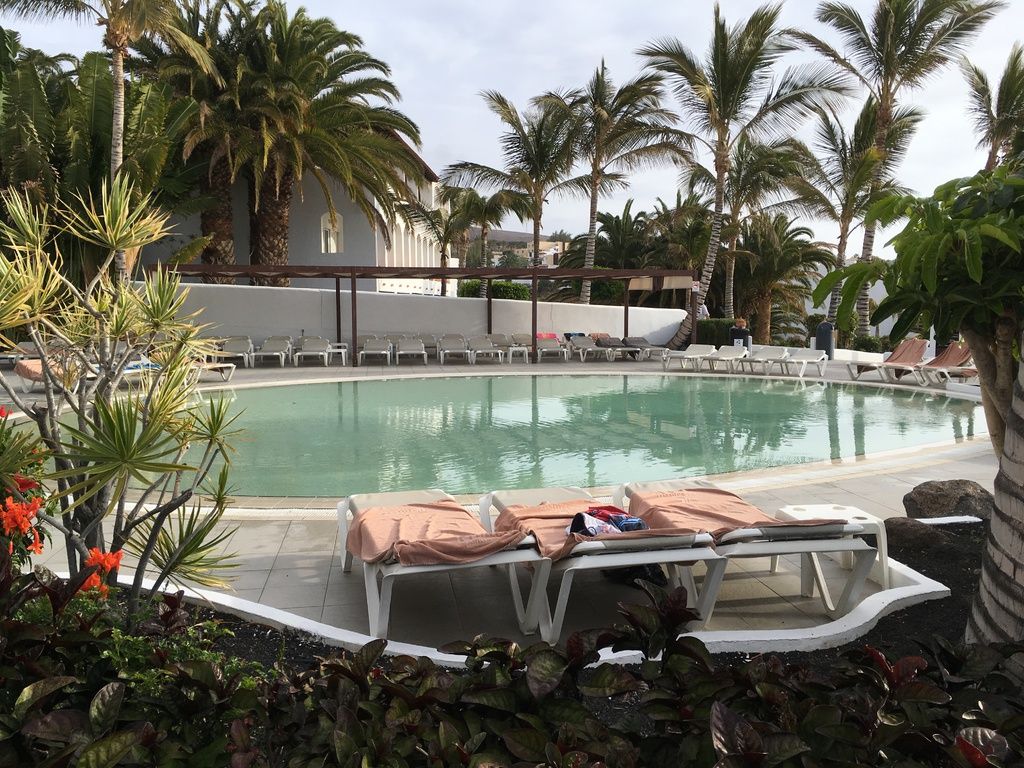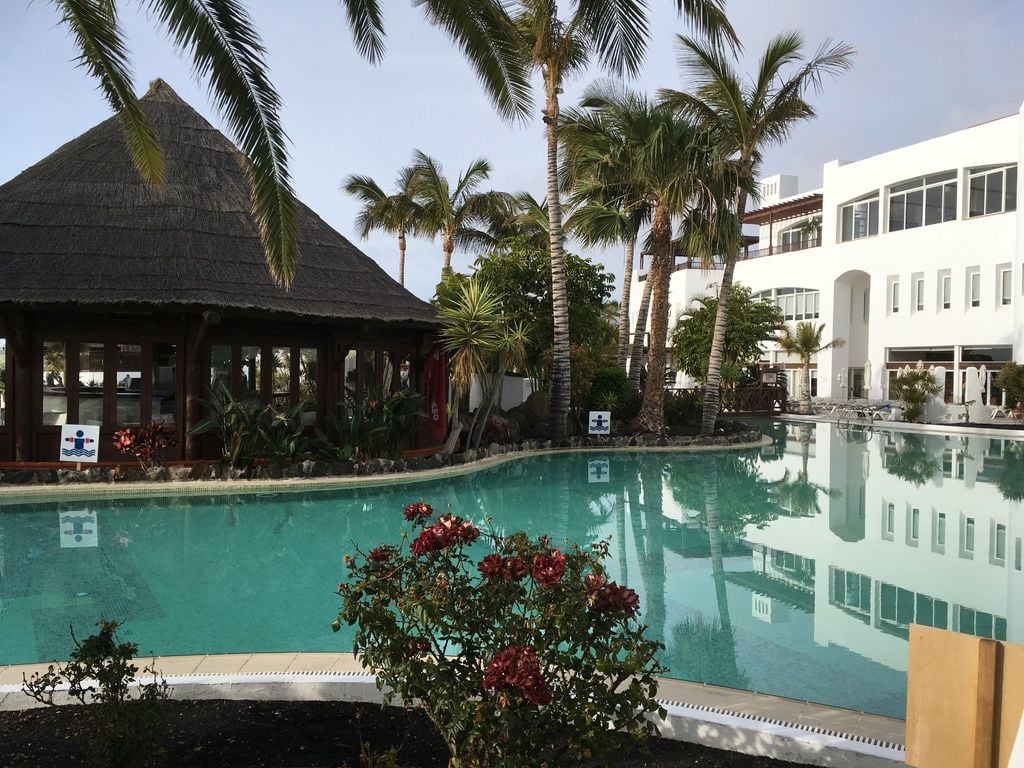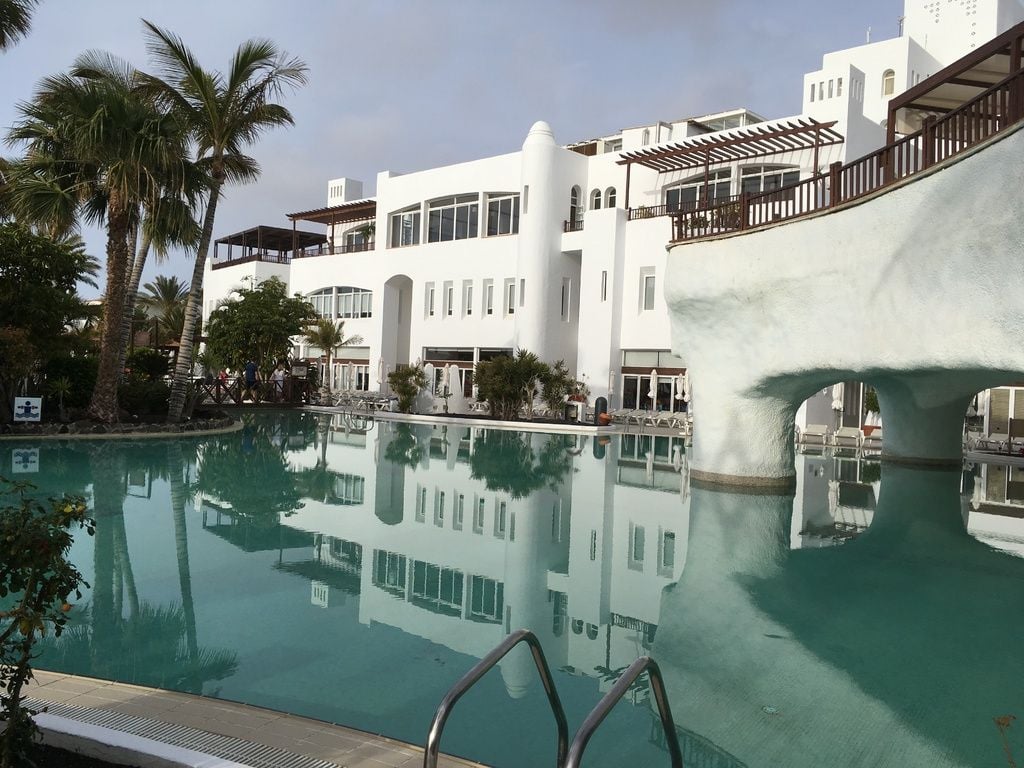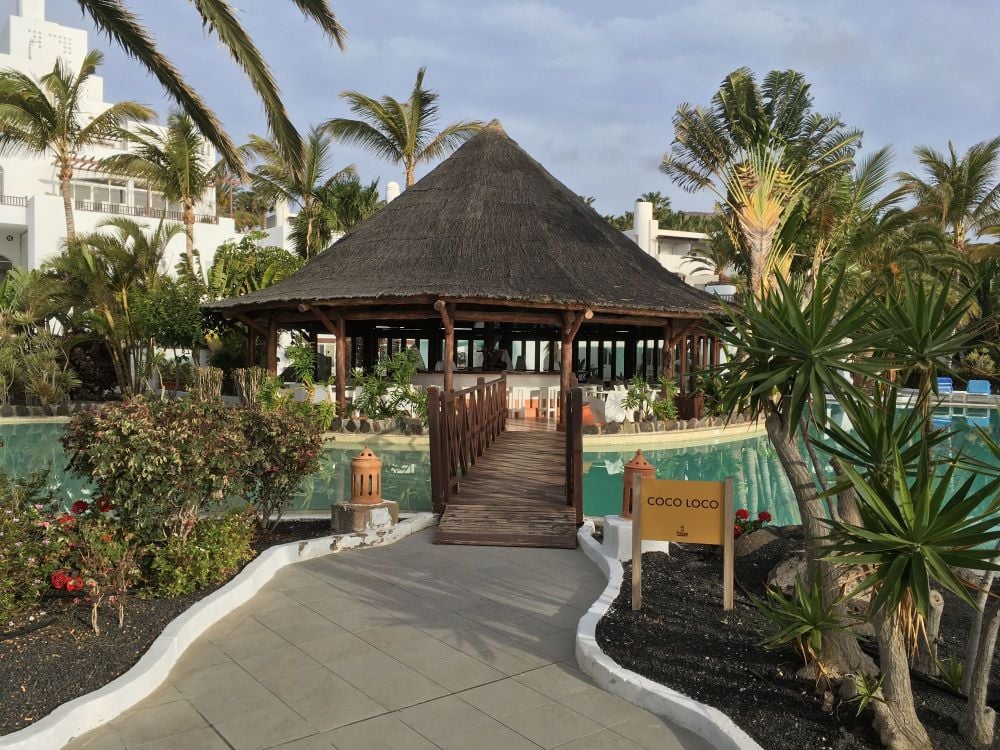 Pools
In the family area there were two large family pools which look like one huge pool, but they are separate. These were supposedly heated, but they were freezing! I did go in them on day one and had to keep moving around. Ben said I was probably putting the other guests off getting in as I looked so cold! The kids didn't seem to notice how cold the pool was! I bet in the summer they will be much warmer and they did warm up slightly as the day went on.
The smaller kids' pool, which is very shallow, was much better! Like a warm bath! It was so small it heated up quickly and retained the heat. This pool was perfect for my children's ages, five and three, and we didn't have to panic about them so much as it's more of a splash pool. They also had a lifeguard watching pool at nearly all times.
There are a lot of sun loungers and luckily we always managed to find a set as everyone reserves them! The hotel gave us some information when we arrived including a whole page on how not to reserve the loungers and towels may be removed, but no one was enforcing this and everyone just ignored it. So frustrating! We did not reserve ours and just found some each day, but I can imagine this will be harder in the summer months. I sat for three hours at the pool one day before the loungers next to me, which had towels on, became occupied by the towel owners. They'd not been in the pool, oh no, they look like they'd just arrived fully dressed from a day out!
I'm not too sure how the hotel can totally enforce this. We were able to get loungers, but it would have been annoying if we couldn't!
There are plenty of all day long sunshine spots around the pools, as well as shaded areas covered with canopies. For a fee there are also Balinese Beds which we had a sneak peek at and they looked so comfortable! Like lying on an actual bed looking out to the sea all day long! I'm not sure if these are family friendly as half the hotel is adults only. I believe they have three of their own pools, a gym, spa and more, but we didn't see this part of the hotel.
Entertainment
I can't comment on the entertainment as we didn't use any. There is a full on schedule of daily activities, a kids club and evening entertainment. We were out in the day times or did our own thing and after dinner we went back to our room as tired children and shattered parents! There is also a cute animal petting corner with ducks, rabbits, goat and chickens which we popped into on our last day and the kids loved it! Even Bella, who is usually very wary of animals, went straight in and stroked the rabbits. She's been mentioning wanting a pet rabbit ever since we returned.
Conclusion
We were really impressed with this hotel. It's a beautiful looking hotel and I can see why it has a premier status with First Choice who we booked with. There were a few things I would definitely improve to make it a 5* experience, but I think it's worthy of its 4* status. I wouldn't return with the same room set up as the children would need their own beds, but otherwise I would return if I were to visit the same place again and we could have proper beds and more space. It would also be great to see it from the other perspective, as adults only, as I expect the adult only rooms, spa and pool are lovely and provide a totally different experience in the same hotel.