Budget friendly hen party ideas for all types of bride
Posted on
If you're organising a hen do but don't want to go overboard with the spending then I have some budget friendly hen party ideas in this blog post for you. Whilst the dream may be for everyone to fly to Ibiza and stay in a luxury hotel for a week, the bank balance may simply say no. Plus it's a lot of money to expect your friends to pay, especially if you want to invite a large group who will no doubt have wildly different salaries and financial situations. You can still have tons of fun even on a budget and in your home country.
Here are some budget friendly hen party ideas to make your cash stretch a little further: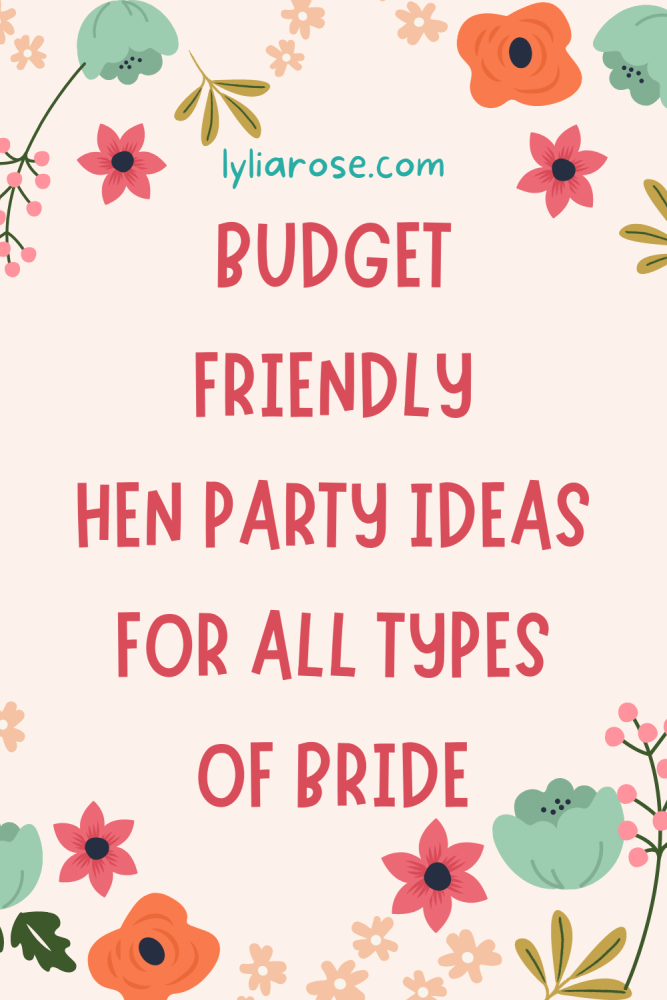 Hire a hen party house
Whilst a flight and hotel room each might be off the cards, your money will go further if you hire a single property and split the cost. Search for hen party weekend cottages online to find the perfect accommodation that accepts large hen parties and is perfectly equipped for your stay. These dedicated party houses come with optional extras so you can splash out as much or as little as you can afford. Hire beauty therapists to give spa treatments in the comfort of your party house, hire chauffeurs, hot tubs, a photographer and live music to make it really memorable or keep it simple and create your own entertainment.
Go glamping
If the bride is more the outdoors type than the party type then camping is a much cheaper and safer option. An upgrade would be to go glamping and hire a yurt or wooden pod that has extra comforts such as an actual bed with mattress and linen, a log burner and sometimes a hot tub or en-suite. Explore the outdoors with long walks, sunbathe if you're near a beach, check out local pubs for food and sit round a campfire gossiping and looking at the stars.
Stay home
The ultimate budget friendly idea is to have a hen do at your own home. There will be no venue costs and you can do whatever your heart desires. Keep it cheap and cheerful and have a girly sleepover with a takeaway. It may sound basic, but how often are all the girls together? So long as you have great company you'll have a great time. If everyone can chip in then you could even hire in a chef and waiting staff to cook up a storm for the bride and hens.
Rent a canal boat
Hire a canal boat and take to the waters! They're not too expensive when the cost is split between a group of up to 12 and no previous experience is needed. They're pretty easy to steer. We hired one for the day before at a cost of around £20 per head. Stop off at pubs along the way, take your own food and drink aboard the boat, sunbathe, take in the views and have a jolly good time!
Visit a theme park
If the bride is an adrenaline junkie then a visit to a thrilling UK theme park might be the perfect solution for an affordable hen party to remember. Have a full day or two at your favourite theme park with all the hens. Whizz round on rollercoasters at exhilarating speeds, dine in at the restaurants and make some memories that really will last a lifetime.
There are so many ideas for having an affordable hen party and spreading the cost when there is a large group attending. With a little imagination you'll be able to create the perfect hen do whatever the type of bride.