Vegan coconut and green matcha energy balls
Posted on
Two staple ingredients which have been in my cupboard for a few years now are green matcha tea powder and coconut oil. For the purpose of this blog review and recipe creation I was kindly sent both products by Indigo Herbs to try their organic versions of each.
I'm no stranger to Indigo Herbs and I've used their amazing superfood powders for a couple of years. Their website is full of the most delicious ingredients which are perfect for smoothie lovers, health nuts and anyone wishing to inject more nutritious goodness into their life with ease. There is a wealth of information about each ingredient as well as handy recipe suggestions and a blog full of expert nutritional advice.
Related Vegan Berry Smoothie Bowl Recipe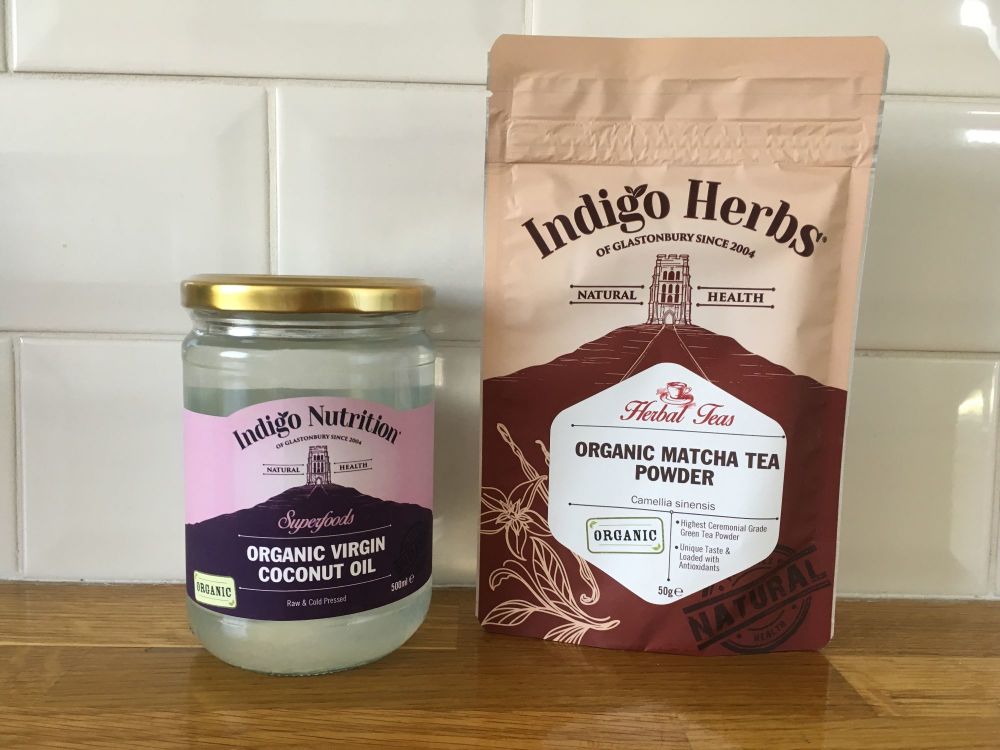 I wanted to use the ingredients together to come up with something that was not only nutritious, but also delicious and easy to make. It's been a while since I've made some healthy energy balls and I had some medjool dates just screaming to be used! It's the first time I've ever had medjool dates at home. They are pretty expensive so I usually use regular dates and soak them in hot water first to make them stickier. The medjool variety I have are very smooth on the outside which is deceiving as inside they are so unbelievably sticky. This makes them the perfect binding ingredient for energy balls and all sorts of raw vegan desserts, even without soaking first. Just remember to extract the stone from the dates. I simply break them apart gently and remove by hand.
I also wanted to make something other than a green tea with the matcha. I always have some matcha in the kitchen and drink matcha charged green teas almost daily. I've never actually used any of my matcha powders for anything other than tea! I've seen it used in other recipes often so it was time for me to experiment. The thought of some GREEN balls also quite excited me! With the trees in our garden overflowing in full green leaf and the grass looking more vivid than ever in this glorious summer weather we have been experiencing, I've been feeling very at one with nature and the colour green. It's so beautiful to see the green everywhere in England this time of year. It's fast becoming one of my favourite colours representing life, renewal, energy and all things natural. I even recently had a green pedicure! That's how green I am currently feeling!
Vegan coconut and green matcha energy balls recipe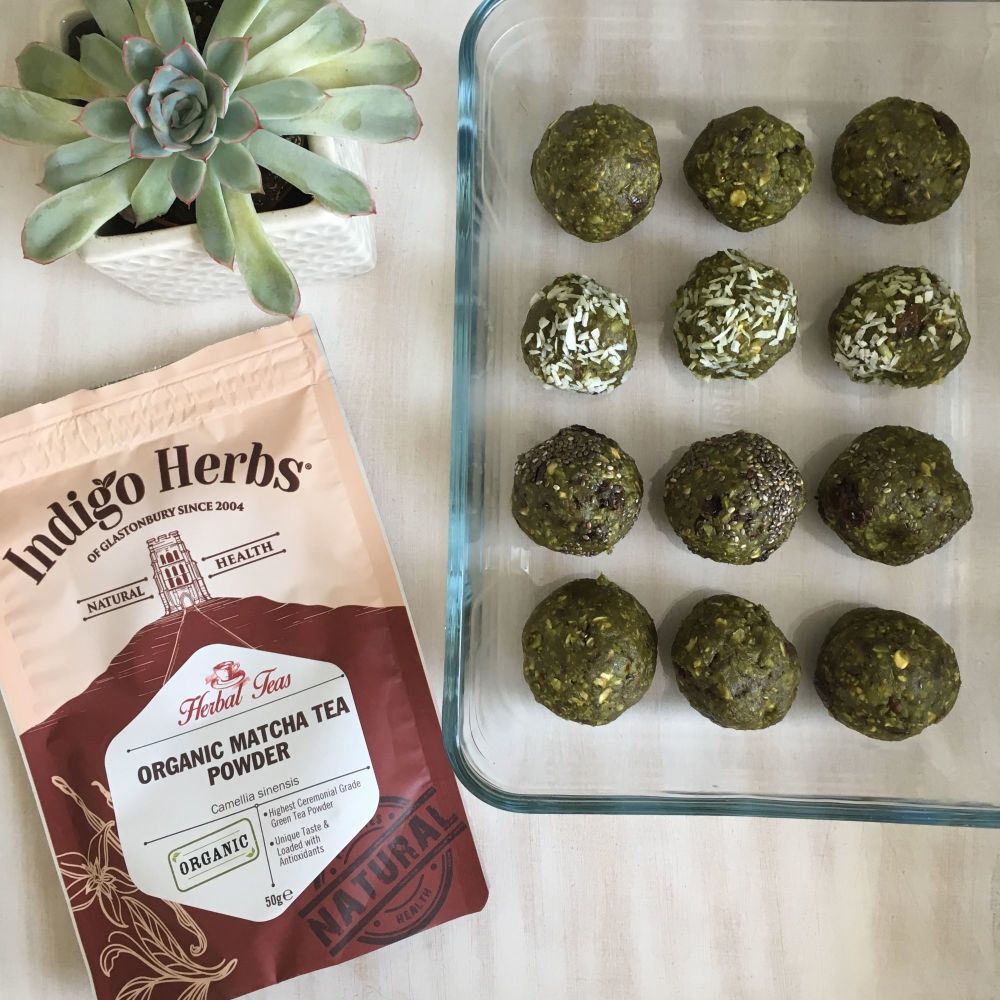 Energy balls are one of my favourite vegan snacks to make. They are so quick and easy to whip up and you can eat them right away, usually. They also require no cooking and can be very versatile to use whatever ingredients you currently have. You just need a food processor to chop all the ingredients super fine and to blend them together evenly at high speed.
Ingredients
2 cups oats
1 1/2 cups coconut chips
1/3 cup raisins
1/4 of a cup of coconut oil**
8 dates soaked in hot water (I used medjool)
1/2 teaspoon to 1 heaped tablespoon matcha powder*
Desiccated coconut and chia seeds to roll in
*If you are new to matcha then you may find it very earthy and grassy. It can be quite overpowering if you are not used to the flavour. I used one heaped tablespoon and it's very grassy. I love it as I use green powders all the time and I'm used to this. Start with less if you're new to it and build it up to more as you get used to the flavour and start to love it!
**Luckily we're having a heat wave so the coconut oil is in liquid form, but if it's set then just stand the jar in a bowl of hot water to melt.
Method
Soak the dates in hot water for around ten minutes (we use distilled water at home).
Pop the oats and coconut chips in the blender and pulse until the chips are much finer.
Add the matcha powder and blend until mixed evenly.
Pop the dates, raisins, a tablespoon of the date water and coconut oil in and pulse again.
It won't take long and the mixture will clump together to form a big ball.
Now it's ready to form into balls. Roll small chunks of the mixture into balls in the palms of your hands.
Roll a few of them in desiccated coconut or chia seeds to decorate if desired.
Pop in the fridge for a while to set and enjoy chilled, though they can also be devoured right away and taken in lunchboxes or in handbags for snacks whilst out and about! Even my three year old loves them!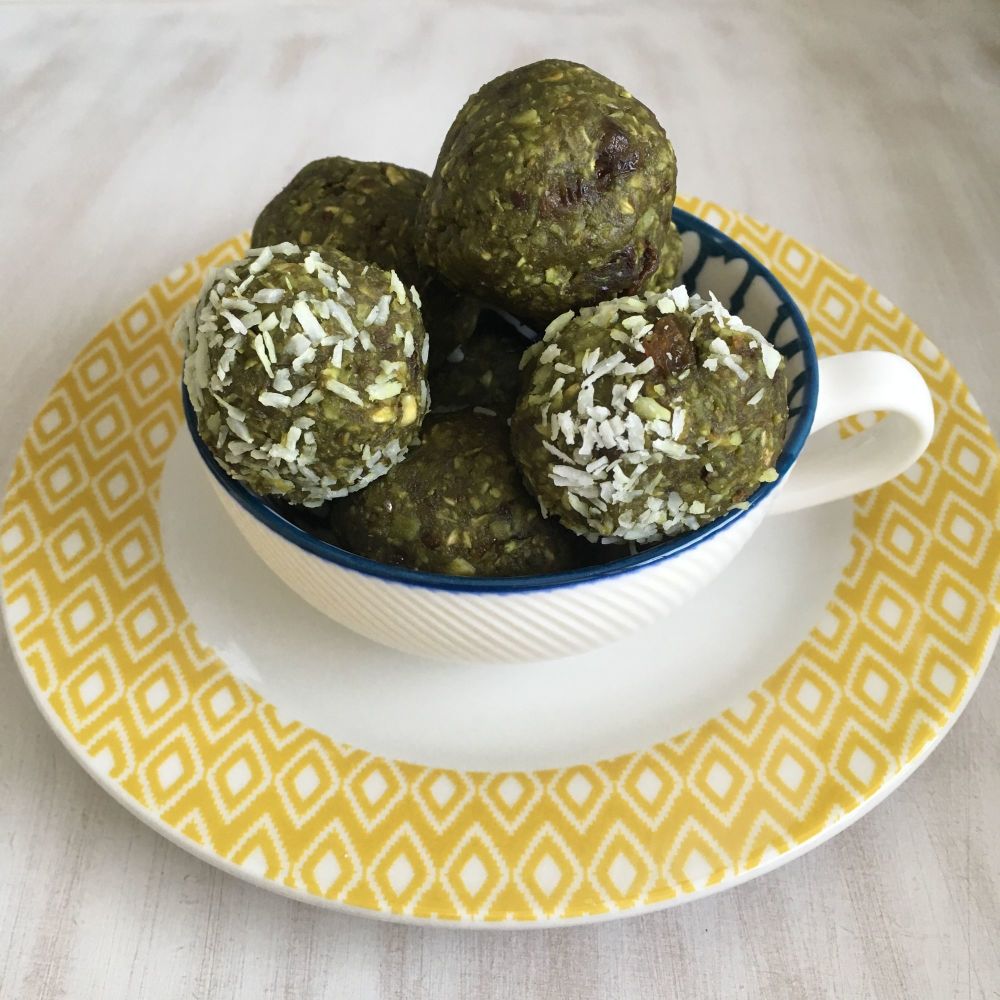 Coconut oil has so many uses from healthy cooking oil, to dessert making right through to mouthwash and moisturiser! The possibilities really are endless with this natural lovely smelling and summer perfect ingredient. Coconut oil is high in healthy saturated fats called medium chain triglycerides which can increase fat burning, reduce appetite and even boost brain function. Coconut oil can help to promote heart health and increase the amount of good cholesterol called HDL.
Matcha comes from green tea leaves, but these plants are shaded in order to boost their nutritional content. Minimal processing is involved to preserve the extra nutrients. Once harvested, the leaves are dried and stone ground to a fine awesome bright green powder called matcha. It has been shown to contain as many as 137 times more antioxidants than regular green tea. It contains EGCg which has cancer fighting properties, contains L-Theanine allowing us to be calm and relaxed but alert at the same time, it's great for skin with anti-aging properties and boosts the immune system to name but a few benefits.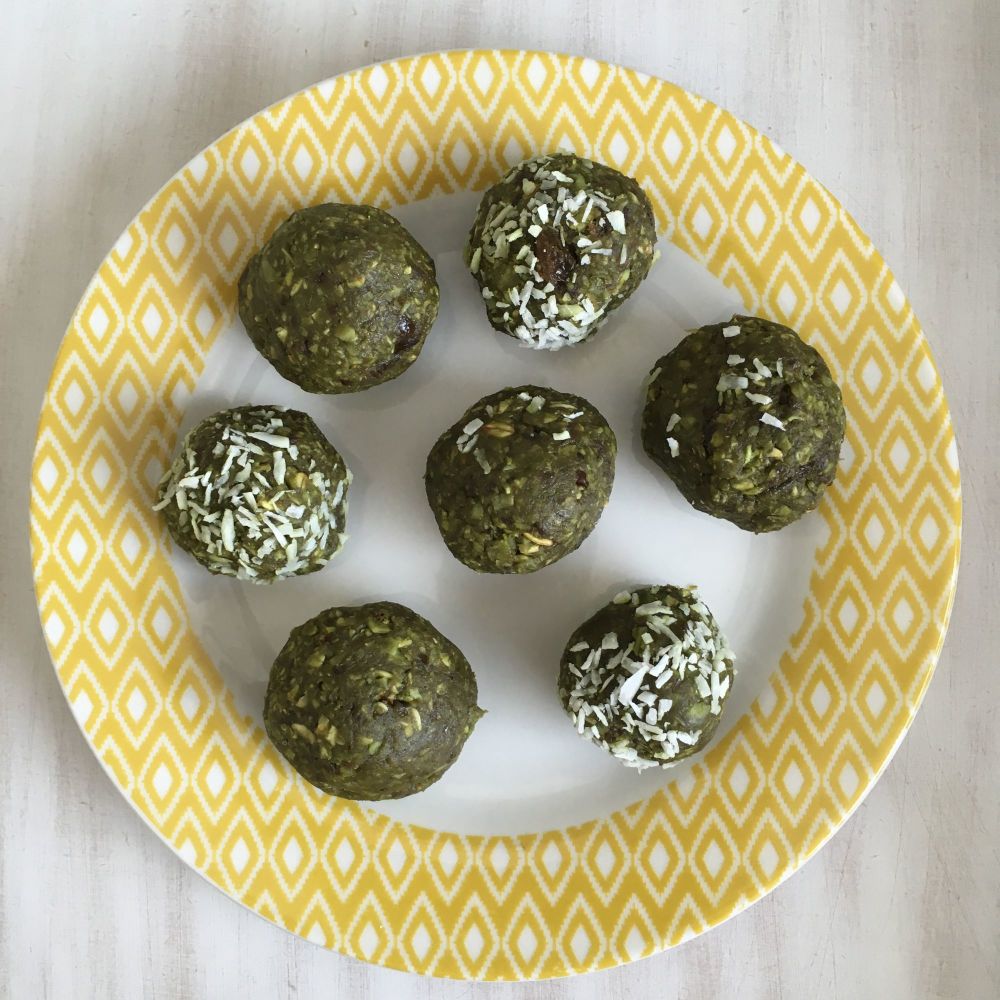 As expected I am impressed with the matcha powder and coconut oil I received from Indigo Herbs. Their ingredients are always very high quality and I especially like the fact both of these are organic too which is better for us and the planet. At 500ml the coconut oil is great value for money as I usually get a 300ml jar for around the same price. The matcha powder is available in four grades and Indigo Herbs only sell the highest ceremonial grade. This means the tea is the best quality and very nutrient dense.
I'm already an avid user of both of these products and will continue to use the Indigo Herbs versions in numerous recipes. I wouldn't hesitate to recommend this company for wholesome nutritious ingredients which are delivered in a timely fashion, well packaged and from a company who truly seem to care about the health and knowledge of their customers.
Sources:
https://www.healthline.com/nutrition/top-10-evidence-based-health-benefits-of-coconut-oil#section1