Kid-free travel review – our first campervan trip to Greenways of Gower, Oxwich Bay
Posted on
Greenways of Gower camping review
If you follow me on Instagram you will have seen we bought a Mazda Bongo Friendee campervan. So exciting! We wanted something we can go camping in and explore more of the UK and beyond without extortionate hotel prices. Ben is quite happy to camp in a tent, but I really hate it. It could be because he has a dinky two man tent, but the two times we've camped in his tent (obviously without the kids) I couldn't wait to get out in the morning. I feel ever so claustrophobic in his tent and need to get out to breathe! Ben was brought up camping and loves it so I said I'd do it if we had a camper. So here we are!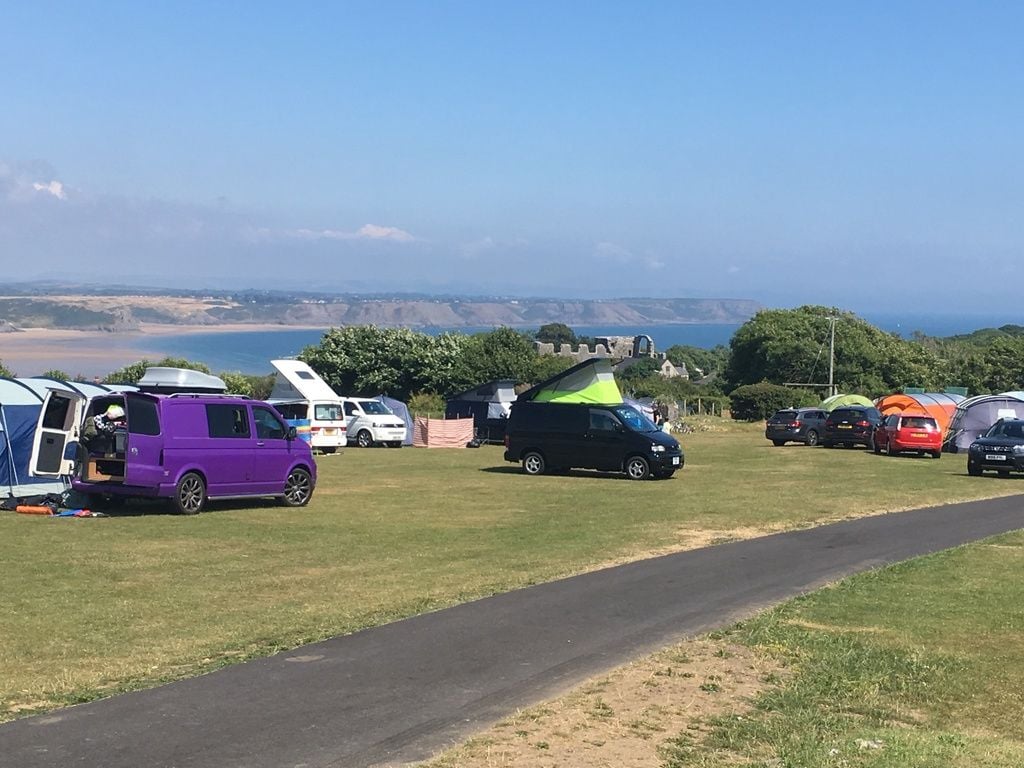 Our camper is the black with green pop top! This is Greenways of Gower campsite.
The idea was to sell Ben's car to fund it as we couldn't justify having three cars between us. That went a little wrong as we were meant to sell the car and then use the money to buy a camper. We were a bit irresponsible as we saw a camper we loved which looked in the best condition out of all we'd seen and the mileage was pretty low (75000). So we decided to fund it with all our savings and then pay them back when we sold Ben's car.
Big mistake!
Typically an engine light came on in Ben's car right away! After several trips to garages to read the fault which needed a special machine most didn't have, we discovered it was going to cost well over a grand for labour and a few hundred for the part. The engine would need taking apart! In the end Ben sold it with We Buy Any Car which lost us around £2000-£2500 compared to what we thought we'd sell it for originally, but saved the hassle of finding a part, having it fixed (and who knows what more they'd find or would go wrong) and then trying to sell it for the maximum price. So his car is gone and I'm manically working loads to replace the savings to get us back on track with saving our emergency fund.
So now to make the most of the campervan this summer and get our money's worth! I am typing this couple of weeks after our trip and the van has had three camping trips already with another two planned in August! For the first trip we decided it best for Ben and me to go and test the campervan out by ourselves for one night to see how we get on, how comfortable it is and if there is anything we need to buy or kit it out with.
Greenways of Gower campsite review
I was very impressed with the Greenways of Gower campsite. It had plenty of space with a quiet field and two other fields to choose from. We were able to choose our own spot. We went for the field with a sea view of course! Even though our trip was only a one night stay this view made it feel like a mini holiday.
The site was tidy and well kept. The toilet facilities were absolutely brilliant. They were huge! There were so many sinks there was always one available; the same with the toilets. I didn't have a shower, but there was a good row of them. As we were only staying one night I decided to just shower before and after our trip. The one thing that puts me off camping is the shared facilities and lack of privacy, so it's still one thing I really need to overcome. On arrival the toilets were very clean. In the morning they were in need of a clean, but probably due to the heavy traffic of the morning rush! At least there were plenty and I never had to wait to use what I needed.
There was a great playpark which I know the kids would have loved if they were with us. The beach was also only a short walk down a country lane so we didn't need to drive once there.
Oxwich Bay beach review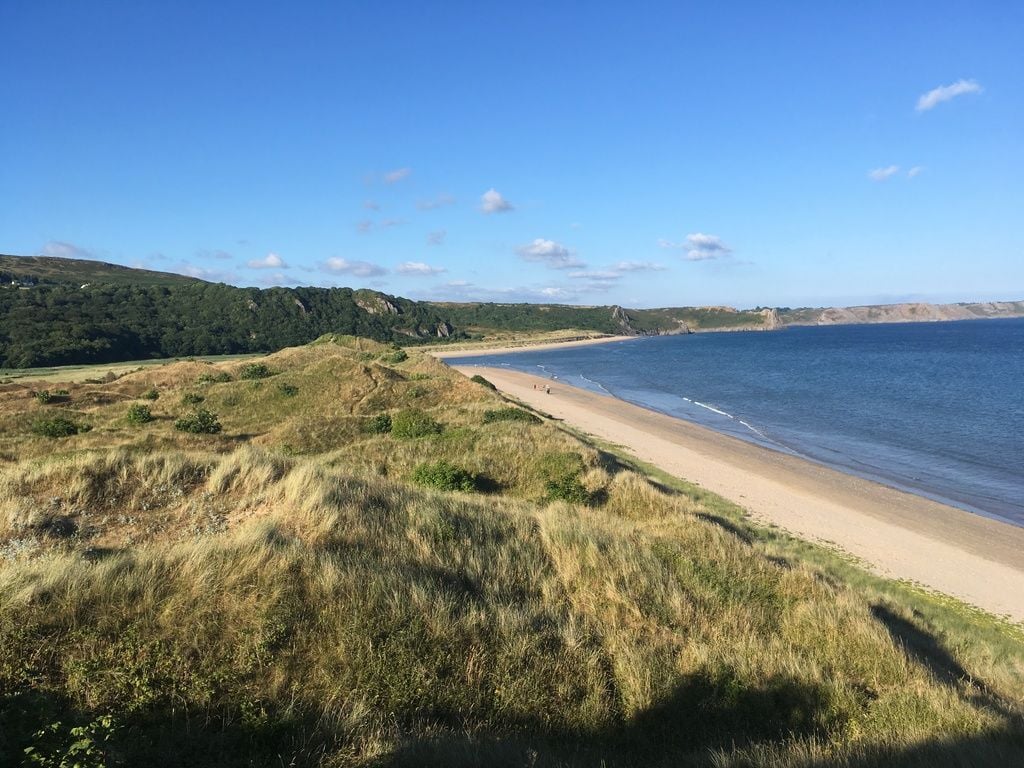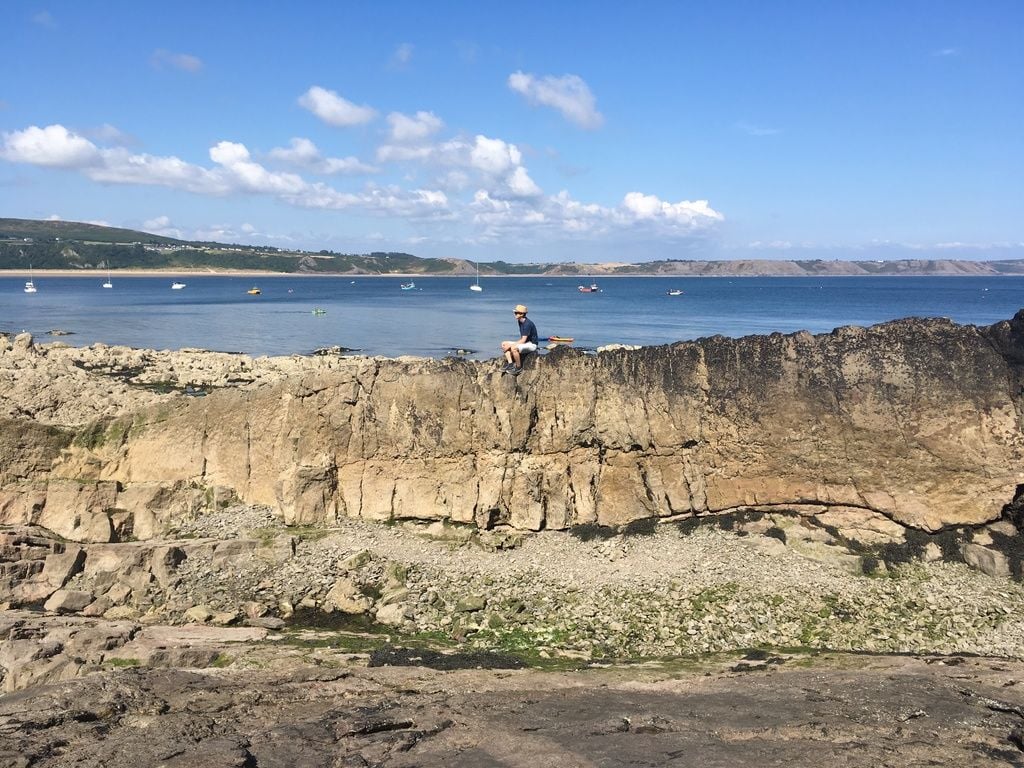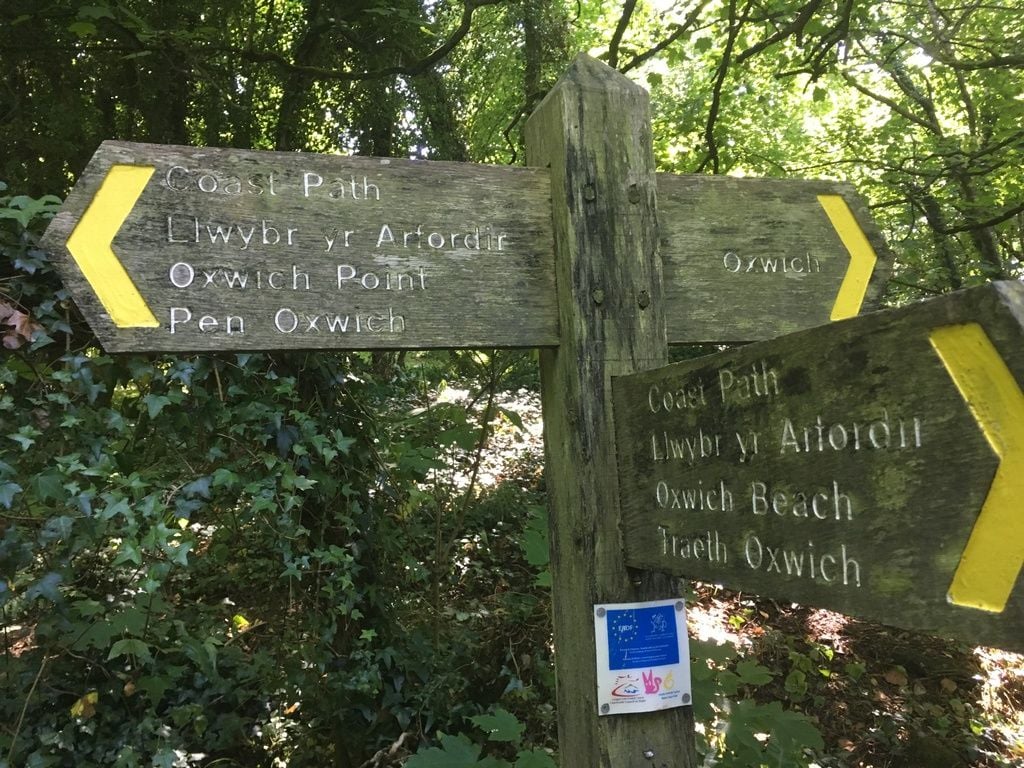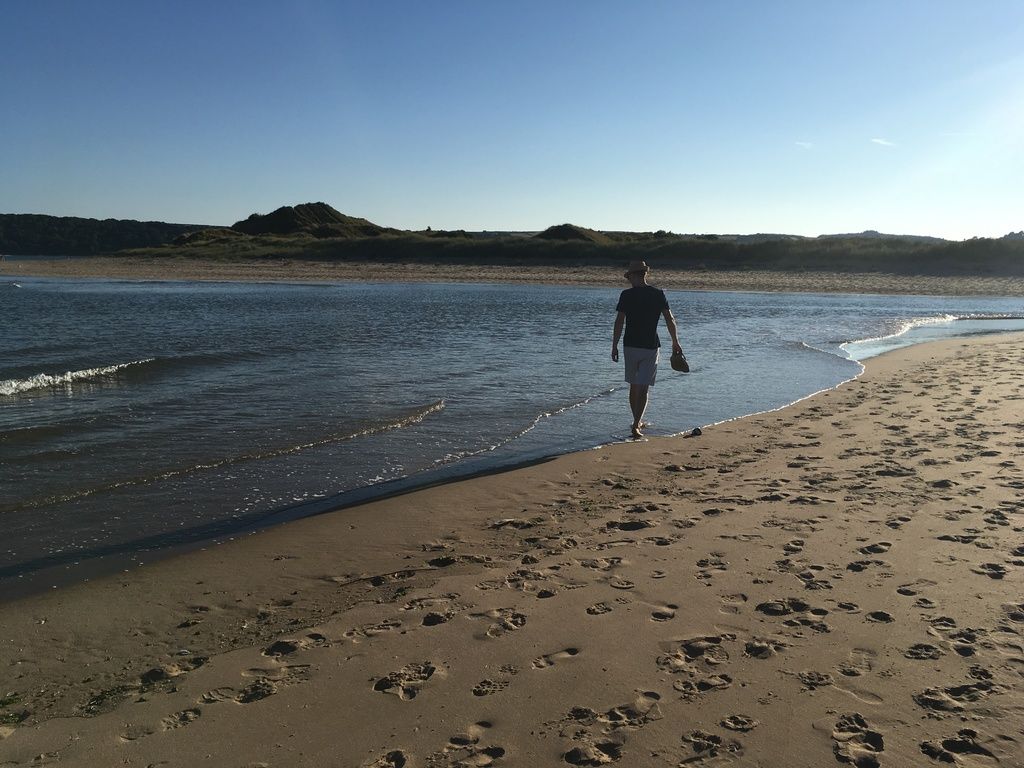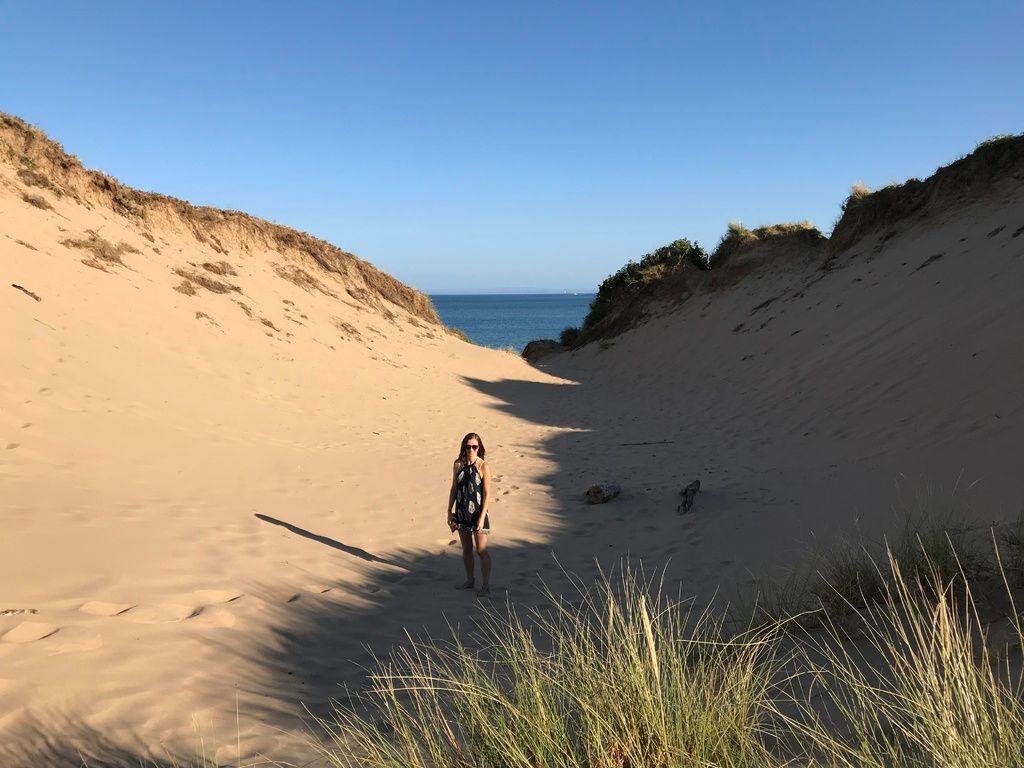 I absolutely loved the beach. It's an area of outstanding beauty and I can see why. There are green wooded cliffs, sand dunes, a two mile stretch of golden sands, plenty of sea life (we saw crabs, numerous shells, sand insects and even jellyfish) and protected marshland.
I didn't totally love the first part of the beach as it was so rammed with people, but we only had to walk a short distance to be almost the only ones on the next stretch of the beach. I've no idea why everyone was so clustered together at the beginning; the beach seemed to get more beautiful the further down we walked.
We also found an amazing sand dune which was my favourite part. There was no one in it and stepping into the middle and looking at the sea view felt like I'd been transported somewhere totally different. It was stunning. We climbed to the top of the sand dune and admired the amazing view from the top. From here we could see how much luscious green there was.
Before our walk along the beach, a tricky walk at that as the sand is very sinky so we must have got a great leg workout, we first walked up the cliffs. We walked through Oxwich woods which line the cliffs and up what felt like a billion rocky cliff steps surrounded by woodland. I love walks like this when you don't know what you'll find and we barely saw another soul. We managed to break out of the woodland and come onto an incredible cliff, our own private cliff, where we sat and watched the boats soaking up some sunshine for a while.
Oxwich Bay Hotel review
We took lunch with us for our arrival as check in was 12pm at the campsite, but for dinner we decided to eat out. There was a hotel with bar and restaurant right next to the beach called Oxwich Bay Hotel. The menu said items could be customised to be vegan so we asked at the bar about this and they said 'hold on a second' and then whipped out an entire separate vegan menu! These items weren't on the main menu at all, which is a shame as I'm sure veggies and meat eaters would love the choice too, but I'm so glad we asked as we'd never have known about their amazing vegan menu otherwise!
There were several starters, mains and even desserts all vegan. We were spoilt for choice! Needless to say, as a holiday treat, we went for the vegan pizza! We have always been pizzaholics and when we met, and before my uber healthy journey, we consumed far too many Dominos together!
We also had vegetable tempura which I knew would be great, but it was Ben's first experience and he loved them!
We were very pleased with our meals at Oxwich Bay Hotel and impressed they had a whole menu to cater for vegans. It's definitely made us realise we shouldn't be afraid to ask for vegan options when eating out if we can't see anything on the main menu as they could have an entire menu or special meal for us instead!
Mazda Bongo Friendee review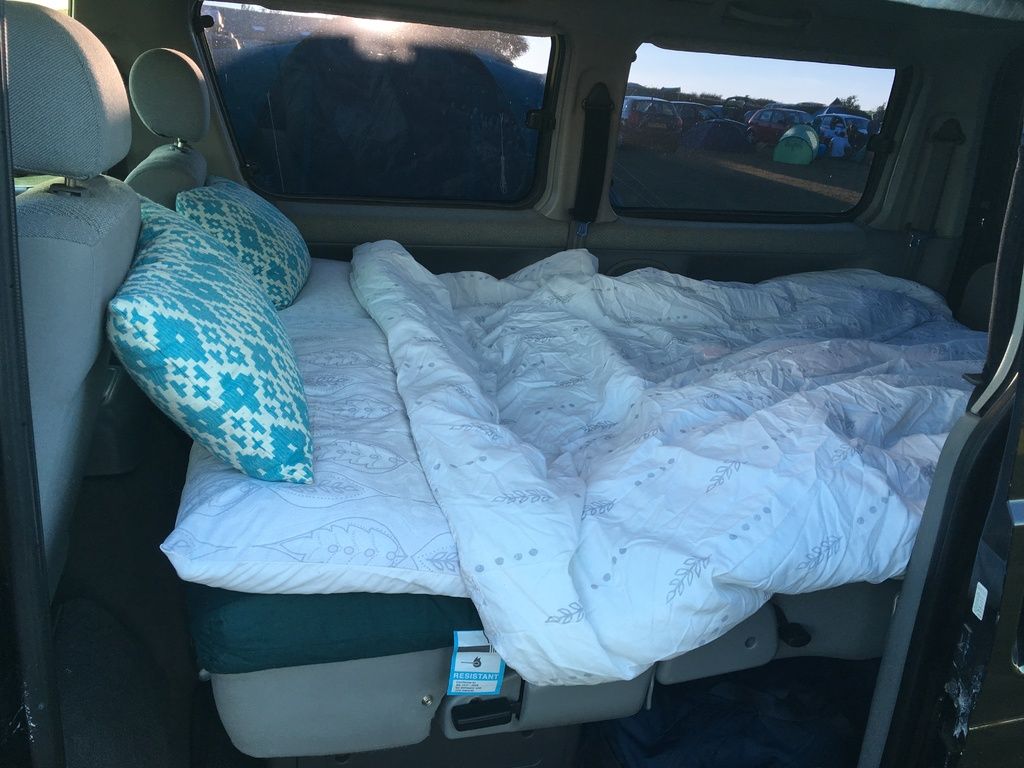 I was very impressed with sleeping in the Bongo. Ben didn't have such a great night's sleep, but I surprised myself by waking to my alarm and realising I'd slept like a rock without waking or knowing I'd woken all night. I definitely don't even sleep that well at home as noises outside distract me, the kids wake me, the washing machine or water distiller interrupts my slumber or anxious thoughts keep me up. Though it may have been the cosiness of the van itself, it could also have been the fact we had walked for 7.5 miles through quite tricky terrain up rocky cliff steps and sinking sands, so maybe I was just knackered!
I loved the fact we just pulled up and were done. No wrestling to put fiddly tents up and arguing with each other. Just pull up and voila. Our home for the night is ready, pretty much. We simply put all the back seats down, plonk our futon mattress on top with pillows and blankets and our bed is ready. It's so quick and simple and for just the two of us it's perfect.
We do need to buy a couple of things. So far we have invested in a leisure battery which means we can play music, turn lights on and charge phones off a separate battery which charges as we drive. Ben also installed a Bluetooth stereo which means we can play music easily from our phones or a USB stick. It even just picks up from where the music left off from a mobile phone as soon as you get in, so there's no time wasted scrolling through playlists or connecting the phone to the stereo each time.
Next things to buy are new floor mats which we already wanted as the ones it came with are disgusting. We need a full set for the whole can. We also need a blackout screen for the front windows and back to stop light coming in early in the morning and for extra privacy at night time. The back window is blacked out, but I still feel strange without something covering them.
I really did enjoy my first experience camping in the van kid-free and can't wait for our next adventure. I might be a converted camper yet!