Unique ways to use a Femme Luxe mandala roundie circle beach throw
Posted on
I was very kindly sent these beautiful paisley print and boho style beach 'towels' to try from online fashion retailer
Femme Luxe
. The prints are absolutely stunning and they are the perfect accessory to take to the pool, beach and in fact a lot of other places as I will share with you below! Read on to discover some unique ways to use a paisley print circle towel.
The first thing to note is that these are not made from towelling. Though they are called 'towel' they are actually a thin, lightweight silky material. This makes them the perfect beach accessory and they fold up ever so small to be able to carry around easily, but they will not replace your actual beach towel for being able to dry you!
Because they are not actually towel material means they have lots more uses than just sitting on.
And, of course, they're also perfect for beautiful summer Instagram photos!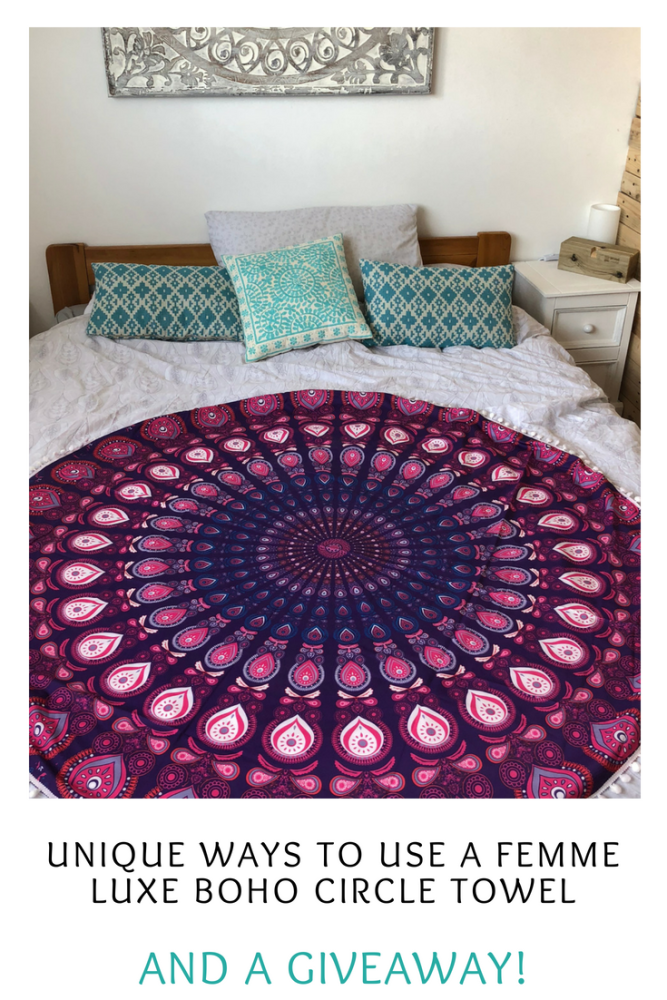 How to use a roundie
Here are some of the many ways you can use one of these beautiful circle towels:
On the beach
These will be great for stopping you getting covered in sand; something beautiful to sit on at the beach if, like me, you hate getting sandy bits, especially if you won't be hopping in the sea that day.
For a picnic
The prettiest picnic around! Perfect for sitting on, but also a beautiful way to display and lay out the picnic food.
At a festival
I'll be off to a festival this weekend and I'll be carrying both in my bag! Perfect for when we want to take a break and sit down, but don't want to sit on the grass. These will be so great for any situation where we need to sit on a floor or grass but want something a little protective to sit on.
To pretty up your bed
These make an excellent addition to a bedspread, as a sort of throw over the top, which will add more interesting textile and pattern to your bedroom.
As table decoration
Yep, forget dull or uninspiring table cloths and use this as a beautiful centrepiece for your dining table.
I bet there are so many more ways I haven't even thought of, but these pretty towels will be a staple piece in my handbag throughout the summer for sitting on at parks and festivals.