Vinnie's Eatery review – Cheltenham's vegan plant based restaurant
Posted on
Today I want to share with you my favourite plant based restaurant in Cheltenham. Vinnie's Eatery is a vegan restaurant in Cheltenham (with some veggie options too) that I absolutely love. I've been three times now and I've been equally impressed with the food every time. We last went on Sunday just gone and I want to share with you my review.
I have mentioned Vinnie's a couple of times on my new Healthy Vix blog which you can read here and here. It's featured in my top vegan restaurants in Gloucestershire post. Even though I've only been three times so far, the food has been outstanding each and every time. It's one of those places that I knew I was going to love, even before I first went.
I can't quite remember how I heard of it, perhaps my friend Liza who is always in the know about new places and what's happening locally, but last summer we went to a vegan fair in Cheltenham and arranged to go for lunch there. To our surprise they had a stand at the fair, we got talking and couldn't wait to pop over for lunch.
That day they were serving Mexican plant based vegan food and it was absolutely delicious. Back then they were 100% plant based. Even though I wasn't then as I was still consuming some dairy (which I'm not now), I loved the whole ethos and totally vegan vibe. I knew I was heading to a vegan lifestyle, I just hadn't got there at that point. Now I have and with all the knowledge I now have, I will never return to consuming any animal products.
In 2017 I also had a no added/refined sugar challenge. I went a whole year without. Vinnie's were perfect as they don't use refined sugar, even in their vegan desserts. The desserts are made with plant syrups if needed and not white sugar.
Everything about Vinnie's was spot on and exactly the sort of restaurant that appealed to my needs and the way my own healthy living journey was going.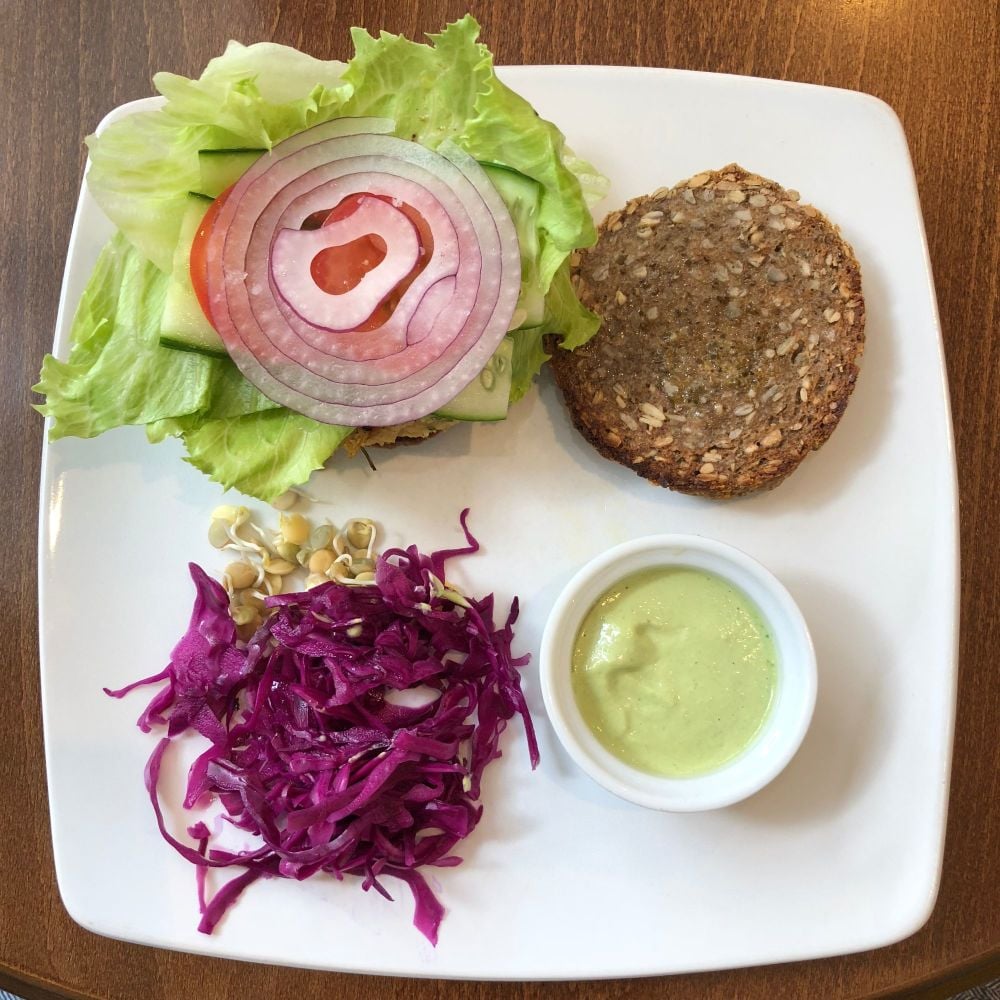 Vegan chickpea burger (hiding under the salad) with a homemade nut bread bun
Unfortunately they are only open in the day times Wednesday to Friday and for special evening events. This means I am very limited to when I can go there as I am in Gloucester weekdays and have my kids at the weekends. It's definitely an adult friendly café with no children's menu. I quite like it as a kid-free treat when we can go. That's why me and Ben have only been twice together so far!
Using the link up above you can check out my first review after going with Ben, but here I'll share mine and Ben's second experience.
The eatery, as always, was spotlessly clean and cosy. I sat on a bench against the wall which was so comfortable with large boho style cushions to lean my back against. There are always lots of hanging plants dotted about which I find my gaze drawn to each time I've been. I have hanging plants at home so it's something I love. It also gives a clean, natural, healthy impression, so suits Vinnie's.
I tried the toilet again and as in my first review it was spotless. I had my retainer in so had to brush my teeth after eating and even though I dropped my toothbrush down behind the sink, I was amazed there wasn't a speck of dust or dirt in sight. They are very clean indeed, as all restaurants should be. It's also great to go back to a place several months later and see that the standards remain so high.
Our food was also spot on. We were hoping to have the un-shepherd's pie, but sadly it was sold out, so another time. We did have the vegan burgers and they were yummy! Everything is so colourful, fresh and tasty. Every mouthful is enjoyable. That's what I've felt on each visit – every single mouthful of everything is divine. The food is cooked wonderfully and very homemade. Even the bun was a homemade nut bread and it was scrumptious.
We had a slice of vegan banoffee pie to finish which was on the counter and so couldn't be resisted! I rarely have desert when eating out as I still avoid refined sugar after my challenge, so it's a rare treat to be able to have a pudding. When I did eat desserts I never would have chosen a banoffee pie, but there's something about Vinnie's where the food is made so well that I like things I wouldn't normally like. For example, I did opt for no BBQ sauce on my burger as that's a flavour I really can't stand, so they gave me a tahini sauce. It's another thing I'd probably not usually eat on its own unless it's in something like hummous, but it was delicious!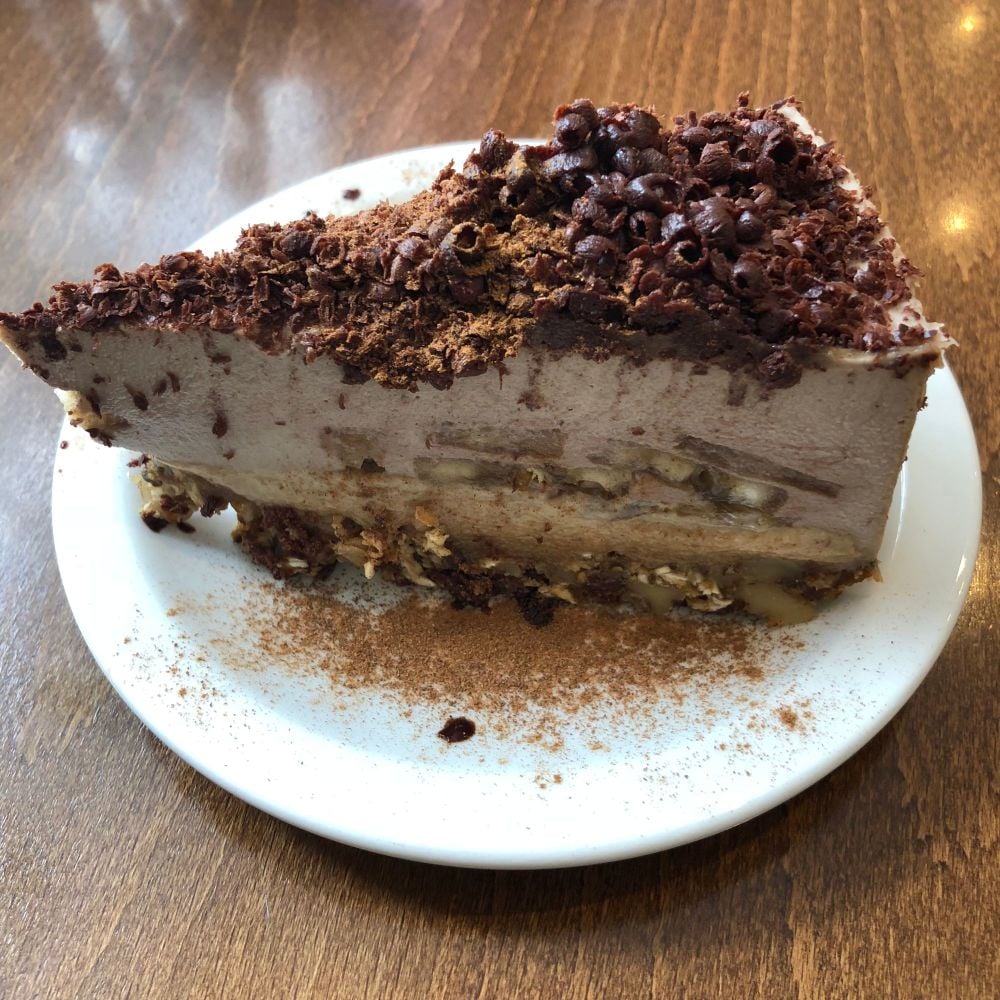 Vegan banoffe pie
To drink, Ben had the chocolate smoothie and I had the green smoothie. Both were as the food was – every mouthful really delicious.
I'm really hoping we can go back again soon when we have a kid free day. I've my eye on the scrambled chickpeas on nut bread toast. I've been dying to try some scrambled chickpeas for a while now. Vinnie's is highly recommended by me for delicious vegan food in Gloucestershire. The food is really made to perfection and I've so far nothing bad to say at all about the food.
My only criticism would be that they don't open in the evenings so we can go for a kid-free dinner once in a while. I saw they used to and they did a vegan cashew cheese pizza, if I remember rightly, and I'm gutted I never made it to try one. If they open in the evening again we'll definitely be booking a babysitter and popping along!