Would you walk the Camino de Santiago?
Posted on
Would you walk the Camino de Santiago? The Camino is a pilgrimage to Santiago, Spain. Read about what it's like and how you can prepare for your journey.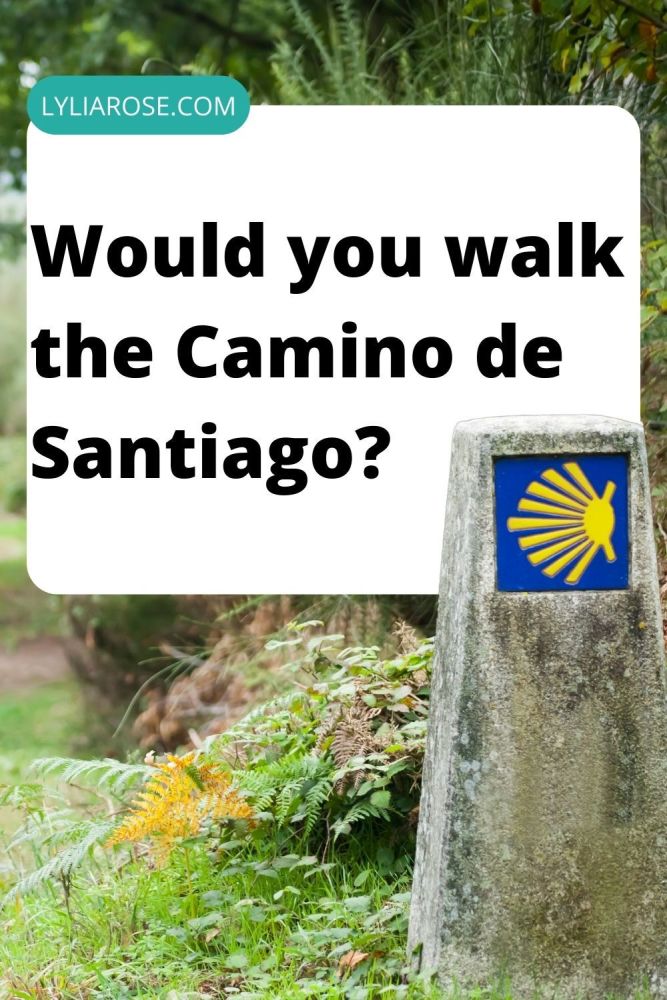 Thinking about the Camino Santiago?
Coincidences. Are they really just coincidences or do you believe it is fate trying to tell you something? I'm not sure if there's an exact term for it, but I'm talking about when two things happen in a short space of time. For instance, you think of someone you haven't seen for ages and then you bump into them. Or you're humming a song in the shower one morning and then it comes on the radio.
The one that happens to me most often has actually happened with this blog post - it's where something I've just learned about pops up again. Until a few weeks ago I had never before heard of the Camino de Santiago, known in English as the Way of Saint James.
A colleague of my husband's booked a six week sabbatical recently to walk one of the pilgrim's ways of the Camino de Santiago. It really interested me to learn more as I'd never heard of it before. Then, out of the blue, I was contacted to see if I wanted to write about this very walk on my blog! What a strange coincidence. Or perhaps it's a calling for me to do the walk myself? In this blog post I will explain to you exactly what the Camino de Santiago walk is.
What is the Camino de Santiago?
The Camino de Santiago is the pilgrimage to the Cathedral of Santiago de Compostela in Galicia, north-western Spain, following ancient pilgrim routes created in the 9th century. It is believed that the remains of the apostle Saint James the Great are buried there and were discovered in 812 AD.
There is not one exact route as pilgrimages begin from all different points, but with the end goal of ending up in this same place. Both the French Way (Camino Frances) and the Routes of Northern Spain are listed as a UNECO World Heritage Site.
How long does the Camino Santiago walk take?
Whilst six weeks (like my husband's colleague is planning) may seem like a long time and you may not be able to take such a long break from work, it's also possible to do a route that only takes 6 or 7 days which is arranged by a tour company such as Santiago Ways. This company will organise your trip for you by organising the route and accommodations for you, leaving you to enjoy the trip without the hassle of trying to arrange these yourself along the way.
They take this bother out of the pilgrimage for you, but still provide you with a unique experience of the walk (or cycle if you prefer). They provide a meal plan and even luggage transfer, leaving you to walk without the weight of heavy bags between rest stops. You just need to carry your ultralight backpacking gear.
Some pilgrims choose to do it all at once but there are also people who choose to walk just part of it and then return home for a while before continuing their journey again later on.
Why do people walk the Camino de Santiago?
Hundreds of thousands of people walk the route each year for all sorts of reasons. According to Wikipedia over 300,000 people walked it in 2017! That's an incredible number of people and I can't believe I have only just come across its existence. The French Way is 800km which is quite a task. So why do people want to walk it?
Many people choose to walk it for religious reasons, which is why Ben's work colleague took up the challenge as she is a Christian, but there are plenty of other reasons why people from all walks of life take part each year:
Religious reasons – this is the most obvious reason to want to walk the Camino de Santiago, but it's not the only reason. I find the walk intriguing and inspiring and I'm not a religious person.


A break from modern life – an escape from reality, from the internet, from news, from social media, from work and from the hustle and bustle of life in general.


A challenge – some of the walks are very long, 800km, and so to any of us to walk this distance continuously is a huge challenge. Even the shorter week-long walks will prove challenging as we are not used to walking all day long every day.


Exercise - for hikers, walkers, cyclists and those of us who like to stay fit and healthy, it's an amazing health and fitness journey.


To see the sights – some of the walks are listed as World Heritage Sites which makes them an important part of history the walk is an attraction in itself. The routes are filled with history and plenty of culture to see along the way.


For a spiritual journey – not in a religious way, but in a self-discovery and self-reflection way. It's the perfect way to think deeply and learn more about you without being surrounded by constant distractions.
Final thoughts on the Camino de Santiago
The Camino de Santiago is one of the most popular pilgrimages in the world. It has been attracting people from all over the world for centuries. A lot of people are scared of walking this distance by themselves, but there are many reasons why you should do it anyway.
First of all, you will be able to explore a beautiful country and see places that you would never have seen otherwise. Secondly, you will have time to reflect on your life and think about what you want to do next with your life. And finally, there is a strong chance that after completing this journey you will feel like a new person - more confident and ready for anything!
I am definitely interested in walking one of the routes one day, but perhaps when the children are much older or have left home! I'm not sure it would be so fun with a three year old and six year old! For myself though, it's definitely a challenge I'd like to complete and a great activity to add to a travel bucket list.