Inexpensive hard floor ideas that look authentic
Posted on
When it comes to floors in the home and being budget friendly, hard floors are always the winner for me.
In our home we don't have any carpet at all!
Personally I find it so much easier to clean, especially with two young children. It doesn't stain, it doesn't soak up spills and it doesn't get dirty – unlike carpets.
Unfortunately with kids and pets, my experience of carpets has only been one of frustration as they get dirty so quickly, are a pain to have to clean with a carpet cleaner and dropped kids food constantly stains or mushes into the piles!
So, hard floors it is –to both save my sanity and because in the long run I believe it is the more cost effective and longer lasting option.
Read on to see why hard flooring doesn't have to be the most expensive option.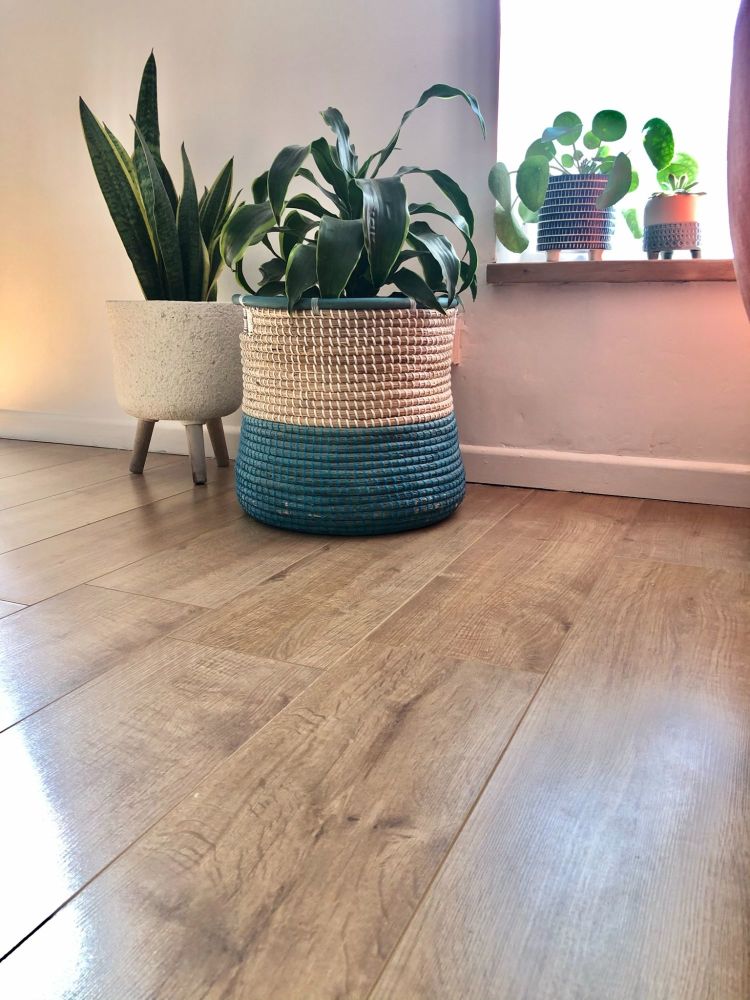 Isn't hard flooring expensive?
Many people think that hard flooring is an expensive option, but I'm here to tell you it doesn't have to be.
Whilst we all might want a real wooden oak floor or solid marble tiles, the reality is that our purse strings might not stretch quite this far. So instead, much to our dismay, we have no choice but to opt for cheaper floor options.
Once upon a time that might have meant settling for something that was so obviously cheap, think flimsy laminate boards, but nowadays there are plenty of affordable flooring solutions which actually look just like the real deal.
So chin up! Let's explore in this blog post some inexpensive flooring ideas that look totally authentic:
If you want a floor that truly resembles a real hardwood floor, then you'll want to consider engineered wood flooring.
This flooring option is a wood floor that is made from several glued together layers of plywood sheets. It is very strong and stable, in fact possibly even more than real wood. Engineered wood flooring doesn't warp or shrink with changes in temperature as the plywood is dimensionally stable.
It's also easier to install than real wood as each piece doesn't need to be nailed down, but has click together joints meaning those who are quite savvy in DIY can install this by themselves.
My husband and I were able to lay our entire house with click together wooden effect flooring with some basic DIY skills and the right tools.
When I first think of vinyl flooring, I simply imagine the sheet vinyl flooring we always put in our bathroom. It looks pretty terrible and it wears through quickly too. However, there is so much more to vinyl flooring and in particular there are ranges of 'luxury' vinyl floor tiles that can look as real as stone, marble, slate, concrete and more. Some brands not only look like the real thing, but even have the texture too.
Not only is luxury vinyl flooring much cheaper than choosing the real thing, but they are highly durable and long lasting with some brands offering a 20 year guarantee. And, if that's not enough to convince you to reconsider vinyl flooring as an option, you can even get get vinyl flooring that looks just like an authentic wooden floor.
Final thoughts
Luckily, nowadays, there are lots more options when it comes to affordable flooring for the home that looks like raw materials, but is actually a copy. Opting for a replicated floor doesn't mean you are opting for less quality either. As I mentioned with the engineered wood flooring, it can even have several benefits over a real wood floor so should definitely be considered when you are looking into floor options for your home.
Related blog posts