Tips to save money on car rental for a road trip
Posted on
Road trips are one of my favourite things to do. I love to get out and explore the UK, especially places close to us in the South West of the UK that are no more than a couple of hours to drive to. We are very lucky to have two cars in our household – my trusty albeit a bit of a squeeze Ford Fiesta and our more recent addition of a 7 seater pop-top Mazda Bongo which we refer to as our campervan. As often as we can when we have a free weekend, which is tricky between us both working full time and running our own businesses, we do like to go and explore new places we haven't been to. We also love to regularly explore our favourite nearby city of Bristol which has so many activities and new places of interests for us each time we make the journey.
I know some people don't have a car, but there's always the option of hiring a car to explore, so long as you have a full driving licence. I used to have a friend who would always hire a car each weekend to go on a road trip. She didn't need a car to get to work in the week and always told me it was cheaper for her to take advantage of a local car hire company's weekend deal every weekend rather than purchase her own car.
She's probably got the right idea too because I've just been checking out the prices of car hire in Bristol on the Discover Car Hire website imagining that I wanted to hire the car from 17:30 next Friday (after work) and return it at 08:00 the following Monday (before work) and the first car that came up, a Fiat 500, is only £2.73 to hire for the 3 days. That's insanely cheap. I thought my computer must be broken so I changed the dates and I'm still getting these ridiculously low prices. It does tell me that prices are lower than usual for car hire in Bristol and I can currently save around 91%.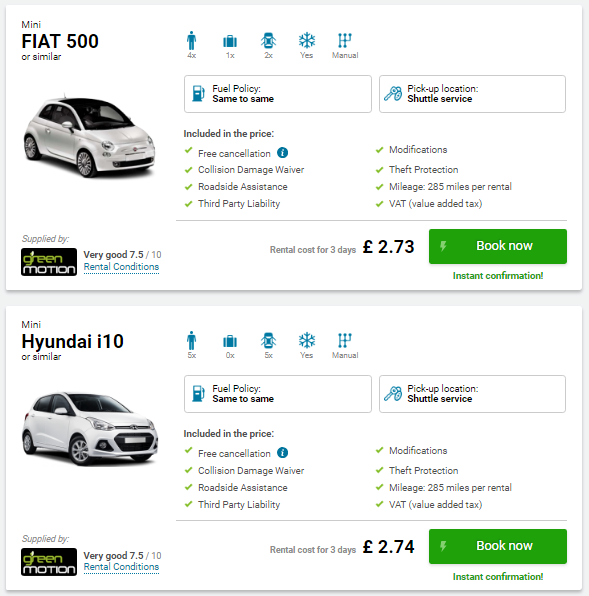 Of course this price is without the extra full coverage insurance or any extras, so just the basic car hire. But you might not need any extras. Read on to see how you can save even more money on your car rental road trip.
The benefits of hiring a car for a UK road trip
Of course you can visit cities like Bristol on foot and make use of public transport networks, but there are lots of benefits of hiring a car for your UK road trip. Here are just a few of the advantages:
Go further afield – you can travel to exactly where you want to go and off the beaten track. You are not restricted to tourist hotspots or limited by public transport routes.
Pick your own times – you're not limited by times or delays and can choose your own timings to build your travel itinerary.
Travel in comfort – there's no worrying about whether you can get a seat on a train or having to stand on a bus as you'll have your very own guaranteed seat.
It could be cheaper – hiring a car, especially with the super cheap prices I found online, could be cheaper than having to use taxis, buses and trains, especially if there's a lot of you.
Clean and sanitized car

- when you hire a car

from a car rental company

, you can rest safe in the knowledge that the car will have been thoroughly cleaned and sanitized before you pick it up.
Top tips to save money when renting a hire car
There are lots more ways you can keep costs down if you want to hire a rental car. Here are some of my top suggestions.
Check if your travel insurance covers car hire
As mentioned, the amazing price above was purely for car hire with no luxurious extras such as air-conditioning, add-ons such as car seats or full coverage insurance. The extra insurance is obviously a great idea as it could protect you in the event of an accident or for any other mishaps such as losing the keys. It's a good idea to read what's included in extra car hire insurance to see if it's worth getting the cover for extra peace of mind. If you have travel insurance then you might already be covered, so check any existing policies. The same goes with any type of car or van hire like hiring a van from https://www.transport-executive.co.uk/man-van-cumbernauld/, you always need to make sure you are appropriately insured and legally allowed to drive the car or van.
Take your own child car seats
If you have children then under UK law they must sit on a child car seat or booster seat until they are 12 years old or 135cm tall, whichever comes first. Once over 135cm then they no longer need an additional car seat, but they do still need to wear their seat belt (as do the driver and any other passengers).
When hiring a car it's usually possible to pay to hire a child car seat as an add-on, but why not save that cash and take your own if possible, or instead invest in a travel child car seat to save money in the long run.
Use your own maps
Some hire cars come with built in GPS, but when you're getting a really great deal on the car rental price then do check if it's an extra cost. If so, then ask yourself if you really need it. Most of us have smart phones nowadays with built in maps or sat-nav style apps we can easily download. If you have a sat-nav device then take it with you to keep your car hire costs as low as possible.
Don't be late
Make sure you return the car on time or you might be charged a fee for returning it late. This could be as much as an entire extra day's car hire. Be sure to book a return time that you know you can make in plenty of time and stick to it.
Know any mileage limits
Some hire cars come with mileage limits, so check these out and make sure they are more than enough for your planned journey (and return trip) or alternatively book an unlimited mileage option if available. They'll check your mileage when you return the car and you could be charged for anything that goes over what you've agreed to.
Return it with the right amount of fuel
When hiring a car you may be expected to return it with either a full tank of fuel (known as full to full) or the same level as when you got the car (called same to same). Make sure you fill up the car to the level it needs to be just before returning it to avoid extra fuel costs on your bill.
Make sure you read and understand everything
Most importantly make sure you read, understand everything and ask questions if you need to. Make sure you know if extras you are offered are free or an additional cost, check all the points above and then you'll be sure you have no unexpected surprise costs when returning the car.
Final word
Hiring a car can be a really cheap way to explore a UK city such as Bristol and it means you can go beyond the places you can only reach on foot and by public transport. By planning inn advance, understanding the car hire process and being a little savvy, you can make sure you keep the costs of car hire to a minimum.